The iFi Audio ZEN CAN is a compact balanced-capable desktop headphone amplifier capable of up to 1.6W into a 32Ω load. It is priced at $169.
Disclaimer: The iFi Audio ZEN CAN sent to us for the purposes of this review is a sample in exchange for our honest opinion. Thank you to iFi Audio for giving us this opportunity.
You can read more about iFi Audio products we reviewed on Headfonics by clicking here.
Note, this review follows our new scoring guidelines for 2020 which you can read up on here.
Once again, iFi pulls a rabbit out of the hat and gives us a wonderful desktop headphone amplifier packed with a crazy amount of features, plenty of power, hefty construction, stackability with the ZEN DAC, Phono, and the Blue, and for a really modest price.
There is no doubt in my mind that iFi is a company that loves to innovate and push boundaries. They have given us many unique features like XBass, S Balanced, IE match, proprietary circuitry, and custom components. They also gave us their own unique balanced headphone input and output topology.
iFi has also gone through a shift in style, concept, and even value lately. Their components seem to get less and less expensive with each model but pack just as many features as the previous models.
Sure there have been lots of changes but they all seem to be for the better.
A perfect example is their new ZEN CAN. iFi seems to have taken all the technology they have, except for the kitchen sink as they say, and incorporated it into the ZEN CAN. On top of that, they offer it at a very low price of just $169.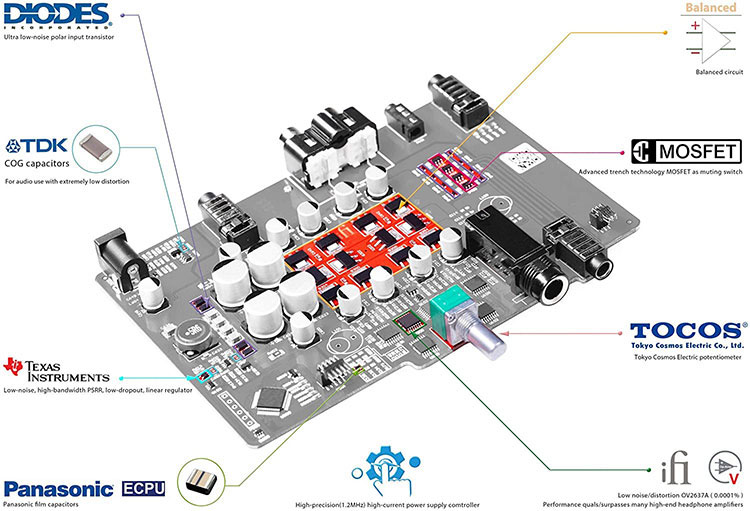 Tech Inside
Class A Discrete Power
iFi borrowed lots of technology from their flagship $1700 Pro iCAN and used it to produce the ZEN CAN. The ZEN CAN employs basically the same class A discrete power output stage as the Pro iCAN.
Every class A amplifier produces lots of heat because of the nature of the design but iFi managed to get this one to run just slightly warm. It seems this is a feat that was achieved well by iFi with no heat sinks or fans and no apparent ventilation whatsoever.
Running in constant class A, the ZEN CAN is capable of 1600mw at 32 ohms on the single-sided output. iFi was able to squeeze out a very respectable 15.1 volts at 300 ohms. The balanced output side can output 1890mw at 64 ohms. This is enough power for basically any headphone out there. Even on the single-ended side, you could power up some very hungry cans.
Class A discrete output Buffer
Part of the circuitry in the iFi ZEN CAN use their German code-named 'Operationsverstarker' custom made IFI/AMR J-FET OV2637A Op-amps.
These Op-amps are an iFi exclusive component and are the same class A discrete output buffers used on the Pro ICan. Performance-wise their rated distortion levels are at 0.0001% and that is a lot of zeros.
Other features of this class A proprietary circuitry is a FET single-ended input stage ensuring loading of the source and always maintaining a constant Class-A operation.
Four Stage Dual Mono
The iFi ZEN CAN have a discrete 4 stage amplifier design, using an output chip at every stage and each stage represents a 6 decibel gain. The amplifier section is also a dual mono design in where each channel has its own 4 stages but 2 separate circuits operate left and right channel outputs.
Dual mono designs are usually reserved for top-tier amplifiers and never seen at this price point especially with a class A circuitry.
TOCOS
iFi decided to go fully analog even at the volume control level and the ZEN CAN employed a Japanese made Tokyo Cosmos electric company analog volume control. This multi-track potentiometer promises excellent channel matching even at low volume levels which have always been an issue with analog potentiometers.
I did detect at the very bottom of the volume control, but only at the highest gain level that the right side would come in before the left side but at that volume level, I doubt anyone will find the amp useful and most certainly will never use this amplifier at that volume level.
It represented the first click, but note the volume control does not use step increments and is smooth with no clicks. It operates not only smoothly but with an even amount of volume through its entire range.
Internal Components
The iFi ZEN CAN is packed with high-quality components like Panasonic ECPU capacitors and MELF resistors.
The list does not stop there. Texas Instruments low noise ICs are also used to regulate the input power. Murata capacitors along with TDK COG class 1 ceramic capacitors are also used on the power input side.
Diodes Incorporated ultra-low noise polar input transistors and a high precision 1.2mhz high current power supply controller also form part of the power input circuitry.
SMT surface mount technology is used as well throughout the circuit. SMT technology eliminates loadout and possible sources of noise and distortion over conventional components by avoiding surface interference.
BiCMOS
To reduce noise even further iFi Audio employed an updated design of their bipolar semiconductors. iFi combined two separate semiconductor technologies and stacked them to make one with the best qualities of the two resulting in the BiCMOS.
iFi claims this technology allows them to reduce noise, excellent transient response, and excellent PSRR (rejection of power supply noise) performance.
Features
Four Stage Gain Controller
Most people will assume the gain control on the iFi ZEN CAN work at the line level and with the input source. In this case, it could not be further from the truth.
Besides the fact that most amps include just up to a 3 stage gain maximum and the ZEN CAN gain feature has 4 settings, The iFi ZEN CAN gain control works by activating each of its 4 amplifier stages. Each stage is, as was mentioned before, a 6 decibel gain.
So by doing some basic math, you do 6 times 4 and we get a total gain of 24 decibels. The highest you can select is 18 decibels on the front panel.
Remember, approximately 3 decibels doubles the volume level. So 24 decibels is an insane amount of gain and I doubt anyone will need more than this. This guy can play very loud and it does so with some power-hungry cans.
3D function
Do you dislike a headphone you have because you find the sound signature to be too narrow? iFi Audio came up with a possible solution called their 3D system a Holographic dual analog matrices system.
The 3D function incorporated into the ZEN CAN expands spatial information and it does it at an analog level and without adding distortion.
It does work and it's a useful feature because its effect is subtle with a minimum amount of artifacts or distortion. It does expand the sound and gives it more height, width, and depth.
XBass
I said it before and I will say it again. XBass from iFi is probably the best bass boost out there because of its subtlety. Most bass boost features I find to be overwhelming, to say the least, and sound super bloated.
XBass from iFi is a fully analog implemented bass boost that slightly elevates the lower octaves and is done very tastefully but according to IFI, it is not done by elevation. XBass has a claim to restore bass instead of boosting bass.
Comparing XBass to Truebass and if I had to choose from the two, or any other bass boost, I prefer the XBass feature hands down.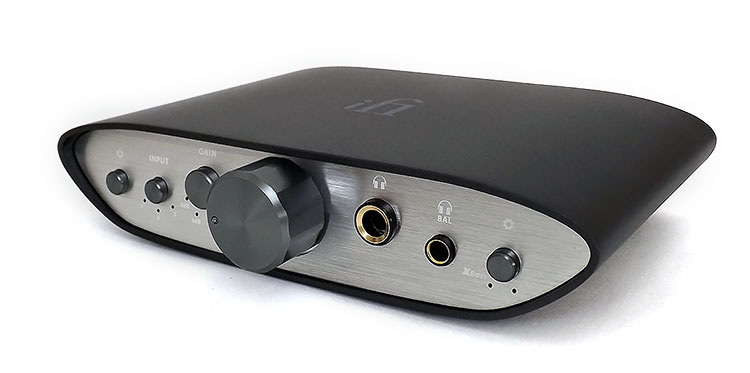 Design
The ZEN CAN has the same retro-looking rounded trapezoidal rectangular shape and design as the ZEN DAC. The CAN, the ZEN, Phono, and the BLUE all have the same shape and color and stack up very well.
The construction of the case itself is all metal and has a seamless design. It has an identical gray color and brushed metal finishes as the ZEN DAC and BLUE.
I'm not sure if all the pushbuttons are metal. They do feel like metal. For certain the slightly knurled volume knob is metal. The knob operates very smoothly and feels great to operate.
The front and rear panels are made of brushed aluminum just as the other iFi components mentioned and make for a very good looking and an impressive looking stack if you get them all.
I/O
The iFi ZEN CAN has almost every type of desktop amplifier input you need except for XLR inputs and the aforementioned kitchen sink. The standard RCA analog inputs are provided along with a 3.5mm 3 pole input to connect sources like a phone or anything that uses a 3.5mm output plug.
The third input is a balanced Pentaconn 4.4mm connection. Although the only input missing is XLR, you could always convert the 4.4mm to XLR but you would probably have to get the wire custom made along with most any other 4.4mm wire.
There are also 3 outputs so there are three in and three out. I guess this amp is more balanced than one thought. Two headphone output plugs are upfront. One is the conventional single-ended 6.35mm 3 pole jack and the other is a 4.4 Pentaconn headphone output jack with a balanced output.
The third output resides on the back panel in the form of a 4.4 Pentaconn balanced line output. This connection works at the line level and is not a headphone output. The output can be controlled by the volume control so the ZEN CAN is capable of acting as a preamplifier.
I did miss the more conventional type RCA or 3.5mm line-level output to connect as a bypass to my other more conventional components. There are not many components that use a 4.4 Pentaconn input yet.
IPower Adapter
The iFi ZEN CAN runs off a 5 volt DC power wall wart and it should be fed clean power with at least a rating of 2.5 amps minimum.
iFi is including their excellent clean power 5-volt IPower adapter with the first 1000 units sold. This adapter is rated at 2.5 amps and has an internal ANC noise reduction system. Alone, the adapter is worth about 60 dollars so hopefully, you will get one too.
I would suggest to iFi to keep it that way if they can, even if they have to slightly raise the price, to avoid scenarios of people receiving them and not having something to power it up with. Besides, all other headphone amps come with a wall wart.
Unlike their recently released ZEN DAC, the ZEN CAN has a power button. The button is a push and hold for a second type to activate.
Packaging & Accessories
Anyone that bought a ZEN DAC should be familiar with the box the ZEN CAN comes in. They are both the same even in the color scheme.
There is not much in the box besides the amplifier itself and the aforementioned IPower adapter. There is an instruction card for reference with printed specs. The RCA wire that comes in the box is the same purple iFi brand 22-inch wire that comes with the ZEN CAN. Honestly, this wire will do and seems like a good quality wire.
There is a 6.35mm to 3.5mm adapter inside the box but I found it to be almost useless. The quality of the part is not so good.
Sound Impressions
I find iFi amplifiers to have a slightly warm sounding character, except for perhaps the HIP DAC, and this one is no different. The ZEN CAN has a relaxed tone with a good transient response.
Detail retrieval is excellent with its almost dark background. This amp does have a touch of hiss at the highest gain level with very sensitive IEMs or headphones, but I think most amps do. This is a known common character of the multistage discrete amplifier design.
The frequency spectrum is produced fully and most of the time volume and power levels are high enough with the lowest two gain levels. The higher 2 gain levels should be reserved for the most inefficient cans.
Tonality
I would not consider the ZEN CAN tonality to be completely flat or clinical. There is some color but I like the amount of color it has cause it adds some emotion to the music especially in the lower frequency region.
This amp has a fun character with a punchy low end and smooth midrange and although there is plenty of detail production I would not consider it to be analytical.
Transient response is excellent and sound seems to have a very fast crescent and decay. The ZEN CAN also can handle busy, complex music well without going into incoherence.
Evinrude Fifty Trembling by Brian Blade, although not the best quality recording, demonstrates that the ZEN CAN has a fast transient response with very quick taps on the hats and skins, all audible and very distinct.
Headphone Pairing
I could push my Hifiman 4xx to very loud levels with the ZEN CAN at the third setting of the gain control. These Planar Magnetic cans like high power and they are not as efficient as their specs would indicate.
My Sundaras loved this amp as well. Being a very revealing headphone, the Sundara retained this quality even at loud volume levels. But the biggest benefit from this combo is that the XBass on the ZEN CAN improves the Sundaras.
The Sundaras tend to be bass light until you boost the very bottom end and the XBass fits the bill perfectly without going into the exaggerated territory.
I doubt there is a dynamic driver headphone out there the ZEN CAN cannot drive. I only have 2 models on hand and they are both under 50 ohms and I dared not drive them with anything past the second gain setting.
Synergy
I love the way the ZEN CAN stack with the ZEN DAC. When I got the ZEN CAN I immediately made an iFi ZEN stack. They are identical in size, appearance, and construction.
I had to rig my own 4.4 Pentaconn wire and this gave me a slight increase in dynamic range and a lower noise floor overall. If you're running this combo get the balanced side connected but it is difficult to obtain a line drive wire with Pentaconn connectors. Perhaps iFi should start selling them.
Honestly, the difference between the single-ended and balanced headphone outputs was not a big leap in output. Comparing the 1600mw output to the 1890mw, there is an obvious difference but not much.
The ZEN DAC has a higher output on the RCA side if you put the switch on variable instead of fixed. The voltages go from 2.1 volts to 3.7. This will give you a similar result if you do not have the 4.4 hookups. The Trubass is effective on the line out when the switch is set to the variable setting as well.
Versatility is off the charts. With this combo, you get 4 headphone outs with separate gain settings, Trubass, XBass, and 3D. Balanced and single end inputs and outputs with a minimum amount of power used. Alone, you get plenty of inputs, outputs, and features.
Select Comparisons
Monolith Liquid Spark
The Liquid Spark and the ZEN CAN are 2 warm sounding headphone amplifiers meant for desktop use.
Feature-wise, there is no comparison. The ZEN CAN has XBass, 3D, Balanced inputs, and outputs with more selectable gain levels. Yea it does cost more with a difference in the price of about 50 bucks but if you want features to play with, you know the rest. The Spark offers a similar sound but in a no-frills package.
Tonality
The Liquid Spark is a great little headphone amplifier and has a neutral, warm, non-harsh sound quality similar to the ZEN CAN. These amps are both warm sounding and warm running but the Liquid Spark needs more power from the outlet compared to the ZEN CAN.
On paper, the Spark seems to have a higher power output at 2.12 watts and capable of a 10-volt output. The ZEN CAN? It has the capability of a 15.1-volt output at 300 ohms which is great for those inefficient headphones and it seems more powerful although the ZEN CAN is rated at a lower 1.890 watts of output power and even though it only uses a 5-volt DC input.
This little gem features cascaded OPamps with a negative feedback design and a very neutral sound signature. It has the power to spare and more so compared to the ZEN CAN.
The power amount can be attributed to the fact that the L30 uses a huge wall wart that has a 15 volt AC output against 5 volt DC.
Tonality
The raw power of the Topping makes it desirable for inefficient headphones but lacks in features compared to the ZEN CAN.
Both sound signatures can be summed up as follows: the ZEN CAN has a fuller-bodied sound and more on the Analog side type of sound compared to the Topping L30 which screams solid-state clean and flat almost on the analytical side in tonality.
So it is a matter of what you are looking for and what is your preference.
Our Verdict
Once again, iFi pulls a rabbit out of the hat and gives us a wonderful desktop headphone amplifier packed with a crazy amount of features, plenty of power, hefty construction, stackability with the ZEN DAC, Phono, and the Blue, and for a really modest price.
You could probably obtain more power for less money but you cannot buy anything that comes close to the number of features the ZEN CAN has and to be honest, the power of the ZEN CAN will be more than enough for 99.5% of headphones out there.
There are no caveats here. Perhaps there is just a desire for more. I would love to see later on an integrated DAC. Perhaps the same one used on the ZEN DAC. Perhaps a line-level 3.5mm output or even better, an RCA output.
Either way, the iFi ZEN CAN will sit atop my desk proudly displayed from now on in the form of an iFi ZEN Stack. I am pretty certain this stack will satisfy most audiophiles out there. In the price category it sits in, it is hard to beat.
iFi Audio ZEN CAN Specifications
Inputs
4.4mm Pentacon BAL
RCA L/R Socket SE
3.5mm Jack SE
4.0V nominal @ 0dBFS, 24 kOhm Zin
2.0V nominal @ 0dBFS, 1 MegOhm Zin
1.0V nominal @ 0dBFS, 1 MegOhm Zin
Max Output
Balanced
>15.1V/385 mW (@ 600 Ohm)
>11.0V/1890 mW (@ 64 Ohm)
S-E
>7.6V/196 mW (@ 300 Ohm)
>7.2V/1600 mW (@ 32 Ohm)
THD & N
Balanced
S-E
< 0.0007% (4V out, 600 Ohm, 1kHz)
<0.006% (@ 100 mW/1.27V 16 Ohm)
SNR
Balanced
S-E
>120dBA (@ 15.2V)
>118dBA (@ 7.6V)
Max. Input
Balanced
RCA
3.5mm
7.4V RMS
3.8V RMS
1.92V RMS
Gain
0dB, 6dB, 12dB and 18dB
Frequency Response
20Hz – 20kHz (+0dB / -0.03dB)
Power consumption
No Signal
Max Signal
~5W
~13W
Input voltage
DC 5V/2.5A
AC 100 -240V
50/60Hz
Dimensions
158 x117 x35 mm
6.2″ x 4.6″ x 1.4″
Net weight
515g (1.14 Ibs)
Warranty period
12 months