In this feature, we review the Unique Melody Maven Pro which is a custom titanium shell IEM featuring 10 BA and a dual electrostatic driver design. It is priced at $2999.
Disclaimer: This sample was sent to us in exchange for our honest opinion. Headfonics is an independent website with no affiliate links or status. We thank Unique Melody and MusicTeck for this opportunity.
To learn more about Unique Melody products previously highlighted on Headfonics you can click here.
Note, this feature follows our latest scoring guidelines which you can read up on here.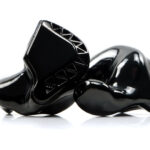 Unique Melody Maven Pro
The Unique Melody Maven Pro is a double-down on the tuning direction first taken by the MEST MKII and then the MEXT. This is a weighty, impactful, and full-bodied presentation designed to evoke rather than reveal. Something to get your toes tapping, with excellent dynamics and power for a BA low-end.
Pros
Dynamic and powerful tuning
Robust titanium shell
Excellent levels of isolation
Cons
Not for reference lovers
More resolving flagship customs at this price point.
Unique Melody has been churning out some really high-performance monitors chock-full of tech for prices lower than what you might assume they should go for.
Examples such as the MEXT and MEST MKII complete with bone conduction and EST drivers for well under $2k have proven to be popular picks in the last year or two. The Maven Pro promises to continue that trend with a multi-driver combo which, at least in a universal format, is pegged at an equally competitive price.
The Maven Pro is a gen 2 creation, with the original coming out in 2019 for $1999. The Gen 2 updates both the design and the internals as well as lowers the universal version price a little over the original to my surprise.
The sample we have here is the custom version so it looks a little bit different, priced a lot higher also at $2999, and might also have an adjusted 'true' tuning given it does not rely on ear tips.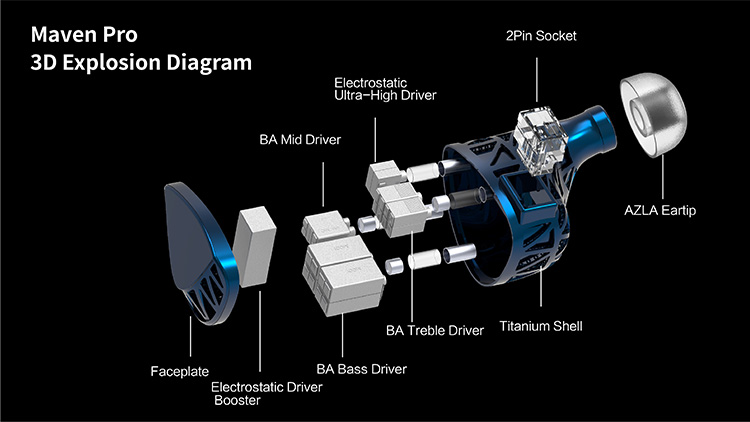 Tech Highlights
Driver Configuration
The Unique Melody Maven Pro is a custom hybrid in-ear monitor that is packed with no less than 10 non-vented balanced armature drivers per side. In a break from the original Maven, those 10 drivers are further complemented with an additional dual electrostatic driver module complete with a transformer module.
The precise driver grouping inside is 4 larger woofer armature drivers for the lows, two full-range drivers for the mids, and a quad pack of BA drivers for the highs up to around 8-10k.
You then have the EST drivers which provide an additional response layer for the ultra-highs beyond 10k and a 4-way crossover adjusted from the original to enhance the bass response.
The Maven Pro has an impedance rating of 30Ω and 112dB SPL @1KHz so ideally, it should not be too demanding though EST drivers can be surprisingly hard to drive. I would presume if these are Sonion EST drivers then they are technically gen 2 versions that have a more efficient transformer than the first gen.
Acoustical Design
Just to hang on to that crossover point for a bit longer, one of the unique internal acoustical designs UM introduced into the Maven Pro has been that of a tuning tunnel. The tuning tunnel has a wider scope than traditional timing in IEM tubes.
The objective here beyond phase control is for proper isolation of the frequency bands from the 4-way with 4 metal tubes, (one for each driver group), inserted at the end to ensure the 'tunnel' so the tubes do not lose their shape and consistency.
Design
Finishing
Since this is a custom design Unique Melody does have some options on how your final Maven Pro will look. I believe you get 3 color choices, a stock blue sapphire which keeps the price within the realms of affordability, and for an additional $900 you can choose between the above picture's black finish or a gold version.
The design itself is a significant feature. You get an indication that it is not your normal resin shell when you have them in your hand. They feel dense, super solid, and very robust. Traits that resin shell designs comparatively lack.
That's because instead of regular resin, the Maven Pro uses a 3D-printed medical-grade titanium metal alloy for both shell and plate materials. Once printed, the metal design is then polished and finished with a PVD coating to give it that final color look.
I must admit, when I first handled it I knew the shell was different but the actual PVD feeling came across as more like resin than metal.
I did ask if was there a resin overmold on the titanium to get accuracy from my ear mold digital scan to the final piece. The answer was no, it is a genuine translation of a digital scan to an actual 3D metal replica of my ear canal.
It feels incredibly smooth as well as wonderfully accurate in terms of fitting, (see more below). The grill motif on the top plate does help though in terms of giving the overall aesthetic a visual lift in an otherwise monotone block. Black looks great, but I suspect the lighter blue stock might be even better.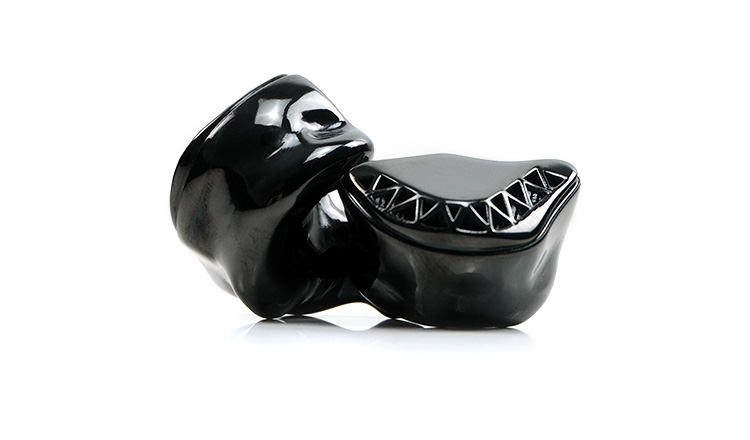 Form Factor
The Maven Pro is not as big as you think it might be or should be given it uses 3D-printed titanium. I would class this as a regular-sized monitor given the underside is going to be an exact match to my ear canal it's about the size I would expect it to be.
The top side is thankfully kept in check so it is not as bulbous as older JH Audio models such as the Signature Layla Edition we reviewed back in 2018.
UM has gone to great lengths to detail how slim the Maven Pro ti panels are compared to regular resin marking it down as up to 1/6 thinner but over 4 times as dense and x 15 stronger so dropping it might not be the dramatic experience that comes with resin customs.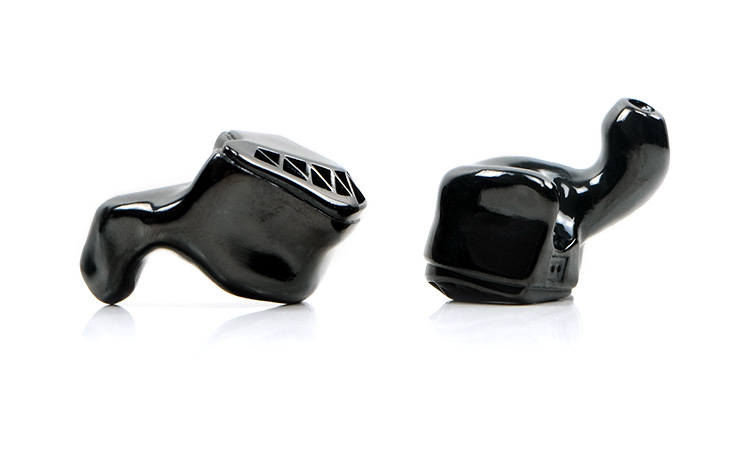 Comfort & Isolation
The level of passive isolation is outstanding from the Maven Pro. I was sort of expecting it not to be given I always considered metal molds for IEMs to be less flexible for sealing compared to resin alternatives.
How wrong am I? I can barely hear any aspect of my aircon's rumble or top whistle, which is rare, even for a custom fit.
Of course, being a custom, the Maven Pro should exactly fit your ear and in this case, it clearly does. The ear canal pressure balance is good, perhaps a tiny bit on the firm side with a lengthy nozzle and increased weight so it's not what I would term a 'relaxed' fit.
This is closer to a stage artist's custom nozzle length meaning the bore will exit a bit closer to your canal's second bend and stay fixed and firm in your ear.
Cornering on the Maven Pro's shell outside the canal is a bit less forgiving compared to resin molds though decidedly more rounded than I was expecting.
The corners feel more 'there' to the touch and something I presume is due to the rigid frame and enhanced density of the titanium material. However, the underlying shell is very smoothly contoured and on par with resin prints so it has no effect on comfort levels when in use.
Stock Cable & Connectors
The Maven Pro uses the same cable as the Mest MK II which is the UM Copper M2 custom designed in collaboration with PW Audio of Hong Kong.
Internally, this is a 24AWG gauge OCC copper 4-wire geometry wrapped in a carbon fiber sleeve and applied with a black PVC coating on the external surface. The wire is braided up to a black metal long barrel splitter and then twisted up to the left and right matching black 2-pin barrels.
The jack options come in TRS 3.5mm as well as TRSS 2.5mm and pentaconn 4.4mm depending on your preferences. I do love the barrel on the M2. It perfectly matches the splitter and connector versions with its matte black finish and minimalist branding in white. It also has a slightly concaved shape to allow your pinkies to better grip the barrel.
The only caveat is the barrel size which is a bit on the fat size so just be aware of that if you are using sources with very little space between output ports. The other noticeable finish is a soft memory silicone wrap which seems to be the norm now on good aftermarket cables. It is soft springy and easy on the back of your ear.
In terms of handling, the cable is slightly firmer than some PVC designs I have previously used. Otherwise, it does not have much of a memory retentive quality to its design. It is not that heavy either with super low microphonics from the Maven Pro below the splitter, as well as a nice balance, and no pressure hotspots around the ears.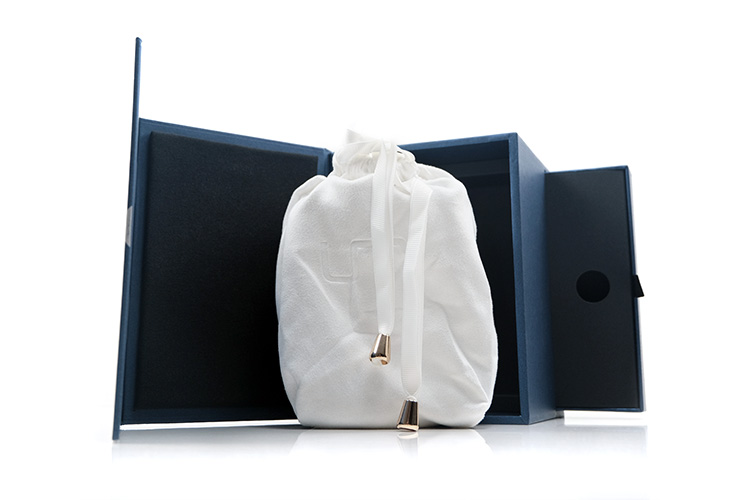 Packaging & Accessories
Unique Melody has changed their packaging for the Maven Pro. The retail box is a little bit bigger than the older more compact boxes and with a more prominent branding graphic on the front. It also opens and articulates closer to the Empire Ears packaging with a lift lid and jewelry-style slide tray at the bottom for any associated accessories.
This particular version comes in blue which I suspect would be the perfect complement to the blue sapphire shell version of the Maven Pro and from the looks of it, also the stock case for the universal version which is sapphire blue also. Perhaps a matching black and gold version of the case would be great for the other designs since they cost an additional $900.
Accessories are a bit slim since this is a custom design. You get no ear tips but you do get the warranty card, cleaning cloth, and a superbly refreshed carry case.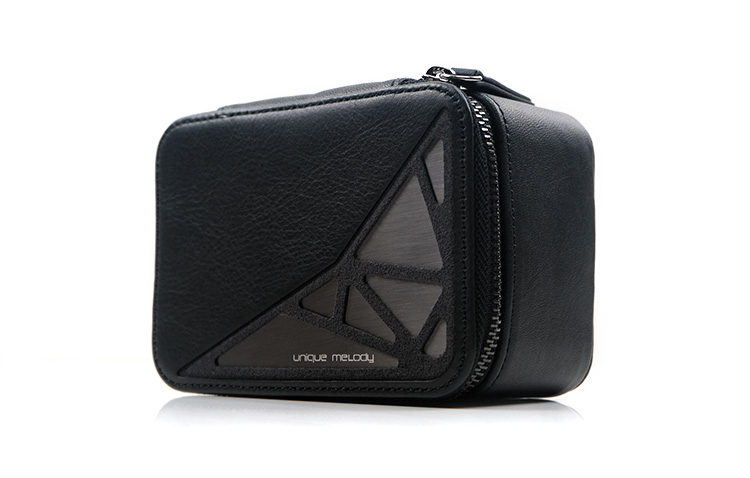 Carry Case
Like the box, the new Maven Pro zipper case is bigger and deeper than their older stock cases. It also has a fresh design that in some ways mimic's the triangular lattice pattern of the Maven Pro's face plate.
The materials also feel like they have been given a bit of a premium lift with slightly softer, black-grained leather on the outside, and grey suede finish on the inside. The internal compartment is huge, you can easily fit several IEMs and cables in there with room to spare.
It still has some dividers though to secure your Maven Pro units safely and prevent any accidental knocks from the cable plugs during transit. To further protect the shells, the cable plugs have also been fitted with removable soft mesh shields.
Click on page 2 below for sound impressions and pairings.