We review the Topping E70, which is an ES9028Pro-equipped Bluetooth-capable desktop DAC offering up to DSD512 and PCM768kHz decoding. It is priced at $349.
Disclaimer: This sample unit was sent to us in exchange for our honest opinion. We thank the team at Shenzhen Audio and Topping for giving us this opportunity.
Click here to read more about Topping products that we have previously featured on Headfonics.
Note, that this article follows our latest scoring guidelines which you can read here.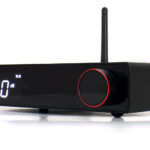 Topping E70
The Topping E70 is a surprisingly good DAC that feels right at home in a desktop scenario or injected into a home theatre hub. The E70 sound quality is on par with more expensive DAC sections, particularly in staging and 3D presentation plus it also excels with a very low noise floor.
Pros
Excellent staging capabilities
Natural tonality/ good dynamics
Good input and output capability
Cons
A bit cumbersome to operate from the front panel
A recent count revealed that Topping has over 30 audio components listed on their website and that number is gonna keep growing it seems. We have no shortage of Topping DAC reviews here either with the budget E30 II and the next one down from this particular review today, the E50 as recent examples.
Next up from the E50 are the recently launched L70 headphone amplifier and the E70 DAC which were designed to pair perfectly together not only visually but also synergistically.
There are two distinct models of the E70 model number in particular. One employs a Velvet sound AKM DAC section and the other uses an ESS Sabre Pro DAC variant.
Today we will talk about the E70 with the ESS variant DAC section. The E70 is a digital multi-input Bluetooth-capable receiver preamp with remote control capability. The E70 is available in two color schemes; black and silver.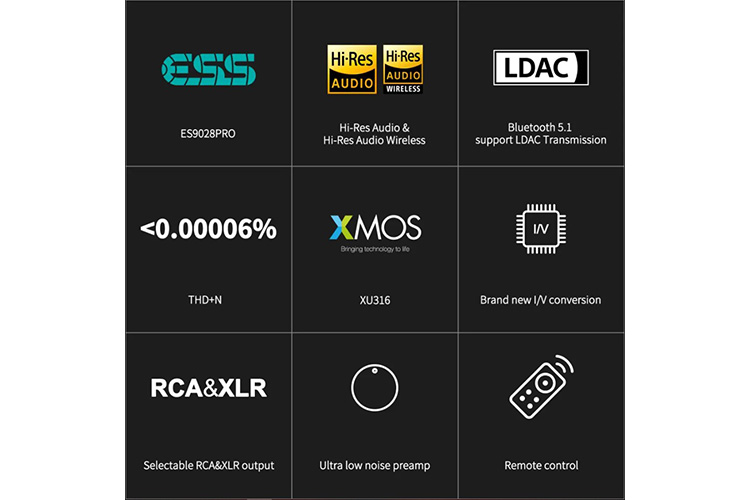 Tech Highlights
So this particular Topping E70 unit uses a single ESS Sabre ES902PRO 32-bit Hyperstream 2 chip which claims the industry's highest standard 124db SNR rating along with a decent encrusted time domain jitter eliminator. Topping seems to be confident in that this single-chip solution can prevail.
One particular aspect of the circuitry design within the E70 that Topping says made a big difference was clean power so they designed a custom inverted voltage or IV circuit design that allowed Topping to push the DAC section to its top limit in performance without adding any electrical noise.
The numbers on paper all look very good starting with a very low 0.00006% THD-N rating which is A-weighted. Dynamic range was listed at 132 decibels rounded off from 132.819 decibels. so it's closer to 133 decibels.
Most measurements were best on the XLR output so those specifications use that source which carries a 100Ω output impedance contrary to the RCA out which carries a 50Ω ohm measurement.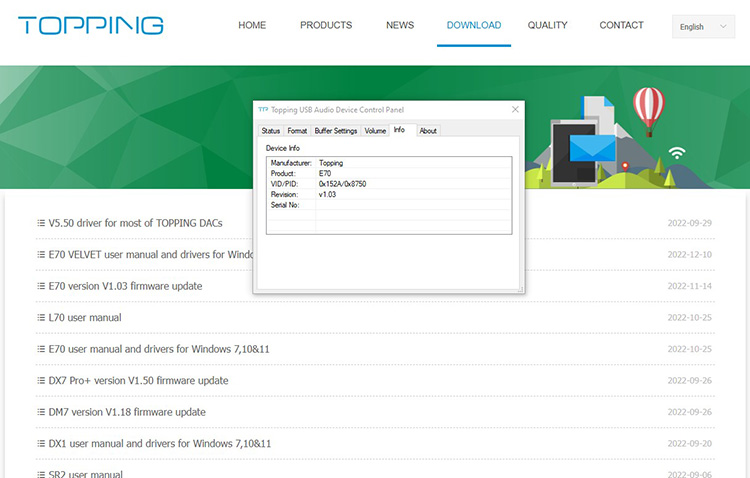 Digital Formats
One particular fact some might find an adverse point on the Topping E70 is that it has no MQA capability. It does excel when it comes to PCM which can reach 32bit 768kz rates, DSD at up to native DSD512, and DoP at up to DSD256.
Now, these capabilities are only available on the USB input port side which is handled by the use of an XMOS XU316 and its Thesvcom custom driver. The optical and coaxial inputs will only reach 24bit/192kHz rates and DSD64.
So it seems the E70 is best in fidelity production through its USB input although the 24bit/192kHz bit rate capability is nothing to laugh at. I would probably use those optical and SPDIF inputs for a cable box or TV output as it seems you could comfortably use the E70 in a home theatre setup.
On a Windows system, however, to take advantage of those higher bit rates you should use the driver that you download from Topping's website. The driver seems to add some stability at the highest of bit rates.
One issue I ran into was that I had to install this driver twice for it to take on my Windows 11 machine since the first attempt gave an error. Then again, the posted driver did not list the E70 as a compatible model but it eventually took it anyway.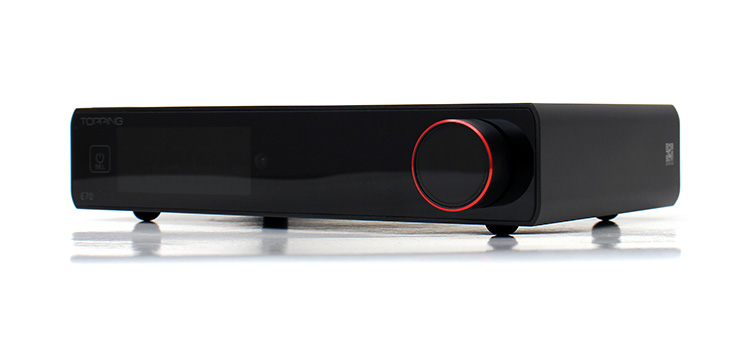 Design
If I was to label the Topping E70 design as a hybrid since the front panel has a touch control pad on one side and a multi-use rotary knob on the other side of the front panel.
So we have a combined touch control and rotary volume knob control set that works in combination to access certain portions of the menu which is then displayed on the LCD screen up front.
The cabinet itself is a finished metal but the front panel seems to be made of tempered glass which looks great long as you keep your fingers off it because it's a massive fingerprint magnet.
The unit's body size is around 1.7 inches tall, 7.8 inches wide, and 5.4 inches wide so it's a good size for a desktop setup. The included remote control indicates the E70 was also designed for home theatre use in mind where the E70 can act as an input switch plus inject a Bluetooth signal into your setup.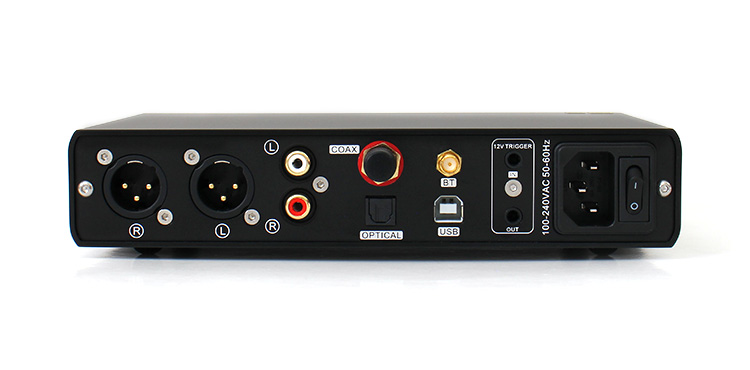 I/O
The E70's main input is an XMOS XU316 USB stage and is capable of running on most modern OS systems. Windows users can also download and use a custom Teyscon driver but Windows doesn't need the driver to function since the E70 seems to work on plug-and-play drivers rather well.
The other inputs, all rear-mounted by the way are an optical input and a SPDIF input connection. Plus, there's one more way to tap into the Topping E70 which is by using a Bluetooth transmission.
There are also a couple of 3.5mm connections on the rear panel but they're 12-volt triggers that work particularly well with their L70 amplifier.
There's one neat feature within the output stage on the E70 and that's the variable and selectable output levels. In other words, you could switch between XLR 4-volt or 5-volt outputs. Just the same, the RCA side also has selectable 2-volt or 2.5-volt outputs.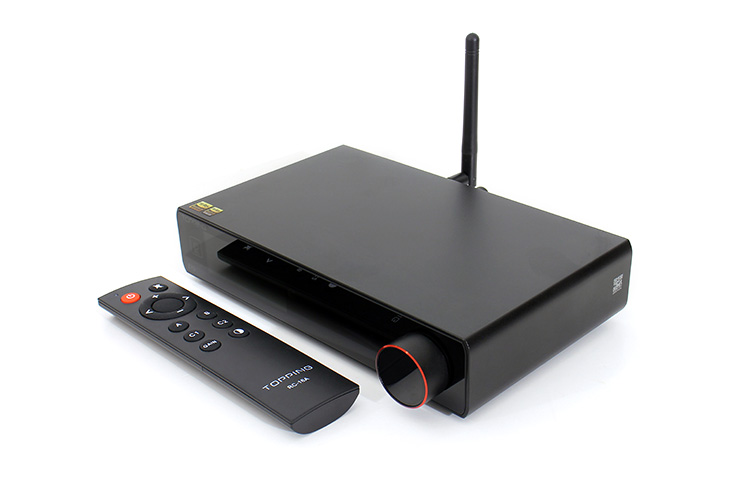 Controls
The Topping E70 combines a multifunction rotary knob with digital controls. I find it similar to what an average DSP does which routinely combines physical volume controls or a rocker type combined with touch controls but is somewhat simplified here for desktop users.
I find the controls a bit awkward because in part you have to use a rotary volume knob and a touch panel in conjunction at times. The funny thing is that the included remote control has direct access to all the features but not the front panel. Some of the features are not so easily reached upfront.
There's not much else but a rear-mounted power switch which is done the right way. Most units with rear-mounted power switches turn the unit on permanently. The E70 turns on or off by a long touch action on the front panel touchpad.
The unit also goes on standby if there's no signal present. That means you just leave the rear switch on all the time and either touch the touch control pad or activate the unit by feeding it a signal which also activates the unit and powers it up.
Features
The Topping E70 has 7 internal digital filters. There's a total of 7 on the PCM side but DSD has its own 4 separate settings. As I scroll through them all I could barely notice a difference between them and I think this feature is there for those who like to tinkle with nuances in audio gear or measure them electrically.
One feature I did like is the fact that you could select what output is gonna be used. So if you have something connected to the XLR and the RCA outputs, you could select them individually, turn them off or use both simultaneously.
There's also a 3-mode power-on and standby mode selector and you could also switch the unit into preamp mode or DAC mode with an output mode setting that activates or disables the variable output or fixed output on the two rear outputs.
There are some other features like screen brightness and time-out setting plus a balance control. So there's more to this unit than what the eye can see on the surface.
Wireless Connectivity
The Topping E70 has a QCC5125 onboard that handles most modern-day codecs including LDAC. Now keep in mind that the E70 can only receive a signal and not transmit one. It works out well, particularly for those couch junkies that want to feed the DAC with a tablet or phone wirelessly.
The topping E70 is capable of running LDAC, AAC, and SBC plus all the aptX variants including Low Latency and Adaptive. The feed works over a BT 5.1 radio and common protocols.
During use, I had no issues far as dropouts and was able to transmit an LDAC signal off my phone and into the E70 from over 35 feet away in a straight line. I also transmitted a signal from an Amazon tablet and a FiiO BTA30 to the E70 with no issues.
Latency was of no importance here since you can only tell on video and not listening to music. But if you transmit a BT signal off a tablet let's say, with a youtube video on, latency didn't seem to be an issue since I did test that scenario and noticed a minimum amount of delay if any at all.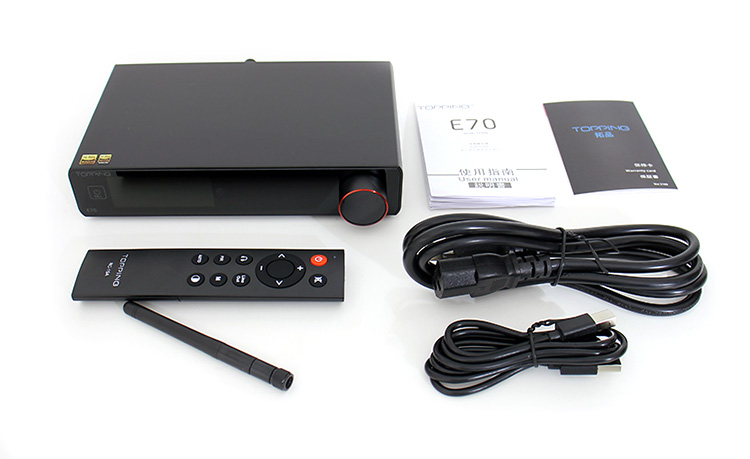 Packaging & Accessories
If you've seen any Topping desktop model packaging then you should know where this is going. The E70 comes in an all-black box with the Topping name on top. The main unit comes inside a custom foam mold which safely cradles the unit up to its destination.
The rest is standard fare. You get some literature, a 3-prong power cord which in my case is for a 120v 60Hz power system, a Bluetooth screw-on antenna, the remote control, and a 4-foot USB wire. Oh, yea, batteries are not included and the remote uses two standard AAA batteries.
Click on page 2 below for sound impressions and our select pairings