This review features the new iFi Audio ZEN One Signature which is a balanced DAC offering hi-res wired and wireless decoding. It is priced at $349.
Disclaimer: This was sent to us as a sample for our honest opinion. Headfonics is an independent website with no affiliate links or services. Thank you to iFi Audio for giving us this opportunity.
You can read more about iFi Audio products that we have previously featured on Headfonics by clicking here.
Note, this 2-page article follows our latest scoring guidelines which you can read up on here.
iFi Audio ZEN One Signature Review
The iFi Audio ZEN One Signature DAC might have eliminated the need for their own ZEN Signature series DAC since it seems it is slightly improved sonically, particularly in noise floor and hiss production but not so much in tonality although the listed specifications would not make it seem so.
Pros
Good sound quality
Low noise floor
Robust construction
There are many ways you could inject a little iFi Audio into your daily music routine. You could do it with either the little pocket rocket GO blu which you could take outside or you could stay at home with an Aurora or a Pro iDSD signature setup.
Well, iFi Audio seems to always have something new up their sleeve and they just launched another piece of gear and another way to inject their signature sound into a home audio setup or to a headphone amp and they call it the ZEN One Signature DAC.
Yes, the iFi Audio ZEN One Signature is a standalone DAC but it's also capable of receiving a Bluetooth transmission source. So that and the digital onboard inputs which can all playback through its two outputs qualify this single piece of gear to be labeled as an all-in-one centerpiece BT-capable digital input DAC, hence the name One.
The ZEN One Signature is marketed as an all-in-one home audio hub device and is built with a puritan concept in mind since it has no XBass or any other type of sound-shaping feature. Even the volume knob has been removed for purity's sake.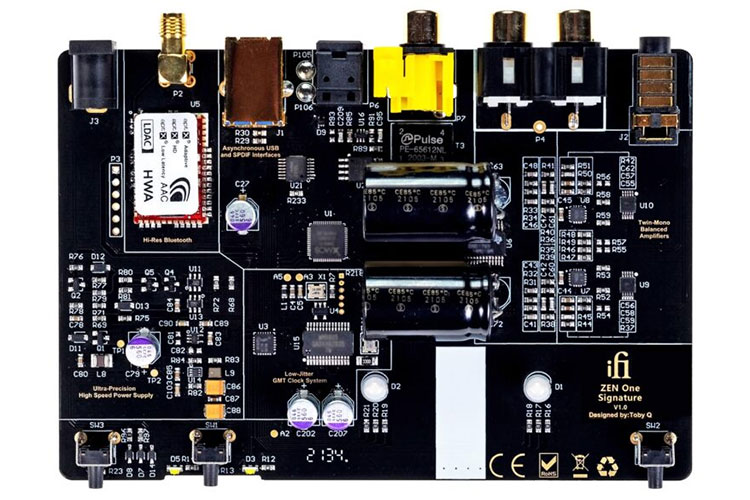 Tech Highlights
It seems like iFi Audio is keen on the XMOS system over all the rest since they use it on all their DAC sections. They tend to stick to this system which has a proven track record of excellent performance and I bet by now they know the system in and out which is a good thing. Practice makes perfect, right?
The iFi Audio ZEN One Signature uses the HexaDeca 16 core XMOS low latency microcontroller with a 2000MIPS clock speed. This is four times more powerful compared to the previous 8 core variant.
Of course, iFi custom wrote the firmware to run it in conjunction with their custom Burr-Brown DAC chips. This allows the ZEN One Signature to run in bit-perfect mode and also allows for direct hardware rendering.
An improved low jitter FEMTO clock crystal with a customized digital filter was also implemented to keep things nice and tidy far as the signal integrity. Plus throw in their balanced topology circuitry design and it all adds up. With this particular design, iFi Audio claims reduced noise, crosstalk, and less interference from their previous DACs.
Design
It seems you could build a 3-foot-tall iFi Audio ZEN stack today since iFi Audio seems to have stuck with the rounded trapezoid shape, unique to their line of gear and I'm all for it.
I think it's one of those things that identifies and differentiates iFi Audio from the rest. They also stuck to the latest blue color scheme which seems more contemporary than the previous silver color scheme.
The iFi Audio ZEN One Signature has an all-metal housing including the front panel together with three buttons which are also made of metal. It seems iFi Audio has tightened up those buttons a bunch from let's say the first ZEN DAC or the first ZEN CAN which did present small amounts of button rattle.
There are two LED windows on the front panel which first off and foremost indicate power-on status. The multicolor LED window on the right indicates the format of the digital input or the Bluetooth codec level.
The other window displays a backlit iFi Audio logo. I like the effect personally but if you prefer, you could always turn all LEDs off with the multifunction Bluetooth pairing button.
I/O
Inputs
You cannot mistake this model for the iFi Audio ZEN DAC Signature for certain if you take a quick look front and back at the ZEN One Signature. If you take a quick peek at the back of the ZEN One Signature, for example, you'll notice it has most types of digital inputs available that were missing off the other DACs and are all selectable with a front panel push button.
To start off, the ZEN One Signature has a USB-C type B input that ties into the XMOS system. But besides that, it also has an optical plus a SPDIF input, again all selectable from the front panel selector. So counting the Bluetooth, the ZEN One Signature has a total of three digital inputs you could use and choose from.
Outputs
Far as outputs, there are two. One is a set of RCA 2V single-ended analog outputs along with a 4 volt 4.4mm balanced analog output. And before you ask, yes you could use both simultaneously and run two amplifiers off the ZEN One. Also, take note that both outputs are fixed and there is no gain control or volume control.
Three inputs are plenty enough for me. You could run your headphone amp off the balanced side while running a speaker amplifier off the RCA. Then you could connect a PC through the USB-C port, a Television using its optical out plus a Bluetooth signal from a phone or tablet.
Another thing to note is that I cannot say for certain if both optical and SPDIF inputs work simultaneously since the input selector can only select one digital-in source and I didn't try either so the 4 inputs become 3 since the front selector has only three positions anyways. But overall the connection possibilities are ample enough for most desktop scenarios.
Controls
The iFi Audio ZEN One Signature is purist and minimalistic in concept but you still have to manage those inputs and the Bluetooth connection so there are some buttons upfront to manage those inputs.
However obviously and once again, the volume knob was omitted so bear in mind also that both outputs are fixed and therefore volume must be controlled at the amplifier.
From left to right and first, off we have the power button which has a sequence you must follow to turn on the ZEN One. A quick tap on the button turns the unit on and a long press turns the power off. At times the power-on feature was unresponsive for me but I bet it was probably my particular way of applying the short press of the button.
There's an input switch on the right of the power button which is a three-input selector and each input has an accompanying LED. The third button all the way to the right is a combo button that is used for kicking the ZEN One Signature into BT pairing mode and doubles up as an LED on and off switch in case you want to go completely dark.
Packaging & Accessories
Packaging should be familiar to you if you've seen any of the ZEN lineup unboxings. The box is rather simple but substantial enough to keep things safe inside. All the items inside come within a box that is placed within a sleeve while the main DAC sits protected inside a custom cardboard compress type mold.
The included accessory list is also basic. You get the ZEN One Signature, a white-colored Bluetooth antenna, a foot-long USB cable, an RCA cable along with a quick start guide, and a warranty card with some MQA information.
Internal Hardware
The rest of the circuitry seems iFi Audio solid as always. They customarily employ some well-known components for circuitry control and power delivery and always display a "spare no expense" attitude. The iFi Audio ZEN One Signature is not the exception.
Since this model is a Signature special edition iFi Audio cranked it up a notch with some top-shelf components like Panasonic OS-COM caps along with some ELNA caps, TDK COG caps, Texas instruments low noise ICs and Vishay MELF resistors just to name some of the internal components used.
All those components would not be as beneficial if the solder work and placement of parts were not optimal. A good look at the board assembly and you could see all the components were mounted in a very balanced manner plus the solder work looks impeccable and the entire package seems very well executed.
The iFi Audio ZEN One Signature works off a 5 volt DC input and you could technically run it off the sole USB input cable but I recommend using the power adapter that comes included in the box which is an iPower2 wall wart that has a higher quality level of internal components over conventional power adapters.
Performance Numbers
The numbers speak for all those components within the build. Overall frequency response is 5Hz to 80 kHz with total harmonic distortion levels at 0.002% which is not bad at all but seems to be a slight increase in the distortion over the other ZEN DACs that were rated at 0.0011%.
To me any signal-to-noise ratio above 90 decibels is acceptable but the higher the better of course and the ZEN One Signature sits at 105 decibels which is lower than the ZEN DAC Signature Series HFM which sits at 117 decibels.
I did notice a lack of noise, hiss, or any other type of operation noise anomalies on all their DACs but more so with the ZEN One Signature which kind of contradicts the numbers.
I'm not certain if some specification numbers might change or if the iFi Audio ZEN One Signature will receive additional features or codecs since at the time of this review there were no firmware updates available.
Wireless Connectivity
Bluetooth
The iFi Audio ZEN One Signature DAC uses a Qualcomm QCC5100 for the Bluetooth section which is claimed to have a superior Bluetooth engine that caters to audiophiles. The QCC5100 transmits over a 5.1 radio and is capable of 24BIT audio and is also capable of high definition BT codecs.
The compatible codec list is long. AptX, aptX HD, aptX Adaptive, aptX LL, LDAC, LHDC/HWA, AAC, and SBC are all compatible and playable on the ZEN One. So I highly doubt you'll run into issues here.
Long-range performance was excellent if you keep the transmission in a straight visible line. I could transmit a solid LDAC signal to the opposite end of my house and to the ZEN One Signature from my phone.
There were well over 45 feet in distance between the two and that is more than enough to transmit music from a phone or a tablet with LDAC while sitting on your favorite chair or couch.
Wired Connectivity
USB-DAC
The USB DAC section runs on USB 3.0 but it's also compatible with 2.0 ports and to be honest, I could not tell the difference between the two types of USB ports. I was able to kick the ZEN One Signature into 24bit and 384k easily on a 2.0 port with no buffering issues.
Although the USB input is capable of that high or even higher bit rates, the Optical port could only go up to 192 kHz which is fine by me since most optical output ports can only reach 96k.
Again, I did not test the SPDIF port and only used the optical port but since most times both SPDIF and Optical ports are tied together I assume it should be able to reach the same 192k bit rate.
Formats
The ZEN One Signature covers most digital formats out there. It also does so at a hardware level since there's so much processing power within the XMOS 16 core and Burr-Brown combo.
PCM can go up to 192 kHz, DXD up to 384 and DSD up to 12.3MHz plus the ZEN One Signature can also render MQA and complete all three folds on a hardware level so it's safe to say you're well covered on all digital format fronts.
Actually, all the formats mentioned above are hardware rendered by the ZEN One Signature which is preferred over software rendering and iFi Audio knows how to take advantage of all the power within the XMOS system as they do time and time again.
Click on page 2 below for sound impressions and select comparisons