We review the Moondrop Alice, which is a flagship TWS or True Wireless System with a single dynamic driver and up to aptX Adaptive decoding. It is priced at $189.99
Disclaimer: This sample was sent to us in exchange for our honest opinion. Headfonics is an independent website with no affiliate links or status. We thank Moondrop and Shenzhen Audio for their support.
To read more about Moondrop products we have previously featured on Headfonics, click here.
Note, that this article follows our latest scoring guidelines which you can read here.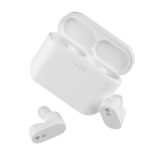 Moondrop Alice
At the price of $189, it is very difficult to recommend the Moondrop Alice although sound-wise, I would have to say that Alice is better than the competition.
Performance & Features
7.7
Pros
Clear midrange
Long battery life
aptX Adaptive
Moondrop has been making IEMs for every price point and it has been consistently doing so for years. This model has been working, wherein they continually upsell to their fanbases. The Moondrop Alice is no different as it aims for the premium category when it comes to TWS.
Moondrop Alice is the latest flagship TWS on their lineup having reviewed the cheaper Nekocake last year. It's said to use similar drivers from the popular Moondrop KATO and made it in TWS form.
It was disappointing to know that this does not carry an ANC feature but it does tick all the boxes from the surface such as long battery life, BT 5.2, a ULT Dynamic driver, and Moondrop's VDSF tuning.
The real question is does it justify the hefty price tag of $189?
Tech Highlights
The Moondrop Alice packs a lot inside. It uses Qualcomm's latest QCC515 Bluetooth processor chip that has Bluetooth V5.2 connectivity which provides a stable, lag-free wireless performance. It also supports AptX adaptive and AAC protocol for best performance.
Inside is a 10mm ULT super-linear dynamic driver and a high-performance DLC composite diaphragm, which was also used in Moondrop's flagship dynamic driver UIEM KATO.
Alice houses the same tech and acoustic cavity from the KATO, with just the signal output connector modified, which sets apart Alice from other TWS in the competition.
It also has a new generation VDSF+ (Virtual Diffusion Sound Field Technology) which simulates the acoustic transmission path, improving the soundstage performance. This feature can be switched easily through a touch operation on the earbud.
It also has an accompanied app, with 10 kinds of tuning adapted from well-known classic headphone models. They are named after the cities where the headphone was made so it's pretty easy to guess the reference models.
When it comes to battery life, the Alice houses 8 hours of playtime and an additional 40 hours through the charging case.
Design
The Moondrop Alice comes only in one color, matte white. It looks very clean throughout with a snowflake-like design on the faceplate. Its shape is also unique, it's shaped like a pill, unlike traditional IEMs.
Despite the unusual shape, it fits well and is very comfortable to use. Although, it does look a bit chunky compared to other TWS. It also has small vents around the shell, which I suppose are for the mic and acoustic vents. It's seamless and can hardly tell its location.
Controls
The faceplate houses all the responsive touch controls. The controls are very intuitive – tap to pause, double tap to skip, or reverse tracks.
The unique setting is switching the VDSF+ on and off. A long press triggers this setting, along with a voice prompt telling you if it's on or off. To turn off the buds, you just return them to the cradle. Pairing it is very seamless, once you set them up, it will automatically pair the next time you use it.
Comfort & Isolation
Although there is no ANC feature, the Alice has universal-sized buds, meaning you can change it to your favorite one. Using the Moondrop Spring tips, it fits perfectly in my ears, which allows average noise isolation with a comfortable fit.
Despite the chunky size, they are very comfortable to use. The shape doesn't touch any side of my ear, which gratefully doesn't produce any hotspots when worn for longer periods.
The fit is also perfect, and walking with it is pretty seamless. Despite not having any IP rating, I still used it in the gym and there were no problems whatsoever.
Cradle & Battery Life
Moondrop boasts long battery life with the Alice, 8 hours with the buds, and 40 hours on the cradle. There were no specifics on the battery capacity but guessing from the size of the cradle and rated hours, it's probably slightly larger than the competition.
The cradle is matte white, matching the buds. It is of a clamshell design, which reminds me so much of Spark's cradle, with almost the same form factor if not the same. It also comes with a white cover case, with grey patterns printed around. I really like this look and protects the cradle itself from dirt and dust.
The clasp's hinge does feel plasticky when opening and closing, not as seamless as an Apple AirPod cradle, although the magnetic shut does elevate the overall feel of the cradle.
Opening the cradle reveals the battery indicator, flashing a bright white LED, which I think is a perfect choice given the overall theme of the package.
The back of the cradle shows a lone USB-C port to charge the cradle.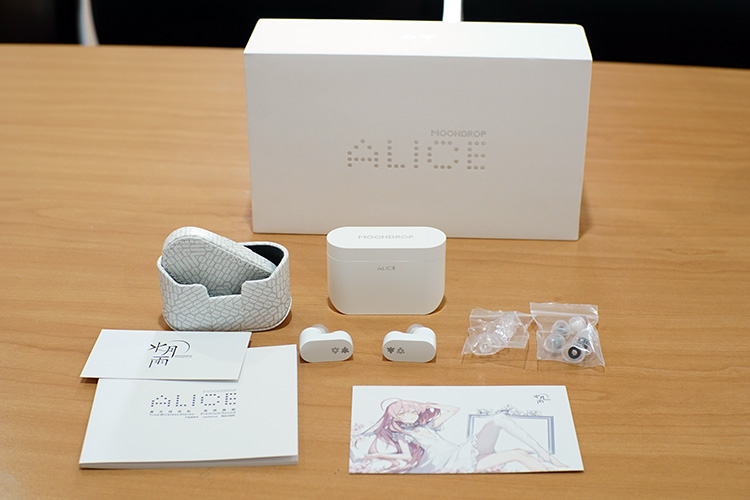 Packaging & Accessories
Alice has the same premium experience of unboxing a Moondrop product. I would say the packaging is a bit excessive, given how small the device is, but it does give a feeling of excitement whenever opening a Moondrop product.
Inside the box, the cradle and buds are seen right away. Opening the extra layer shows the accessories that come with the box – Cradle case, manuals, USB cable, and 2 pairs of S, M, and L tips.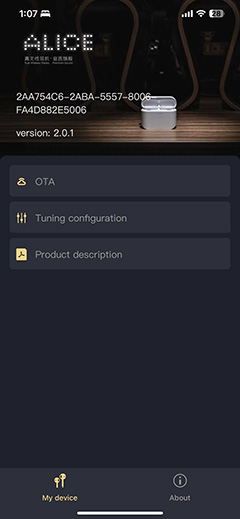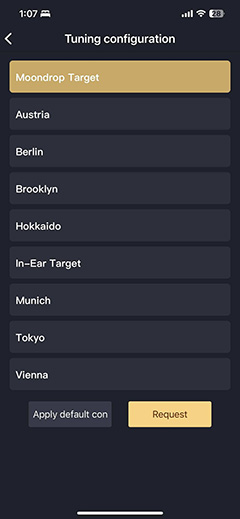 Software
Moondrop Link
The Alice comes with an accompanying software called Moondrop Link that lets the user configure the sound signature. Just make sure to update the firmware of Alice. There are 10 tuning configurations tuned to classic famous headphones.
Trying the different sound signatures really changed the sound of the IEM, however, there are only 1 or 2 filters that I personally liked.
IEM Software
VDSF+ is also a software filter actuated on the buds themselves. Truth be told, I don't find anything different between the two.
One gripe with Moondrop Alice's software is that when you turn the volume down to its lowest setting, it gives a loud beep sound. It is loud that it hurts my ears whenever I accidentally trigger it.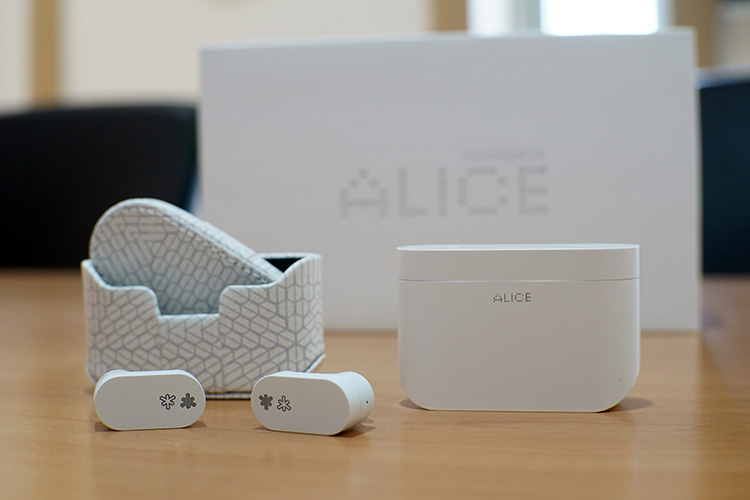 Sound Impressions
Bass
Bass is not much found in the Alice, which was actually surprising since the KATO can deliver good bass when needed. It lacks a sub-bass or a deep rumble. It does have an adequate presence in the mid-bass but lacks the body to be appreciated.
Mids
The midrange region in Alice is highlighted, especially on the vocals. The vocals are clear and crips which is impressive for a TWS. Male and female vocals both show clarity, although lacks richness if I were to comment on the quality.
Instrumentals also have a good presence. With Alice's clean midrange, details are heard well and present. Even with busy tracks, details are still heard, with enough separation to properly do instruments.
Treble
Alice's treble extends well, with exceptional clarity. It is on the elevated side, bright if you ask me. When listening to different tracks, an airy and sharp top was noticed.
Overall, it has a good amount of sparkle and airiness. High frequencies have a good amount of room to breathe where minute details such as breaths are heard.
Cymbal crashes also are carried out relatively well which adds height to the overall sound. Guitar strums also are projected naturally, with no over-emphasis on strums.
Staging
Truth be told, for a TWS, Alice has impressive soundstage and imaging. Although it lacks in-depth, at times I feel I'm using a wired TWS based on its sound presentation.
Imaging is above average. Layering is heard and presented well. Especially now that tracks usually are recorded with multi-layers, good monitors can display at least some of those layers which makes the track richer and more pleasant. Alice does exactly that and there is very little to complain about in this department.
Click on page 2 below for wireless performance and our select comparisons.