Today, we review the HIFIMAN EF400 which is an integrated balanced headphone amplifier and DAC featuring the new Himalaya R2R DAC. It is priced at $599.
Disclaimer: This is a sample sent to us in exchange for our honest opinion. Headfonics is an independent website with no affiliate links or status. We thank the team at HIFIMAN for this opportunity.
To read more about the HIFIMAN products we have previously featured on Headfonics click here.
Note, that this article follows our latest scoring guidelines which you can read up on here.
HIFIMAN EF400
The Hifiman EF4000 is an elegant headphone amplifier that is simple to use but has a sophisticated sound signature that's slightly bright tilted, rather neutral, and natural but it punches hard when it has to.
Pros
Natural sound
Hefty power output
Robust construction
Cons
Lack of inputs
Rear power switch
Recently, HIFIMAN released a desktop DAC amp combo unit, the EF400 which filled a long-time empty slot within the HIFIMAN product lineup. It was quite a long time ago that HIFIMAN delved into this type of product line but has been absent far as the desktop component scene is concerned until now.
Approximately ten years ago, back in 2012 HIFIMAN released their EF6 desktop amplifier and since then have not released many other similar pieces of higher-end desktop hardware. So, the EF400 R2R desktop DAC amp combo was long overdue.
I believe it was 2015 when Hifiman produced the EF100 and they also produced a portable dongle DAC amplifier more recently, the HM800 though it's a portable unit and not a desktop model.
The EF400 now fills that gap. In particular for those who always desired a complete HIFIMAN house sound desktop setup but couldn't obtain an EF6 and for those who already have a few Hifiman cans at their disposal. On the flip side, it's another way to get into the R2R DAC game.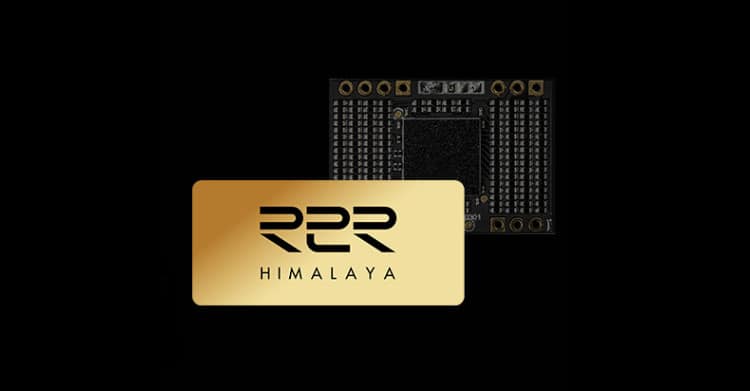 Tech Highlights
For some audiophile old timers, R2R might mean something different, the reel-to-reel comes to mind, but no. It refers to a resistor ladder DAC design. So, it means resistor to resistor and it's the type of DAC section the HIFIMAN EF400 uses in theory.
The highlight of the EF400 is actually the in-house-designed Himalaya DAC section which was then coupled to a rather beefy high-current amplifier section within the same chassis. This particular Himalaya DAC design is the same DAC design that won the 2022 VGP gold technology award in Japan.
There are two ways this particular Himalaya ladder resistor DAC filters digital files and they're selectable. One is with oversampling and the other is with no oversampling. The EF400 has both these filters selectable up on the front panel and are labeled as NOS and OS along with 2 gain levels for each filter.
The power amplifier section seems to be a beefy high current design with six large 30,000µf capacitors and a huge oxygen-free copper wire wounded toroidal transformer. The transformer, DAC section, and amplifier section are all placed on separate boards and isolated from each other within the cabinet's metal chassis interior.
Digital Formats
It seems as though the HIFIMAN EF400 Himalaya DAC in general is not a 'format guru' and it seems to stick to PCM formats exclusively but it does seem to excel at what it does well. It seems to be capable of reaching PCM 32-bit rates and at up to 768khz but nothing else. The end.
There's no sampling rate indicator LED either so it's guesswork far as what you're actually running unless your source indicates what format you're running. Don't expect MQA folding capabilities either but low-level DSD might be possible, just not listed as a confirmed compatible format and you did not hear it from me.
HIFIMAN is somewhat shy with the EF400 specifications. I think there's a "listen before judging" concept here where HIFIMAN wants the listener to focus on sound quality and not so much on the numbers and graphs aspects.
Performance Numbers
There are some numbers out there that are published but not many and again, it seems as if HIFIMAN wants you to focus on sound quality rather than the numbers and specifications as stated. But the one number I know is on everyone's mind for sure is the power output.
A power output rating of 4.4 watts per channel is posted officially but not much else. It doesn't list what impedance or if that's through one of the two balanced connections or perhaps all the connections upfront, who knows?
HIFIMAN does list EF400 THD-N levels but only obtained from the two rear line outputs. The numbers are listed as 0.002% and 0.004%. I'm going to assume the higher number belongs to the balanced output because again it wasn't specified. It is a good spec to know since you could separately access the DAC but unfortunately not the amp section.
The signal-to-noise ratio is listed at 118dB plus or minus three decibels and channel separation of 125dB at the same plus or minus 3dB. But again, it doesn't specify whether the measurements are off one of the headphone output jacks or the rear line output connections.
Design
The EF400 design aspects have a modern vibe but construction seems to have an old-world vintage quality due to its thick brushed aluminum front panel and its hefty weight. The unit itself is rather beefy and weighs 3.08 kilograms or close to 7 pounds. The unit size measure 246.5mm x 228mm x 61mm.
The EF400 color scheme is a classic brushed aluminum metal front and matte black cabinet with two rather large knobs up front. Within the black center portion of the front panel lies four headphone connections, a 3.5mm, a balanced 4.4mm, a 6.35mm, and a 4-pin balanced XLR connection.
So, throw away all your adapters because the HIFIMAN EF400 can accommodate every essential headphone jack out there but the rear panel connectivity is not as versatile.
There are two USB inputs that I would not attempt to use simultaneously, a set of RCA outputs and two balanced 3-pin XLR output connections. The analog outputs are fixed and are not affected by the volume knob.
The back also houses the on and off switch next to the 3-prong power chord socket. I consider this a con because you have to reach your hand behind the unit to power it on and off. But if it was mounted up front, it would throw off the balanced look of the front panel design. So, I understand why.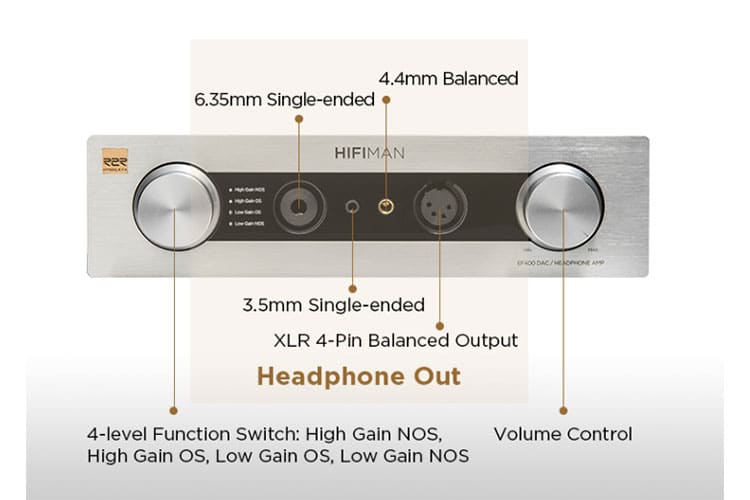 NOS vs OS
Separate from the volume knob, the EF400 front-mounted gain control knob allows you to also set the DAC section over to either NOS or OS which stands for oversampling and oversampling. The difference, at a high level, is that the oversampling adds another process to the signal. The non-oversampled setting is supposedly the least processed of the two.
Oversampling tries to compensate by reconstructing a signal at Nyquist rate, or double data rate and above. It tries to avoid aliasing and phase distortion. For PC users think antialiasing. The problem is that when antialiasing is applied to, for example, a video, lines are softened up but when it comes to the audio you want sharper lines. It can also be done excessively.
The bottom line is that the NOS setting is less veiled compared to the OS setting. The midrange seems wider and more spacious on the NOS setting as well. The OS setting sounds more focused and inward-projected. I personally preferred the NOS setting most times but that's my notion.
Packaging and Accessories
It seems HIFIMAN has gone green lately and it seems they also abandoned their old custom of packing their headphones in lavish jewelry boxes, leather covered with metal hinges, you know. Instead, they now package their product within a simple brown box and place a laminate across the top.
The EF400 is placed inside the box within a custom foam mold along with a thick 3-prong AC cable. You don't get any literature inside the box but the EF400 is super simple to use and I doubt any instructions are needed.
There's some information printed on the box that the power chord comes in which you should take notice of. One of the most important pieces of information on it is that you get an extended 6 months on the already existing warranty if you register your unit with HIFIMAN so make sure you do that. A lot can happen in 6 months.
Sound Impressions
Impressions were completed with the HIFIMAN Sundara, Arya V2, and the Edition XS.
Summary
I mostly perceived a brilliant presentation with an overall smooth and rather flat frequency response curve. It seems the EF400 is neutral but it also feels punchy and dynamic. It also sounds true-toned or in other words very natural.
I would never say the EF400 lacks bass, rather it is a clean approach making it sound somewhat objective perception-wise. It does have plenty of precision but I do wish there was a way of raising its output, perhaps a bass boost feature? That would add an element of fun here.
It's the kind of bass that only shows presence when needed and doesn't spend time wasting unnecessary power and it just gives you the right quantity to show its presence. It does paint every note in a way that each one is distinguishable.
The midrange is buttery smooth. One thing I'm sensitive to audibly is when a DAC section has timing issues especially if it's in the midrange section. I recognize it as a raspiness or a fuzzy sonic character but the EF400 has none of the negative characteristics of a cheap DAC. It sounds fluid and accurate, particularly in the midsection.
The DAC section actually has the ability to just be and just do its job in the background without grabbing much attention and that's a good thing. It has a good amount of transparency along with a very dark background that seems to be absent of any hiss. So that leaves the treble response alone to do its job of sounding crystalline as it should.
Staging and Dynamics
Dynamics come through the EF400 very well if the recording calls for it and it seems the EF400 has a very good ability far as a quick rise and decay in its response time. It's also plenty capable of producing plenty of power on tap when the rumble comes rumbling.
The overall tonality of the EF400 seems slightly tilted bright but the bottom octave is present none the less and it supplies a good amount of a wallop especially if you raise some of the lower notes with some equalization, let's say below 60hz as I most often did since I felt it was needed. Hey, whoever said music has to sound flat?
Far as staging, the EF400 can run with some of the best in imaging capabilities at this price tag and then some. If you use the right headphones and a good source you'll be treated with an ample soundstage that is precise in the macro and micro aspects.
Cascades rain down on you, panning shifts through accurately and you can distinguish individual layers at many levels again, long as the cans you are using are up to the task.
Himalaya DAC
The HIFIMAN EF400 has 2 ways it lets you access the DAC section, one through the rear RCA outputs or through the dual-pin XLR outputs. So, I used a Topping A90 plus I also used the amplifier section off an iFi Diablo to see how the DAC would pair up with an external amplifier, of course from the XLR outputs.
Trust me, you could obtain even better performance from the EF400 by using a higher-tier dedicated amplifier. The DAC alone is well worth the asking price of admission here so the amplifier section seems to be a bonus item.
Vocals come through with air and breath, the bass is natural, fast, and with a good amount of body plus the highs are crisp and clean. Overall, the sound signature sounds pleasant, innate, well-defined, and with good elemental placement. A nicely nuanced experience with a detailed and precise stage actually.
By the way, the two-line level outputs are fixed outputs and are not affected by the volume control or the gain either but the two filters are definitely affecting both rear output ports.