Today, we review the Softears Studio 4, which is a quad-balanced armature driver universal IEM specifically designed for studio referencing. It is priced at $449.00.
Disclaimer: This was sent to us as a sample in exchange for our honest opinion. Headfonics is an independent website with no affiliate links or services. We thank the team at Softears for their support.
To read more about Softears products previously covered on Headfonics please click here.
Note, this article follows our latest scoring guidelines which you can read up on here.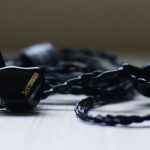 Softears Studio 4
The Softears Studio 4 is a well-balanced and detailed IEM, with excellent tonal balance and clarity across the frequency spectrum. The bass is tight and controlled, the midrange is natural and smooth, and the treble is detailed and well-extended.
Pros
Good balanced tuning
Well-textured and articulate mids
Comfortable shell design
Softears has been a steady brand well regarded in the audiophile community with their reference sounding RS10 flagship, or the beautiful tones of the co-flagship hybrid 1DD+4BA Cerberus.
We have covered five of their universal high-end IEMs to date including the Twilight but this time, our 6th review of their recently released Studio 4 IEM is aimed at studio recording, mixing, and stage monitoring.
This might not be the most affordable IEM to date, that accolade goes to the recently reviewed Volume. However, it is a competitive offering for professional use which would appeal to audiences looking for a more balanced tuning.
Priced at $449, the Softears Studio 4 enters the sub-$500 category. This is a typical price range for monitors of neutral tuning which would be a good offering for a niche market of reference-sounding monitors.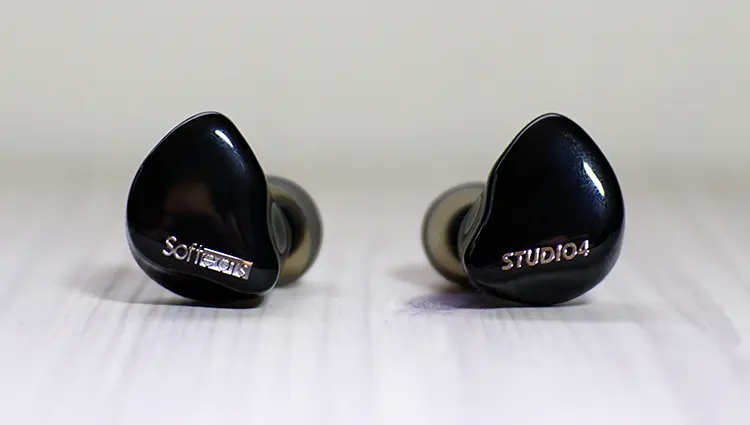 Tech Highlights
It features a 4-balanced armature driver configuration with a flat frequency response, developed for studio recording, mixing, and stage monitoring.
It has a 4-driver with a 3-way crossover design with a wide frequency response range that achieves a nearly straight impedance curve.
Design
The Studio 4s is an ordinary-looking monitor, but hey most of the time simpler is better. It is in a sleek black color throughout.
To be honest, there is nothing much to say about the Studio 4 looks. Other than that, although it looks very plain, it sure looks premium and professionally finished.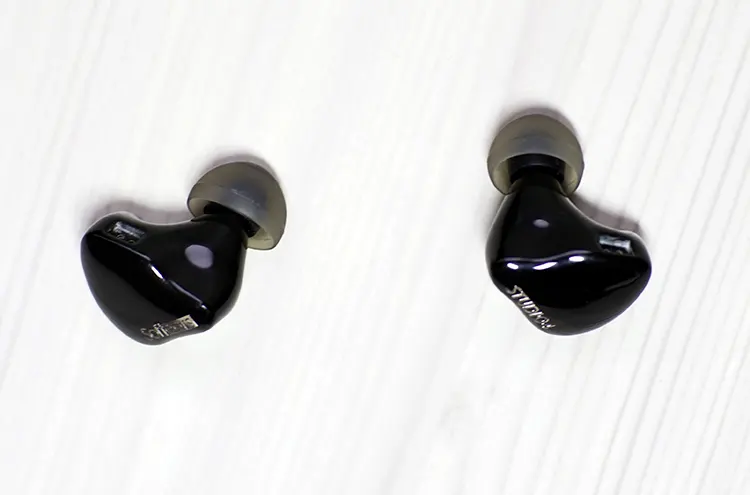 Comfort & Isolation
What I like best about Studio 4 is the shape of the shell which does a really good fit, at least in my experience. It fits perfectly in the ears with no hotspots felt.
The shape of the shell creates a remarkable seal that drowns out outside noise effectively. There is no sound leak with this monitor or sound coming in. I would have to say this is one of the best IEMs that have a perfect seal. The stock silicone tips are dome-shaped single-flanged ear tips that provide exceptional isolation.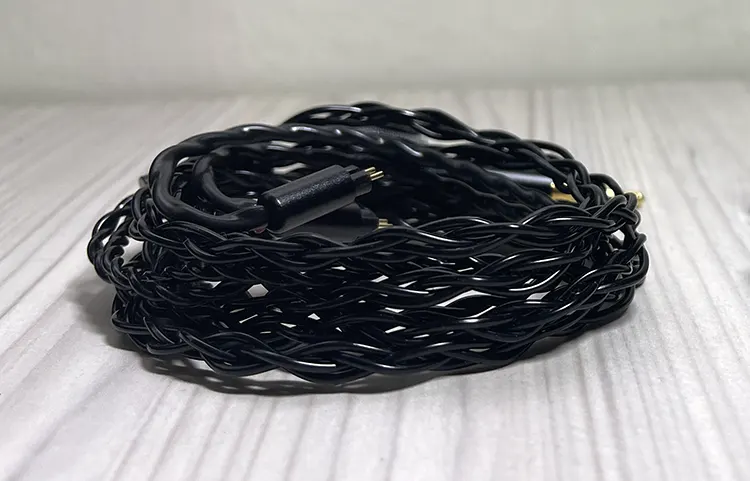 Stock Cable
The stock cables resemble other Softears monitors with a black laminated braid. It has a 4-core elastic type and a 2-pin 0.78mm connector with a twisted-pair oxygen-free copper cable. It is finished with a 3.5mm straight plug for universal access.
There was no observed microphonics, although these are not meant to be used on the go. The wire sits comfortably and is secured at the back of the ears.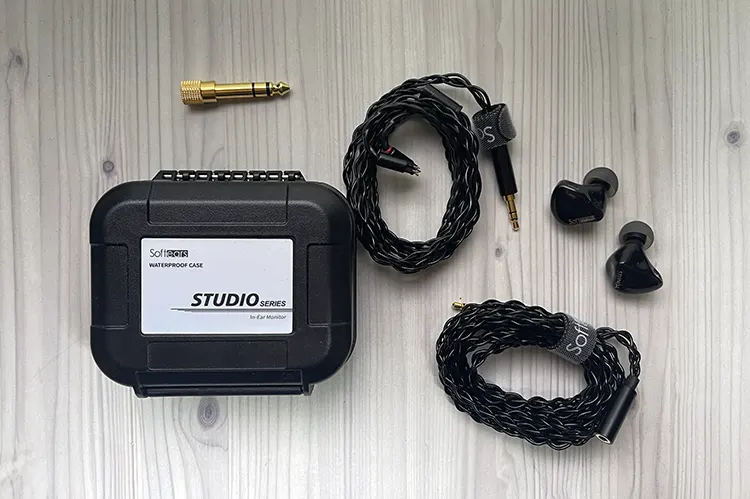 Packaging & Accessories
The packaging is straightforward, which would be appropriate for the target market of professionals. Inside the package are an extended stereo cable, cleaning cloth, cleaning tool, silicone ear tips (S, M, L), carrying case, and instruction manual.
The carrying case is waterproof, protecting it from spillage, a nice touch especially if there are drinks, especially coffee around.
Sound Impressions
Bass
The bass on the Softears Studio 4 is tight and controlled. Although not as deep and full as hybrid monitors with a dynamic driver, I would say it has good extension and below-average depth. The bass has good texture and detail, although feels hollow at times, good enough for a full BA monitor.
Despite the lack of depth, it can make the bass notes felt, especially on fast bass tracks where the notes are separated and not merged. The bass also rarely bleeds into the mids, which allows for a clear separation of instruments and vocals.
Mids
The midrange is where Studio 4 shines. It has a natural and smooth presentation, with excellent clarity and detail. Midrange is neither recessed nor forward, as it is designed to be. It is balanced and has an overall cohesive sound signature.
The midrange is mostly even, with a good balance between the lower and upper midrange. Vocals are particularly well-rendered, with a sense of intimacy and realism. This is true with instrumentals as well; it sounds natural with a tint of warmth.
The amount of clarity is exceptional in Studio 4s. Vocal layering with overlapping of multiple artists – both male and female are delivered, which are often veiled or muddy with other monitors.
Treble
The Studio 4 has good treble tuning. It is mostly flat, which does not overpower any other frequencies. It is also neither bright nor dark.
The treble is detailed and well-extended, with good sparkle and air. It is also not harsh or sibilant, which can be a problem with some IEMs.
It also has a good amount of control, especially in the clarity of the highs. The treble also has good resolution and separation, which allows for clear delineation of high-frequency details in the music. There is very little to no over-boosting, which makes the treble sound natural and organic.
Staging & Dynamics
Staging on the Studio 4s has a good amount of width and height but is a bit lacking in depth. Although, it is spacious enough to have a good amount of separation with both instruments and vocals.
Imaging is fairly accurate in these IEMs. Vocal layering and instrumentals are layered well to be distinct and not clumped together. Sound moves in a unidirectional way, making it easy to form a mental image of the origin of the sound.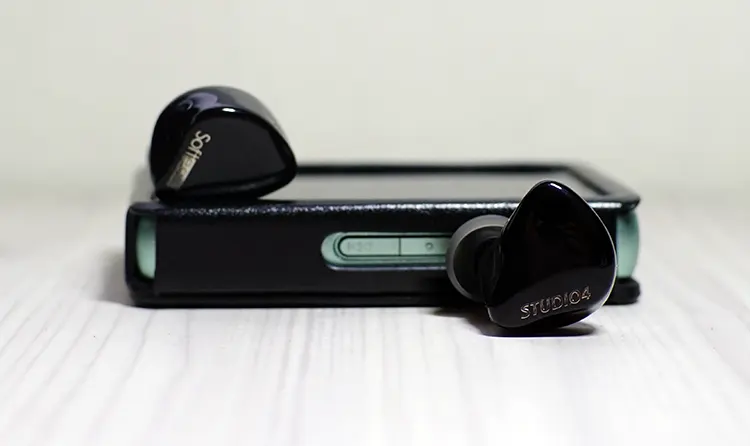 Synergy
Efficiency
With an impedance of 12Ω and a sensitivity of 123dB/Vrms, the Studio 4s are pretty easy to drive. Although it's designed for professional use for mixing and stage monitoring, it is indeed flexible to use for casual listening. This means it can be played right out of a smartphone at adequate volumes.
Although, a DAP or a dedicated audio player would maximize the sound quality that you get out of the Studio 4s.
Pairings
Monitors with balanced tuning are the easiest monitor to pair with. With the Studio 4s having a balanced tuning, it depends on user preference.
For someone who would want to beef up the lower end, the Hidizs AP80 Pro-X would be a good pair. It pushes the depths of the bass a bit deeper, giving an extended and enjoyable rumble.
The HiBy R3 Pro would also be a good pair that extends both the soundstage and imaging. These do well with treble extension and bass lift which would improve the holographic feel of the sound.
Select Comparisons
Shozy Magma
$499
Technical
The 2 monitors vary in their driver compositions. The Magma has a tribrid with a quad driver composed of 1 DD, 1BA, and 2 Electrostatic Drivers. The Studio 4 on the other hand has a 4 BA driver.
Design
the Magma has a black shell with an orange and brown foil-like finish on its face plate. The Studio 4s on the other hand is a plain black color.
In terms of the shell venting, the Magma has a 3-hole design for the dynamic driver to breathe. There are no vents on the Studio 4 since it is an all-BA design.
A 2-pin 0.78mm termination with an ear-hook design is found on both monitors. The 4-core cables on the Studio 4s are a lot thicker than the 2-core cable from the Magma. Both are terminated with a 3.5mm straight jack.
Performance
The bass is leaner on the Studio 4s. The magma has a sub-bass that has a deep thump and rumble. However, the Studio 4s hardly competes with its BA drivers, giving a hollower response. Both are quick, with little delay in the bass response.
Both do have any noticeable imbalance between the upper and lower midrange frequencies. However, the midrange on the Studio 4s outshines the quality that is from the Magma.
Studio 4s has a full the r presentation of the body of the midrange region. It is evident in the vocals that the Studio 4s reveal more in terms of texture and articulation. The Magma pales in comparison with its slightly recessed midrange region.
The treble on both monitors is well extended. To be completely honest there is little difference between the two in terms of treble response. Both have natural sharpness, especially in acoustic guitar replications. Each strum is not too sharp but not too rounded either. It's just right to project accurate tonality.
The Studio 4s do offer a substantially wider soundstage, although lacking in depth. The Magma offers better depth with an adequately wide soundstage.
In terms of imaging, both are above average for IEMs in this price range. Although, Studio 4s has a more balanced tuning, where different elements are put in a neutral stage. In effect, Studio 4s has more unidirectional imaging compared to the Magma.
Softears Volume
$299
Technical
The Volume has a hybrid configuration with a 10mm Dynamic Driver and 2 Balanced Armature driver configurations. The Studio 4 on the other hand has a pure 4 Balanced Armature driver inside.
Design
Made by the same company but with different tuning and target market in mind the Volume is a fun-looking IEM with its green-colored ergonomic shell made of resin.
Despite the unusual green, I would have to say it is across different IEMs in the bunch, it's sure to stand out. Studio 4 is in black, not boring per se but looks more serious and is used as a tool than a fashion piece.
The cables of the two monitors look very similar with a 4-core black cable using a 2-pin 0.78mm termination and a 3.5mm straight jack.
Performance
Bass is plenty with the Volume, partially thanks to its hybrid driver configuration. Dynamic drivers tend to be better at projecting the lows, especially with their depth and heft, sounding fuller and more rounded.
The Studio 4 does have enough bass to be felt, which to be fair does form a complimentary tuning with its mids and highs, although Volume just projects it better.
It is in the mids that the Studio 4s outperforms the Volume. The Volume has recessed mids, which makes the vocals take a back seat. Studio 4's mids are more forward, which makes vocals shine with a natural and accurate projection. Minute details can be heard well with the Studio 4s.
The Treble does extend well with both monitors, although the Studio 4 has a better treble extension. The Volume does have a more forward treble, which makes it a slightly bright monitor.
With Studio 4, treble is projected more on a larger soundstage, which makes the different frequencies heard well without competing which frequency has a higher amplitude.
There's no doubt that Studio 4 has a better soundstage and imaging than the Volumes. It is a few notches better with its wide soundstage, making the Volume sound a little bit intimate at times. Vocal and instruments are also placed better compared to the Volume.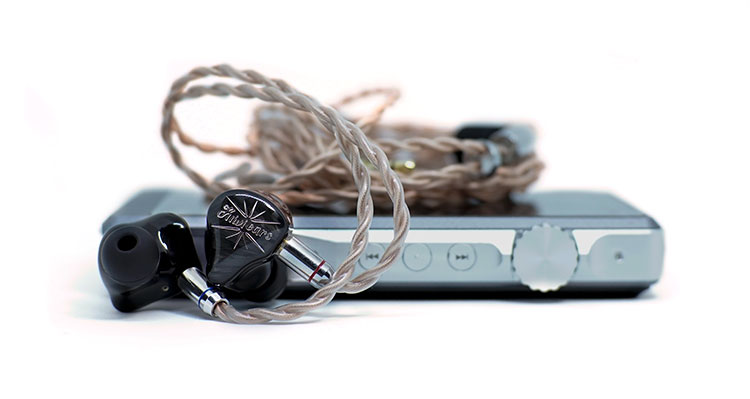 Kiwi Ears Orchestra
$499
Technical
Both monitors have a full-BA design. The Kiwi Ears Orchestra has 8 balanced armature drivers inside while the Softears Studio 4 has four. Apart from the number of drivers, the Orchestra uses a blend of Sonion and Knowles BA drivers while there is no information on the Studio 4s.
Design
The build quality between the two is very similar. They are both made from resin with the Orchestra appearing smaller between the two. However, when worn, the Studio 4 does fit better with a better seal and overall, more comfortable shape.
Both have a very similar design which is an all-black shell, with the Orchestra having a fancier face plate with a brushed texture design while the Studio 4 is simply black.
Both feature a black shell with an ergonomically designed shape and a 2-pin 0.78mm termination. Both are worn in ear-hook style with cables that are terminated with a straight plugged 3.5mm.
Performance
The Softears Studio 4 has a slightly more emphasized bass compared to the Kiwi Ears Orchestra. Its bass has a warmer and fuller sound, while the Orchestra's bass is lacking depth and texture.
Both IEMs have good bass texture and detail. Both monitors maintain a good separation of instruments and vocals.
Between the two monitors, the Orchestra has a more forward midrange, which felt to be a more vocal-centric IEM two. The Studio 4's midrange, while still detailed, is slightly recessed, making the characteristic to be more laid-back.
Both monitors have excellent clarity and detail, with an emphasis on the vocal textures. Both can be perceived with a warm tint, which some listeners may prefer.
The Softears Studio 4 has a slightly more extended and detailed treble compared to the Kiwi Ears Orchestra. Its treble has good sparkle and air, without being harsh or sibilant. The Orchestra's treble is also well-extended but can be slightly less detailed, with less resolution and separation of high-frequency details.
Both the Kiwi Ears Orchestra and Softears Studio 4 have good soundstage, with a sense of width and depth to the sound. However, the Orchestra's soundstage is slightly wider, with instruments and vocals having more space between them. Studio 4's soundstage is slightly more focused, with better instrument separation.
What sets apart the two is the exceptional clarity of the Softears Studio 4. It has slightly better imaging compared to the Kiwi Ears Orchestra, with more precise placement of instruments and vocals in the soundstage. The Orchestra's imaging is still good but can be slightly less accurate, especially in busy or complex tracks.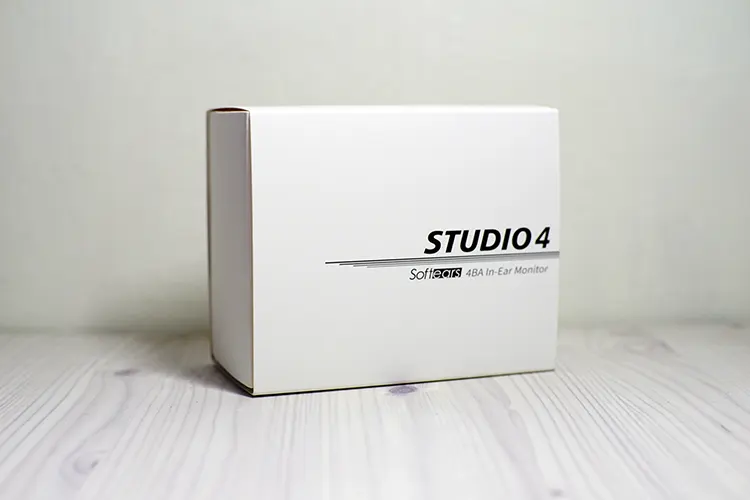 Our Verdict
Overall, the Softears Studio 4 is a well-balanced and detailed IEM, with excellent tonal balance and clarity across the frequency spectrum. The bass is tight and controlled, the midrange is natural and smooth, and the treble is detailed and well-extended.
This makes it a great choice for audiophiles and music enthusiasts who value accuracy, balance, and detail in their music.
Softears Studio 4 Technical Specifications
Impedance: 12Ω
Sensitivity: 123dB/Vrms
Shell: Medical-Grade 3D-Printed Ear Shells
THD+N: <1%
Frequency Response Range: 5Hz-40kHz
Effective Frequency Range: 20Hz-20kHz
Interface: 0.78mm 2-pin Connectors