Today's feature is a review of the 7Hz Legato, which is a dual 12mm woofer and 6mm tweeter dynamic driver universal in-ear monitor. It is priced at $109.00.
Disclaimer: This was sent to us as a sample for our honest opinion. Headfonics is an independent website with no affiliate links or services. We thank the team at Linsoul for giving us this opportunity.
To read more about 7Hz products we have previously featured on Headfonics click here.
Note, that this article follows our latest scoring guidelines which you can read up on here.
7Hz Legato
I would not describe the 7Hz Legato as a bass-oriented IEM or one I would automatically pick for beats and electronica genres. However, for gaming needs, this is going to be my recommendation for anyone who wants an in-ear design.
Pros
Excellent Bass response and quantity
Excellent Midrange
Cons
Lacking treble quantity
Slippery exterior shell
Today we review and detail the 7HZ Legato Dynamic driver IEMs, which currently retail for $109. Just a few years ago, the 7HZ Timeless Planar driver IEMs were the talk of the town. Now though, let us find out if their cheaper dual-dynamic dynamic Legato model can replicate the amazing success of its big brother.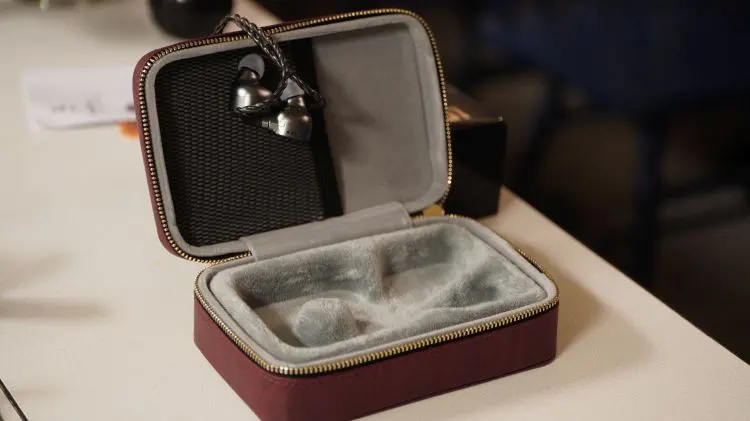 Tech Highlights
The 7HZ Legato is technically a dual dynamic driver universal IEM. It uses a 12mm multi-layer woofer driver inner ear monitor that also has a 6mm driver inside for mids and treble, thus making it a dual driver IEM. The crossover system design is made in Japan and uses internal Tantalum capacitors.
Previously, the 7HZ Salnotes Zero was widely accepted by the audio community and regarded as an excellent product.
As a byproduct of the excellent customer feedback, 7HZ has designed the Legato to specifically be an upgrade to the older Salnotes Zero model. 7HZ also says that their 6mm tweeter drivers are custom-made in-house with metallic parts.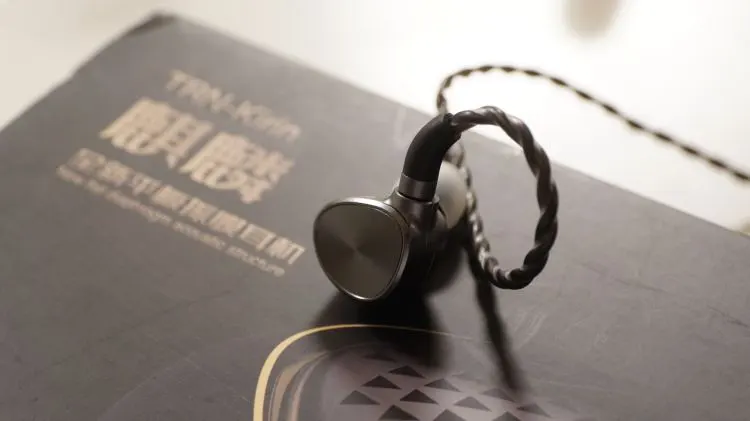 Design
The exterior shell of the Legato is entirely aluminum encased, CNC'ed to "precision", as they put it. They have also designed a threaded faceplate to deter smudges and fingerprints, keeping the shell looking indefinitely snazzy.
Beyond the nice construction, the IEM uses a standard 2-pin connector with a 3.5mm cable. The IEM is also over the ear in style and fit.
The Legato aesthetics are quite basic and do not offer any needless flare or weird designs that may be an eyesore.
Sometimes, I like my monitors to be quite basic, modern looking, and stylish but without any flashy logo or obtrusive graphics on the exterior shell. This Legato is exuding a high amount of upper-end design flavoring, which means it looks expensive, but really isn't.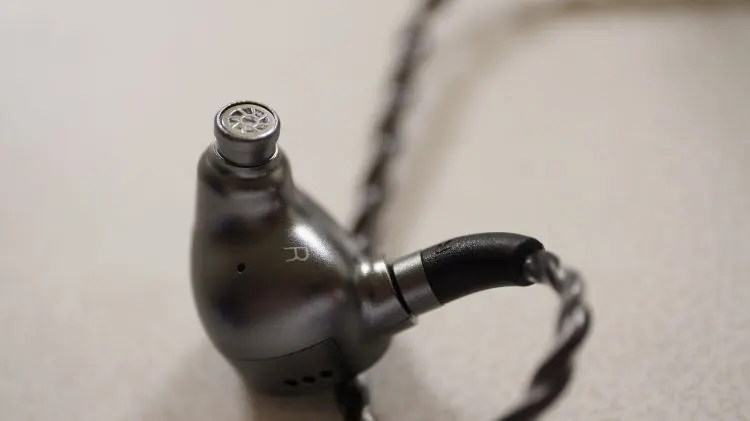 Comfort & Isolation
The Legato is light for its size, and the section of the shells that contact your inner ear areas is very smooth.
I am on the side of the table that says some form of texturing is needed to make the IEM stay stable in my ear, rather than a totally smooth option that tends to slip and slide a bit over time.
While the IEM is comfortable and light when I am stationary, the Legato ends up needing adjustments and resealing if I am moving around a bit.
Thankfully, also, the cable is not heavy or intrusive at all, so there is no extra weight yanking down on an already very light shell in your ear.
With this in mind, other fancier and heavier cables did yank it right down and almost ruined the seal for me within moments. I have some heavier fabric custom 2-pin cables and they do not mesh well with any light shell products like this Legato.
Stock Cable
The 7HZ Legato's cable is an OCC silver-plated and detachable cable, of course. As mentioned just a second ago, you can swap cables but I would make sure not to use any bulky cable models out there with this IEM. The braided cable of the Legato is lovely, and it certainly puts out a higher-end vibe.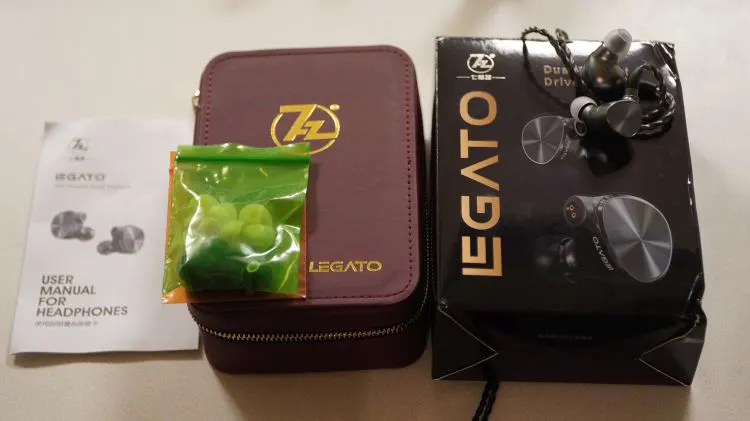 Packaging & Accessories
And the award for the best headphone case or box included for a portable headphone goes to 7HZ! This box is so overkill for this IEM that I can't help but laugh, but in a good way.
It is really nice and spacious. I don't have to wrap the cable up and get it knotted just to even fit it into those awful tiny little cases that are often included with earbuds these days.
The case is imitation leather, but it is a zippered design with plenty of foam inside. I find this absurd only because the inside of the case is adorned with a soft wooly type material, which is something I have not ever seen in a portable headphone at this price tier, like ever.
Also included are two sets of ear tips, white and black variants, each with color codes for the sizing (s/m/l). How often have we sifted through our ear tip box and had to physically match up the size of the tips because we cannot get a visual marker for which size we are even holding at the moment?
I like little things like this, the interior stem that wraps over the IEM nozzle being color coded is a quality-of-life improvement that I hope every single manufacturer adopts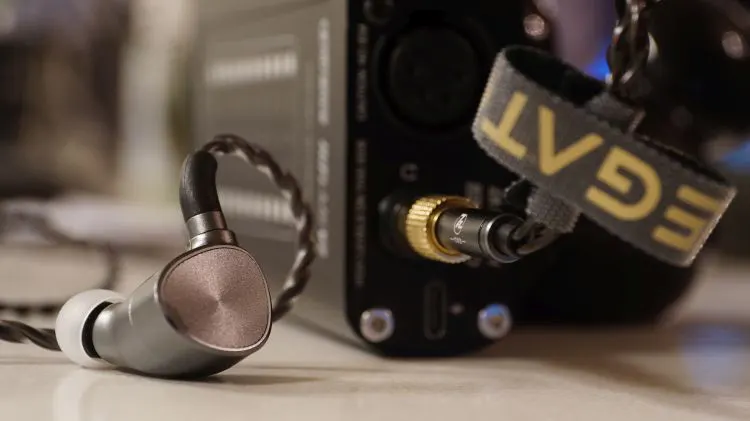 Sound Impressions
Bass
Maybe I am getting senile in my old age, but I don't get the praise around the bass on this model that has achieved an almost meme-level status on audio forums. Yes, it has pretty good bass depth and quantity, but I do not feel like it has that on a stock flat EQ.
Meaning, when EQ is disabled and you run purely without any alterations, I don't consider this Legato to have aspiringly interesting or prominent bass quantity. It sounds enjoyable still, no doubt. But the quantity without bass boosting is shoulder-shrug worthy.
That changes when you add some EQ to the mix, drop a bass booster in there and you can get some seriously lovely bass depth. These drivers are robust enough to respond to boosting on the lower side of the spectrum, and then some.
I run HiBy's MSEB with bass boosting and a gentle bump on the standard EQ mode combined with the bass boosting switch on the CEntrance HiFi-M8 V2 and with that all ongoing at the same time, the Legato then becomes a little bass monster.
I believe the HiFi M8 V2's bass switch adds a +3dB of low end. Combined with the tone preference on the MSEB option in the HiBy app plus the standard EQ gentle bump I give it, adds up to another +3 to 5dB.
So, we are looking at a rough total of +6 to a +8dB of added bass. And with that, the Legato feels wonderful on the low end and retains excellent control.
Bass Fidelity
The fidelity factor is relatively dry and not at all interesting to me in tonality. It's the physical quantity that is the star of the show.
The purity factor is very good, absolutely punching above its price point. However, the tone and texture are one-note lacking a sense of interesting dynamic differential tones and physicality when sifting through multiple bassy tracks.
By this, I mean that the Legato bass experience is the same no matter what I am doing with it, and it doesn't respond nicely to different bass tones found in different tracks. All the bass sounds and feels the same.
Mids
Despite the heavy bass potential, even when it is severely boosted, the Legato mids are not overshadowed by that plentiful bass experience. They are, instead, prominent, and well into the mid-forward tier of placement.
This means the headphone portrays mids that are not recessed and distant feeling, but rather, more forward, and engaging, or closer to you as a listener.
Fidelity and purity are excellent. People keep praising the excellent bass on this IEM and I feel like the only person who noticed the mids are fantastic and not at all reflective of a budget IEM but more reflective of a mid-tier IEM. The midrange is the absolute star of the show of this product, and I fully stand by this sentiment.
When you bump the bass into oblivion, the mids usually dim and die out, hushed, and desaturated by a heavy offloading of bass pouring over the mids. Here, the mids do not get bled into by excessive and copious amounts of bass.
Treble
As much as I like the bass and mids on this model, the treble is simply overly muted and tame. This IEM has a treble experience that is akin to dropping the top few toggles on your EQ for treble down to –5dB and past the zero-barrier into negatives. The top side is severely lacking sheen, sparkle, and anything interesting in tone and physicality.
It is not a fidelity issue; clarity is just fine. It's the physical quantity that just feels incredibly low. Prominent bass, excellent mids, great separation, significantly tame treble?
Truly, without any EQ active, it's like there is a lid on the top side that is preventing it from shining and having any interesting bite or flare to the top side. Simply put, the treble of the Legato is vastly overly reserved and polite in the tone and texture aspect of the listening experience.
Imaging
The 7HZ Legato has excellent separation and a very good depth of field for the price. While the width factor is relatively lacking, the height factor and high coherency potential make up for that.
This IEM has an excellent realism factor in a well-formed stereo image. But more so, the separation of instruments factor and the forward mids really make the IEM shine in terms of enjoyability with certain genres out yonder.
The Legato offers good depth and excellent separation. Somehow, it did all that without the help of a prominent or shiny treble which is what usually helps the imaging out in the first place.
The Legato doesn't hit hard in slam effect, even on the bass side, so the experience is quite smooth and relaxing, polite, and enjoyably effortless.
Height factors do not get in the way of or overshadow depth. It doesn't feel overly deep to the point that width is hard to pick up on. Everything is physically well set up and formed and this, along with the lacking treble, makes the Legato feel hyper-smooth for a dynamic driver.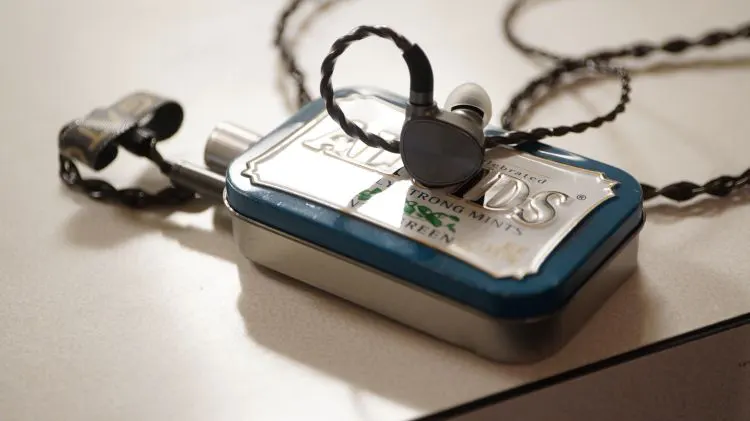 Synergy
Efficiency
At 26Ω and 108dB/v@1KHz, the Legato is extremely easy to drive and doesn't require any dedicated amps to sound very good. It scales up a tad, but not much, with much more expensive amplifiers and sound systems.
Ignore all that, just get a solid portable player or portable amplifier with a good tonal balance, dynamic range, and resolving capability
Pairings
While you do not need an amp, you can benefit from one to switch up the bass and treble. My CEntrance HiFi-M8 V2's treble switch does literally nothing for the Legato, can't even hear the difference and failed blind testing when swapping to it being toggled on and off.
However, the bass switch is where the fun begins. If you don't like using software-based EQ, then you'll have to rely on the amplifiers including a bass dial if it has one. Look for one that has one, so you can experience the best part of the 7HZ Legato in the first place, which is the excellent bass depth potential.
Warm amps all sound the same as neutral and natural amps with this IEM, it is just that when you use a really clinical-sounding amp this model becomes something I don't want to listen to. The lacking treble and the lacking bass make this an IEM fussy sounding.
There is such a thing as overly lacking and tossing in a very icy or clinical tone amplifier doesn't seem to mesh with this IEM, it makes its lacking qualities lack even more.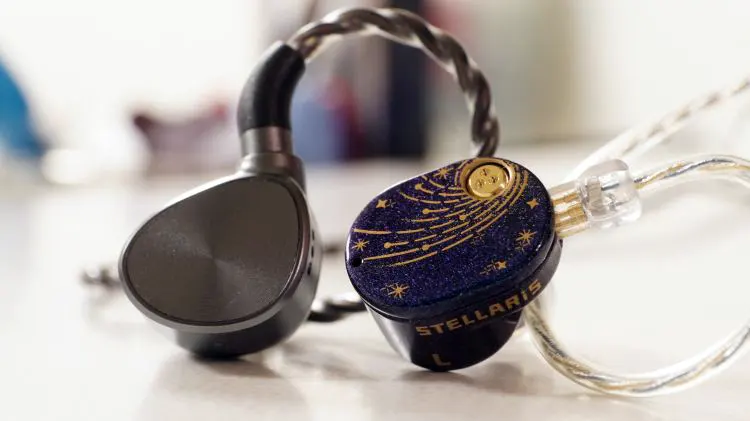 Select Comparisons
FiiO JD7
The FiiO JD7 is also a budget single dynamic driver monitor but with a large quantity differential on the treble end between these two products.
The FiiO JD7 is prominent and engaging on the top side, but also a bit slamming and what I call engaging on the bass end. The Legato, instead, offers a much more meaty tonality on the bass end without the level of physical slam effect that is omnipresent on the FiiO JD7.
Also, the Legato feels much larger, and much more realistically formed in the imaging and soundstage departments.
Most importantly though, the Legato can be turned into a bass head tier product with some gentle bass boosting and the right EQ setup. The JD7 from FiiO is less welcoming to EQ alteration.
Moondrop Stellaris
The Stellaris is the exact same price at $109, but it is planar in design while the Legato is a dual dynamic design. The Legato feels thinner in tone, and the Stellaris feels firm and thicker. This is especially noticeable in Jazz tracks with a focus on vocals.
The Stellaris is also significantly heavier and less comfortable, while also offering way too much brightness on the top, while the Legato is offering too little treble.
Quite the experience to sift between each in an A vs B comparison during my testing. I can safely say that I love the planar tone way more, but the bass on the Legato is hard to beat and the Stellaris stands no chance against it even despite it being a planar model in design.
It's hard for a dynamic driver to beat a planar driver in the bass offering, but this Legato has achieved it.
Flare Audio E-Prototype
Yes, the Flare Audio E-Prototype is over double the price, but the bass experience is quite similar in quantity potential and both models retain absolutely insane robustness when it comes to adding more bass via some EQ system.
So, with that in mind, the bass experience on the Legato hugely scales up when you add more in, but so does the E-Prototype. The difference here is pricing, the Legato being $109 and offering incredible value to anyone who wants bass-head budget-friendly sound.
The E-Prototype feels wider and more realistic across the board, more evened out. The Legato has a mid-bump and is lacking a lot of treble in comparison.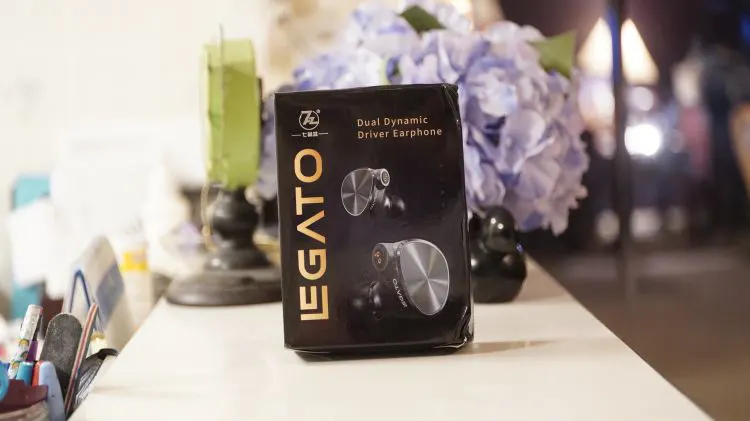 Our Verdict
The 7Hz Legato delivers a bass response that is excellent with EQ but a treble that is highly tamed and almost muted, which is what I want when I play hostile and loud FPS games online.
I would not describe this as a bass-oriented IEM or one I would automatically pick for beats and electronica genres. However, for gaming needs, this is going to be my recommendation for anyone who wants an in-ear design.
I don't want to burst my ears for each bullet or treble instance in the game, I want all that sibilance out the door and replaced with yummy booming and enjoyable bass. And that is exactly what the 7Hz Legato is.
7Hz Legato Technical Specifications
DRIVERS 12mm and 6mm dynamic drivers
DIAPHRAGM Fourth-generation DLC composite diaphragm
IMPEDANCE 26Ω(@1KHz)
SENSITIVITY 108dB/v@1KHz
FREQUENCY RESPONSE 10Hz-20Khz
THD <1%/1Khz
CABLE OCC + silver-plated OCC
CONNECTOR 78mm 2-pin
CASE MATERIAL CNC aviation-grade Aluminum