In this feature, we review the Softears Twilight, which is a new high-end single 10mm DLC dome dynamic driver universal in-ear monitor. It is priced at $930.
Disclaimer: This was sent to us as a sample for our honest opinion. Headfonics is an independent website with no affiliate links or services. We thank the team at Softears for giving us this opportunity.
To read more about Softears products previously covered on Headfonics please click here.
Note, this article follows our latest scoring guidelines which you can read up on here.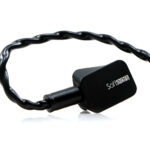 Softears Twilight
The Softears Twilight is an impressive interpretation of a single dynamic driver IEM tuning that up until this point I felt had been done to death.
Pros
Smooth natural tuning
Excellent midrange imaging
Unique eye-catching design
Cons
Lack of treble sparkle
Below average passive isolation
We have covered three of Softear's IEMs to date, the Cerberus, RSV, and the RS10, and their target market points vary considerably in both price and pitch.
The one we have not reviewed to date was their very unique single dynamic driver Turii which they further enhanced recently with a limited-edition titanium version. I consider that the one that got away.
In some ways, the new Twilight launch is the successor to the Turii with many similar features including the dynamic driver design. This time, however, Twilight is being positioned at a lower price point than the original which might make it more of an attractive proposition to the audiophile community.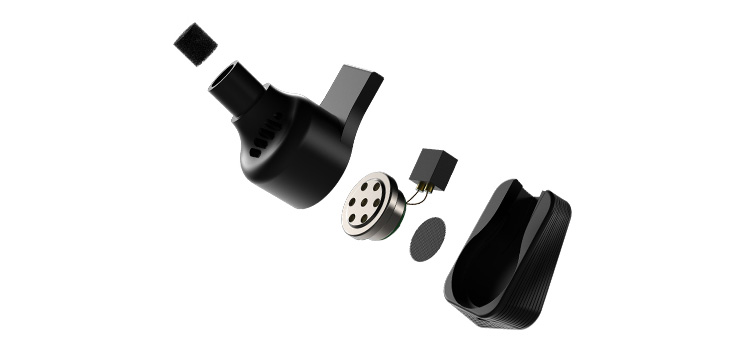 Tech Highlights
The Softears Twilight is a single 10mm dynamic driver universal IEM though it is not the same driver as the one inside the original Turii.
It took them something like 2000 man-hours to develop this one from the ground up including a new DLC or Diamond-Like Carbon dome with a FreeEdge PU or polyurethane suspension supported by a 0.35mm Daikoku high-tension voice coil.
You might notice is a very unusually shaped monitor and we will get into that design in a bit more detail below. However, there is a method in the madness due to the venting requirements of that new driver.
Venting is very important for dynamic drivers so the internal shaping of the Twilight shell had to have a matching volumetric size which, as Softears pitches, will have a positive factor in terms of dynamic range and importantly, sensitivity. This cavity is subsequently dampened to avoid unintentional resonance in the audible output.
And true enough, at least on paper, it looks like Softears got that efficiency equation sorted with a fairly impressive rating for a dynamic driver at 16Ω and 116dB @1kHz for SPL. You can read in more detail how it actually performed in our real-world testing on page 2 of this review.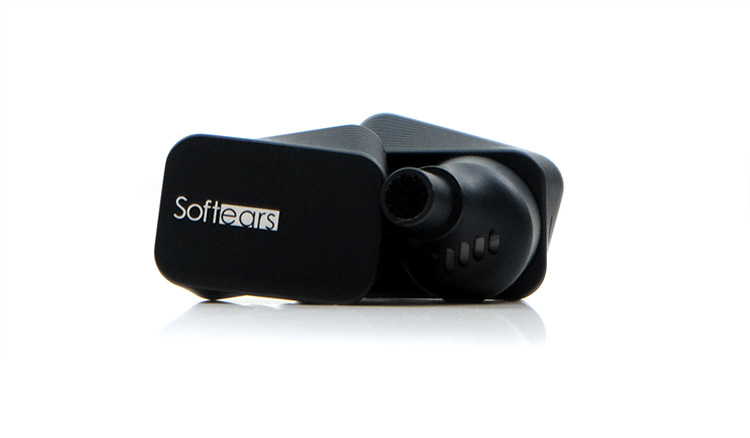 Design
Two things that stand out about Twilight, and that is the design and the materials used in creating that design.
This is a very unique-looking monitor with a rectangular wedge form factor to the fore and the main driver housing combined with the nozzle running perpendicular to the front underneath it. That underlying bulbous main driver body has also got plenty of venting with 4 small mesh grill ports beside the main nozzle position to the ear of your ear.
I wouldn't exactly call them small IEMs but their profile is very different meaning at certain angles they can look quite svelte but from others, they can project a rugged slightly bigger-than-average profile.
Perhaps the most unusual aspect is the connector positioning, which is at the top of the rectangular plate and not to the side, which is more in keeping with how monitors are designed. As you will see in our comfort and isolation section this means the wearing is vertical rather than horizontal or more tall than wide.
The materials and finishing are excellent and of high quality also. This is a 3-piece shell made from a 5-axis CNC-machined aluminum alloy and at 6g per shell, it is much lighter than you might have expected.
Every line is clean, every cut looks precise and whilst it's not a smooth resin-like finish the corning is rounded enough not to double up as a midget weapon of sorts. What I also appreciate is the clear channel markings in white on the inside and not some edgy hard-to-read etchings.
Comfort & Isolation
So back to that connector placement that I spoke about earlier. It's right at the top of the front wedge plate rather than on the side so when you fit the Twilight shells into your ear it's going to run from top to bottom or tall and narrow as opposed to wide and horizontal on initial insertion.
However, once placed what you can do is give it a little twist forward so it sits more at an angle. That final placement feels a little more natural to me and indeed it sits a lot more securely than in its upright position.
Because of the narrow vertical placement, I found the Twilight shells quite comfortable for an aluminum shell. Unless you have odd ears the likelihood of the shells pressing down on your concha or outer ear is virtually nil. The only area that I had touching my ear during testing was the cable itself as it runs over the ear which is fairly normal for an IEM.
The lack of girth does mean the nozzle and supplied ear tips play a crucial role in both the final output of the Twilight and how secure it sits in your ear. Unfortunately, the level of isolation is below average but given the numerous venting ports I was not wholly surprised.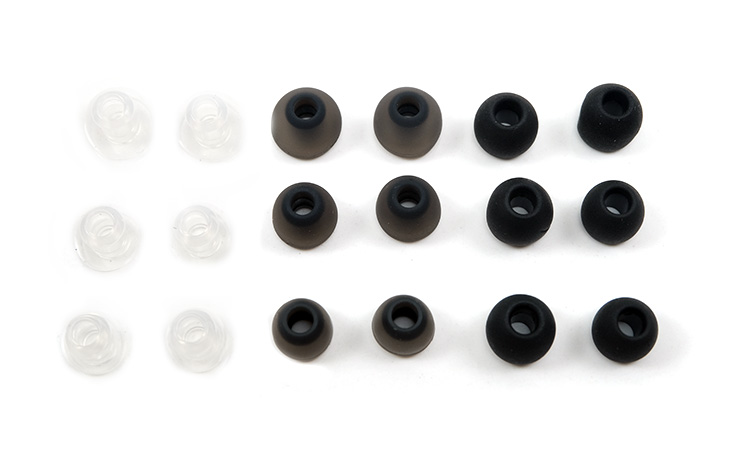 Tips
You get a decent range of ear tips with the Twilight with a mix of both single-flange silicone and a range of firmly contoured foam tips that almost feel like a hybrid design.
In total, there are 3 variations with all 3 sized for small, medium, and large ears. The first and most eye-catching are three pairs of translucent U.C. or ultra-clear tips, you then get 3 sets of black single-bore silicone followed by those foam tips.
Now, I would set aside your usual sizing preferences here because the objective is to get the Twilight nozzle as far down your ear canal as possible.
The further down you the closer you get to the all-important second bend in your ear canal where audio signals from IEMs are usually at their most clear. The further into the canal, the narrower the canal also becomes so my advice is to shoot for the smallest tip sizes on the Twilight to get a deeper insertion.
This makes a big difference in terms of the seal and quality of the monitor performance. With the large tips, the nozzle is too far from your eardrum so the sounds lose both bass impact and dynamics and, aside from the foams, do not improve isolation. The smaller U.C. or medium regular silicone tips did the reverse for me.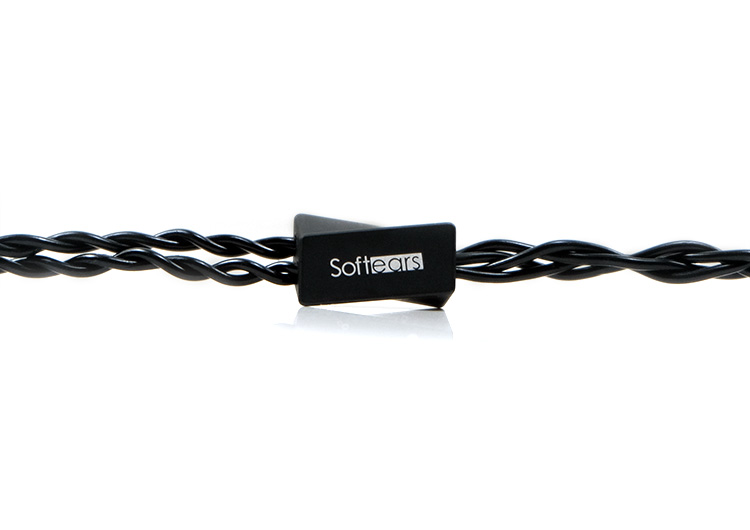 Stock Cable
The Twilight uses a 1.2m 6N OFC cable with a 4-core geometry terminated with a 4.4mm Pentaconn balanced termination and on the other side you have standard 2-pin 0.78mm connectors that neatly slide into the recessed port on the top of the shells.
The jacket, as is the rest of the cable, is finished in a piano black color and feels like a TPE with springy heat wrap overlaid from the connectors for memory retention to help them sit around your ears. The braiding isn't too bad but at times it can look a bit ragged with a longish throw that gives way to a bit of looseness and hoops after a few cycles of use.
Microphonics are low, very low, but in part, the lower level of passive isolation means a lot of that noise does not really transmit up the cable and into your ear. The splitter damping does its part in that regard.
Speaking of the splitter, its design is very attractive with an angular trapezoid type of form factor that makes it really easy to grip during use. The aesthetics are very consistent with the Twilight shells to my eye also. No chin cinch, though, oops?
Both the plug and connectors on the Twilight stock cable are also finished in matching smooth low-profile barrels and for that use SE terminations, there is an additional 3.5mm TRS piggy-tail adaptor that will slot right on that 4.4mm jack.
Packaging & Accessories
The Softears Twilight packaging is a big upgrade on the older RS10 and Cerberus boxes and is more in line with the previously reviewed RSV.
That means a long black rectangular box with a branded outer sleeve that neatly slides off to reveal a minimalistic presentation of the Twilight drivers on one side encased in a protective foam layer and its puck-style leather carrying case on the other side.
Underneath the foam layer, you get the accessory lineup that includes the following:
Ear tips – Silicone SML, Ultra Clear SML & Foam SML
Replacement nozzle filter – 2 sets
Cleaning cloth and brush
User Manual
Mesh padded twin pouch for the driver shells, (much like Campfire Audio).
The cable itself along with the piggy-tail SE adaptor is nearly rolled into the carry case along with the cleaning cloth and brush.
This is more or less a standard type of case now that I see with most high-end offerings. It's durable enough to protect its contents with the softer internals also helping from accidental knocks. The internal space is good enough to fit the cable, cloth, cleaning brush, and drivers along with the bag of tips.
Softears also provides an additional dual pocket pouch should you wish to place the drivers in there for additional protection but it will take up a fair bit of space in the case leaving you with the challenge of getting everything in there.
Click on page 2 below for sound impressions and pairings.