We review the HiBy R6 Pro II, which is an Android 12 digital audio player featuring a new dual-mono dual AK4499EX DAC 'all-in' audio architecture. It is priced at $749.
Disclaimer: This sample was sent to us in exchange for our honest opinion. Headfonics is an independent website with no affiliate links. We thank HiBy for their support.
You can click here to read more about the HiBy products that we have previously highlighted on our website.
Note, that this article follows our latest scoring guidelines which you can read here.
HiBY R6 Pro II
If you are looking for a light multi-media player with a big screen, or a source for your amplifiers, the R6 Pro II is a smart choice. The slightly laid-back signature is perfect for melodic techno tracks and smooth jazz tracks on the go.
Pros
Rich bass texture
Advanced DSP
Beautiful modern design
Cons
Gets warm quite easily
Relatively low output power
There is no surprise that the HiBy R6 Pro would eventually receive an upgrade. So, after more than 4 years owning the original version we finally get to see a refresh but with a quirky and unusual pitch combined with a beautiful external design and a unique internal architecture.
More than that, the price point is competitive at $749 so not too far ahead of the latest R6 III and placing it head-on with some of FiiO's higher-end M11 models such as the M11 Plus ESS.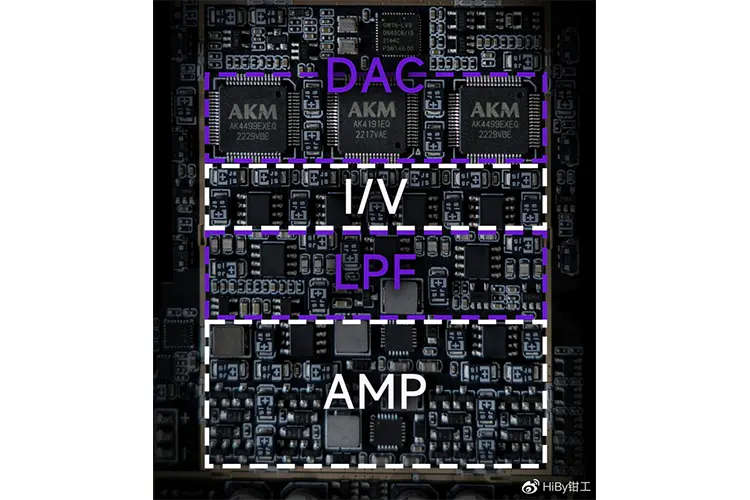 Tech Highlights
The HiBy R6 Pro II is the company's latest Android-power mid-fi portable digital audio player building on the success of the original R6 from a number of years ago.
However, the approach to version 2 is quite different from the original. This time around R6 Pro II is aiming at in-ear monitor performance specifically with a focus on precision control of the driving force rather than feeding it tons of power.
All-In Audio Architecture
The reduced output is quite an unexpected move when everyone is pushing limits, but that could be explained by the new dual AK4499EX architecture that HiBy claims to utilize the max power output from the chipsets.
The 8-channel decoder is equipped with a discrete I/V stage for higher performance, and around the chipset two NDK femtosecond crystal oscillators clocked at 45.1584MHz and 49.152MHz are installed.
According to HiBy each channel of the 4499EQ is equipped with an I/V conversion circuit, which helps to speed up the response speed and enhance the density of the output. There is also a resistor-switching mechanism inside that mimics the R-2R sound.
If you are curious why there is also an AK4191 chipset, the AK4499EX actually adopts a special digital-analog separation design. It retains only the key decoding functions in the main body and lets the AK4191 chipsets handle the digital filtering and Sigma-Delta conversion such that noise can be further reduced during conversion.
To boost the output quality, the DAC, I/V stage, LPF, and Amping stage are equipped with discreet power supplies.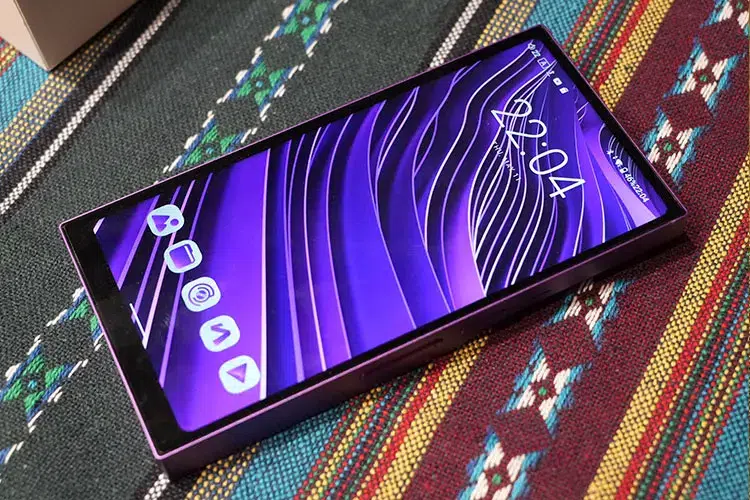 Decoding
As far as I am aware, the HiBy R6 Pro II decoding capability is the highest of any DAP currently in the market with an official rating of native DSD1024 and PCM 32BIT/1536kHz.
Devices that we have reviewed before that have similar ratings are desktop R-2R DACs such as the Musician Audio Aquarius and Pegasus which sell for a lot more. I believe this is on par with HiBy's flagship RS8 which sells for over $3000.
Just like the RS8, the R6 Pro II also supports unfolding MQA at 16x rates powered by the latest Snapdragon 665 chipset. This allows MQA files to be unfolded up to 32bit/768kHz and will apply to local MQA files as well as streamed files via Tidal.
Amplification
The R6 Pro II adopts an amplification circuit design that allows users to switch between Class A and Class AB modes. This allows the user to switch for superior sound quality or choose an extended battery life.
On Class A amplification peak output will be maintained at all times with a more solid output power to handle heavier loads. It is, however, more power-consuming than Class AB mode so if you want 1 or 2 more hours on the go, the AB Class configuration will be more practical.
The rated output of the R6 Pro II is the same for both amplifier classes at a maximum of 125mW single-ended and 383mW balanced into a 32Ω load.
If you have already noticed the rather lower power rating at just 383mW on balanced output compared to the competition.
HiBy explained that decoding quality is prioritized and that higher voltage swing is generally necessary for full-sized headphones of higher impedance but not for sensitive IEMs.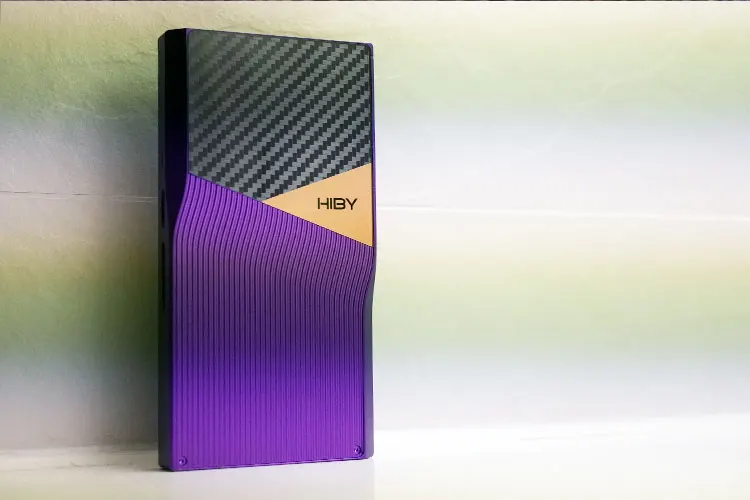 Design
First of all, I must say I am impressed by the metallic, Evangelion-colored theme that is absolutely breathtaking. It even comes with a specially designed leather case so the curves fit right onto my palm which is something I didn't expect, it grips well but doesn't feel like a DAP with a nearly 6" screen at all.
On the front of the R6 Pro II is a fully laminated, 5.9-inch IPS screen with 1080*2160 resolution. The pixel density is high and the screen looks quite sharp and bright under the sun. At 285g the R6 PRO II feels quite light on the hand despite its bigger screen size than quite some other players.
Looking at the back of the player you will be tempted to not use the leather case. The curves and grooves resemble patterns found in Zen Garden Sands which adds to the visual appeal.
The combination of carbon fiber and metallic inserts creates a stunning look, and the purple bolts and leather case that come with the player complement the overall design. The absence of visible screws gives the player a sleek, minimalist look and overall build quality is very decent.
The buttons are arranged in a straight line, creating a more balanced and cohesive design, and when using the leather case, the micro-SD card slot will be hidden.
Additionally, there is a blue LED indicator located above the volume buttons on the right side, adding to the overall tech-inspired aesthetic.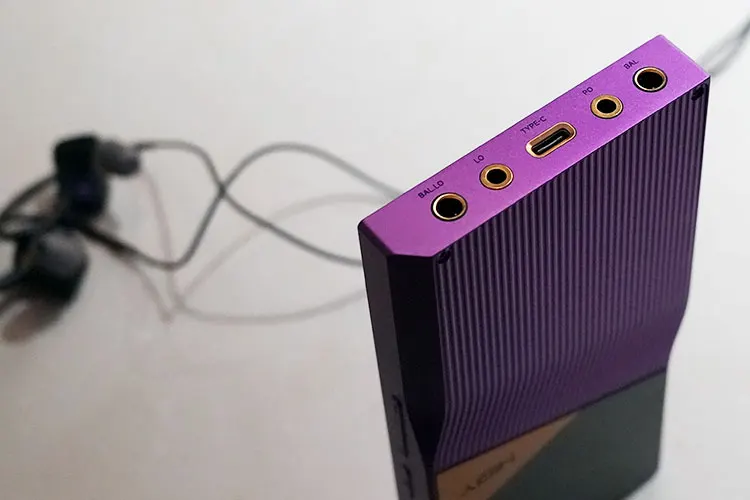 I/O
The R6 Pro II has a clean design; there are no jacks and buttons on the top side of the machine and all its output and USB-C socket is located at the bottom side and are gold-plated. From the leftmost, we have 4.4mm BAL LO, 3.5mm LO, 3.5mm PO and 4.4mm BAL PO, symmetrically placed.
The USB-C port in the middle supports coaxial digital output that you can hook up to your main system, and there is PD2.0 18W charging, so it will take only less than 2 hours to get the R6 Pro II fully charged from 0-100%.
There is 64GB ROM on board which is not enough if you have a huge library, but you can always expand storage with TF cards and the R6 Pro II supports my 512GB cards without any issue. You can also plug in a USB-C storage device for OTG file transfer or read the music files from within directly.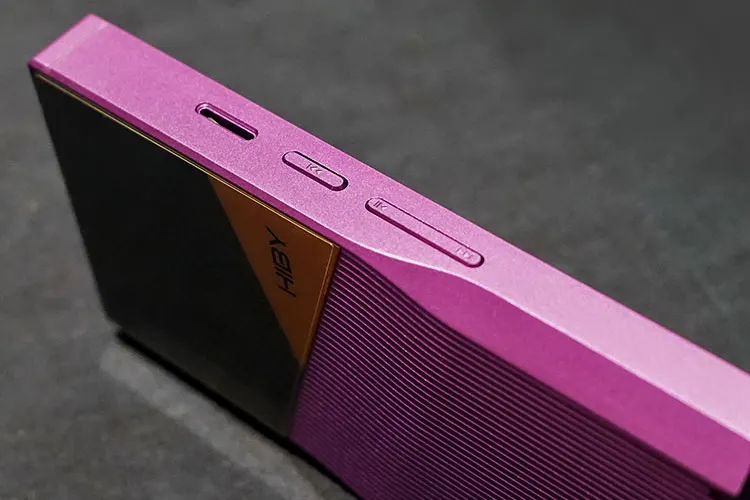 Controls
The controls on the R6 Pro II are quite intuitive, on the left side sits the playback controls, and on the right, you will find the volume buttons. There is no physical volume knob but the digital volume is well-stepped such that you can precisely adjust the volume when using sensitive IEMs and Custom IEMs.
The touch screen's swiping action is responsive and rapid, making for a seamless user experience. Though the screen size is quite large and almost borderless, it remains easy for me to control and select icons located at the edges without any difficulty.
When using the leather case, the feedback when clicking on the buttons is not as clean but still operatable, the area is also quite small. Love and hate situation here as it will allow stealthier controls with minimal actions but you may need an extra second or two to locate the buttons.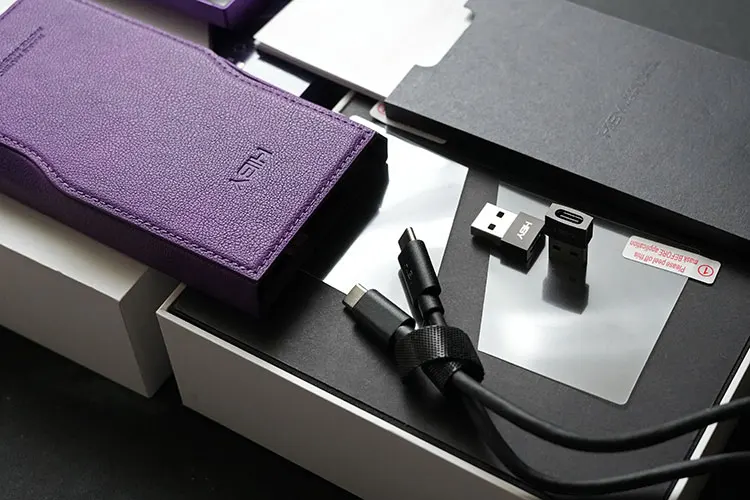 Packaging & Accessories
The packaging for the R6 Pro II is exceptionally clean this time around, with the player's front and back imprinted on top.
Inside, you'll find a thick USB cable with a cable binder plus 2 x USB C to USB A adaptors, as well as extra screen protectors and user manuals.
The screen protector is quite special considering the design of the back panel and the player has been preinstalled with protectors already so these extra ones can serve as replacements.
Click on page 2 below for software and sound impressions.
Click on page 3 below for pairings and our selected comparisons.