Shanling M6 Pro Sound Impressions
Setup
Impressions were made after the M6 Pro was run continuously with the ME700 IEM using both the 4.4mm output and 3.5mm output for more than a week. I rotated IEMs including Oriveti OH500, Shanling's own ME700, Final's A8000/ B1, and various other earphones to test the sound performance.
Impressions are also formed using the default Super Slow Roll-Off digital filter on 4.4 balanced output with the PRIME mode on. This is to avoid interference from other apps and maximize output quality.
You may notice changes in the sound signature with other apps such as the Onkyo player app or UAPP and some filters option may make the sound more rounded in the treble. The background is dead silent on low gain and you will hear little to no hiss with the higher gain options.
In most of my tests, different genres of music in Red Book wave format were used.
Summary
The first and foremost impression listening to M6 Pro on balanced output is its excellent dynamics and resolution with a slightly elevated lower midrange that offers plenty of punch and musicality.
From the powerful opamp+buffer configuration with the 4497 DAC chipsets, I was expecting a cleaner, cooler sounding presentation, but the M6 Pro sounded powerful in the mid-bass with a hint of warmth in the tuning. This tuning paired really well with some monitors that had a brighter tuning such as the Final A8000.
Listening to Frank Sinatra's "I've Got A Crush On You" the warmth in the output balances technical excellence with an underlying level of musicality. The track sounded sweet with densely presented mids while still showing off brilliant treble that doesn't limit the openness in sound.
Staging and resolution never felt compromised with much more engaging performance compared to Shanling's older generation products that are much softer in their presentation.
Overall, the M6 Pro sounds natural and balanced in tonality with a small mid-bass emphasize which balances well musicality and resolving power, not sounding clinical while empowered by a very resolving DAC chipset. The sound stage is moderately large and well defined with clear instrument positioning.
High Gain
At higher gain, frequencies around 5kHz have a little more presence which in turn emphasizes the upper mids, lifting up lighter voices and boosting the trebles upper harmonic bias.
The M6 Pro works well with IEMs or earbuds that are more damped. There is a good synergy with hybrid IEMs which requires more power and control for the dynamic driver, especially for the higher registers.
In general, the M6 Pro has good flexibility to work well with my IEMs and earbuds with its rather natural tuning. With most pairings, the vocal sounds swift, separated well from the mix while not being distanced or compressed.
Textured bass with moderately fast attack comes hand in hand with the slightly elevated mid-bass to give good body to string instruments. Instruments like woodwinds or Chinese flutes in particular sound delicate and airy.
Turbo Mode
One special feature with the M6 Pro is its Turbo gain mode that goes beyond the stock low and high gain options. You could toggle between these 3 gain options in the drop-down menu with the Turbo gain mode offering a maximum 600mW of power, which is almost comparable to some desktop amplifiers.
Plugging in an AKG K701 on the single-ended output with the Turbo gain mode on there is some excellent dynamics and ample power and headroom when listening to Stravinsky's Firebird Suite.
I don't have the matching 4.4mm cables for headphones but I am sure balanced configuration could drive your cans even better. You could also try your dynamic IEMs on the Turbo gain mode but be careful of the larger volume to start with.
Unbalanced vs Balanced
Going with the balanced connection offers superior resolution and clarity. It sounds the punchier of the two outputs punches but also a tad brighter than the single-end connection. The unbalanced connection can get brighter however in the high-gain mode which seems to bring out more treble presence.
I do recommend using the balanced connection for better quality listening, however, the single-end output will lengthen the battery life considerably.
Single DAC vs Dual DAC
This is a very fun feature that will let you experience the difference between single and dual DAC design, where Dual DAC will get you more texture, resolution, and tighter punches.
You can toggle between the two settings with just a click on the drag-down menu. It is audible and practical switching to single-end mode to lengthen battery life. However, DAC on a balanced connection offers the best sound density and resolving power. Whereas the single DAC mode will smooth out the sound for a more relaxing listening experience.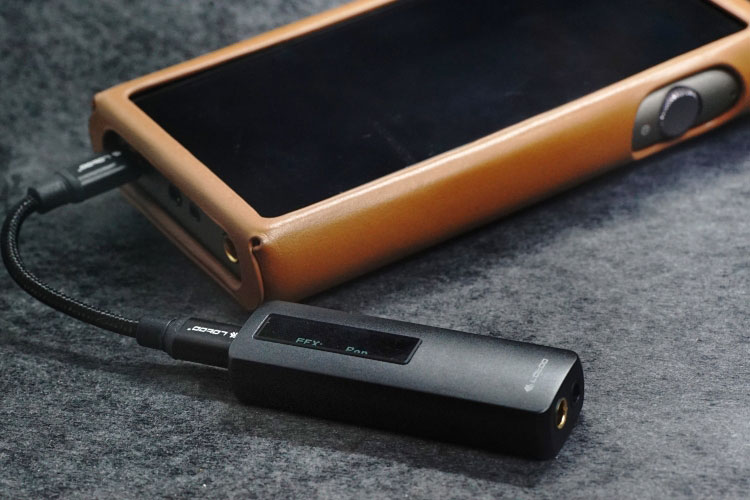 Synergy
Noise
Even with more sensitive multi-BA based IEMs, all outputs have a dead quiet background at low gain. Switching to high gain and ultra-high gain there is some faint hiss. it is not too noticeable outdoors or when the music starts. You can reduce the hiss further with less efficient IEMs or headphones 30Ω and upwards.
While there is a lot of power, the M6 Pro also handles sensitive IEMs and CIEMs quite well with good precision and micro-details. I never felt them to sound muffled, flat, or overpowered.
The overall noise control is well done with modern chipsets where a high S/N ratio is achieved. A lot of detail and dynamic range is preserved, even at a higher gain, it doesn't sound lossy at all.
Gain Tweaking
The higher gain option works well with darker sounding gears to brighten up the mid-treble and when you switch to the highest gain it could drive some hungry cans like HD600 to quite a satisfactory extent. Small headphones or more sensitive closed-back headphones have a good synergy that will save you from carrying around an amplifier.
Pairings
ME700
The ME700 is the current flagship from Shanling. It uses a 4 BA and single dynamic driver hybrid configuration and generously paired with a Neotech wire stock cable.
Tuned quite differently from the mainstream, the ME700 has a rich, meaty, and dense mid-bass. This is a "durian" kind of tuning that focuses on a full-bodied mid-range. It works very well with Kpop and guitar works which carries a lot of detail in the mids.
The M6 Pro on its 4.4 output has good synergy with the ME700 adding more resolving power and texture to the output. With good power the ME700 sounds more balanced and opened up, sounding creamy and smooth in the mids while being very textured in the lows.
I am not sure if it is Shanling's 31 years of history that leads them to tune in a more analog way but if you are into older pops, darker voices vocals and blues also vinyl recordings this combo will give you goosebumps and let you "feel the grooves".
There is a very enjoyable mid-bass texture on this setup making me feel that the ME700 is a rare gem if you like very mid-bass intensive tunings.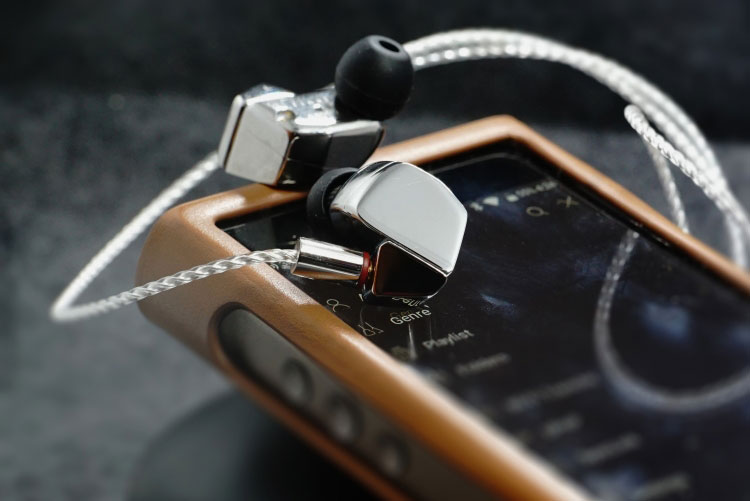 The A8000 is a rather demanding single dynamic IEM equipped with Final's in-house developed beryllium driver unit. It is completely different from the ME700 with smooth and clean mids and a clear, treble focused tuning.
From my previous review on the A8000, I have mentioned the A8000 scales up well with a higher amping factor, especially on desktop amplifiers. Surprisingly, the M6 Pro has enough power to open up A8000's sound quite well even on L/ H gain settings. The highest gain is a thrilling ride boosting a forwardness in the treble and a very spacious presentation together with a fast attack in and deep, resolving bass.
Power
The A8000 handles power from the M6 Pro well whilst not getting congested. The lifted higher frequencies make Japanese vocals crystal clear while being quite rounded without peaky sibilance.
There is great control in the bass with a very expanded and 3D soundstage, excellent openness, and performance. Switching to classical music, instruments are very well defined and spaced out from each other.
This combo can handle a lot of information in the mix and offers very high resolution while not sacrificing musicality. It is still a treble leaning tuning that aims to offer extreme clarity and details in the higher registers. However, you can always pump up the bass quantity and fullness in the mid-lows by equalizing in Shanling's app menu. The response is instant and within a good range with little sign of distortion.
The OH500 serves as a more balanced sounding option circulating it between the other two IEMs tested. The overall sound from this combination is V-shaped with good mid-bass quantity and more up-front, intimate vocal performance.
On high gain, the bass is very punchy and the treble is rounded while being quite well extended. Cleaner sounding vocals sound nicely separated from the backing track but when you pump up the volume it will sound less dense.
The tuning is suitable for Chinese pop music and older folk/pop songs with fewer instruments in the mix. This pairing shows a good balance between resolution, musicality, and dynamics.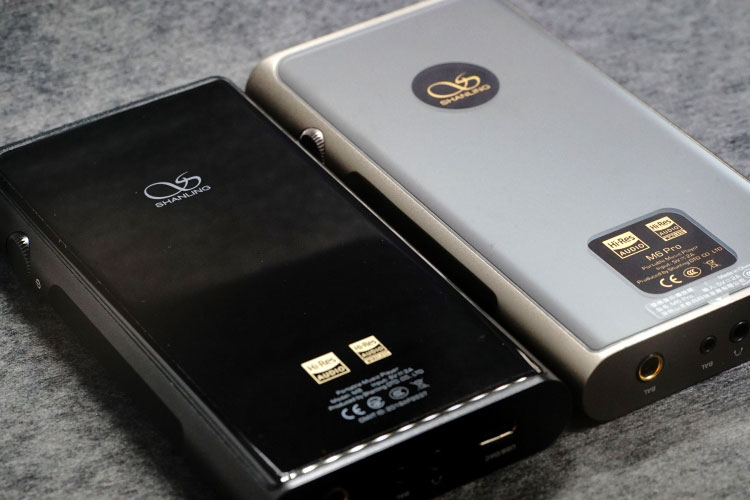 Select Comparisons
Shanling M6
Tuning
Head to head the M6 Pro sounds quite different from the M6, with a denser, tighter bass, and a more distinct focused imaging. There is noticeably a lot more power and dynamics, especially when you listen to drums tracks where you can sense a faster attack with more detail.
You will hear a lot more texture in the treble on the M6 Pro while the M6 sounds smoother and more forgiving. The M6 sounds less transparent with reduced air and comparatively showcasing less dynamic range with its more colored "fun" tuning.
The M6 Pro sounds more balanced and natural with a better tonal balance. The control over micro details and texture is superior in both sub-bass and higher treble. The M6 Pro has everything opened up and clearly presented and a good upgrade from on M6's performance.
Detail
The M6 uses the lower-end AK4495 chipset which is well-beloved by analog-sounding gears lovers. The M6 Pro packs in upgraded dual AK4497EQ which has improved the technical performance and strengthened the resolving power.
The M6 has more of a midrange focus with good vocal weight and presence. Whereas the M6 Pro tries to achieve higher overall clarity enabled by the chipsets and packs in more space and resolution.
It is a good upgrade if you are seeking for more texture and resolving power. However, the M6 may well satisfy listeners who want to have a relaxing listen with a sweeter, smoother, and more intimate vocal delivery.
Tuning
The M11 Pro and M6 Pro have a similar tuning and power handling approach, however, you will notice some differences when carefully compared.
Side by side the M11 Pro sounds cleaner and more recessed in the lower-mids which makes it smoother and faster in sound. The M6 Pro, on the other hand, offers slightly more mid-bass quantity for a fuller vocal and more similar to the Lotoo PAW 6000. You also have the option to switch to a single DAC mode on the M6 Pro that sounds more forgiving but less well defined.
The M11 Pro delivers a more "reference-like" sound, which means it is clean sounding with less coloration. Whilst the M6 Pro has a slight hint of warmth that renders a livelier performance. The M6 Pro also seems to offer more output power than the M11 Pro and sounds airier with dynamic IEMs.
The different tuning concepts from the two manufacturers are well reflected on their DAPs and IEM products. FiiO focuses on presenting more control, resolution, and cleanliness in its tuning. Whereas, Shanling has a more analog, powerful mid-lows focused approach without compromising the treble response.
Technical
For the aesthetics, the M11 Pro has a larger screen ratio which looks very attractive. The M6 Pro is handier with its slightly smaller form factor and a more rounded design that allows a good grip and single-handed operation.
On the M11 Pro FiiO offers all-to-DSD function while the Shanling M6 Pro lets you switch between single and dual DACs. These features are all innovative and functionally programmed and I just hope that both features could be merged into one future do-it-all DAP.
Our Verdict
The M6 Pro has doubtlessly caused some dismay with its "Pro" name and launching whilst the M6 is still a relatively fresh product on the market.
After comparing them head to head I could confirm Shanling is not randomly changing some chipsets to lift the price, but to offer truly enhanced performance. The M6 Pro offers a higher degree of detail retrieval power, better tonal balance, and dynamics along with a lot more power in its output.
The more fun signature from M6 is not forgotten but it is easy to justify the upgrade to the M6 Pro with the superior technical capability and enhanced power.
Shanling has successfully upgraded the M6 into one of the most powerful DAPs in its class. The M6 Pro works well with single-ended and balanced gears and would fit anyone that has a good collection of earbuds, IEMs, and small cans.
Shanling M6 Pro Specifications
DAC – 2x AKM AK4497EQ
Amplifier – 2x OPA1662 + 2x ADA4610 + 4x BUF634
Hi-Res support – up to PCM 32bit /768 kHz & DSD256
Outputs – 3.5mm Single-ended, 2.5mm & 4.4mm Balanced
System – Open Android 7.1, With custom Android Global Lossless Output
CPU – Octa-core Qualcomm Snapdragon 430
Memory – 4GB RAM + 32 GB ROM
Card slot – Single Micro SD card slot
Touch Screen – 4.7inch, 720p
Bluetooth – V4.2, two-way connection
Bluetooth codecs in transmit mode – LDAC, LHDC, aptX, aptX HD, SBC
Bluetooth codecs in receiver mode – LDAC, SBC
Wi-Fi – 2.4 G & 5G
Dimensions – 133.5 x 71.5 x 17.5 mm
Weight – 244 g
Battery – 4000 mAh
Charging – USB-C with QC3.0
Battery life:
Single-ended, single DAC – up to 13 hours
Single-ended, dual DAC – up to 9 hours
Balanced output – up to 8 hours
Output Power:
Single-Ended – 19 mW (Low Gain) / 47 mW (High gain) / 200 mW (Ultra gain) @ 32Ω
Balanced – 56 mW (Low Gain) / 141 mW (High gain) / 600 mW (Ultra gain) @ 32Ω
Signal-to-noise ratio – 121 dB Single-ended / 123 dB Balanced
THD+N – <0.0009% Single-ended / <0.0011% dB Balanced
Channel separation – 75 dB Single-ended / 110 dB Balanced
Output impedance – <1Ω Single-ended / <2Ω Balanced