We review the Shanling H7 which is a portable DAC and headphone amplifier with local playback, MQA decoding, and wireless Bluetooth capability. It is priced at $829.
Disclaimer: This is a sample sent to us in exchange for our honest opinion. Headfonics is an independent website with no affiliate links or status. We thank Shanling for their support.
To find out more about Shanling products we have previously discussed on Headfonics click here.
Note, that this article abides by our latest scoring guidelines which you can read up on here.
Shanling H7 Review
The Shanling H7 is yet another excellent modern interpretation of the classic DAC/amp scene that has had a bit of a rebirth in recent years. This is a neutral sound signature but compared to the likes of the Mojo 2 and the Q7 it's a bit smoother and sweeter-toned and will gel beautifully with clean-sounding headgear.
Pros
Detailed and balanced sound signature
Local playback capability
Lightweight design
Cons
Eddict App a bit limited
No 4.4mm line out
I first got wind of the Shanling H7 towards the end of 2022 and given the stellar experience of the competing FiiO Q7 I honestly could not turn down the opportunity.
James and Louis normally cover Shanling's mix of DAPs and dongles for years now but Shanling specifically wanted me to hear and compare this against the Q7, (and I am going to presume the Mojo 2 also given the price point).
It is somewhat ironic because I have been digging up my old portable DAC/amps of late and asking myself why I did not do this sooner because a few of the performances are on par with more expensive DAPs and in some cases I would rate them superior.
So, in a way the H7 is for all those ardent Shanling lovers out there who found their high-end units such as the M9 and the limited-run M8 a fiscal stretch too far. Like the Q7 there is some engineering overlap between both the H7 and the flagship DAPs. And like FiiO, Shanling has priced this way below those portable sources at $829.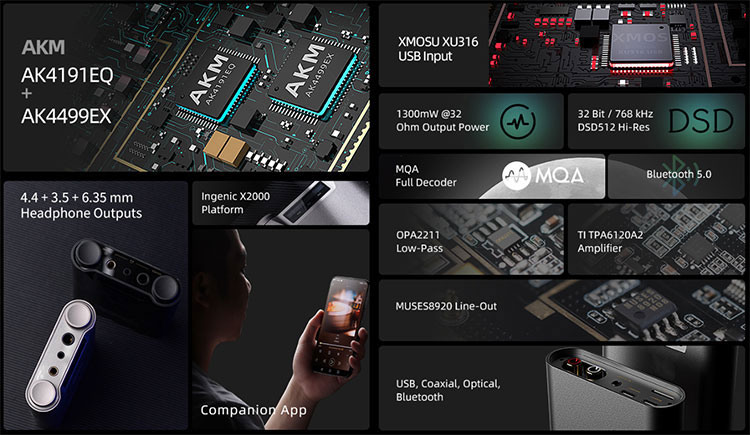 Tech Highlights
Summary
So, what is the Shanling H7 and what does it do? In summary, the H7 is a portable DAC and balanced headphone amplifier. It can pair with both IEM and headphones via a wide range of PO analog outputs to the front as well as act as a preamp with a dual RCA analog output to the rear.
It can also function as a USB DAC from your PC or MAC as well handle USB OTG audio from another portable device such as your smartphone, iOS platform, or an OTG-compatible DAP. The H7 also connects wirelessly via Bluetooth and plays audio from almost any compatible Bluetooth transmitter.
Perhaps the killer feature is its onboard player and how it can also be used to transmit audio. Yup, the H7 can play audio files locally from an additional microSD slot to the rear with a measure of control via a small menu-based LCD screen and multifunctional dials to the front.
And finally, with the ability to sync, (link) with Shanling's Eddict app via Android or iOS, that onboard audio storage can be managed and played from a simple touch GUI.
DAC
The DAC inside the H7 is a single AK4499EX with an AK4191EQ digital filter and modulator. Now, if you use Shanling products before you will know they are big fans of the "AKM Sound" so the H7 is no exception to this in-house engineering preference.
Eagle-eyed readers will also spot that it's the next-gen version of the classic AK4499EQ DAC chipset used inside both their M9 and M8 reference DAPs, (in dual chipset configurations).
It is arguable then that this is a similar path tread by FiiO with its Q7 ES9038PRO chipset compared to the dual chipset inside the M17 DAP. However, since the AK4499EQ was discontinued the move was made to the newer flagship EX version for the H7.
Decoding
Combined with an XMOS XU316 USB chipset the H7 is capable of decoding up to DSD512, PCM 32BIT/768kHz, and unfold MQA up to 8X, (only their DAPs are capable of doing 16X currently). That is at a higher level compared to the Q7's maximum DSD256 and PCM 32BIT/3984kHZ capability.
If you plan to switch to the Ampak AP6256AC BT5.0 chipset for wireless the decoding will give you an optimal LDAC 24BIT/96kHz which is ideal. However, unlike the Q7, there is no aptX or aptX Adaptive so the drop is steep from LDAC down to SBC. In the case of iOS, you get the usual AAC maximum.
Since the H7 also offers coaxial and optical SPDIF input the internal DAC will also decode up to a maximum of 192kHz/24BIT for coaxial and 96kHz/24BIT for optical.
It is worth noting that if you plan to use the built-in Ingenic X2000-powered local player option you will get the same rates and options as you would using it in USB-DAC and OTG wired mode.
Amplifier
This is the one area that I think a few owners of Shanling's DAPs might take a second look at is the H7's amplification. As far as I can see the H7 is Shanling's most powerful portable device currently on the market.
Both the M9 and the M9 tap out at just under 1W into a 32Ω load with the M9 doing slightly better at 920mW in Turbo Gain compared to the M8 at 840mW.
The H7, on the other hand, will give you up to 1300mW @32Ω using its balanced output in high gain mode. The 450mW @32Ω SE rating on a high gain setting is comparable to the Turbo Gain setting on the M9 so no real advantage there.
Sadly, there is no DC power option similar to the Q7 so the 3W balanced output 'beast mode' belongs to FiiO in this instance. However, at 1.5W into 32Ω on battery mode, the two devices are very close in terms of headline numbers.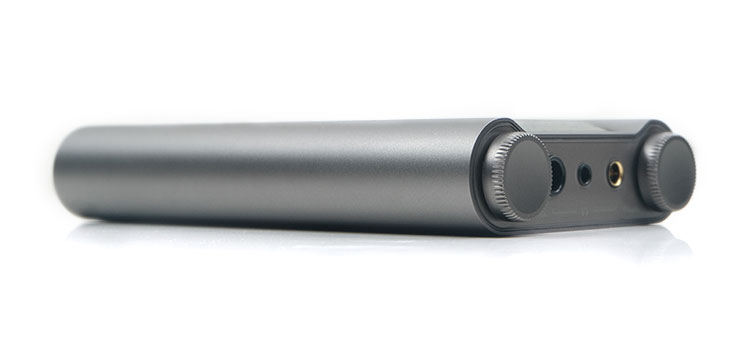 Design
The H7 is smaller and a lot lighter than I was expecting, particularly after using the Q7 for a few months. At 142 x 85 x 25 mm it's just marginally longer than the Mojo 2 with the Poly on the end of it. It's also about as wide as the high-end Cayin C9 tube amplifier and almost half its height.
At 352g it's almost half the weight of the 650g Q7 and you can feel that difference right away in the handling of the two. I would actually rate the H7 as a fairly portable device on that basis. Though perhaps not as pocketable as the Mojo 2 I wouldn't balk at taking on this for travel where the carry-on allowance is restrictive.
Aesthetically the anodized aluminum alloy housing is a very smooth flask-type form factor making it supremely comfortable to hold in one hand or both. The only real edging is on the back and front panels and even then it's none too sharp to the touch. Screws are also shallow profiled with just 2 small black inserts on the back.
The rear panel is slightly recessed which is a good thing in my book to protect the connectors from accidental drops. You will find the more intricate cutting on the front panel with a small LCD panel for the lightweight OS and two ALPs pots on either side which have a nice grippy texture to their finishing.
The front panel itself has a clear coating which I presume is for both protection and labeling though the labels themselves are not the easiest to read under certain lighting.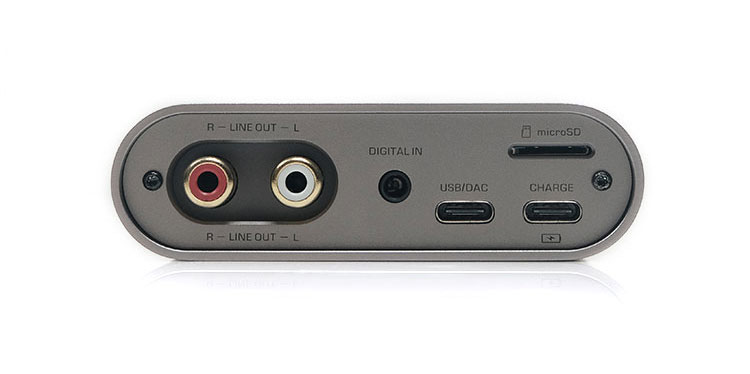 I/O
The H7 preamp outputs and the digital inputs are all housed on the rear panel with decent spacing for most regular connectors to fit without space issues.
You will also find the memory card slot to the top right of the rear panel and it should handle up to 2TB in capacity. Note, if you are planning to use the onboard system for local playback there is a hard wall set at 20k files for media management via meta tagging due to its limited onboard system memory. Folder navigation is unaffected.
If you have more then I would suggest you operate local playback via the Eddict app which is far more useful anyhow even if you only have a few files on the card.
Digital inputs cover both coaxial and optical via a 3.5mm SPDIF input with two separate USB-C slots for USB-DAC and charging duties. For iOS users or those wishing to attach a USB-C lightning cable connection the pin arrangement is slightly different so a regular Lightning cable will not work.
In this instance, Shanling does supply a special version that does work called the L3 Neotech Pure Silver Audio Cable Type-C Lightning. It is an optional extra and whilst I would have much preferred to have seen it as part of the package it is built to a high standard using a hand-woven 9strand 4-core pure silver wire.
I do like the fact that Shanling has thrown in a 6.35mm analog output on the front panel alongside the regular 3.5mm SE and 4.4mm balanced options. It's a similar approach to the FiiO Q7 though there is no 2.5mm TRRS option that would have completed the line-up.
You will also notice on the front panel there is no indicated line-in. The dual RCA preamp at the rear will cover the line-out but a dedicated but dual PO/LO input feature might have been useful.
In this instance, Shanling has advised using one of the regular PO and pushing up the volume to a maximum which in effect gives you a 2V line-out signal. Still, it is a double-amping feature that some find topical with noise from one amp being amplified by the next in line. Good thing, the H7 is a very quiet amp so the issue is minimized.

Controls
Because the H7 has a small OS system with an LED display there is a measure of interaction with it beyond simple power on/off and volume control.
The two Alps pots on either side pretty much do everything you need to manage volume, switch between modes and features, as well as a limited amount of local playback control. Aside from the panel visual feedback you also get a number of small LED diodes above indicating charging status, sample rate, and if the MQA option is activated during playback.
The main panel itself will round robin your available modes on the far left as well as indicative volume level, gain, and battery life remaining. The precise grouping of controls is split between the two pots which double up as multifunction buttons when pressed.
The left Alps pot does all the local media navigation with the right side controlling play/pause, power, and volume levels.
Direct control from the H7 player itself is a linear and relatively limited system with no ability to scan through files to pick specific tracks. You have to click through each one in the order they are presented from the microSD card.
You can also switch the input mode and dig deeper into the H7 menu system via the left pot. Settings include gain, channel imbalance, digital filter, and firmware updates. A lot of this is duplicated via the Eddict app in SyncLink mode which some will probably prefer.
Battery Life
The H7 uses a dual 18650 battery configuration for a combined capacity of 6800 mAh. That will give you a maximum of 10 hours single-ended and 8 hours balanced for headphone and IEM usage.
That is more or less on par with the Q7 on-paper specifications for balanced and the Mojo 2 for unbalanced so there is not much to complain about here.
Of course, usage conditions will determine the exact level but using SyncLink balanced with sub 30Ω IEMS and a mix of MQA and 16BIT FLAC files got me around 7 hours easily during testing.
Due to the chip used in the H7 charging circuit, Shanling has recommended avoiding USB-C to C cables and their associated fast chargers which will have some compatibility issues. In this instance, it's safer to use regular chargers with USB-A ports and a 5V/2A output, (similar to the Mojo and Mojo 2). There is also no ability to DC power the H7, unlike the Q7.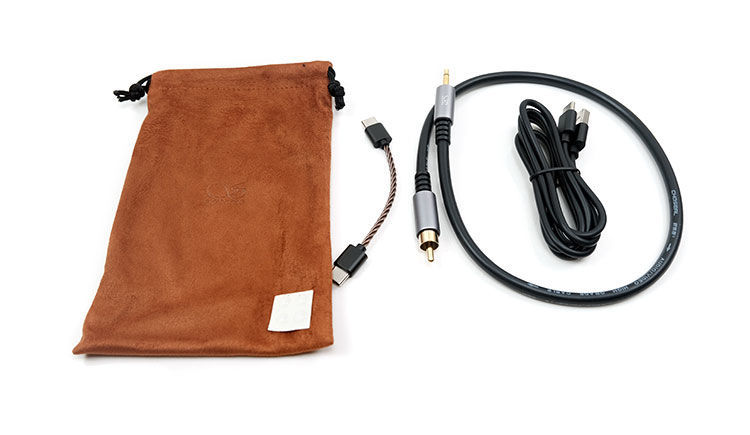 Packaging & Accessories
The Shanling H7 comes in a fairly industry-standard white retail box with associated branding on the exterior and plenty of protective foam packaging on the inside to protect both the player and its associated accessories which can be found at the base of the box.
Inside you get a short 1m 3.5mm to RCA SPDIF cable which I found extremely useful as my 3.5mm SPDIF converters have gone missing lately. You also get a USB-C to USB-A cable for USB-DAC and charging duties and a shorter USB-C to USB-C cable for OTG connectivity.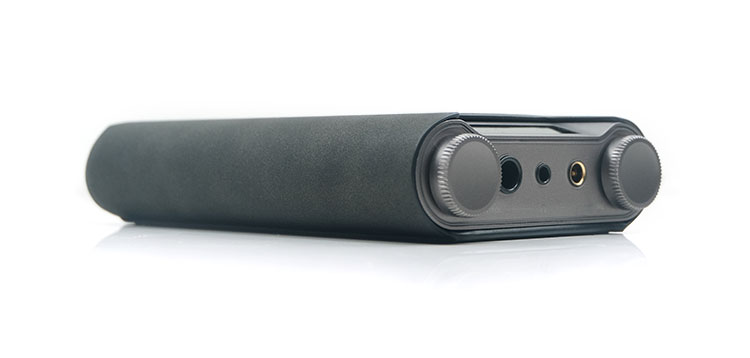 The last two accessories include a soft orange drawstring pouch to carry the H7 and a set of 3M silicone blister feet if you want to protect the base of the player during use. The orange pouch is a bit meh and does not look terribly protective so I would recommend splashing out the additional $30 for the additional dedicated H7 which you can grab on Musicteck USA.
It is listed as leather but the material feels finished like soft fabric and fits the H7 really well. It's not too tight nor does it feel like the H7 will fall out accidentally. Its cut-away at the front allows for easy access to both the pots and LED display with the rear finish mimicking the housing overhang perfectly.
Click on page 2 below for sound impressions and pairings.