We review the Sennheiser IE 200, which is an entry-level single 7mm TrueResponse dynamic driver IEM with 2 adjustable tip tuning signatures. It is priced at $149.
Disclaimer: This was sent to us as a sample for our honest opinion. Headfonics is an independent website with no affiliate links or services. We thank Sennheiser for this opportunity.
To learn more about the Sennheiser products we have previously highlighted on Headfonics you can click here.
Note, that this post follows our latest scoring guidelines which you can read up on here.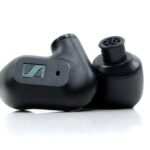 Sennheiser IE 200
I think Sennheiser has done a sterling job with the IE 200 in terms of what it brings to this very competitive price point in the portable audio world.  You get a slice of their higher-end models with a pleasingly balanced sound combined with clever tuning flexibility via a dual-tip positioning system. A system that can leave it sounding clean and bright or smooth and more natural to the ear.
Pros
Balanced sound signature
Variable tuning with tips
Very light in the ear
Cons
Lacks a balanced stock cable
'Open position' a bit too lean sounding
Sennheiser has been on a big refresh of their in-ear monitor line-up over the last 18 months or so with the latest, the IE 200 being launched earlier this year.
We have reviewed the IE 600 previously though it is a big step in performance and price. The closer sibling is the IE 300 though sadly we have yet to review that one.
As their newest entry-level IEM, the IE 200 does benefit from some trickle-down features from its bigger siblings as well as offering an ear tip system with a unique tuning feature that it can call its own.
However, with a price of $149, this is the most affordable offering of their recently refreshed line-up so it is no surprise then its sound signature is possibly their most accessible to date.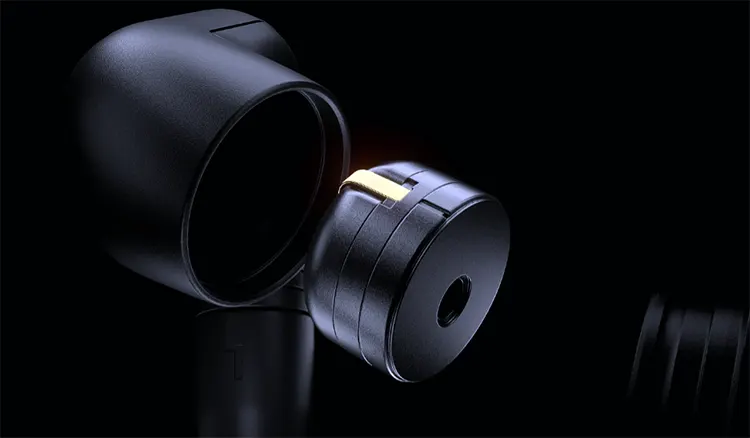 Tech Highlights
The Sennheiser IE 200 is a single dynamic driver in-ear monitor. It offers an MMCX detachable cable system combined with a special tip adjustment process that can diminish or accentuate the bass performance depending on the positioning, (more in our tips section below).
The driver is plucked from the same family as the IE 300 and IE 600 with its use of a 7mm TrueResponse dynamic driver which now seems to be the standard for a lot of their current lineup.
However, the higher-end models do have some variations in them with the IE 600 driver using a dual Helmholtz resonator chamber design and the IE 900 using an X3R version. The IE 300 uses a 7mm XWB dynamic driver which is another variation of the TrueResponse driver using a different blend of materials.
Less is revealed by Sennheiser regarding the precise implementation and composition of the IE 200 TrueResponse driver other than the diaphragm is polymer-based and is rated at 18Ω impedance and with an SPL of 119dB (1kHz, 1Vrms). That is pretty much in line with the IE 600 driver's rating.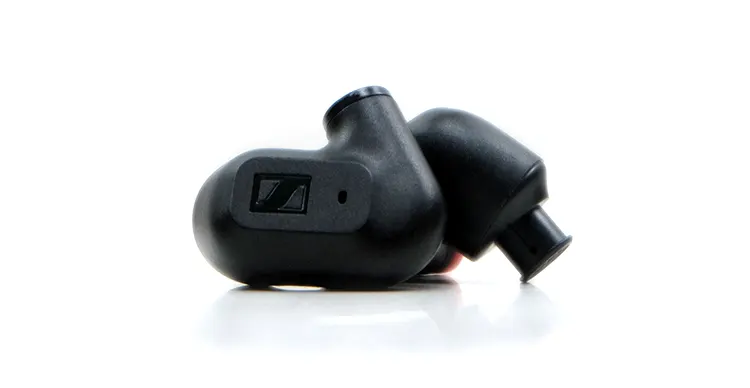 Design
The form factor of the IE 200 has pretty much the same design language as its more illustrious siblings though its materials are, unsurprisingly given the lower price point, a bit lower in quality.
These are tiny housings, with compact dimensions reminiscent of the older Westone W series, and perhaps even smaller. This is a 3-piece L-shaped plastic composition finished with accentuated but very smooth curves.
The IE 200 outer plate is slightly forward or raised housing the Sennheiser logo. The logo itself is a subtle shade of green though it's quite reflective and does not always show up in our pics. Under certain lighting conditions, you should be able to spot the coloration.
One very subtle design aspect that you might miss when first using the IE 200 is a small vent towards the top of the nozzle. This is part of the tuning system that works in tandem with the ear tip positioning. There is a more obvious additional vent on the front plate to allow the dynamic driver to breathe.
Comfort & Isolation
The IE 200 nozzle itself is a bit short but the extended L-shaped housing does add some additional penetrative depth so you can get them quite close to your concha basin and with the right tip you can improve both the fit and seal further.
They are also incredibly lightweight at just 4g per side though I found the fit overall dimensions to create a fairly snug fit rather than hang loose in your ear. You should not feel any discomfort though I did find the stock silicone tips a bit more comfortable on the ear canal compared to the fatter stock foam tips.
On the flip side, the foam tips gripped better creating a more secure fit and a better seal in turn compared to the stock silicone tips so if you want stronger passive isolation then the foam tips are the way to go.
The overall level of isolation is above average. The required venting for the dynamic driver will knock a few dB from the overall noise diminution levels compared to a BA monitor but overall, no real complaints.
One final thing to be aware of is the old 'sweet spot' meme. This does apply to the IE 200 but less so in terms of any specific fitting angle. Rather, for them to be effective you do need to push them in tight as any loss of seal will greatly diminish their performance.
Tips
You get two varieties of tips with the IE 200: a single-bore silicone and a single-bore foam, both with fitted dust and wax guards on their bore exit points.
Now this is where it gets interesting because aside from the differences in isolation and comfort performance and the associated sound signature changes with each material, they are also designed to work in tandem with the nozzle's dual-fit system.
The dual fit system means that you can position the tip close to the edge of the nozzle or right down at the base with both positions affecting the small vent at the top of the nozzle to create a different sound signature.
Shoving the tip to the base of the IE 200 nozzle will create what Sennheiser defines as the "standard position" for reference listening. Whereas, moving the tip up to the top of the nozzle is described as the "open position".
The open position will drop the bass quantity a little and accentuate the highs a bit more to create a cleaner more neutral performance. Whereas, the standard position increased the IE 200 bass presence and drops the mid-highs by a few dB to create a smoother tuning.
You can of course use your own tips, and here I would suggest rolling a few because the net effect of tips such as the Final E is a much stronger bass response which some might prefer.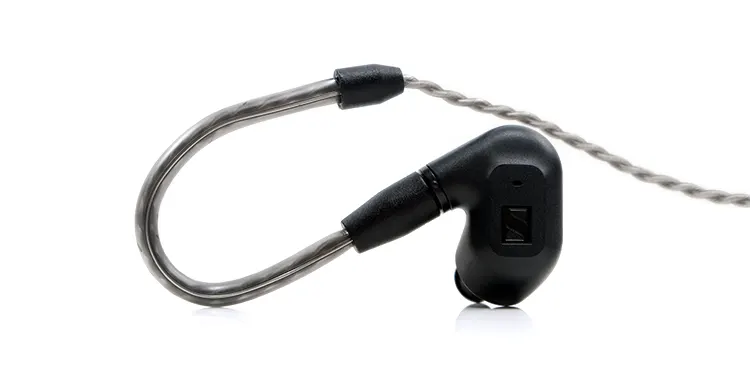 Stock Cable
The IE 200's single-ended 1.2m Kevlar-finished stock cable is not going to win any awards in terms of aesthetical brilliance but at $149, arguably, it's entirely suitable for the price point.
Sennheiser did not mention what the wire is inside but I am presuming it is either OFC similar to its higher-end siblings but with a smaller gauge. That small gauge does benefit the finishing with a very tight and low-profile braiding design with a gunmetal-type colored finish for the jacket.
In its favor, it is very lightweight yet quite robust and I did not experience any issues in terms of microphonics. However, combined with an old-school retentive memory coating on the connectors and a bit of memory in general throughout the wire it can fight you a bit during everyday use.
One curious misstep for me is IE 200 channel identification. It's beautifully done on the MMCX connectors on the shells with red and black rings making it very easy to spot left and right, (red being right).
However, the IE 200 cable connectors lack the same easy-to-spot markings and instead use a very hard-to-spot tiny L and R on each connector barrel. I had to shine a torch on each barrel to figure out left from right, which, in this day and age, seems a bit of a faux pas. I would have preferred to have seen similar red and black rings on the cable itself.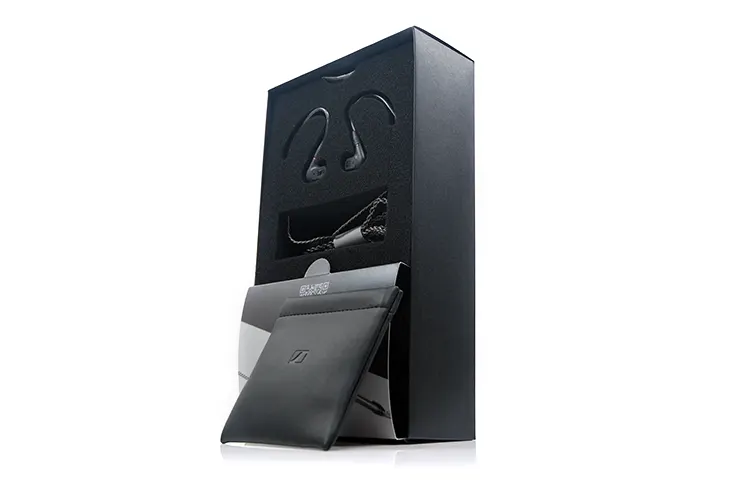 Packaging & Accessories
For the price point, the packaging is slick, and professional, offering everything you need to get going with the IE 200 right out of the box.
This is Sennheiser's trademark elongated or rectangular box in blue with plenty of foam padding on the inside to house the drivers which are connected by default to the supplied stock cable.
Below is a small compartment housing a small leather branded pouch with the tips inside and kept in place by a branded stiff paper divider. The tips themselves are packaged in what seems to be a recycled paper bag.
Underneath all that you get a fairly thick leaflet with technical guidance and warranty instructions for each global region.
Click on page 2 below for sound impressions and pairings.