This is an in-depth review of the Sennheiser IE 600 which is a new mid-range single 7mm TrueResponse transducer universal in-ear monitor. It has an SRP or price of $699.95.
Disclaimer: This was sent to us as a sample for our honest opinion. Headfonics is an independent website with no affiliate links or services. We thank Sennheiser for this opportunity.
To learn more about Sennheiser products we have previously highlighted on Headfonics you can click here.
Note, that this post follows our latest scoring guidelines which you can read up on here.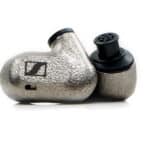 Sennheiser IE 600
The IE 600 is probably the most credible-sounding monitor I have tested from Sennheiser in a while. Granted, I have not heard the rest of the new releases but compared to their classics the dynamic driver tuning is relevant, modern, and more engaging. 
Pros
Proper midrange tuning
Very comfortable in the ear
Balanced 4.4mm cable welcomed
Cons
Silicone tips can tease out sibilance
Slightly subdued looks
Surprisingly, this is our first Sennheiser wired IEM in-ear monitor review in over 6 years. We have covered their headphones and TWS quite extensively since then where possible but not so much their IEMs.
The IE 600 is actually a middle-child release, with the flagship IE 900 above and the more affordable IE 300 below and with prices that broadly match that structure.
The IE 800, which I still own going back to 2014 and fairly heavily modified with custom tips, was changed to the IE 800s, and then both were discontinued.
There is no like-for-like replacement of the IE 800 given the new nomenclature with numbers above and below but some are suggesting the IE 600 might be the closest, we shall see.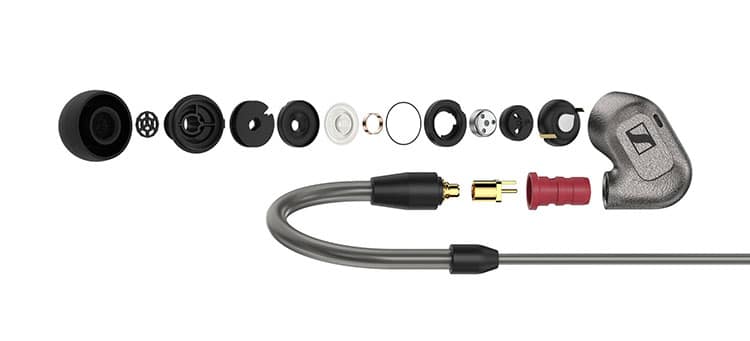 Tech Highlights
Driver
The beating heart of the IE 600 is Sennheiser's new TrueResponse 7mm single dynamic driver configuration. It is rated for 18Ω impedance and 118dB SPL so ideally a monitor that is easy to drive.
The original 7.5mm version used inside the IE 800 was built by hand and thus a time-consuming and expensive process. The 7mm TrueResponse driver came about over a number of years improving the in-house production automation process with a more uniform end result including Sennheiser's own self-designed magnet system.
This is a variant on the similarly-sized 7mm driver inside the IE 900, though that particular one is titled, X3R TrueResponse, which uses a three Helmholtz resonator chamber design.
For reference, the IE 300 also uses a 7mm XWB dynamic driver which is another variation of the TrueResponse driver using a different blend of materials.
This is not the first time Sennheiser has developed an IEM with this type of transducer either. Going back to 2019, the IE500 Pro was one of the first of the company's monitors to use it.
Dual Resonator Chamber (D2CA)
I did mention the IE 900's triple Helmholtz resonator chamber design for its 7mm driver. Well, the IE 600 also uses a type of resonator chamber also, called a D2CA or dual resonator chamber first seen in the IE 800.
These acoustic back volume chambers are precision engineered into the nozzle itself and are designed to reduce the potential for the type of resonance that pushes down on the quality of the high-frequency reproduction in the monitor.
Design
The IE 600 3D-printed shells are tiny, perhaps not as small as the micro-sized IE 800 driver housing buts definitely at Westone W80 level or smaller. Sizes like this often put a lot more emphasis on the tips doing their job when it comes to isolation which you can read about in more detail further down in this review.
Aesthetically, the IE 600 shells have a fairly smoothly cornered italicized L-shape to them with a detachable Fidelity+ MMCX connector stem to the rear and the nozzle running perpendicular to the stem. If you look closely enough the venting port for the driver is to the lower front side of the outer shell just below the centered Sennheiser branding.
The IE 600 housing itself is silvery with a rough grippy texture from its amorphous alloy which is technically formed from undercooled frozen metallic liquids which are known to be to be quite tough and fairly resistant to abrasion with good corrosion resistance levels.
It is not quite as polished or as delicately chiseled as the older IE 800 design which I felt was incredibly unique but it does feel a hell of a lot more durable and to be frank, the larger housing makes it a lot easier to manage for my fingers.
Stock Cable
The IE 600 uses a detachable cable format which for the original IE 800 users is a bit of a godsend considering their former flagship had a fixed para-aramid reinforced cable design with a 3.5mm termination. The IE 800 S, however, did go some way to fixing that by making the cable detachable.
This time, Sennheiser throw in not one but two 1.25m stock cables with one using a standard 3.5mm termination and the second, a most welcome 4.4mm balanced alternative.
Both have very similar clean aesthetics and for that matter also handle in a very similar manner with their TPU jacket which gives them a round rubbery feel in the hand. The internal wire is OFC or oxygen copper though I can find no mention of the actual gauge but presuming no more than 26-28AWG.
The connector side of the cable is finished with a color-matched memory-retentive coating that bends and is shaped in a very easy manner for securely positioning the cable over the back of your ear. All barrels are very low profile with the jack variant right-angled on both cables and the splitter fairly diminutive and quite flat.
Channel markings on the MMCX barrels are a bit low-profile, to say the least. Having to shine a light on them to find out which is right or left isn't ideal at my age. I would prefer a red ring on the right side to make it more immediately identifiable and to match the shells which do have red and black rings.
Microphonics is low but not aftermarket cable low. There is a little bit of travel from taps below the splitter but nothing that annoying. It's probably a testament to the decent level of isolation that you can hear microphonics at all from the IE 600.
Comfort & Isolation
The IE 600 fit surprisingly well for such a small shell. It should nestle right into the external auditory meatus part of your outer ear without any spillover into the concha or pressing hard against the antihelix ridge.
They are indeed quite lightweight also so you are not likely to feel any undue pressure inside the ear. The more noticeable pressure or presence will likely come more from the memory-forming jacket over the top of the ear which can get a bit chilly on a winter's morning.
However, the cable lay on the ear is still relatively comfortable for prolonged use and does help keep the diminutive shells secure in the ear. There should be no relative difference in the comfort with either cable since they are virtually the same save for the jack termination.
Tips
The isolation is very good also for a vented dynamic driver design. However, a lot of this will come from just how well the tips fit your ear. The shells do sit very close to your canal with the level L-shape allowing the cable to extend away from your outer ear ridges without breaking the close fit as a result.
That close fit also means the relatively short nozzle does not have to do a huge amount of work to peer into your ear canal but the tip does the remainder of the extension inwards.
You get two types of tips with the IE 600, a silicone, and a foam alternative. Both come in regulation small, medium, and large sizing, all with inner wax guards near the top exit of their respective bores.
Like the IE 800, I found the IE 600 worked best with a slightly smaller tip. Normally I work a large tip with monitors that have long nozzles but in this case, a medium silicone or foam tip extended a bit deeper and created a better seal.
The foam tips will provide a superior level of isolation between the two options but if you don't shove the silicone tips in too deep they are also very competitive.
Packaging & Accessories
If you own Sennheiser products then you should pretty much know Sennheiser packaging. The IE 600 runs true to form with its elongated retail box and blueish grey external sleeve showing off the IE 600 plus plenty of data on the rear.
Inside, the IE 600 drivers are nestled inside on a removable foam top layer for protection with all the accessories neatly packaged just underneath. You get a single tips tray with three sets of silicone and foam, a branded pick or cleaning tool, a lapel clip, a carry case, and two sets of balanced and SE cables.
The zippered case itself is stiffened material with a fabric or nylon outer and a softer felt inner. It is not huge, quite pocketable actually, but with just enough space to throw in the two cables with the drivers and tips. You will not be able to get much else in there.
Click on page 2 below for sound impressions and pairings