We review the HIFIMAN Audivina, which is a new full-sized closed-back planar magnetic headphone featuring the latest stealth magnet technology. It is priced at $1999.
Disclaimer: This sample was sent to us in exchange for our honest opinion. Headfonics is an independent website with no affiliate links or status. We thank the team at HIFIMAN for their support.
To read more about the HIFIMAN products we have previously covered on Headfonics click here.
Note, that this post follows our latest scoring guidelines which you can read up on here.
HIFIMAN Audivina
The HIFIMAN Audivina is a pleasant headphone to listen to that offers a high level of detail, and a realistic tonality along with a larger-than-average and precise soundstage, considering it's a closed-back design headphone.
Pros
Fast responding drivers
Large soundstage
High comfort level
Cons
Enormous cups, albeit gorgeous but prominent.
Arguably HIFIMAN has come out, guns blazing this year, often hitting the bullseye. The Svanar comes to mind and their top-notch midrange and vocal presentation. The EF400 is another piece worth mentioning since it's become almost a household name. I'm betting some of you already have one.
They're also introducing a new TWS model soon and thankfully I got to hear them. If the launch is successful and HIFIMAN doesn't change anything in a major way, I'm betting they will be well-received.
So, what about the recently launched, artful-looking Audivina closed-back full-sized headphones? HIFIMAN seems to be zeroing in on its aimed tuning desires in its closed-back line of headphones. That's a spoiler alert by the way.
Tech Highlights
Stealth Magnet Array
The HIFIMAN Audivina is a full-sized closed-back planar magnetic headphone with a similar ovoid styling as the Arya and is priced not too far off it either.
Like the latest Arya Edition, the Audivina uses HIFIMAN's newer stealth magnet system in a dual-sided array.
These magnets are not asymmetrical in alignment. Rather, they have a different physical shape and composition to allow sound waves to pass through from one side to another without creating any "interferences" such as wave diffraction turbulence and lowering distortion in the process.
Neo Supernano Diaphragm
We also know that this time around HIFIMAN used a new Neo Supernano Diaphragm which they claim is an all-new NsD that is 80% thinner compared to past iterations. This theoretically improves the driver's transient response and speed since it's only 1 to 2 microns thin and light as air.
The drivers seem very similar to the drivers used in the Sundara Closed Back. But on closer inspection, they closely resemble the drivers used in the HE-R10P. So, the HIFIMAN Audivina could have top-tier components modified for this price tier and performance level.
The Audivina drivers have an oval-shaped frame with a similar foam edge up front and they also have the same visible 12-point thick cloth in front of the driver which I'm guessing is for a damping effect.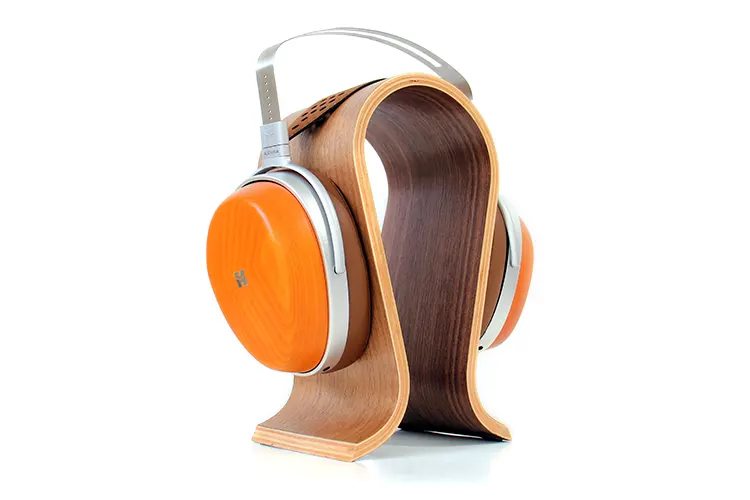 Design
Cups
The cup design of the HIFIMAN Audivina can only be described as gorgeous. They seem to be made from Beechwood and employ HIFIMAN's new internal resonance chamber design which further aids in tuning the driver. The back displays a silver HIFIMAN symbol inlay which is subtle but tasteful.
One aspect that some might take or leave is the 2 piece cup design. Between the ear pads and the wooden cups lies another piece that seems to be made of an uncommon alloy. The one drawback of this design is that the cups look massive.
Inside, the Audivina drivers seem to use a dual-sided stealth magnet design which in some cases helps efficiency although this driver doesn't seem to be HIFIMAN's most efficient driver to date. But to me, the stealth magnet design removes a layer of the audio veil and I would trade efficiency for that any day.
The cup connectivity is the usual 3.5mm connection but this time around HIFIMAN seems to have found a new method of constructing the connectors and you could feel the difference.
The connectors provide a nice and tight fit, plug insertion doesn't feel crunchy, and they provide a solid connection.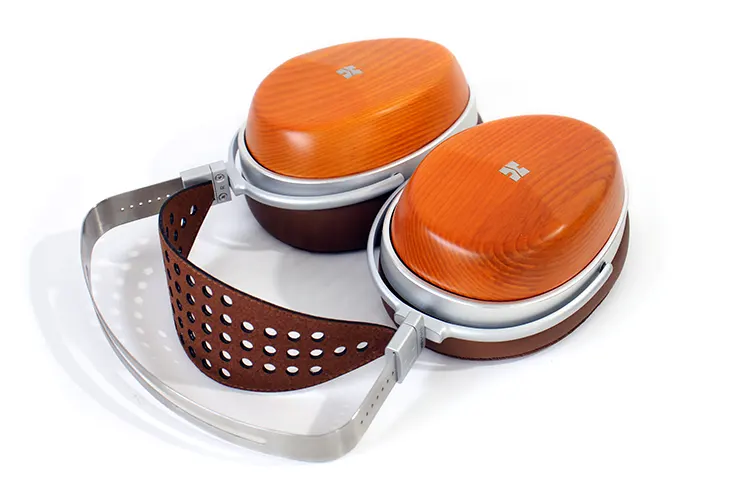 Headband
The headband design seems to be borrowed from the HE1000se and I'm happy about that. This headband is very comfortable, durable, and easy to work with. You can make size adjustments while the headphone is on your head, unlike other headband designs which is a useful benefit.
The yokes seem to be made of an aluminum alloy, the steel spring seems to be made from stainless steel, and the assembly seems to be all metal except of course for the head strap which seems to be made of a perforated stitched thin rawhide of some sort.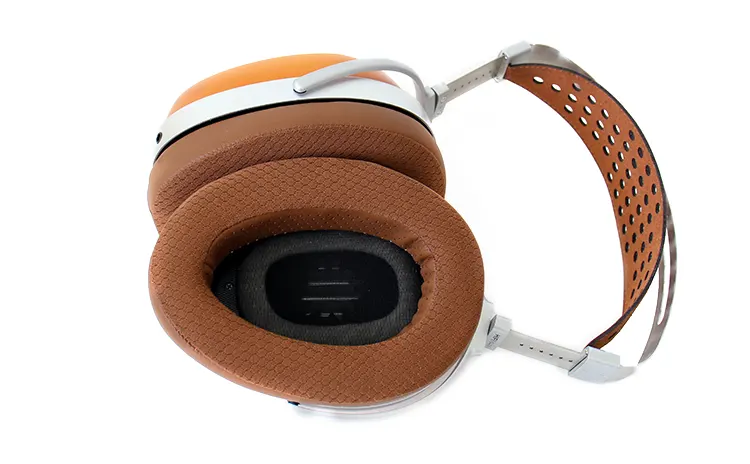 Comfort and Isolation
The first thing I noticed wearing the HIFIMAN Audivina was the light clamping force that's measurably less than the Sundara variants and less than the Edition X, for example. Even the older HE-400i had more clamping force even though both used a similarly designed headband assembly.
That, and the large-sized cups and pads make part of a recipe for high levels of comfort. You barely feel these headphones on except for a slight clamp of the cups and the headband. Weight is not too bad either.
They don't isolate much, however. You could still hear outside noise very much so. I have a fan behind me and I could hear it, and also my better half's television in the background.
The funny thing is that there's a minimum amount of sound leakage. So, although I can hear my surroundings, no one can hear what I'm listening to. You can hear leakage if you're a foot away or less but beyond that, they remain silent to the outside world.
Stock Pads
Although the HIFIMAN Audivina stock pads might seem like the same old pads in a different color scheme, they're not. The foam, for example, is stiffer compared to other asymmetric cup pad designs from the past.
The pads kept the hybrid design. They use a medium-thickness leatherette on the side band, a cloth with the same texture as their Palipads on the portion that touches your face, and softer pleather on the inside which is also perforated similarly to most other HIFIMAN pads.
The pads are a bit stiff but the low clamping force of the headband balances the comfort level plus with less force I can only imagine the pads would last longer that way.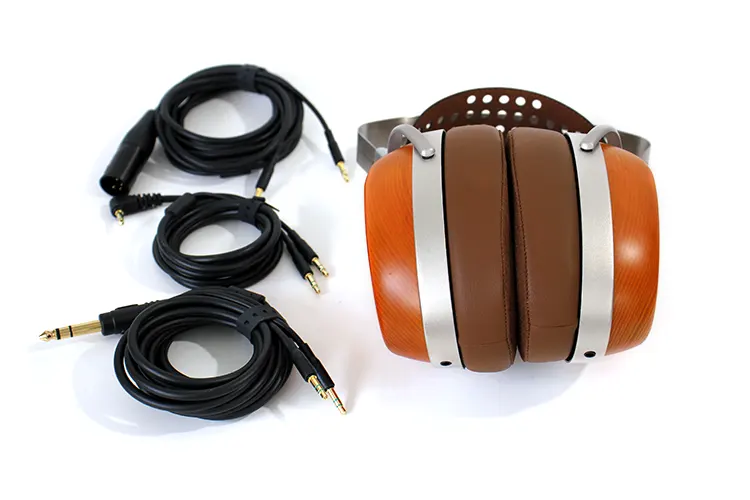 Stock Cable
The HIFIMAN Audivina doesn't come with a stock cable. It comes with three stock cables. They're all the HIFIMAN common OFC black-on-black plastic jacket cable-type assemblies with the plugs incorporated into the same black plastic jacket.
The cable assortment consists of a 4 foot 3.5mm cable and two ten footers which terminate in a 6.35mm plug and the other in a balanced 4 pin XLR connector. Most HIFIMAN headphones use 3.5mm plugs to feed the cups with a positive side tip and these are no different which is good news.
If I could nitpick for a minute I would have preferred to ditch the 6.35mm for a 4.4mm Pentaconn because you could always throw in a 3.5mm to 6.35mm converter in the box which would have increased out-of-the-box connectivity to 4 types instead of 3.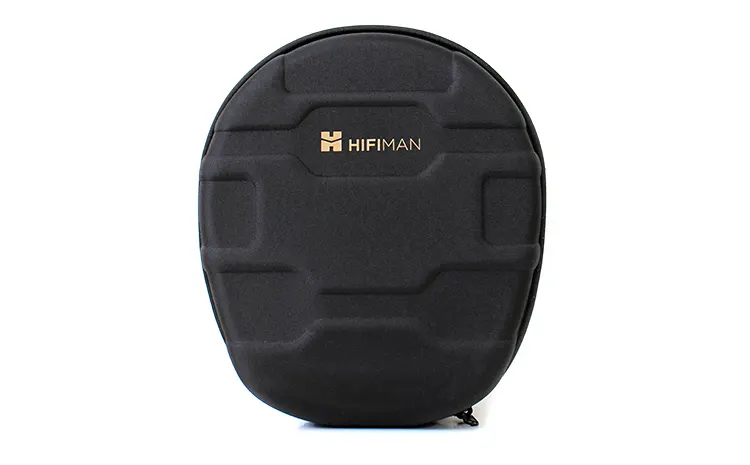 Packaging & Accessories
I found it surprising that HIFIMAN didn't package the Audivina with their double-duty innovative inner foam headphone stand. Instead, they threw in a carrying case implying that the Audivina is suitable for portable use.
HIFIMAN didn't include 4.4mm connectivity but did include 6.35mm connectivity plus XLR. Is this a home or desktop use headphone or is it a portable headphone? Interesting indeed. Perhaps it's a chameleon.
Anyway, the case is a zippered semi-hard case and it has a small space inside that can barely hold one cable assembly in place. You might get two in there but there's barely enough space for the 3 cables in there so if you travel with them choose wisely unless you take all the cables along in a separate bag.
The rest of the contents consists of not much else. HIFIMAN has finally ditched the fancy boxes that adorned your closet space for one that's environmentally friendly and not as costly. I'm for it especially if it reduces the end buyer's cost.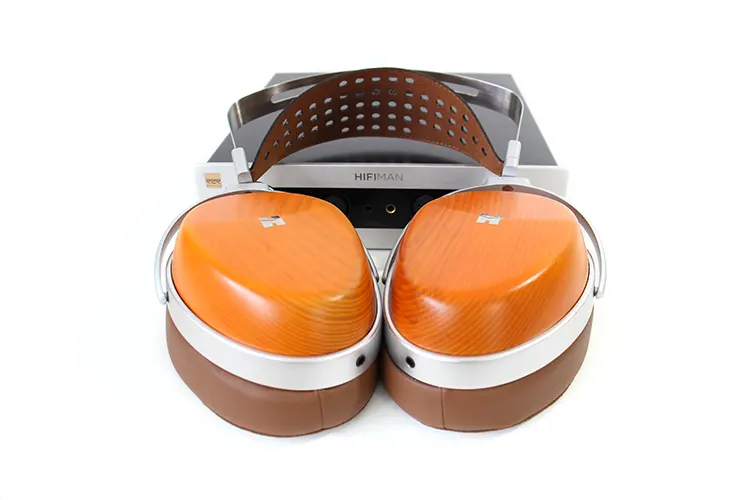 Synergy
Efficiency
Comparatively, they seem more efficient than the HIFIMAN Arya 2nd generation and have an efficiency level closer to the Edition XS although the XS does require less power to operate at lower volume levels.
If you have a good DAP it will probably pair well as a good portable combo with the Audivina but I get the sense that I will get some hard stares if I wear these outside. They're not subtle in the looks department.
So, if you plan on keeping them at home most of the time, get yourself a good piece of hardware to drive them. They're not the most efficient headphone in the HIFIMAN product lineup but they certainly merit a good source with ample amounts of power and seem to like high current ratings.
Pairings
I just went ahead and pulled out my two domestic favorite DAC amplifier combos, the HIFIMAN EF400 and an iFi Audio iDSD Diablo. I didn't need much more than that and didn't look back once.
Certainly, I pulled out my Topping A90 and fed it a couple of DACs to push these bad boys 7.8 watts a side but that wasn't necessary due to the forgiving nature of the HIFIMAN Audivina.
So, you might already have something laying around the house that will do the Audivina some justice. That's assuring and good to know. The fact that you don't need to make a special purchase or need anything special for them to perform well. You might get an urge to splurge on a wire, later on, but that's about it.
Click on page 2 below for sound impressions and our selected comparisons.