Our focus today is a review of the HiBy Zeta, which is a flagship tribrid single dynamic, quad-BA, and quad-electrostatic driver in-ear monitor. It is priced at $1399.
Disclaimer: This sample was sent to us in exchange for our honest opinion. Headfonics is an independent website with no affiliate links. We thank HiBy for their support.
You can click here to read more about the HiBy products that we have previously highlighted on our website.
Note, that this article follows our latest scoring guidelines which you can read here.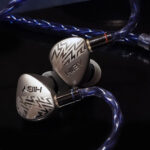 HiBy Zeta
The HiBy ZETA is an impressive IEM considering this is HiBy's first attempt at making higher-end models. A solid recommendation for those who are looking for an in-ear monitor with engaging character ideal for lower-power devices.
Pros
Highly dynamic sounding
Easy to drive
Fine craftsmanship
Cons
Limited synergy with powerful devices
Slightly recessed mids
HiBy is renowned for its industry-leading system speed and feature-rich DAPs. However, the company is now expanding its horizons by introducing a flagship IEM above the previous top-tier Crystal 6, (and Crystal 6 II), model.
It is called the Zeta and it features a much higher tribrid driver specification combined with a solid titanium jacket and an incredibly sensitive configuration.
With extensive engineering packed inside, it appears that HiBy is striving to compete with some of the very best IEMs in the market. The whole package looks very appealing for the price but is it competitive?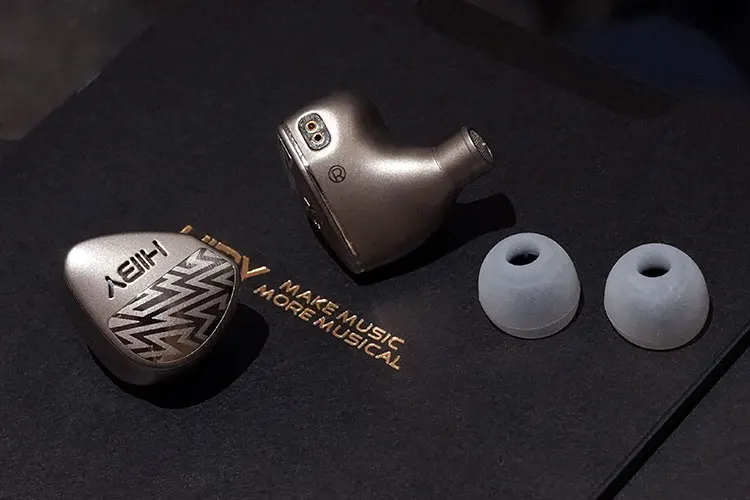 Tech Highlights
Under the full titanium housing, the Zeta houses a Tri-brid, 5-way crossover configuration consisting of 9 drivers in total. Inside you will find 4 Electrostatic drivers from Sonion, which are all linked to a big miniature transformer.
In addition to the Quad EST drivers that handle ultra-high frequencies. The Zeta IEM also consists of four balanced armature drivers which are responsible for the midrange and treble and the lower bass is managed by a separate 10mm liquid silicone dynamic driver.
From official graphics, the drivers are linked to the nozzle by 5 independent ducts with phase correction measures applied. Also, HiBy's Spatial Harmonics enhancement structure to further boost its performance.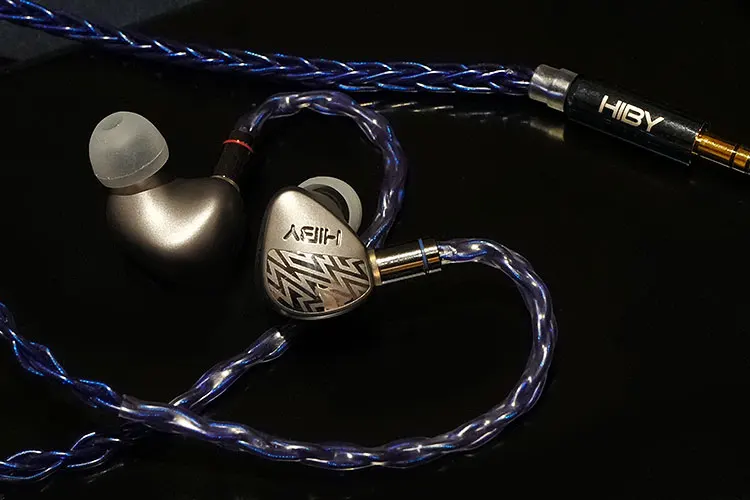 Design
Rather than utilizing resin as the housing material, HiBy has taken a significant step forward by incorporating a titanium chassis to encase the components, and the size of the IEM is much smaller than I imagined.
This is one of the hardest metals to machine, and the design employs some of the most attractive machining techniques seen on a Titanium chassis to date.
The faceplate features a zigzag pattern that creates an appealing contrast, with the HiBy logo skillfully engraved onto the surface. This engineering-intensive approach to the faceplate design is far more engaging than traditional methods, resulting in a captivating appearance.
The housings are also individually serialized, and you can check the serial number near the cable socket.
A vividly lapis-lazuli-colored, 2-pin terminated cable with a purple sheen under sunlight is paired with the Zeta to give the whole design a more youthful look. On a side note, you will find individual serial numbers subtly laser-engraved on the bottom of the housing.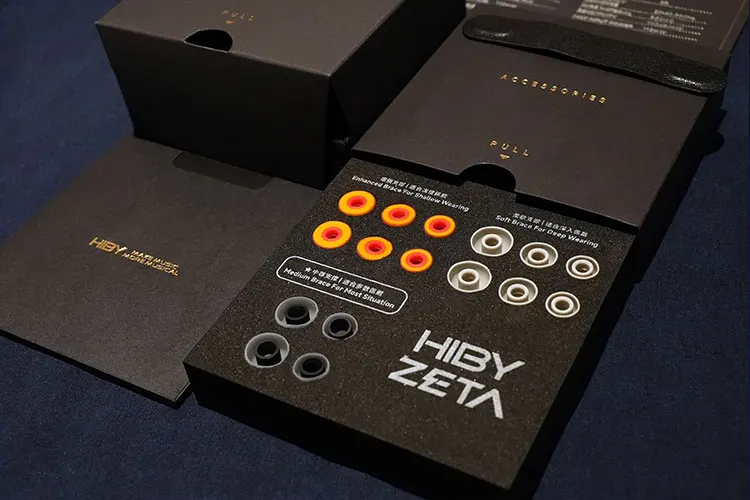 Comfort & Isolation
In terms of metallic chassis, we often observe simpler housing designs that enable CNC machines to carve out the housing with greater ease.
However, this is not the approach taken by the Zeta. Instead, its aesthetically pleasing design is crafted to fit closely within the concha, with its 3D shape intricately machined and smoothened to not cause any pain after hours of listening.
On the other hand, the nozzle extends fairly deep which provides great passive isolation. You can probably fit it in nicely in seconds without any need to adjust its position throughout hours of listening.
Tips
HiBy's inclusion of three different sets of tips in the packaging is nothing short of surprising. One of the sets is solid-filled and specifically labeled as optimized for shallow insertion, while the other two sets are softer and designed to provide maximum comfort during wear.
For users that are not used to tip-rolling to fine-tune the output, this arrangement is more intuitive, and you could choose between comfort or to enhance further the passive noise isolation power.
And of course, the nozzle size is pretty standard so you can slide on other aftermarket tips easily.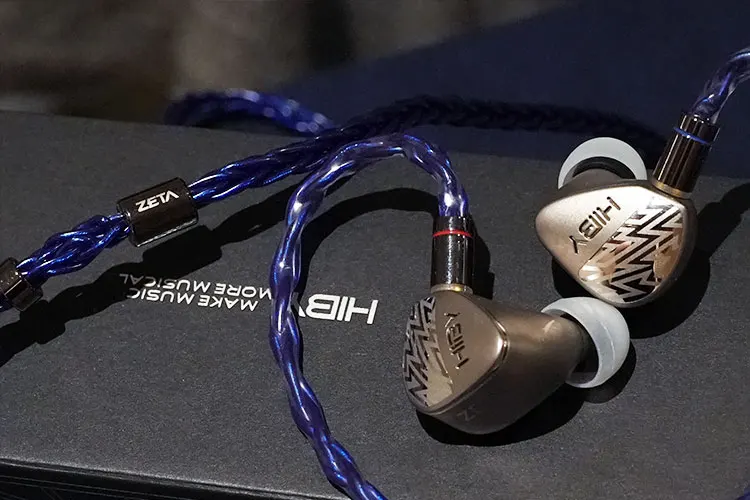 Stock Cable
It is pleasing to see a high-quality, soft PCOCC cable at this price point considering that it is using more expensive materials on the body unit already. The default 4.4mm-terminated cable features shiny metal parts and a premium-looking appearance, and the stiffness is just right to free it from tangling.
HiBy also provides a cable binder and two small pouches to keep the cable and body unit neatly organized when using the leather case that comes with it.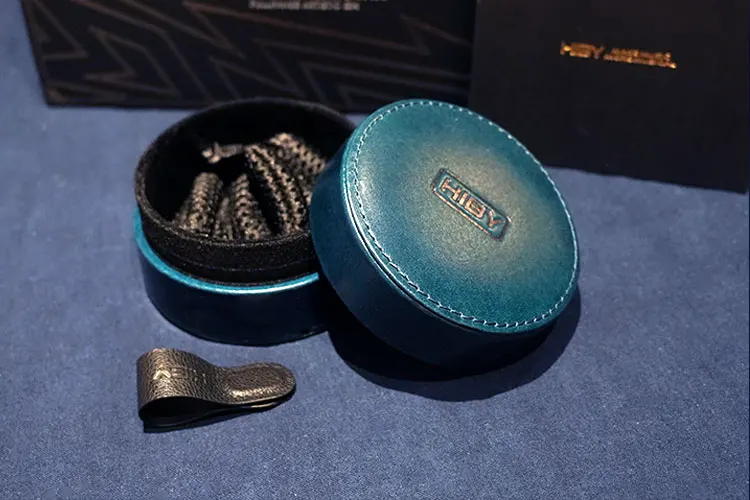 Packaging & Accessories
HiBy keeps the open-box experience neat and minimalistic this time. Upon opening the box, you will discover a faux leather carrying case, earphone protection pouches, and tips as mentioned above.
The carrying case has sufficient space to hold the IEMs with the rather thick cable. I also like how HiBy opted to allocate its budget towards the earphone design rather than excessive packaging and parts, which is a nice approach to reducing some overhead costs.
Synergy
Efficiency
Rated at 9Ω, 100dB @1kHz in sensitivity, the Zeta is very sensitive to power and can deliver good dynamics over small dongles or relatively weaker outputs like the previous generation Sony WM1A.
As mentioned, good control and decoding quality is required to maximize the performance of the Zeta.
Being quite sensitive you can easily get it to sound loud but putting it on a more defined source will further refine and strengthen its technical performance, so as its treble extension power and vocal separation.
Interestingly, the Zeta does not work well with powerful players like the Shanling M7 or M9 on which it sounds compressed, skewed, and curtained even on low gain. With the HiBy R6 Pro II, which is much less powerful on paper, it gets much more balanced, airy, and dynamic.
Although leveraging on balanced output gives the Zeta a certain advantage, the higher sensitivity makes it more hiss sensitive and you can detect the introduced noise on some DAPs such as the older R6 Pro.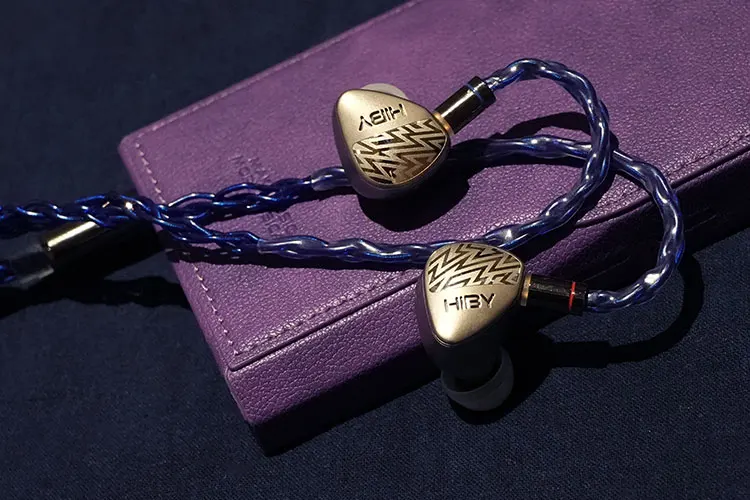 Pairings
The responsiveness to power allows the Zeta to sound great on many devices around such as HiBy's own R6 Pro II which has a lower output rating but excellent decoding quality.
On the R6 Pro II, the Zeta sounds quite energetic and balanced, with airy bass details and smooth mids delivery. Although not officially announced the Zeta and R6 Pro II sound like a suite that complements each other with great synergy.
You only need low or mid gain for the Zeta and giving it a higher gain or pairing it with a very powerful DAP may make it more clinical sounding.
Strong decoding power and control help further push the performance; putting the Zeta. For example, the RME ADI-2 Pro. You get a highly controlled, resolving decoder that yields very pleasing results to maintain the character of the Zeta.
This pairing sounds very textured in the bass, with silky smooth articulation with rich harmonics. At very high volume the image still holds together tight with no audible distortion, and the slight darkness in tone helps the two ends to be more clearly heard, thus enhancing the perceivable dynamic range.
The Zeta does not work too well with DAPs that lean to the bass or are recessed in the mids. If it is a bassy and powerful source the output may sound more compressed and darker. It kind of kills the headroom by leaking the bass energy all over the mids.
Click on page 2 below for sound impressions and our selected comparisons.