Today, we review the Sennheiser HD 660S2, which is a second-generation set of circumaural open-back 300Ω 42mm dynamic driver headphones. It is currently priced at $499.95
Disclaimer: This was sent to us as a sample for our honest opinion. Headfonics is an independent website with no affiliate links or services. We thank Sennheiser for this opportunity.
Click here to learn more about the Sennheiser products we have previously highlighted on Headfonics.
Note, that this post follows our latest scoring guidelines which you can read up on here.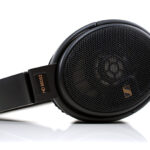 Sennheiser HD 660S2
The Sennheiser HD 660S2 is a clear technical step up on the HD 660S. It offers superior extension on both ends of the spectrum, stretching the presentation taller and deeper and injecting some improved weight and dynamics over the original tuning. The quality of the imaging is just so much more satisfying as a result.
Pros
Improved sub-bass performance
Excellent choice for OTL amplifier owners
Modern cable terminations
Cons
Upper-mids at times needs a bit of EQ for presence
High lateral clamping pressure when brand new
Surprisingly, this is the first set of Sennheiser headphones that I have reviewed in almost 10 years. The last big hitter was the HD 700 way back in late 2012 with a smattering of portable headphones such as the Amperior and the HD 25 SP2 in 2012 and 2013.
Since then, the rest of the team has picked up the options on the Sennheiser headphones reviews. That is not to say I have ignored them, rather, I have been quietly buying some of their classics out of my own pocket over that same period including the HD 600/650, and the more recent HD 660S.
So, there is quite a healthy mid-fi lineup of Sennheiser headphones right here which makes the 2023 HD 660S2 a dead cert to be covered by yours truly. Especially now that it has a nice $100 price reduction making it a fairly competitive mid-tier open-back offering.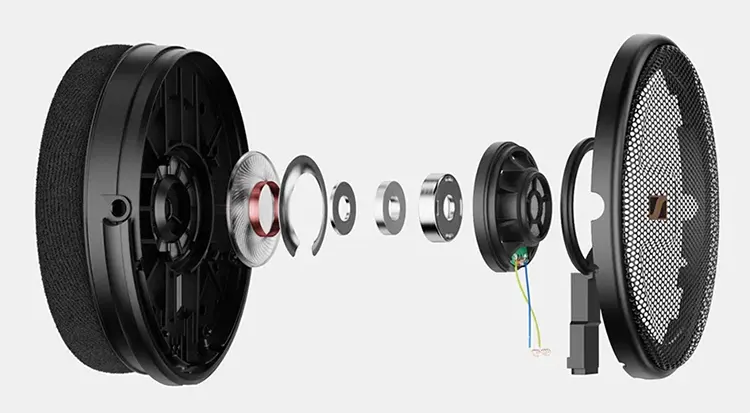 Technical Highlights
The Sennheiser HD 660S2 is a circumaural open-back dynamic driver headphone and the natural successor to the HD 660S launched back in 2017.
For this edition, Sennheiser has dropped the older dynamic driver from the original HD 660S and instead opted for a fresh design of their ultra-light aluminum voice coil.
Now, these two drivers are not the same drivers for a good reason and that was to improve the HD 660S's low-end performance which, for some, was a bit lacking.
Sennheiser felt the best way to do this for the HD 660S2 was to reduce the weight and increase the magnetic force around it to improve the impulse response of the driver.
This was combined with a better airflow system to tease out some improved dynamic range and detail on the lows with the resonant frequency dropping from 110Hz on the HD 660S to around 70Hz on the HD 660S2.
The new driver also means the impedance level of the HD 660S2 has also been pushed back up to the classic 300Ω benchmark set by the HD 600 and HD 650 classics.
This makes the HD 660S2 a potential OTL, (or SETA), tube amplifier owner's dream headphones as well as stiffen any resistance to potential distortion from the improved low-end response when it gets fed some decent voltage.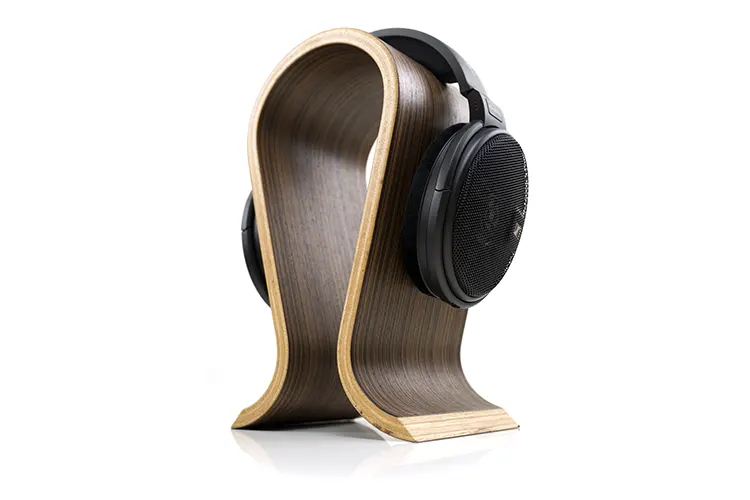 Design
Sennheiser has not messed around too much with the overall design of the HD 660S2 making it a readily identifiable headphone form factor known to many through the years.
For my head, this is a smaller circumaural design with a closer ovoid cup fit resting partially over my ears rather than completely clearing my ears. The materials are a mix of plastics, and spring steel, with some memory foam for the headband and velour for the matching pads.
From the outside, you would think that not much has changed from the HD 660S save for different label colors but if you look a bit closer you can spot subtle changes that came about from the 2019/2020 HD series design refreshes.
One such change is the finish on the edging of the HD 6602S yokes and headband. It feels closer to the 2020 revised HD 600 with sharper edges as opposed to the smoother curving on the older pre-2019/220 HD 660S sample we have here.
The lateral-adjusting pivot block also feels freer than our older HD 660S though this may be unit-specific. Still, it does feel like the HD 660S2 has more room for its lateral adjustment which is welcome.
The more obvious changes include the switch from a white-label color scheme to a bronze alternative with a smaller Sennheiser logo positioned on the far left side of the headband.
Channel markings have also moved to the inside of the headband with the 3-dot left channel indicator on the side of the pivot block instead of the front. And finally, you get more memory foam on the underside of the HD 660S2 headband compared to the HD 660S.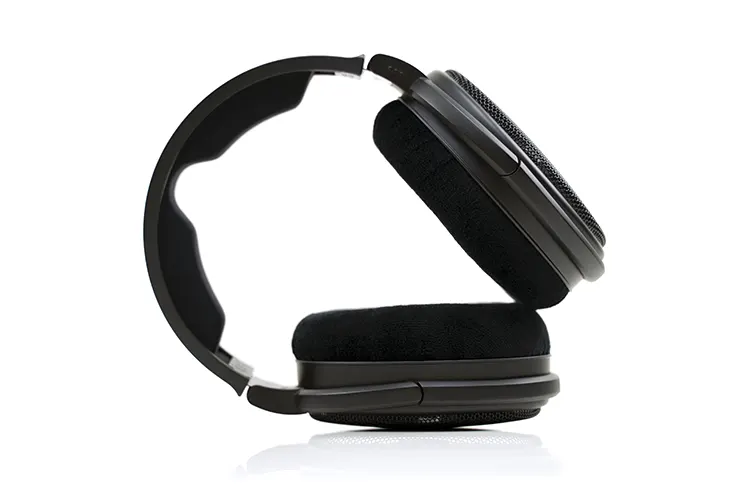 Comfort
The HD series of headphones has always been about lateral over vertical pressure when worn. It works for some, not so for others so it is always worth trying for your own particular head shape.
The HD 660S2 is no different in that regard with virtually no vertical pressure for my fit and above average lateral clamping. However, I did detect a little more steadying presence from that enhanced memory foam wedging from the underside of the headband.
Now, as long-time owners of HD headphones will know, those velour pads fresh out of the box are at their tallest and most shapely. As such, if you are comparing them you might actually conclude that the HD 660S2 is marginally less comfortable on the ear compared to well-worn older models.
That is usually because over time the pads start to soften up and flatten out a bit giving them a wider contact surface and potentially more comfort as a result. Breaking in the HD 660S2 pads will follow a similar route until such time as you need to replace them and thankfully they are still detachable for that purpose.
As ever, the fit is close rather than expansive so those ovoid-shaped pads sit somewhat on the edge of your ears and into the side of your head rather than clear them 100% like the HD800.
The velour padding helps a lot in this instance in terms of avoiding pressure discomfort and a build-up of sweat and though light at 260g I would still term this as a 'neat fit'.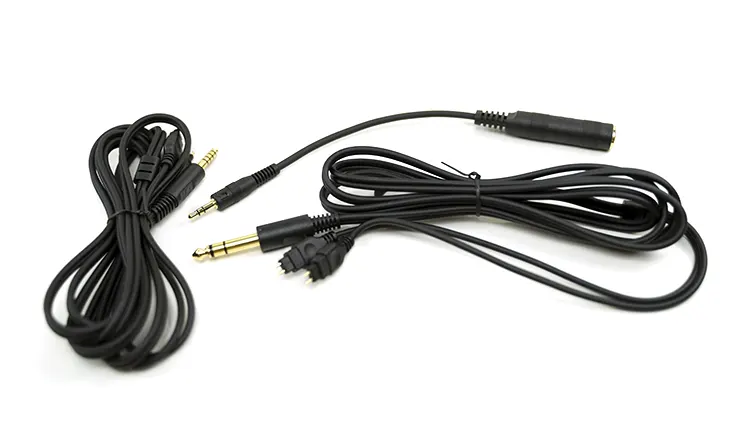 Stock Cables
The HD 660S2 comes with 3 different types of cables, or technically two 1.8m 'true cables' with a 3.5mm terminated short extension. As far as I know, all the internal wiring is 27-28AWG OFC copper Litz with enamel-coated stranding and additional Kevlar for increased tensile strength.
You get a modern 4.4mm terminated version and a classic 6.35mm option which will slot right into the back of the short extension cable to give you that 3.5mm single-ended alternative.
I commend Sennheiser for opting to go the extension cable route rather than a short adaptor to reduce the potential stress on smaller 3.5mm sockets from the likes of DAPs and dongles.
I do not believe these cables have changed that much down through the years with their dual-entry proprietary 2-pin terminations for the cups and a fairly durable rubber jacket throughout finishing in some excellent strain relief around the jack barrels.
The HD 660S2 stock cables are not too wieldy either and pretty low on memory retention and microphonics as well.
However, at almost 2 meters some would consider them a bit on the alongside for closer desktop use so it would have been ideal to see that 3.5mm extension converted into a 1.3m alternative for moving around.
Packaging & Accessories
The HD 660S2 packaging feels somewhat of a downgrade over the more substantial pre-2019/20 HD 660S offering though I do believe the entire HD lineup now comes with this new 'spartan' packaging.
Previously, you got a larger box with an outer sleeve and an internal hinged design with tons of protective foam to double as a nice storage display case.
This time around the packaging is smaller but simpler, more like some of their lower-tier offerings with nothing in the way of foam lining or display case potential. I would say the box is much more disposable now than the HD 660S version.
However, on the plus side, you get a soft drawstring satin pouch to put your HD 660S2 headphones into which will do a good job of protecting from dust but not much in terms of mitigating bumps and impact.
For that, you will have to buy your own 3rd party option. I have been using Geekria cases for the HD series headphones and they cost around $30 or so depending on your location. They are excellent quality with plenty of foam padding inside also.
Click on page 2 below for sound impressions and our recommended pairings.