This is an in-depth review of the TOZO Golden X1, which is a multi-driver BT5.3 and LDAC-capable True Wireless System with noise cancelation. It is priced at $149.99
Disclaimer: This sample was sent to us in exchange for our honest opinion. Headfonics is an independent website with no affiliate links or services. We thank TOZO for their support.
You can click here to learn more about the True Wireless Systems we have previously assessed on Headfonics.
Note, that this article follows our current scoring guidelines which you can read in more detail here.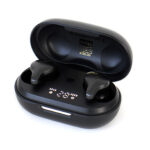 TOZO Golden X1
The TOZO Golden X1 TWS set has a lot going for it as far as, features, sound quality, and function. They sport a full-fledged app that the user can use to access many of its built-in features plus a hybrid ANC set that lets the user create custom noise-cancelling curves to suit one's needs. As it stands, the Golden X1 is certainly a top-ten contender.
Performance & Features
8.4
Pros
Above-average sound quality with LDAC
Adjustable and effective ANC
Ample feature set
Cons
No aptX capability
Midbass-biased tuning
Moderate top volume levels
TOZO Inc. hit the one million sales mark back in 2020 only a short five years after they opened their doors back in 2015. That fact alone should tell us that they must be doing something right because that's a lot of sales in a short time.
What I don't get is the fact that they've been in the shadows and have gone almost unnoticed for such a long time. Or at least to me because I didn't know about them until recently, I'll be honest.
But when we got offered to review their Golden X1 TWS I found out that this model ticks so many checkmarks and when I read the tech lowdown, I wondered at that moment if I was just being fed propaganda jargon, wrong.
TOZO Inc. released its first TWS model back in 2017 and was one of the pioneer companies in this genre, so they've had some practice at this it seems. They've been releasing model after model ever since and have become favorites within the big Amazonian jungle.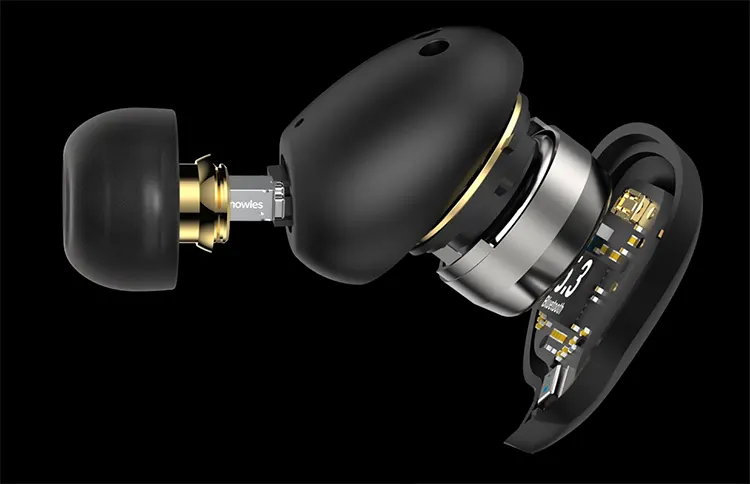 Tech Highlights
I have to admit something here before we continue. I've become a snob when it comes to Bluetooth audio transmission because to me, if it doesn't run LDAC, I turn away. Well, TOZO caught my eye as soon as I realized the Golden X1 runs LDAC plus some other basic codecs.
Then I noticed that the driver configuration was audiophile-oriented and composed of a hybrid setup that uses a 12mm dynamic driver with a carbon nanotube diaphragm along with a custom Knowles balanced armature. TOZO claims this combo can dish out a frequency response of 12Hz to 44kHz.
TOZO also implemented something called ORIGX Pro within this set. It seems it's something similar to DIRAC or a similar DSP correction type that fixes things up. I couldn't find any information on it and it seems TOZO wants to keep this special sauce recipe under wraps. Trust me, I asked.
ORIGX Pro in this set works in conjunction with something called EarPrint technology. This feature conducts a quick hearing test to tweak the Golden X1 according to your ear's ability to hear sounds at certain frequencies and certain output levels.
Decoding
Surprisingly, The TOZO Golden X1 runs on a Bluetooth 5.3 radio which is the latest BT transmission standard. The highest I have seen before is BT5.2 with the likes of the Status Between 3ANC as an example. The internal radio runs on HSP, HFP, A2DP, and AVRCP protocols.
The compatible audio codecs the Golden X1 can run are AAC, SBC, and LDAC. Note that this set doesn't run any aptX codecs so I suggest you keep that in mind. But if your device can run on LDAC you're golden, no pun intended.
One other important piece of information I could not find out was which SoC was being used inside the Golden X1. I contacted TOZO and no one could tell me what SoC was used or what the ORIGX Pro feature was all about just the same.
I tried to find the source of where all these features come from but had no luck. I tried. If I were to take an educated guess, I would say they're probably using Qualcomm's QCC5171 SOCs due to the BT 5.3 radio capability giveaway.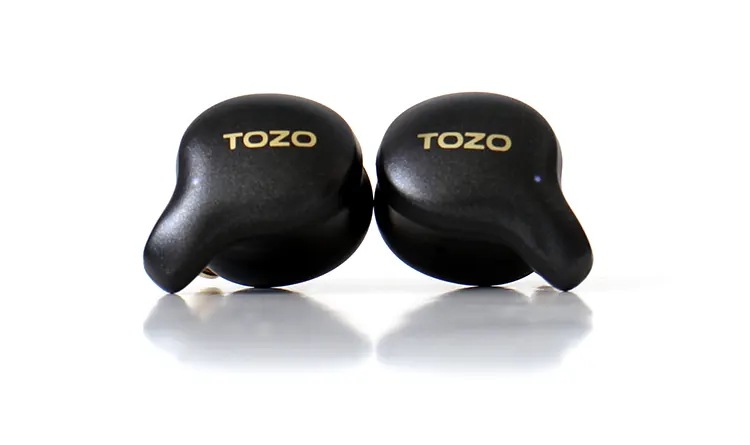 Earbud Design
What would one call the TOZO Golden X1 earbud design? I'd say hybrid half bean, half stem. The half-stem statement in particular fits it well because the stem is not a long one and is just a stub.
It gives you something to grab onto when you insert the earbuds but the stem is not so obvious and I like that aspect. I can name some TWS designs in which the stem is overly long. Another positive characteristic of the design is that they stay put.
TOZO employed a well-thought-out ergonomic design here. The output stem is gold-plated and so is the TOZO emblem on the backplate/touchpad. The outer skin is made from high-quality polymers and they carry an IPX6 rating.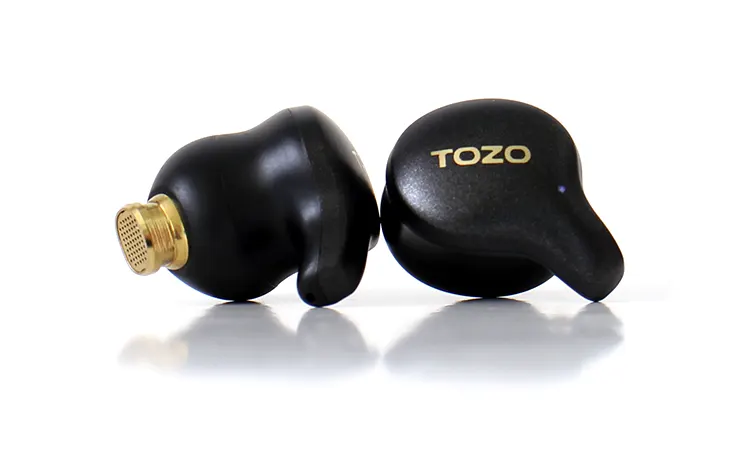 Comfort and Isolation
The TOZO Golden X1 earbuds anchor themselves well tip-wise and inside the earlobe. They seem to stay put under physical activity. So I do recommend these for workouts and/or physical activity use.
They're also comfortable to wear as a set for long periods. But they are sonically sensitive to ear tip selection, particularly size-wise. The wrong size affects the bass mostly and it also affects the midrange bands I noticed.
The output nozzles will accept aftermarket tips but they seem to have a slightly oval shape at the tip so you might find them a bit awkward for ear tip rolling.
As far as the ANC and its effectiveness, yes it is effective and it attenuates plenty of external sound but the leisure mode does a better job at that ironically. Its counterpart, the supposed transparent mode produces some background hiss or what sounds like wind noise, again, ironically.
The funny thing is that there is a wind reduction mode but it's not as effective as its ANC counterpart at the same task. But at least you have a few to choose from and you can also make one of your own within the app if the factory presets don't cut the mustard.
Microphone System
The TOZO Golden X1 microphone system uses a 3-point, 3-microphone setup with ENC call noise reduction that uses passive noise reduction technology to detect external noise and remove it at the call level before it reaches the listener on the other end.
Does it work well? Some argue that ANC beats ENC but what matters to me is pickup sensitivity and quality of sound. On this set, the quality was average but not stellar.
Sensitivity was also average. I would say the microphone system is highly useful but not a reference standard if there's such a thing.
Controls
Touch
The TOZO Golden X1 has a full set of touch controls and some are re-assignable via their app. The only drawback is that only five of the ten options can be re-assigned to different functions.
I'm not gonna bore you with what functions are available in intricate detail but there's plenty of functionality within this touch control set.
They do work well, and once you get the touch pattern or sequence right, they work every time. So no bugs here. They do what they're designed to do well.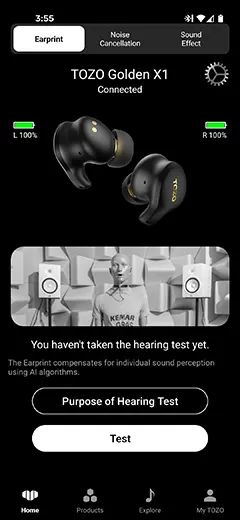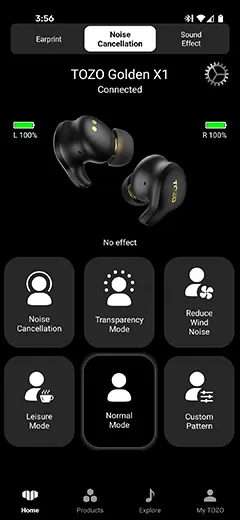 TOZO App
The TOZO app is called TOZO Sound and you can download it from the PlayStore. A quick search and you'll quickly find it by using the name TOZO in the search bar.
It's a full-featured app and it includes all the goodies you'd expect from a mid-tier TWS model. There's a 10-band equalizer with 16 presets but you can also create your own EQ curve presets and store them for later use.
The app has another section that lets you play around with the Golden X1 touch control functions, another section that lets you select between ANC, transparent mode, and reduced wind noise plus a leisure mode that is more effective at reducing noise compared to the ANC mode.
But the most interesting feature is the Earprint technology test that puts you through a series of yes or no choices within points of the frequency bands and it creates a sound profile according to what tones you hear and which ones you do not and you then can store those curves as presets.
I found this feature to be midbass-biased because every time I finished the test, it assumed I was deficient in the midbass as far as hearing capacity and the system would produce a mid-bass-heavy curve every time.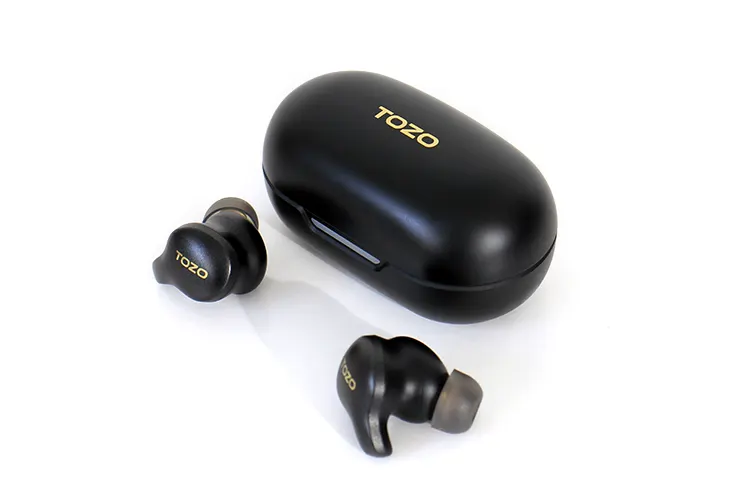 Cradle
One feature that the TOZO Golden X1 cradle has going for it is the informative LED display on the inside by the pairing button and it's something you don't see all the time, particularly on budget TWS models.
The complete assembly is made from polymer materials and has a halfway hinge on the backside alongside the USB-C fast charging port. By the way, you can also charge this cradle on a wireless pad.
On the front side, there's what TOZO calls a breathing indicator which is an LED bar that shows the charging status by increasing the breathing effect speed as it approaches a 100% charge amount and becomes stagnant when at 100%.
Battery life
The Golden X1 set has a 50mAh battery inside each earbud and a reserve battery of 500mAh inside the cradle. TOZO claims a maximum of 8 hours and 32 hours total time. So I'm assuming you can get 4 full charges from one full charge of the cradle.
My personal best time was just under 5 hours using an LDAC codec transmission from either my PC using a FiiO BTA30 or a Google Pixel just the same. You could improve on that number by using a less demanding codec like SBC and keeping that volume low but no thanks.
I did get a full 4.5 charges from the cradle which surpasses TOZO's claims. I did wait until the set powered down on its own but there's always some power left over within the batteries so that can explain away the extra half charge above the manufacturer's specs.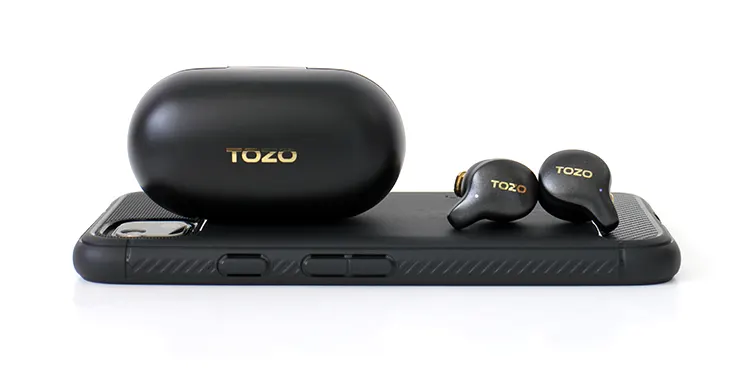 Wireless Performance
Stability and Range
The TOZO Golden X1 ran stable at all times and even when I roamed around the house but as usual, Bluetooth transmissions dislike corners or going through walls and so does this set.
If you have a BT 5.3 transmitter feeding the Golden X1 it could yield you a longer transmission distance but with my trusty FiiO BTA30 5.0 transmitter, I could go past 37 feet with no dropouts as long as I stay in clear view of the source.
One peculiarity was that when paired to my phone the reconnection would happen quickly but at times the TOZO Sound app would not recognize the earbuds until I re-initiated the pairing sequence. This was a small annoyance that I assume would work itself out eventually in a future firmware update.
Latency
I did notice a few milliseconds of lag behind whatever video I was watching. It wasn't too bad but it was noticeable. L looked around for a low latency mode within the app but no dice.
Then I remembered that the Golden X1 is not aptX capable, and that codec, particularly the low latency variant is the king on that front and most modern-day sets can employ that variant but not this one.
Perhaps and once again, a future firmware update can include that option, hopefully.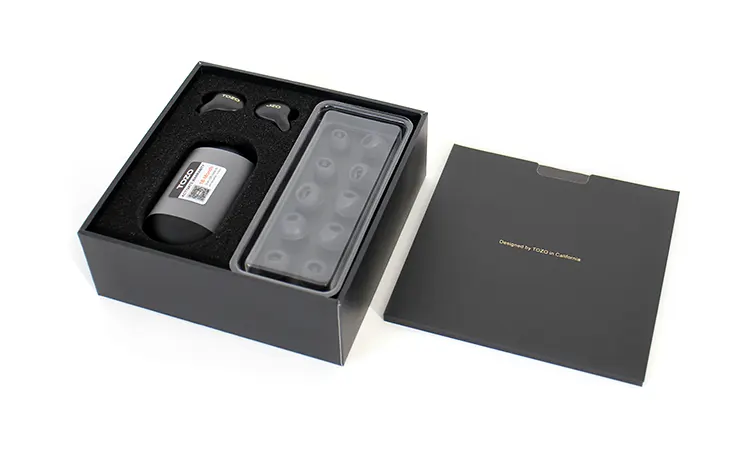 Packaging & Accessories
When you open the Golden X1 box by sliding the top off, you're greeted with the cradle, the two earbuds, and a tip tray containing five rubber tip sets in different sizes. Add the preinstalled set to that for a total of six sets.
Under the tip tray, there's a separate box containing a short USB type A to type USB-C charging cable plus a couple of pieces of literature consisting of a quick guide and a user's manual.
I feel just one manual would suffice as long as it's thorough in describing all the features. The cradle does come wrapped in a slip containing an authenticity sticker so make sure your set has it. If not, contact TOZO quickly.
Click on page 2 below for sound impressions and our selected comparisons.