Sound Impressions
Summary
I cannot remember a Sennheiser headphone that did not aim for a sound signature that was close to neutral and the CX Plus True Wireless aims for neutrality but there are some peaks. One is around the mid-bass area and the other which is the most prominent peak is in the area starting at 5 kHz and up to 7 kHz. The peak is a rather large hump.
The CX Plus True Wireless tends to sound midrange dominant but this is a consequence of those upper midrange peaks. They do produce lots of detail but the peaks bring forth a somewhat unnatural character.
The treble section has high-frequency extension restrictions. I ran a tone generator and found lots of what I can describe as electrical noise and/or some kind of interference above 10 kHz and a sharp drop in output. The high frequencies again, do produce a good amount of detail within their range but lack crystallinity and top-end shimmer.
Far as the CX Plus True Wireless bass is concerned, the very low end is slightly recessed below 30 Hz. Everything else above 30 Hz is rather neutral and flat except a very small bump around 80 Hz which gives this driver a good amount of oomph that although not the best in the particular category is not lacking in punch either.
Timbre
The CX Plus True Wireless bass response has a pleasing character for dance and EDM music that depends on slam and impact with a prominent mid-section that slightly colors the bass and brings it forward with sometimes desirable aspects.
The bass output amount is rather even within the midrange except that small bump and frequency bands do transition well with no bloat either in the bass or lower midrange.
The CX Plus True Wireless midrange seems a touch forward and prominent in the panorama but it does so with some control although at loud volume levels they seem to bottleneck. One character that is well produced with good tonality is the vocal area because they always stay below and away from that pronounced 5 to 7k peak.
Treble response is somewhat subdued due to an early dive above 10 kHz. This characteristic has some pros and cons in a way that yes, you never get razor sharpness that irks and the signature remains below the intense and bothersome level but it also misses out on producing high-frequency detail and top-end brightness.
Soundstage
The Sennheiser CX Plus True Wireless soundstage seems wide and there seems to be a good amount of height but the depth is somewhat shallow. You get a good sense of left and right but the center channel seems like it's contained inside the center of your head and never ventures outward.
The width is average-sized and not very wide but one positive aspect is that the imaging is pretty accurate. There is a decent amount of placement and each element is fairly isolated but at times there exists some coagulation at high volume and the midrange section at times becomes overwhelmed.
I think it's due to the 5 to 7k peak which should have nothing to do with staging per se but it did affect the overall staging performance regardless.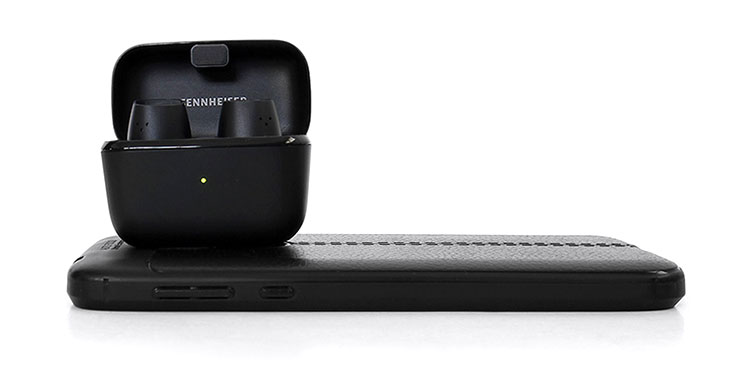 Wireless Performance
Stability and Range
I doubt you will find any faults with connectivity and Bluetooth performance with the CX Plus True Wireless. Distance-wise I obtained a good 45 feet from the source and the signal remained stable at that distance. Any distance beyond that I cannot assure but I also think is unnecessary.
The pairing was flawless each and every time once the initial pairing is achieved. My USB Bluetooth dongles, BTA30, and all my phones paired up with no issues and I cannot recall a single dropout incidence either.
Latency
Latency was not bad on the Sennheiser CX Plus True Wireless and on a BT 5.2 transmission, I barely detected any latency issues, not even the usual 0.2-second delay. They seem to work on par with sets that have gaming mode which is a Qualcomm feature. See what I mean about the tell tales?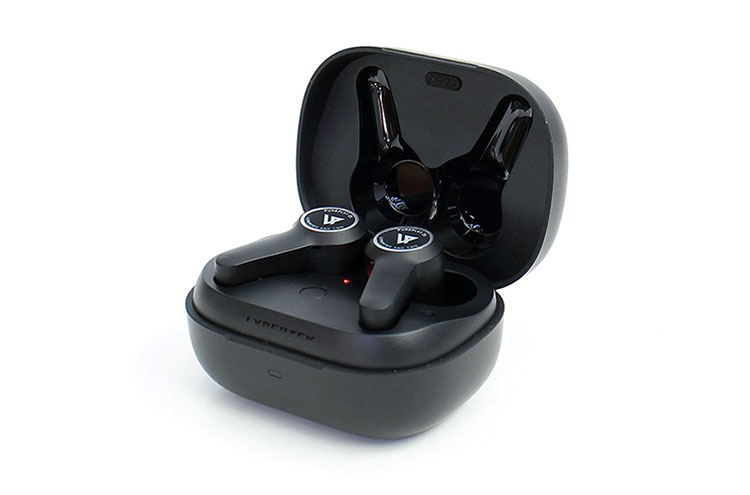 Select Comparisons
Lypertek PurePlay Z5
Price $129.00
Technical
When it comes to budget TWS and good price to performance ratio you have to look at Lypertek and their line of models that are offered with or without ANC. They usually offer high-value-per-dollar models.
The PurePlay Z5 hides no secrets and lists the Qualcomm tri-core QCC3046 which is a BT 5.2 SoC consumer-grade WLCSP chip that runs AAC, SBC aptX, and aptX Adaptive. This set of codec capabilities is identical to the CX Plus True Wireless and is another telltale of what we're dealing with here.
The Z5 has lots of features that can all be customized by using their Pure Control ANC app but just make sure to download the correct version because their non-ANC app is not compatible with the Z5. Make sure it's the ANC version.
Design
Contrasting in design Lypertek went with a cylinder and stem shape which is comfortable and basically anchors itself in the ear which prevents the earbuds from falling out which makes this model a good candidate for physical activity.
Both charging cradles are similar in size but not in design. The Lypertek cradle is wider while the CX case is taller. For weight, they both seem very similar and they both pocket carry well. Polymers are used mostly in the construction of both cradle and earbud shells.
Performance
Both these TWS models have a small hump around 80 Hz which contributes to their somewhat punchy sound signature but the Lypertek has better high-frequency extension over the CX Plus True Wireless by a small margin. It probably has a slightly better depth production although both these models certainly lack in that department.
However the Lypertek app has more sound-shaping tools, for example, it has a seven-band equalizer versus three plus a feature called LDX which improves upon the sound signature and is custom-tailored for the PurePlay Z5.
This might give the Z5 an edge over the CX Plus True Wireless because of all the available tools that could give the user a better ability to alter things if they're not just right.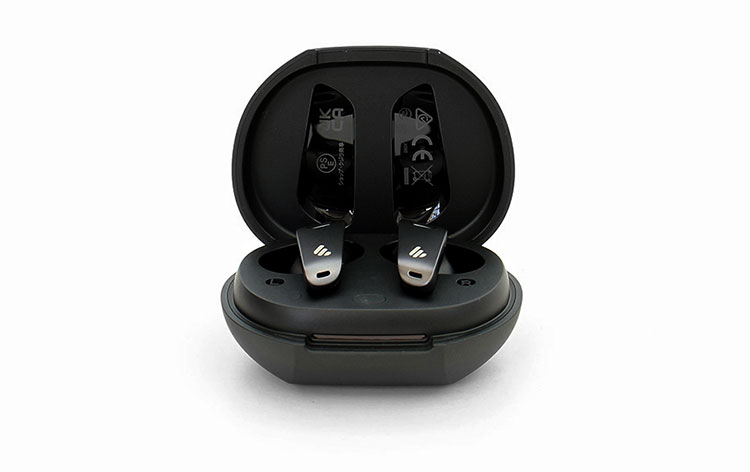 Edifier NeoBuds Pro
$129.99
Technical
At the Edifier's 25th anniversary, they introduced the NeoBuds Pro and it was a standout model in my opinion because of the simple fact that it has LDAC capability besides having a hybrid driver array and is the only one with these features within this comparison.
The strange aspect about the NeoBuds Pro is that although they do LDAC and LDHC they cannot do aptX or the adaptive variant either which the CX Plus True Wireless covers. They handle SBC and AAC signals just fine however so compatibility should not be an issue here.
Design
Here we have another stem design that anchors itself into the ear minimizing accidental fallouts and they also have an IP54 rating which is higher than the CX Plus True Wireless so they make good workout earbuds.
Another good aspect of the NeoBuds which might seem trivial is that they seem to be the only model that comes with tips that are made with a material that has antibacterial characteristics and I love that fact and not because I'm a cleanliness addict but simply because my skin is sensitive to other types of tips and are prone to suffer from irritation.
The NeoBuds Pro comes with a cradle that is almost egg-shaped. The weight is similar to the other previous models and is also a good cradle for pocket carry. Again, most of its construction materials seem to be Polymer except for the aluminum laminate on top of the charging cradle door.
Performance
To me, the NeoBuds Pros are the benchmark in sound quality for less than $200 for the simple fact that they do LDAC and LDHC
Plus the hybrid driver array helps out a bit considering other models just use single drivers. The higher codecs really clean up the high frequencies a bunch and give this set a good amount of high-frequency extension with some top-end shimmer.
Bass and midrange are almost on par and equal in output to the CX Plus True Wireless. However, I would say the overall sound signature is the brightest sounding of the bunch. The NeoBuds do have a somewhat slight U-shaped sound overall since the bass has just a slight elevation in the same 80Hz area in addition to the brighter top end.
Now once again I hate to sound like a parrot here but not all is well in paradise because there are a couple of issues you must be told about. First off is the unresponsiveness of the touch controls. Sure they work but half the time they don't and tend to provoke frustration.
Second, The ANC is not the most effective of the bunch so if your candidate needs to be a top-notch performer in this category you might be disappointed. Get the NeoBuds for the sound quality because most other aspects need work.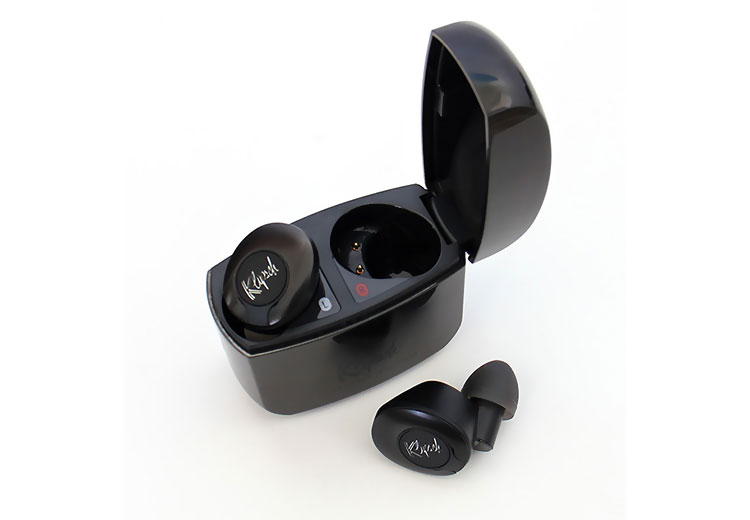 Klipsch T5 II ANC
$149.00
Technical
Coming from a company that is known for making large horn-loaded speakers it seems odd to have such a small product come from Klipsch although it seems to be the largest and heaviest model of the bunch.
The T5 II ANC has a feature called DIRAC and you might have heard of it. DIRAC specializes in sound optimization and works directly with manufacturers to improve sound quality in the digital realm.
This particular feature can be activated within the Klipsch Connect app. You could also set up the BRAGI control which is another way of taking control in a similar fashion to touch controls but by using head movement gestures. The only set with BRAG and DIRAC in this lineup is the T5 II ANC.
Design
The Klipsch T5 II ANC screams quality when you first hold them in your hands. They seem to have the most elaborate and complex design of the bunch. The earbuds have an unconventional design and are tightly fitted within the case and are definitely the set with the tightest tolerances in construction and assembly.
The Zippo lighter style charging cradle is the heaviest of the bunch by far due to it being made of metal and might feel too heavy to some so bear that in mind if you like to pocket carry. Purse or pouch carry should not be an issue, however.
The only one in this four TWS comparison that uses a push-button system in place of a touch control system is the T5 II ANC and it's funny because you would expect that from Lypertek but not from Klipsch or anyone else.
Performance
Without DIRAC the Klipsch sounds rather flat and lackluster but once activated, the sound quality improves by a lot. The T5 II does have the disadvantage of having the smallest dynamic driver and a single one at that.
If I was to put all these TWS models in a certain position however in sound quality I would probably put the T5 II somewhere in second or third place in sound quality, second to the NeoBuds.
Another aspect that has to be mentioned is that the ANC within the T5 II is the best of the bunch but is not too far from the CX Plus True Wireless which I would place second in this category. That is still very respectable because as stated to obtain better ANC performance you would have to look at the $300-and-up price point.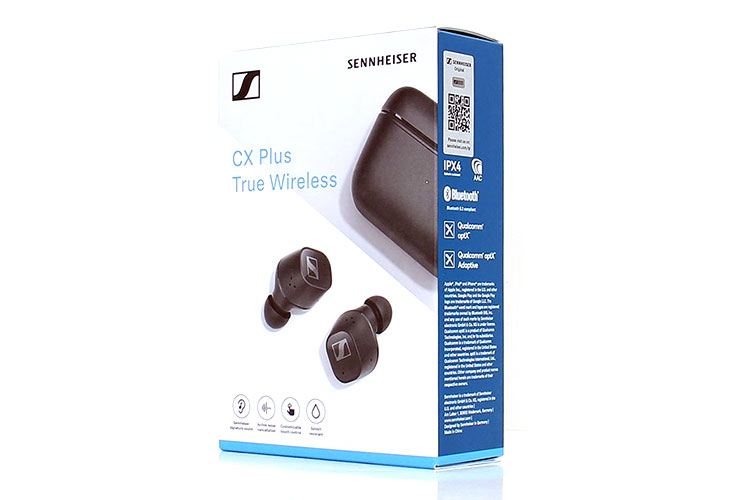 Our Verdict
The Sennheiser CX Plus True Wireless is a TWS that stands out and excels beyond others in urban settings. It performs very well once paired to a phone which also doubles up in functionality as a good voice chatting device and not just for music listening.
The CX Plus also seems to have a good amount of balance as far as features, performance, and aesthetics go. Nothing seems to be problematic.
And although they can sing and are very stable in operation they can't hit the high note. I must say no pun intended on the high note comment because what they lack most is a high-frequency extension to be considered audiophile friendly.
The Sennheiser CX Plus True Wireless makes a good urban companion and a useful aide for those who also like to use their phone hands-free. They give you just enough to satisfy all around and sound good enough. They would make a good candidate for someone who is looking for a no-fuss model that just works when you need it to.
Sennheiser CX Plus True Wireless Specifications
7mm Dynamic Driver and Built-in Equalizer
24 Hour Battery Life
Customizable Touch Control
ACC, aptX, SBC Codec Support
Ergonomic Design
Active Noise Cancellation
Transparent Hearing
Smart Pause
Bass Boost
IPX4 / Splash Resistant