This review covers the new Sennheiser CX Plus True Wireless which features ANC, an IPX4 rating, and up to 24 hours of battery life. It is priced at $129.95.
Disclaimer: This was sent to us as a sample for our honest opinion. Headfonics is an independent website with no affiliate links or services. We would like to thank Sennheiser USA for giving us this opportunity.
To read more on Sennheiser products we have featured on Headfonics click here.
Note, this 2-page article follows our latest scoring guidelines which you can read up on here.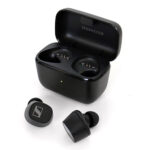 Sennheiser CX Plus True Wireless Review
The Sennheiser CX Plus True Wireless makes a good urban companion and a useful aide for those who also like to use their phone hands-free. They give you just enough to satisfy all around and sound good enough. They would make a good candidate for someone who is looking for a no-fuss model that just works when you need it to.
Pros
Good noise canceling
Easy Controls
Broad set of codecs
Cons
Average levels of resolution
Leave it up to Sennheiser to make a good set of headphones and they seem so popular nowadays that even the guy down the block that is not a headphone aficionado knows about Sennheiser just the same as the likes of Bose and Beats by Dre.
But Sennheiser goes beyond those companies by offering headphones that are budget level plus some models which only show up at the homes of the rich and famous plus of course all types of models in between.
Sennheiser makes dozens of headphones and probably too many to list quickly but when it comes to the TWS scene they only make a few models at the moment such as the Momentum True Wireless V1 Flagship which we reviewed back in 2020.
One of their newer models is labeled the CX Plus true Wireless and is our review subject today. The CX Plus true Wireless sits in the center spot within the 3 Sennheiser TWS lineup. What does it have that will either make it a standout model or does it perform better than the rest?

Tech Highlights
Upfront and what I noticed is the most prominent feature for the CX Plus True Wireless from an audiophile perspective is the use of the driver Sennheiser calls their TrueResponse transducer.
This 7mm dynamic driver according to Sennheiser is designed to produce goosebumps and that is somewhat of a loaded statement to me. This driver uses a custom-made magnet system and a triple channel vent system and is a Sennheiser exclusive.
This particular driver was developed and designed exclusively for Sennheiser by Andre Michaelis to be a one driver solution for Sennheiser and is used on all of their TWS models, many of their consumer-grade IEMs, and some professional line IEMs alike. This same driver or similar variant for example was used on the Sennheiser IE800 which is a rather upscale model.
Far as the internal components are concerned, it seems Sennheiser is keeping hush on what chips they use since none of their models have one listed. I must have looked for a week and came up empty-handed each time but there are telltale signs that it's a Qualcomm variant.
Codecs
If you look up the specifications on the three-model current Sennheiser TWS lineup, the only model that offers aptX Adaptive is the CX Plus True Wireless for some reason and I find that somewhat odd but I'm not complaining.
The fact that the mid-tier model has a feature that supports up to 24bit/96kHz audio and that the current top tier does not have it is rare and is usually the other way around.
So while the other two Sennheiser TWS models offer three compatible BT codecs the BT5.2 capable CX Plus offers four which are SBC, AAC, aptX, and aptX Adaptive. That puts the CX Plus somewhere in the center base far as available codecs and above most current budget models out there.
Just as an interesting tidbit, the new Momentum True Wireless 3 just announced seems to have the same codec suite as the CX Plus True Wireless so this is a taste of things to come from Sennheiser.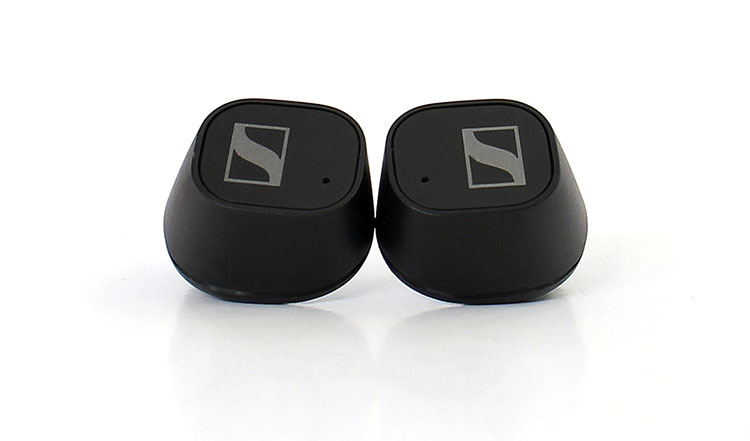 Design
The Sennheiser CX Plus True Wireless borrows its design from the CX True Wireless TWS model or is it the other way around?
Apparently, the only design aspect lacking is the Momentum craftsmanship. It seems both CX and Plus models are extremely similar and only the small detail of glossy endcaps versus matte are the only visual cues on which model is which.
They seem to have a unique rounded edge cube shape with the output nozzle at a slight angle at one of the corners. You could see two small holes on the shells which I suspect are where the microphones are and apparently they are not venting holes.
Probably the most unique aspect of the shell design is something very subtle which to me was well thought out.
You might find it somewhat trivial but the fact that Sennheiser put the LED indicators on the inside is a perfect solution for people who hate to light up a dark room with bright LEDs. They also installed a sensor to detect if the earbud is inserted or not and mutes the sound when removed.
The entire CX Plus True Wireless set, composed of the cradle and the earbuds, is IPX4 rated. The measurements on the charging case are 59 x 33.8 x 42.3mm. The cradle weighs 47 grams with the earbuds placed inside the cradle.
Microphone System
Sennheiser implemented the MEMS microphone system in a two plus two configuration with beamforming for the CX Plus True Wireless. I have to admit, this set does phone calls and voice chat very well. I almost preferred it in quality over my phone's own microphone and definitely over the built-in speaker.
My voice was picked up clearly while at the same time the microphone system rejected other sounds that were more distant. I never had the need to speak loudly or scream either because the microphone system seems to have a good amount of pick-up sensitivity.
I often also used them one at a time and since Mirroring is an essential feature to have nowadays I tested the CX Plus True Wireless plenty in this manner and they executed this function very well.
Touch Controls
The touch controls on the Sennheiser CX Plus True Wireless work very well and work better than most actually. The functions are re-assignable plus I consider them to be very intuitive due to the distinct rising beeps you hear as feedback, not to be confused with sound feedback because you get none with this set. This set seems impervious to feedback noise.
When you tap the pad once it emits a beep and when you tap twice it emits two beeps in a rising tone. When you tap the touchpad 3 times you get three beeps each rising in tone as in do re mi.
It might seem insignificant at first but this feedback worked out very well for me and it constantly confirms you did the touch sequence right. It sort of trains you to get it right actually.
And speaking of right, the CX Plus True Wireless touchpad in general to me was done right. I never had any issues with unresponsiveness, there are enough commands for daily use stuff and the pad worked each and every time with a minimum amount of failed attempts.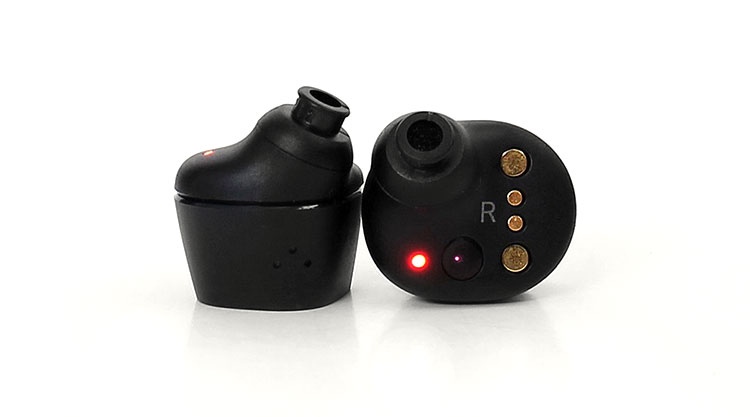 Comfort & Isolation
A funny thought went through my head when I saw these earbuds for the first time because they seem a bit chunky and also somewhat squared. I didn't see them as comfortable but trust me they are. The angle of the output nozzle is just right for my ears and I barely felt any discomfort wearing them for hours. For the record, I have very average ears.
The CX Plus True Wireless does well blocking out noise passively but when you activate the ANC it works at the low-frequency level mostly and does let in some external sounds.
Fans, air conditioner noise, and similar noises are quelled but this system is not the best at blocking all the noise. But in all honestly to get better ANC performance you would probably have to look at the $300 plus tier stuff.
You also get the opposite of noise-canceling called a transparency mode but it produced a lot of hiss and wind noise on me so I would stick to using them with the ANC off or on and use the sidetone feature if you need to hear the outside world momentarily.
On comfort and isolation, I do have a question. When did we turn the corner? For some reason, most TWS models have chosen an unconventional way of mounting ear tips which makes it difficult to roll your own, and the CX Plus True Wireless is not the exception to the rule here.
If you could, one could probably get a higher comfort level plus you could also play with the sound signature and also obtain the ability to obtain a better seal.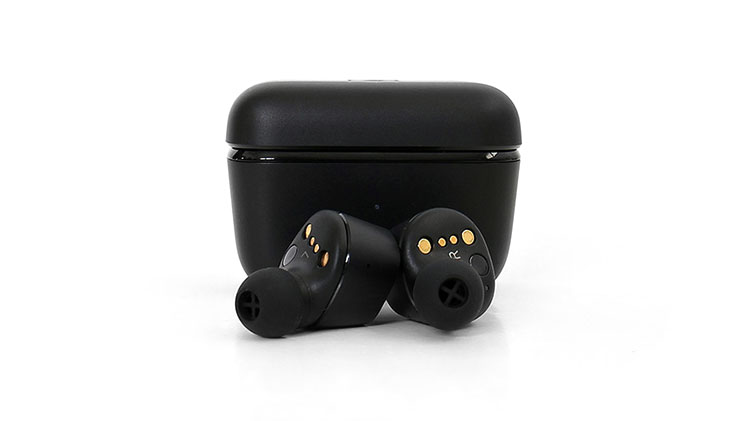 Cradle & Battery life
The Sennheiser CX Plus True Wireless is equipped with Lithium-Ion batteries all around. The charging cradle has a single 420mAh battery and each earbud has its own 55mAh battery.
Charging is done via a USB-C connector on the cradle. I found no mention of wireless charging anywhere but the CX Plus does have the feature enabled and I confirmed it works so rest assured.
The CX Plus True Wireless needs a 5 volt DC charger and only needs 600mA maximum to fully charge in an hour and a half. So what that means is that the cradle will not charge faster with a more robust 2 amp charger but you do get close to an hour of playtime quick charge from ten minutes of charge time.
Far as how much total playtime you get depends on the amount of volume of the course and if you use the microphone or not. The specified 8 plus 16 hours from Sennheiser was was achieved via using an AAC codec o an iPhone with TH/ANC off, EQ off, and running at 85dB volume.
I got a max time of 7 hours under those conditions so the absolute max time is closer to 20 hours and perhaps aptX Adaptive is a factor here as it consumes more power.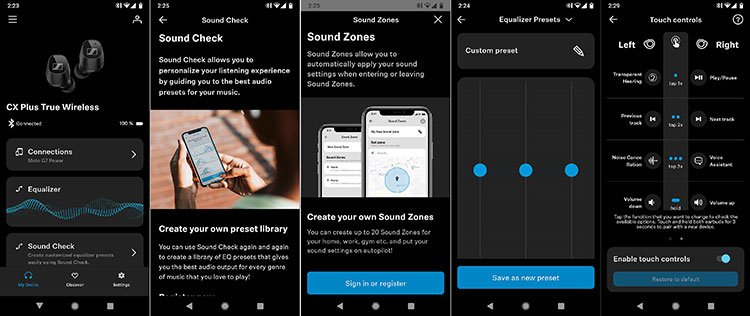 Software
Sennheiser calls its software Smart Control which is available for both Android and iOS. It has lots of features and the only complaint I have about it is the lack of bands on the equalizer since it only has three bands. At least and to its credit, it has an option to store EQ presets.
The App also has a bass boost and a podcast preset plus sidetone or a pass-through feature with two selectable levels plus off. The App also has a feature called sound check which helps you adjust all the sound parameters to your personal preference and give you the ability to store that as a custom preset.
The App also gives you a way to store sound zones that detects your location and sets all the noise-canceling parameters for that area you had stored as a preset and chooses the preset automatically according to the detected location but I rather activate the noise-canceling features myself manually.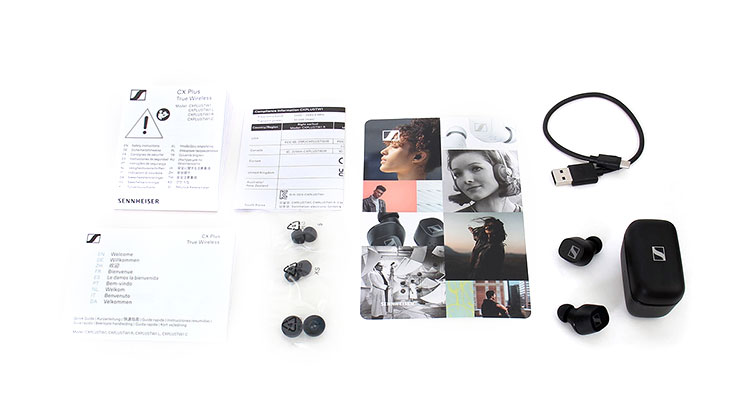 Packaging & Accessories
Sennheiser throws in the CX Plus True Wireless box some basic accessories but nothing really stands out with any wow factor and is all average fare. The packaging itself seems a touch above basic. A well-laminated box that is made with thick cardboard holds all the contents.
A short USB-C charging wire, a quick guide, a safety guide, and an owner's manual which seems well written and thorough in explaining the ins and outs of the CX Plus True Wireless are all included inside the box.
Click on page 2 below for sound impressions and select comparisons