We review the Klipsch T5 II True Wireless ANC, which is a single dynamic driver IP67-rated TWS featuring aptX decoding and up to 32 hours battery life. It is priced at $149.
Disclaimer: This was sent to us as a sample for our honest opinion. Headfonics is an independent website with no affiliate links or services. We thank Klipsch for this opportunity.
To learn more about Klipsch products we have covered on Headfonics you can click here.
Note, this 2-page review follows our new scoring guidelines for 2022 which you can read up on here.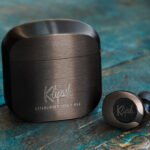 Klipsch T5 II True Wireless ANC
If I was to list the selling points and winning traits of the Klipsch T5 II ANC they would read off as a quality-oriented TWS with a sleek design, DIRAC complex DSP implementation which made it possible to squeeze the maximum performance out of this single dynamic driver TWS.
To me, Klipsch and big-box speakers are synonymous with each other and my long past as a lover of audio gear might be the source of that but I might have to change my mind on that because this next-up-for-review item fits in the palm of my hand and makes up part of a Klipsch TWS lineup and is labeled the T5 II ANC True Wireless.
Klipsch has made full-sized headphones before like the Heritage HP3 and a countable amount of full-sized noise-canceling models but when you go to their website today they're basically gone but you will see many TWS models displayed. Times are certainly changing things and everything seems to be getting smaller.
One of my favorite and still available speakers today is the Klipschorn. Anyone who knows them knows, they're not subtle or small. I had the privilege to audition a pair in NYC and heard them in a couple of other places and I was always floored by their immense bigger-than-life sound. They provided me with one of the moments in life that changed my audio reference point.
So, to my surprise, Klipsch enters the small device TWS market and my first thought was whether they have or have not been able to capture that big Klipsch sound I remember in a tiny TWS.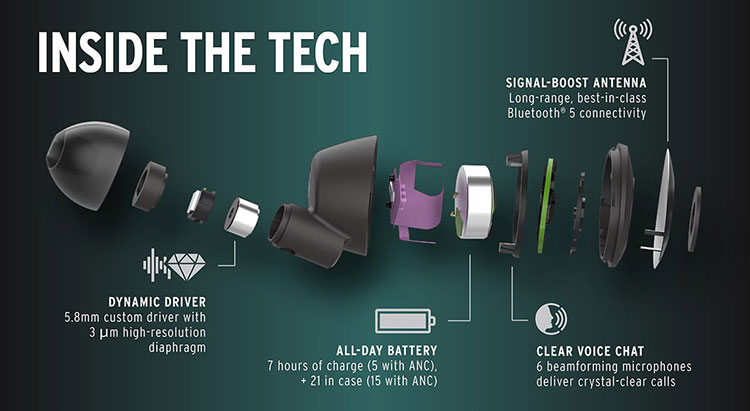 Tech Highlights
There is such a contrast with the Klipsch T5 II ANC compared to what Klipsch offered just 10 years ago because not only is this a small device but the single internal dynamic driver could also be considered small compared to other TWS models and IEM drivers.
The Klipsch T5 II ANC is a single 5.8mm custom moving coil micro dynamic driver with a 3-micrometer thin high-resolution diaphragm. The kicker here is that although most TWS makers use the built-in DSP within the chips toolbox to make audio corrections and improvements, Klipsch took a totally unique approach here.
The unique approach Klipsch took is to team up with a Swedish tech company called DIRAC who specializes in sound optimization in the digital domain. DIRAC works at the manufacturing level directly to improve the sound quality of audio devices by the use of proprietary software and tools that maximize sound performance.
The Klipsch T5 II ANC is the first TWS ever made to include DIRAC tuning implementation according to Klipsch. Up to now no other TWS manufacturers I know of have ventured into a DIRAC tuning on any of their TWS models.
Codecs
Codec inclusion is an industry norm on the Klipsch T5 II ANC featuring up to standard aptX with the inclusion of SBC plus AAC. I was rather surprised not to see a higher bit rate codec like LDAC at this tier level but at least compatibility is assured regardless of your source.
If LDAC would have been thrown into the mix here it would have automatically turned this model into a top on the list TWS plus it would have spruced things up a bit and since the Klipsch T5 II ANC runs on Bluetooth 5.0 and not the more updated 5.2 and that combined somewhat makes it fall short in my tick list of desired future proof features.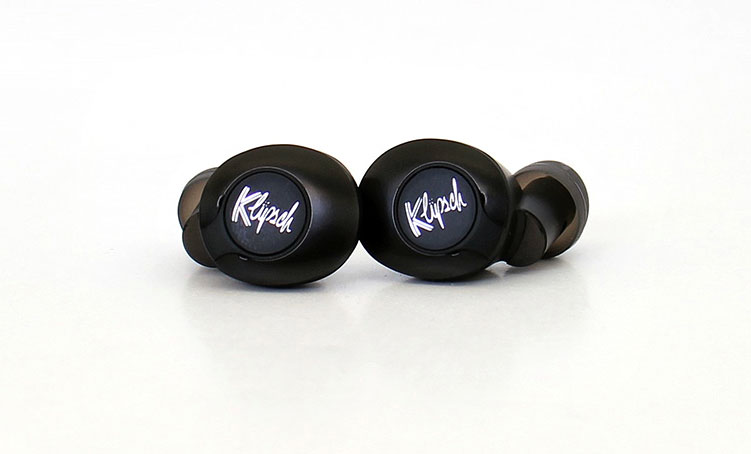 Design
The Klipsch T5 II ANC main design concept seems quality-oriented and robust with a rather high standard of construction materials and assembly. Add all that plus the DIRAC tuning implementation and you got a good sounding TWS set with a construction level that feels solid and with good looks to boot.
The earbuds have a unique design that I have never seen before and look to be an exclusive Klipsch design and although the cradle is made of metal the earbuds are plastic. In this case, however, that's actually good since it kept their weight down considerably.
I really liked the fact that the L and R indicators on the earbuds are color-coded also which makes it so easy to identify each side correctly with just a glance instead of having to read off small letters which are hard to see. I use glasses so thanks.
Microphone System
It seems Klipsch put some effort into the design of the T5 II ANC microphone system as well within the earbuds and in my opinion obtained very good results.
There are two microphones within each earbud making this a quad microphone system and the implemented clear voice capture 8.0 does a good job at reducing noise while picking up your voice and with beamforming technology to boot.
Actually, if you engage the transparency mode the system does the same for that feature also by protecting your ears and setting a volume limit so you won't get blasted with a loud external noise.
BRAGI Controls
Who needs touch control when you have BRAGI sidekicks? BRAGI allows you to control certain media functions by moving or tilting your head in certain ways and the T5 II ANC has it.
So technically you could go completely hands-free and wireless with this set with the ability to control the earbuds and the source while never having to touch either the earbuds or source gear to do so.
Of course, there are also some onboard controls as well but in the form of pushbuttons which sometimes in my opinion and in certain cases work better than touch controls.
Did I prefer the BRAGI over touch controls? Not if you have a headache that day. But lots of people nod their head to their music as they say anyway so I think most people will consider it a novelty implementation and certainly earns brownie points.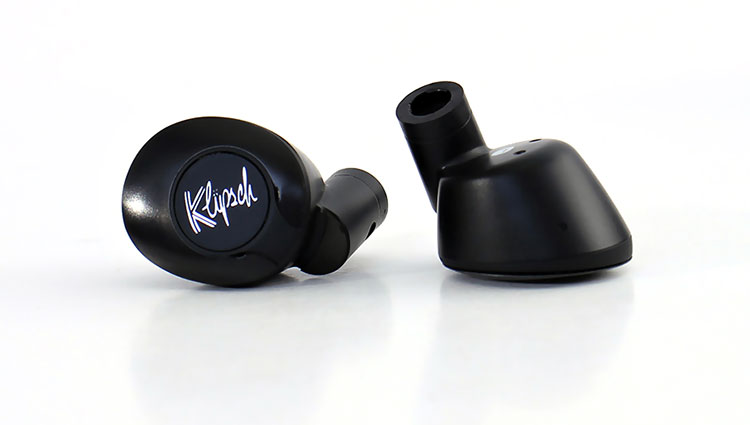 Comfort & Isolation
The Klipsch T5 II ANC uses a comfortable wearing earbud design. However, the shape is somewhat unique and somewhat hard to describe. It seems to be composed of a dual shape design type that fits inside the ear with a nozzle that sits at an angle and points into the ear canal.
I could wear these for a couple of hours with no comfort issues and I'm sure most will get similar results. They are rather light at 10.6 grams on each side and are not too chunky either.
Far as how effective is the hybrid ANC system at blocking out noise well I would say better than average. Within the app you could adjust the intensity or sensitivity of the ANC system plus the ambient noise option and having these two options adjustable is a nice feature to have and they both do a good job.
Tips
The tip system implementation on the Klipsch T5 II ANC earbud system is another unique aspect of this TWS. These ear tips use a unique pop-in system that I've never seen before. The tip shapes are also not rounded but slightly oval-shaped.
I do like unique but not in some cases where I feel there should be a standard and although these tips work well and do what they were made to do well there's a slim chance of installing your aftermarket tips on this TWS and if you do not like these particular tips there is no remedy for it.
You do get 6 sizes and I doubt you will have a hard time finding one that seals and fits your ears well. Actually, the size changes are in such small increments that you might find more than one tip size that will fit your ears. I certainly did.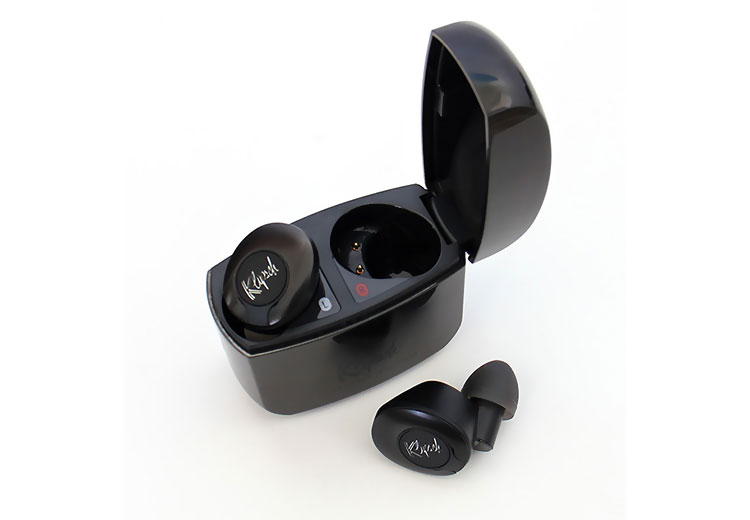 Cradle & Battery life
The Klipsch T5 II ANC charging cradle will impress most people upon first holding it but not so much if you want a lightweight cradle. This one is rather hefty at 89.3 grams but since the earbuds are light it seems to balance that out some.
The case feels like a solid chunk of metal but at least it's not too large and contrary to other designs the top opens sideways. The case is tall more than wide again, contrasting most designs out there. I have to admit, the overall presentation of the entire package is very pleasing and I like its unique appearance.
One thing about the LED system is that I find them rather uninformative particularly on the earbuds when it comes to charging because when you sit the buds inside the cradle the charging cycle starts but the LEDs stay on for 5 seconds and then shut off after, so at that point there is no clue of what state of charging they're at. You somehow just have to time it, wait, and be patient.
The benefit of this character is that the LEDs remain off while using the earbuds and only blink when pairing. Some people like using TWS earbuds in dark rooms and since I could not find a method within the app to completely turn the LEDs off for those people this would work out well. It probably extends battery life some as well.
Far as how much time to expect from the batteries I got just under 6 hours of use off a full charge at 40% volume which undercuts what Klipsch states but I got 4 full charges from the cradle which beats the listed 3 full charges. So, the total run time remains the same 24 hours as stated by Klipsch.

Software
The app you can download for free compatible with the Klipsch T5 II ANC TWS is called Klipsch connect and it's a full-featured app that is available for Android and Apple devices alike. It has some not-so-good ratings but I noticed most people who chime in negativity are using products that are not compatible with the app but still complain.
I had no issues with the app and included options on the T5 II ANC. Everything worked, all features did what they were advertised to do and I have no complaints about the app whatsoever.
Most features do seem to be scattered would be my only complaint but if you go into settings you will find them all there together so when you use the app keep that in mind and it will make your life a little easier.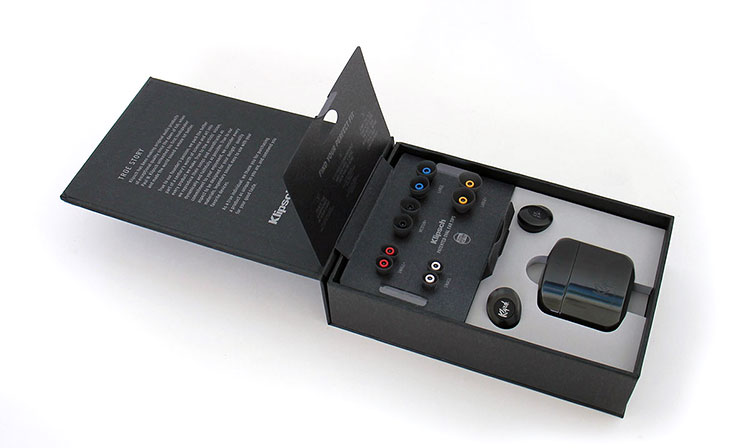 Packaging & Accessories
Packaging and presentation are very sensible. The box is not too large but it's well laminated with the product information and looks professionally designed. When you open the box you are greeted by the two earbuds and the cradle all sitting in foam and a separate upper section with a rubber tip cardboard cradle.
Altogether there are six tip pairs, all the same type however but in six different sizes, a couple of safety compliance and warranty pamphlets each written in various languages, an instruction booklet, and a cable with dual USB-C type plugs on each end with a full-size USB dongle adapter.
I must say that the cable that's included is a very nice one and it would be a shame to just use it for charging. The paracord wrapped cable also does data so it will probably get some secondary use on one of my micro DACs or in a similar scenario.
Click on page 2 below for sound impressions and select comparisons