The Edifier NeoBuds Pro is an LDAC capable dual-driver TWS with active noise canceling and up to 24 hours of battery life. It is priced at $129.99.
Disclaimer: The Edifier NeoBuds Pro sent to us is a sample in exchange for our honest opinion. We thank the team at Edifier for giving us this opportunity.
To read more about Edifier Products we have reviewed on Headfonics click here.
Note, this 2-page review follows our scoring guidelines for 2021 which you can read up on here.
Edifier NeoBuds Pro
When it comes to the Edifier NeoBuds Pro, LDAC made the difference here between being an ordinary set and offering something worthwhile in the vast sea that is today's modern TWS market.
Edifier is proudly announcing their 25-year anniversary and I congratulate them on those many years of success and hope to see them around for many more. They seem to have left their footprint all around the globe in this time period.
I mostly knew them for their amplified speakers which often get good reviews within audio circles. I have heard two of their models and they do sound sweet while looking elegant at the same time.
Previously, Michael wrote up their S2000 Pro Active wireless speakers and he liked them. Our readers followed up with a good score as well. Our response section was also somewhat busy with questions demonstrating some interest in that particular model as well.
Well, now we will take it from the speaker-sized product to one that can fit in your purse or pocket which is their new TWS model Edifier labeled the NeoBuds Pro. Of so many TWS models out there, what is their pitch?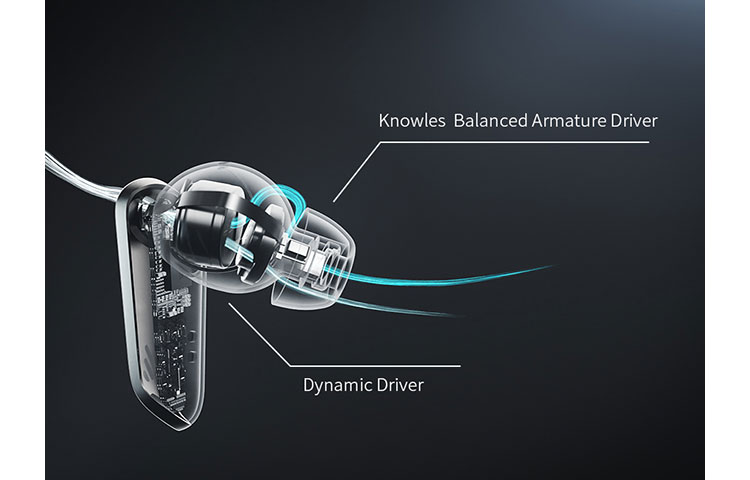 Tech Highlights
Well, let's get the innards out of the way first and start with the earbud driver configuration. The NeoBuds have a dual-driver hybrid implementation which consists of a dynamic driver along with a balanced armature. Together they have a rated frequency response of 20Hz to 40kHz.
The BA is a Knowles driver while the dynamic driver according to Edifier is tuned for a balanced sound along with the Knowles driver and tied all together with an electronic crossover. Now do not quote on it but according to what I read in the press release the crossover is an electronic active type with a touch of DSP implementation.
Most TWS models nowadays only offer a single dynamic driver so I give bonus points to the NeoBuds Pro for the multiple driver setup let alone a DSP corrected crossover section.
Codecs
Well, here is where things start to get interesting because the NeoBuds Pro is capable of picking up an LDAC codec plus LHDC and for a TWS that's pretty good. It also does AAC plus of course the more common SBC which is the standard basic BT codec.
The LDAC and LDHC capability mean you can receive Codecs with up to 96 kHz and 24bit HD audio over the air via Bluetooth 5.0. That is close to FLAC standards and seems to blur the line between wired and the wireless realm in performance.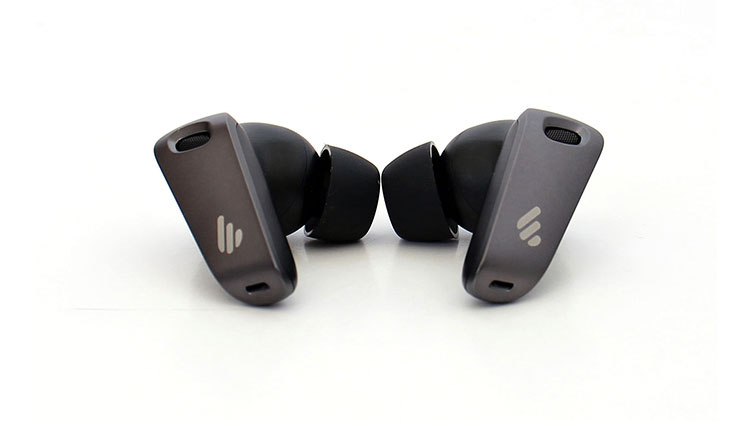 Design
The NeoBuds Pro earbuds themselves are the stem and ball type which is a good design for those people who just want to pop them in and forget them. They seem to stay put well enough to use them while you do some physical exercise and I do recommend them for gym use plus the IP54 rating helps some.
The charging cradle is not too large and is almost egg-shaped and made mostly from hard plastic just like the earbud shells. The only metal I see is possibly the front fascia which could be a brushed aluminum metal panel or just a laminate.
The LED indicators give the eggshell shape case a UFO appearance. They seem to pulsate and move in a side-to-side motion reminiscent of a craft I saw in the movie Close Encounters.
They do display some functionality by showing what mode the charging cradle is in. The three major indication functions are charging mode, pairing, and scanning modes and the LEDs pulsate accordingly.
The NeoBuds Pro charging cradle also has an internal pairing button which is used for initial pairing. Once initially paired you never have to use the button again and the device connects automatically soon as you raise the cradle cover.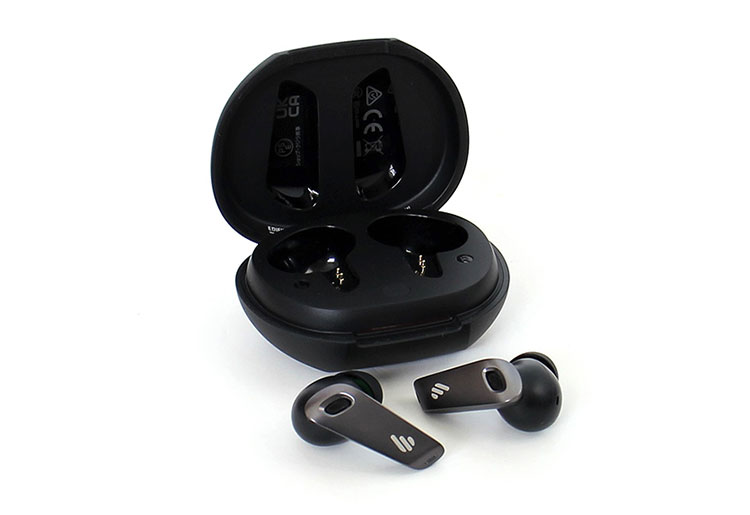 Microphone System
A total of six microphones are used inside the NeoBuds Pro set, three inside each earbud. Two are used for picking up your voice and one is for monitoring external noise and also used for wind noise reduction.
It seems this microphone system has a type of Beam Forming tech because my voice was picked up very well as if I was speaking directly into the microphone system. I honestly have no complaints whatsoever with this microphone implementation.
I also sense these microphones are recessed within a cavity which is a physical method of implementing wind noise reduction with no need for monitoring or electronic modification. They do have additional front-mounted filters as stated by Edifier.
Touch Controls
The NeoBuds Pro uses a touchpad to enable certain features like the ambient or gaming mode. The touchpad area is a thin area on top of the earbud stem. I found the sensitivity and operation to be somewhat buggy.
I am fully aware that you could adjust the sensitivity within the Connect app and did play around with the settings but it was one of those things and they work most of the time but at times they just refused to activate the called upon feature.
The touch controls work but this system is not the most consistent I have worked with and it takes some time to get used to. Once you get the right momentum and tapping speed they work more consistently but you have to practice your timing some.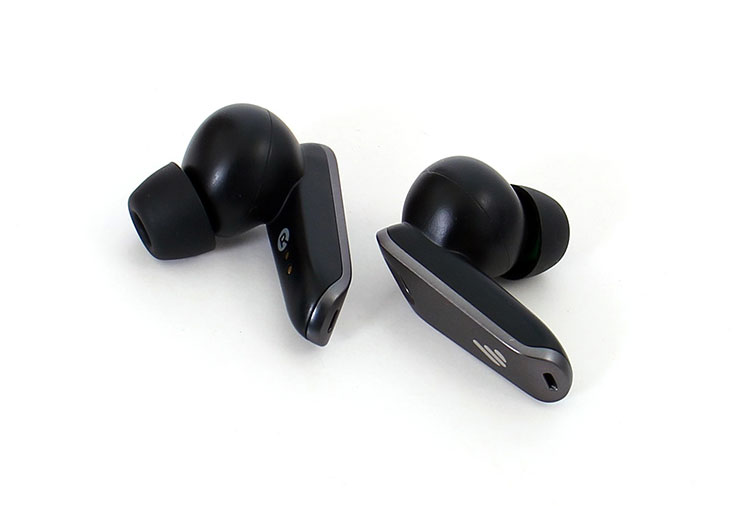 Comfort & Isolation
The NeoBuds Pro is very comfortable and easy on the ear. They sort of anchor themselves into the ear canal and they just seem to lie on the lower inner ear lobe. I have no complaints here.
Far as isolation, these have a decent working dual hybrid ANC system with a 42dB high setting and a 30dB low setting which are quite effective at drowning out external noise and they also offer an ambient mode that lets you hear your immediate surroundings very well if you need to.
Tips
One thing that I like about this set is the antibacterial rubber tips that come inside the box. I feel every tip maker should use this material for sanitation's sake plus I just dislike the fact that on typical tips you have to constantly wipe them down with alcohol or risk ear irritation and itchiness.
I basically took these out of the box, washed them off on that first time use which I recommend everyone always should do, and never had to wipe them down again. While in use I never felt irritation or had the need to remove them often to massage or scratch the inner ear.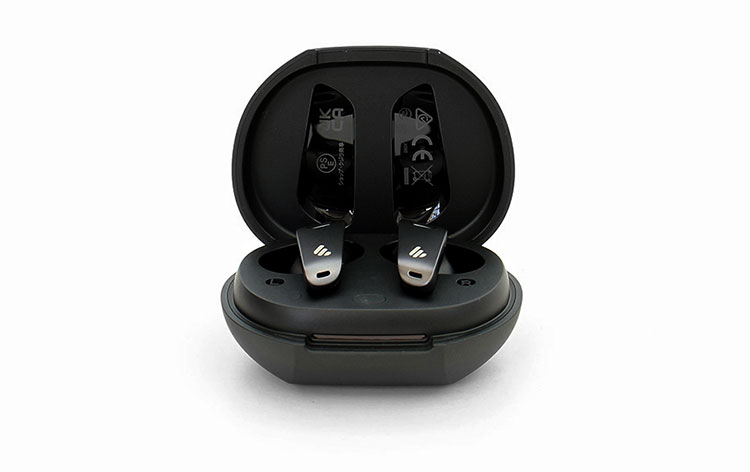 Cradle & Battery life
The charging cradle is very light so if weight is an issue for you and you're looking for something easy in your pocket set then you will like this one plus the rounded shape makes for a comfortable carry with the absence of sharp edges.
The cradle's charging port is a now very common USB-C female plug on the rear. The earbud internal batteries are rated at 40mAh on each side and the cradle's internal battery is rated at 500mAh. Both types of batteries are listed to charge up in one hour and that's about right.
As I sit here writing I have the NeoBuds on with a live stream running of my PC and from a BTA30 using an LDAC transmission and I started to listen in at around 1PM and here I am at almost 7PM and have not received a warning about a low battery yet.
Battery manufacturing has gotten better and so are the ratings they get. For example, Edifier says you get around three full-charge cycles from the cradle and that was basically what I got on the dot plus the modest Edifier listed battery life rating of the earbuds always scores extra points with me.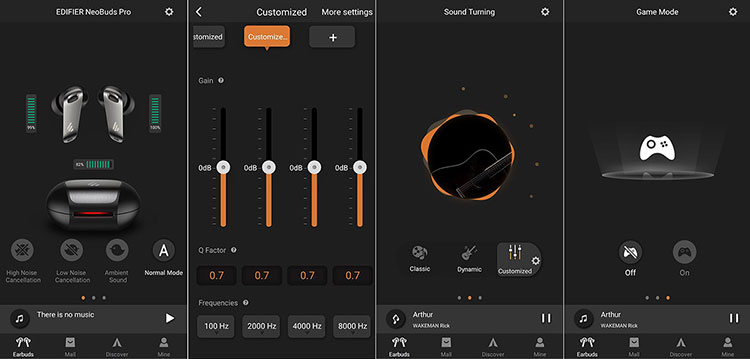 Software
There is an app you could download for the NeoBuds Pro called Edifier Connect and it's a full-blown app with all kinds of features like an equalizer with customizable presets, DSP presets, volume and balance settings, and some other goodies like enabling the ability to add feature controlling widgets to your Android OS top drawer.
You could customize touch control functions, play around with noise-canceling settings or activate ambient mode or the game mode which reduces latency considerably for a better gaming experience and to be honest this function remained on for most of my testing. I'll tell you why later.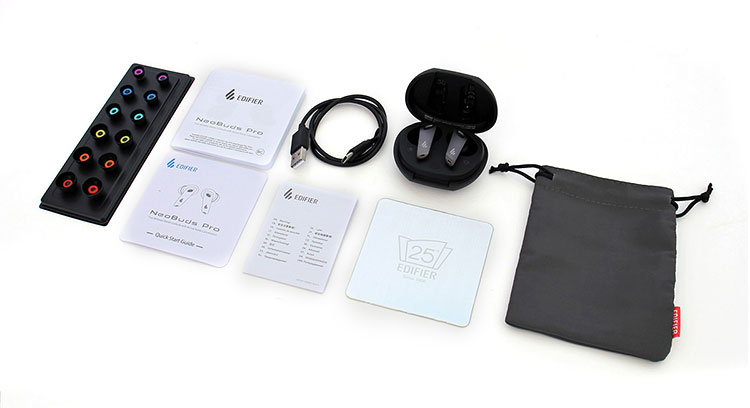 Packaging & Accessories
The Edifier NeoBuds Pro comes in a rather nice box but to me, it's rather large for what's inside and I think for eco and storage reasons it could have been smaller and a more efficient package. Presentation wins points for certain.
Everything inside the box is cradled in foam, the top flap is also foam-lined and you could trust this package to get the contents home safely unless they decide to play full-contact football with the box at the Post Office.
Those antibacterial tips come on a separate cradle with six additional pairs for a total of seven. The inner portions of the tips seem to be color-coded according to size but they're all the same type. You also get a rather nice cloth sack to carry the cradle or for storing.
The rest of the contents consist of a USB full-sized to USB-C charging cable, a multi-language instruction book, a 25th anniversary Edifier plaque, and a quick guide.
Click on page 2 for sound impressions, wireless performance, and comparisons