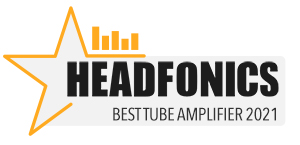 Top Gear 2021 Awards – Best Desktop Tube Amplifier
The 2021 Auris Audio HA-2SF is an upgrade in every sense of the word over the older HA-2SE. You get better output power, a palpable upgrade in dynamic range, enhanced resolution, and a sound signature that veers more to the natural and clean side than before.
Externally, any design is always one for the eye of the beholder but in terms of form factor, the lower profile will definitely improve rack-friendliness whilst still retaining that beautifully inviting retro-soft wood and tan finish. This amp is full of 'yum' aesthetically speaking, cannot deny that.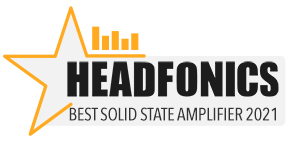 Top Gear 2021 Awards – Best Desktop Solid-State Amplifier
The Ferrum OOR on its own is a very good solid-state analog headphone amplifier. However, paired with the HYPSOS PSU it becomes a great amplifier.
It looks great also, solidly built, and compact enough for desktop environments and tight audiophile cubby holes. It is not as grandiose as say the Auris Audio HA-2SF tube map, but it does not need to be. This combo has got it where it counts, and that's on the inside.
The synergy with headgear is just fantastic. The OOR on its own has tons of headroom for the most demanding headphones out there yet the fidelity and delicacy to handle IEMs with equal aplomb. Throw in the HYPSOS backed by a good DAC and that already excellent headroom becomes infused with even better dynamic range and improved resolution.
We were honestly were not expecting this fairly unassuming-looking combo to perform that well with headline acts such as the HIFIMAN Susvara and the Abyss Diana Phi. We are happy to say our initial assumption was wrong.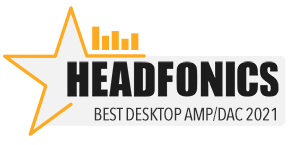 Top Gear 2021 Awards – Best Desktop Amp/DAC
The Chord Electronics Hugo TT2 is an absolute powerhouse of a combo with a highly detailed DAC and a smooth-sounding amplification stage that can handle a very wide range of headphones. Its calling card is timing, precision, and bags of detail but rather than a dull neutral delivery it is perhaps surprisingly more musical in its approach than either the Hugo 2 or the Qutest DAC.
Its modular capability is the X-Factor here and without a shadow of a doubt adding the Hugo M Scaler and a proper set of BNC cables lifts the performance to world-class. This is a lovely compliment to the earthy and rich natural tones of the dCS Bartok and we admit it comes damn close for less money with the M Scaler stacked on top.
Top Gear 2021 Awards – Best Desktop DAC
The Musician Audio Pegasus R2R DAC delivers an outstanding value for money performance and easily competes and in some cases beats some of our top DAC picks at this price point.
We are always cautious about the whole value for money thing because it means different things to different people but this is an easy one to offer up as exhibit A for not just a cracking natural sound signature but with a DAC implementation that we do recommend more people try out.
Ignore the measurements, R2R never measures as perfectly as one would like. Just pair it up with a resolving amplifier and your favorite set of headphones and listen to it. It is an entirely different experience from single-chip DAC designs.
The Pegasus R2R DAC is affordable, refreshing, and an excellent natural-sounding DAC for 2021.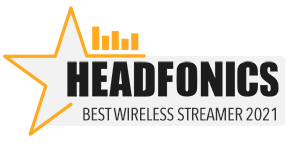 Top Gear 2021 Awards – Best Wireless Streamer
The Chord Electronics 2go takes everything good about the previous Poly and upsizes it to work seamlessly with the Hugo 2.
That Mojo/Poly partnership is fantastic for on-the-go wireless streaming audio but the 2go brings not only that but also desktop or home audio integration via the more complete Hugo 2 interface.
You have a ton of streaming options at your fingertips and with that auto-switch feature you can wander from service to service without breaking a sweat. The additional onboard microSD capacity for some excellent audio performance via hotspot control.
Overall, the 2go is the only game in town in 2021 if you want that Hugo 2 wirelessly capable for lossless audio streaming or the 2yu for the desktop alternative. It is not cheap but it brings a whole new and fresh dimension to the Chord Electronics experience.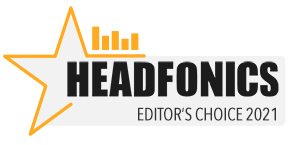 Top Gear 2021 Awards – Editor's Choice
This year I have selected 2 products for my Editor's choice instead of one in recognition of the ingenuity of HiBy's Darwin Architecture inside their RS6 and the wonderful tuning of the Luxury & Precision P6 Pro.
As a pure music player or for quality audio in a compact portable form factor, nothing can come close to the performance of the P6 Pro in 2021. It takes everything magical and wonderful about the R2R sound of the P6 and injects greater urgency, a slightly more accurate harmonic balance, and a big upgrade in dynamics.
Unless you are a complete treble head or prefer that mellower laid-back ambiance of the original P6 we cannot fail to see how the P6 Pro sound quality could not seriously impress even the most hardened or thrifty of audiophiles.
The HiBy RS6 is a deeply engaging and well-thought-out initial foray into the world of portable R2R Android DAPs in 2021.
It is definitely a flavor specialist though with that smooth and slightly dense tonal coloration so we cannot see this appealing to the neutral lovers but for vocalists and fans of that analog sound, this should be right up your alley.
The ground-up conceptualization of Darwin and what it means to the portable audio user is probably the most salient aspect of all its features with that blazingly fast OS workflow already a staple of previous HiBy product releases.
You get so much depth and tweakability to the stock sound, be it overtly from MSEB or on a more nuanced level with the IEM presets. Options that could keep you involved and discovering new presentations for a very long time. The fact that HiBy can add to it with more and more profiles gives the RS6 some potential legs to its product lifecycle beyond 2021.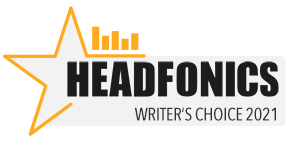 Top Gear 2021 Awards – Writer's Choice: James
The FiiO M11 Plus LTD marks a new milestone for FiiO that combines a cool, original industrial design, but also packing in all the most demanded features at the sub $1000 price range.
The new Android 10 UI/UX experience is engaging and fun, with enhanced battery size and top-notch software. At the same time, the sound performance steps up nicely from the M11 Pro.
The M11 Pro in 2021 was already a decent choice however, the M11 Plus LTD is an excellent evolution rather than a quick tinker in terms of features and excellent sound performance.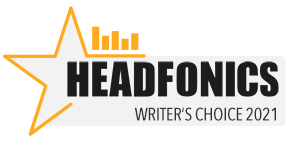 Top Gear 2021 Awards – Writer's Choice: Michael
The Audeze Euclid is one of the most rounded IEMs Mike has tested in 2021. It fails at very little in terms of sound quality. Imaging? No problem, it has one of the best imaging factors in an IEM that he has reviewed with an immensely coherent feeling.
Bass? No worries there either, it is planar and has an excellent high-quality low end. Separation? Great. Design? Sublime and damned sexy also. But, more so what makes him happiest of all is the ability to pair with many different types of rigs and offer a slightly different overall sound signature.
This is an amazing HiFi generalist monitor and that is incredibly rare.

Top Gear 2021 Awards – Writer's Choice: Jarvin
The Denefrips Ares II doesn't have much in the way of a fancy screen or anything that makes it look "hi-tech" in 2021. In fact, it looks slightly retro with the classic approach of having a lot of physical buttons and LED lights with multiple functions.
However, this is a versatile little device, with the ability to accept the standard input options USB, coaxial, and optical as well as single-ended and balanced output options.
The option to switch from OS to NOS also gives Ares II the ability to adapt and enhance a wider variety of systems. All while having the ability to decode PCM up to 24bit/1536kHz, and native decoding up to DSD1024.
The sound is wide and natural with defined layering and neutral tonality. The Ares II's attributes are not dripping in obvious coloration rather it has a beautifully natural sound that makes it easy to enjoy whilst still being strikingly accurate and detailed.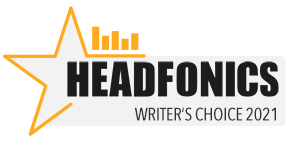 Top Gear 2021 Awards – Writer's Choice: Louis
The iFi Audio iDSD Diablo is the best iFi DAC amplifier with portability made up to date. Its sound characteristics are more in line with esoteric gear but that does not mean that their past units are far behind either. The sonic refinement is apparent on the Diablo once you give it a listen for a while.
Portable wise you would have to spend way over a grand in 2021 to obtain better sound and to be honest you might feel the urge to ditch your full-sized combo for the Diablo because it's that good and besides it will only take up a fraction of the space on a desktop compared to a full-sized rig.
The iFi iDSD Diablo is a wonderful piece of gear that anyone would be proud to own in 2021. It's a pleasure to listen to with a vast amount of power in a small package that can go portable. We are certain you will not regret getting one if you ever decide to.
Goodbye, 2021!
Whilst the top gear has been excellent as always, to be frank, I think I can speak for most of us here that we will be glad to see the back of 2021 which rather felt like a duplicate of 2020 in terms of world issues. With Covid and a recent super Typhoon over the office it's been a tough year and we, like many others, have not been left unaffected.
We look forward to 2022, and yes, we said that last year also but hope springs eternal. We always have some incredible gear coming in for review including some new flagship stuff that some have been eagerly awaiting our thoughts on.
Lookout, as always for our scoring page as we will again be making some important changes in January 2022. For now, For now, we hope you have an enjoyable ending to the year for everyone, wherever you are and with whatever you have!