Today, we review the Raptgo Hook-X which is a new hybrid dual driver in-ear monitor featuring a 14.2mm planar magnetic and a piezoelectric driver. It is priced at $239.
Disclaimer: This sample was sent to us in exchange for our honest opinion. Headfonics is an independent website with no affiliate links or status. We thank Linsoul for this opportunity.
Click here to read more about Linsoul gear that we have previously covered on Headfonics.
Note, that this article follows our latest scoring guidelines which you can read here.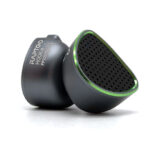 Raptgo Hook-X Review
Raptgo most likely knew that the Hook-X will gather a lot of curiosity not just because of its novel concept but also for its charismatic midrange accompanied by a good amount of bass punch and slam.
Pros
Natural open-back sound
Exciting yet composed bass profile
Original driver technology combination
Cons
Detail and image separation lacking in some areas
If you've gone online and came up empty searching for the corporate website of Raptgo, you're not alone as I initially did as well. Raptgo is a brand of Minami Medical Technology (Guangdong) Co., Ltd., housed under the Minami umbrella, a not-so-young company inaugurated in 1995.
Minami aids in the automation, manufacturing, and R&D of electroacoustic components and accessories. And having a history of cooperation with big audio names such as Sennheiser, Bose, and more, it was only a matter of time before the company running behind the scenes takes a turn at showcasing what they have through their brand.
While all previous Raptgo monitors like the GR-40CP use Knowles balanced armatures, the Hook-X is their first IEM to use a combination of planar and piezoelectric drivers in a hybrid configuration.
The brand's third audiophile IEM debut is technically their flagship IEM and also their most expensive yet coming in at $239.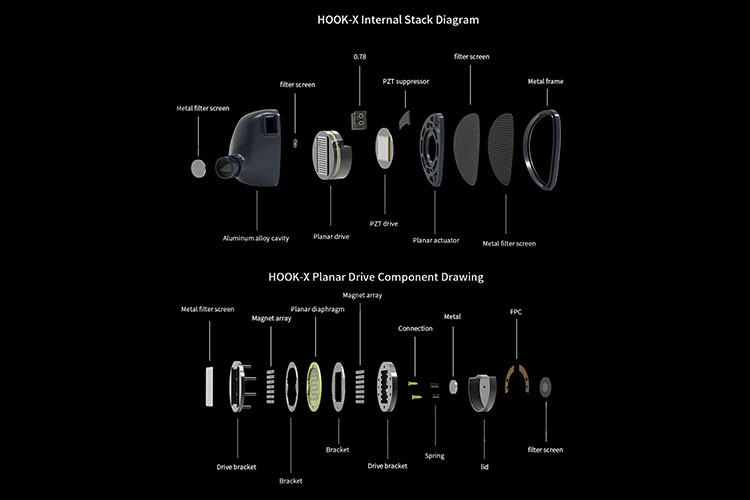 Tech Highlights
I received the Hook-X with the only expectation of an open-back planar IEM, but reading the box made me realize I received a more unique product. Having so much to unpack, even the isometric 2D render shown at the back of the box wasn't able to show the full complexity of its interior.
First, is the already mentioned planar driver measuring 14.2mm in diameter. With a thin ribbon in between two N52 magnets, it is tuned for impactful sub-bass and used for its wide frequency range.
Adding to the mix is the custom 18-layer double-sided PZT driver which is targeting the higher frequencies for an airier and enriched treble region. Each pair used in every set of Hook-X undergoes a complex assembly line, hand-tested, and matched.
And for a more natural sound and breathability of the drivers, the faceplate has an open acoustic design. A benefit of having an open-back design is the reduction of ear fatigue caused by sound pressure when an IEM is closed as well as lowering typical closed-back sealed chamber resonance.
Design
I've seen other Raptgo IEMs in forums and pictures, and all have showcased contrasting and vivid colors. Seemingly fixed on making a splash in each of its in-ear designs, even the Hook-X in its lone color configuration can be seen as a striking and visually appealing set.
The flat faceplate of the Hook-X isn't boring owing to the punched holes organized in a linear pattern from the center and out. I can't quite zero in on the actual material used, but to the touch, it feels papery and doesn't get as cold as the aluminum housing.
Still part of the faceplate is the spearmint chamfered 'fenders' of the Hook-X giving it more of a distinctive personality.
Not forgetting about comfort, Raptgo took special care in designing the housing of the Hook-X. They used a large number of simulation experiments to match the typical ear shape and wearing styles of users.
Comfort & Isolation
Don't take the generic smooth shape of the Hook-X for granted as Raptgo's claimed experimentation to come up with a comfortable housing was up to the task in my experience. Chunky to put on, the contact points are well spread and defined without awkward pressure zones.
Unfortunately, having detachable cables, the ear guide protrudes slightly beyond the natural curvature of the ear. As a positive, since the cable is pretty thick and weighted, it hugs the ear for a reassuring fit.
Without music and listening for background noise, the Hook-X is not completely open even with the obvious holes in its faceplate. Someone calling your name or a seatmate having sniffles will still sound a couple of notches quieter.
Tips
Three sets of unlabeled ear tips are included with the packaging of the Hook-X. But even when I say three sets, I somehow cannot find any physical difference in the dimension or material of the tips aside from the black, white, and spearmint-colored stem used to mark which group each belongs to.
All three also share a weak and bendy quality to the stem that prolonged swapping between the tips but would likely be less of a concern in the long term.
Stock Cable
There is a lot to like when it comes to the aesthetic and practicality of the cable that arrived with the Hook-X. The 1.25m long twisted cable is covered in a combination of a black and green sleeve that is easily identifiable with the earphones adding a tailored appeal.
And with a thicker than average build, the cable has less memory retention but is quite stiff reducing the flexibility of movement when twisted in the wrong direction. Internally, it uses OCC silver-plated wires that have coaxial shielding for improved transparency.
Users will also get the luxury of going either single-ended or balanced without necessarily removing the 0.78mm 2-pin connection from the IEM sockets with the hot-swappable jacks provided.
To properly attach, there is simply a key that needs to be aligned to match the removable connectors.
Packaging & Accessories
While the packaging of the Hook-X has a prim and light form, the flamboyant logo of Raptgo puts in a different spin every time it gets into view. Counting how many times the Raptgo branding was used in and out of the box was amusing as I counted at least ten and that's still being shy.
Opening the box and first removing a thin slip with the Raptgo logo covering the contents will present the perforated open-back face of the Hook-X. On the lower half is where the prickly-feeling cardboard material containing the paper works is situated.
Taking out the rectangle holding the IEMs, the similarly cut box down below hides three sets of unlabeled ear tips and three removable jacks for attaching to the cable found inside the hard-shell case.
The case provided by Raptgo for the Hook-X is elongated shaped and is decently sized to carry accessories with it. Proudly representing its beginnings, it's marked by the brand insignia with 2019 for its year of establishment.
Sound Impressions
The white ear tips were used in the formulation of the sound impressions. How the sound is changed by swapping tips will be discussed separately.
Summary
'Hook' is a catchy name to give to any product as it signifies attachment or craving. Raptgo played smart as the foundation of the Hook-X is in its engaging low-end speed and attack.
But not to be compared with the overwhelming and sometimes disjointed presence often associated with deep and punchy bass, the Hook-X is satisfied with keeping things fun while still considering the rest of the melody.
With a very likable and laid-back midrange, the vocal range is free from tweaks other IEMs employ to emphasize detail at the cost of pushing the intensity. This may very well be thanks to the open-back design of the Hook-X as I often find full-size headphones have an easier time managing this area.
Extending to the upper extremes, the PZT drivers aren't exactly as forward or obvious as expected but the room information is there.
Timbre
Experimenting with the proposed sub-bass qualities of the Hook-X, I gave time to listen to a variety of genres from EDM, pop, classical, and anything in between. All the while, the bass presence has always impressed in how behaved it can get with calmer passages and how punchy it becomes with some.
Leaving the vocal region alone, even a heavy synth beat will mostly be isolated and not blurred. While this may cause drowning out of details, easier strums of bass guitars can still be heard with an expected bite.
Engaging differently, guitars are in a way closer to accuracy by turning down the upper midrange for a gentler and laid-back expression. This trait loses the shimmer of plucks and relaxes singers for a reduced shout, but still, known female offenders with a piercing singing power will remain energetic.
But if there's something left to be desired is the slight grainy property developed on whispery and soft notes.
Forming mildly sweet and well-dispersed violin tracks making full use of the assistance of having a PZT driver and open-back housing, notes aren't forced and artificially thin.
Pleasing to listen to even with long listening sessions, the crystalline and zingy upper ranges aren't attacking aside from the occasional brittleness in loud electric guitars.
Staging
Not all, but most open-back designs are often associated with having a wider soundstage than closed. The Hook-X follows this trend but instead of bringing an unnaturally wide soundscape, it gathers its elements into a controlled width not too far from other monitors in its price range.
Having a well-proportioned but slightly shorter stage depth, a dynamic round of applause is very immersive. Aided by a tall height, images are given space to breathe and move around.
Added effects like finger snaps, knocks, taps, and the likes imaged pretty well with good information on directionality. But not quite getting the best result with separation, close neighbors on some occasions aren't quite as pronounced.
Ear Tips
Honestly, I was a bit skeptical at first with the unlabeled tips since I can't quite figure out how they're supposed to sound different when all external indicators tell otherwise.
So, with a quick test fit of all three, I settled on the white ones as they sounded the most animated without sounding too intense in the bass region.
And while I can't confirm the complete tuning variations between the different colored tips, I found the white and green ones closer to one another. The white has the same pleasing mids but with a slight boost in the treble area, while the green is slightly more relaxed in the bass and lower treble.
Switching to the black tips will enhance the bass presence for an overall warmer and fuller tonality. Comparing this with the whites however indicated that its upper midrange to lower treble is not as forward, giving a nice even transition.