In our Topping DX5 review today we explore the company's latest desktop MQA and wireless capable dual DAC and balanced headphone amplifier. It is priced at $449.
Disclaimer: This was sent to us as a sample for our honest opinion. Headfonics is an independent website with no affiliate links or services. We thank the team at Shenzhen Audio and Topping for giving us this opportunity.
To read more about Topping products that we have previously featured on Headfonics click here.
Note, that this article follows our latest scoring guidelines which you can read up on here.
Topping DX5 Review
With an uncompromising value proposition, the performance of the Topping DX5 translates well from numbers printed on a piece of paper to audible bliss if what you're after is neutrality with a slightly bright inclination.
Pros
Tuned for accuracy
Good resolution from the DAC
Attractive design
Cons
Unfolding stutter for MQA on Macs
Concentrating where it counts, Topping's success can mostly be attributed to its straightforward products that offer maximum performance with an aesthetic that is more alike than different.
So, when the Chinese manufacturer decided to unbutton their sleeves and went into creating a device that will not feel estranged in a contemporary desk set up in their freshest release, the question suddenly changed from how good it measured to how upscale does it look.
Currently sitting as the middle brother to the DX3 Pro+ and DX7 Pro, the pitch of the DX5 is to be an all-in-one solution for those who don't want to compromise on sound without the overwhelming bells and whistles of higher-end components.
Even if the main draw is in its exterior, Topping did not forget their original objective and promises the same meticulous precision and audio performance to come out of this new product.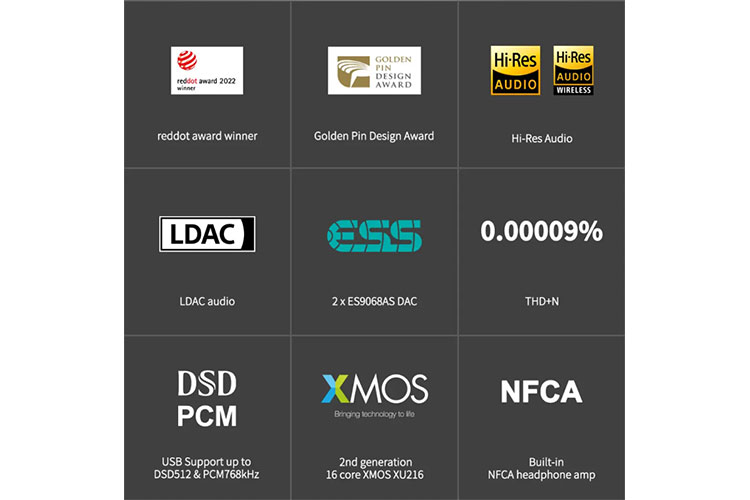 Tech Highlights
There were speculations and expectations before the release of the DX5 that it will simply be a dressed-up EX5. Coming in at practically the same dimensions, one may find some truth to the rumor but the similarities diverge once you dig through the specs.
Having one ESS ES9068AS per channel and a second-generation 16 core XMOX XU216, this device boasts a THD+N of only 0.00009% with full MQA decoding that is available in all digital inputs except Bluetooth.
Any growing music library will be future-proofed with its capability to receive Native DSD 512 and 32bit/768kHz of PCM signal via USB and 24bit/96kHz through LDAC wireless connectivity.
Giving juice to the headphone outputs is Topping's NFCA circuitry pushing 1.8W per channel on a 32Ω load in both the XLR and 6.3mm jack.
Although the amplifier does have the capability to support a balanced connection via the XLR sockets in the rear, it is a shame that the 4-pin XLR for headphones is more of a convenience feature since it is using the same single-ended signal as the 6.3mm out.
Design
Making sure that whatever they did to the DX5 is to imbue desirability and not a simple distraction, Topping has announced it with not just one, but two design awards in tow. While this is a flattering achievement, I got worried at first looking at online renders if the new chassis had been overdone.
One thing is for sure, it looks different in the metal now that I have a unit to discern. The silver is a lot more handsome in-person having a darker shade of gray than in pictures, and when combined with the two-tone carried by the jutting black fascia it gives a strong presence of a smart-looking device.
And for whatever reason, the rounded corners of the frame tightly hugging the dimensions of the 4-pin XLR and volume wheel on either side create an illusion that this 735g device is chunkier and heavier than it seems.
Neatly hidden in a miniaturized cut-out using the same shape as the device is a white OLED display, though the screen itself is much smaller upon examining.
Then there is the black volume knob with its silver insert which is a good finishing touch not drawing too much attention aside from when you need it to adjust anything.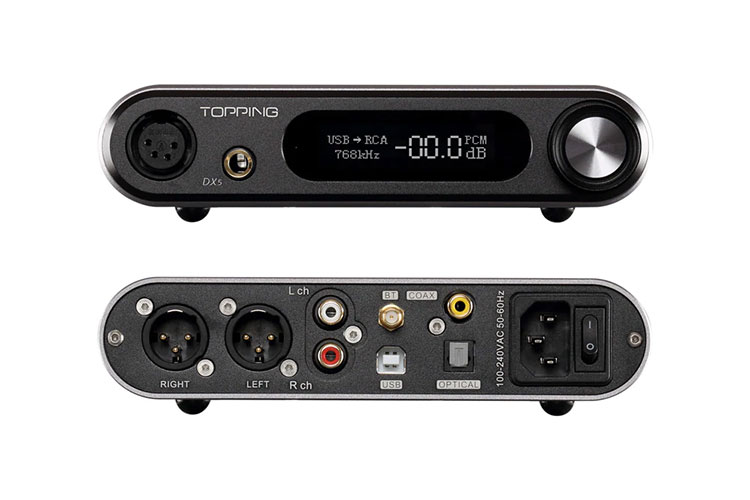 I/O
At this price point, the usual set of USB, Coax, and Optical digital inputs are already expected. But adding in convenience and flexibility, a few clicks away is a highly capable Bluetooth receiver using a QCC5125 chipset with support to most wireless protocols.
There is no shortage of outputs with the DX5 having an XLR and 6.3mm jack located at the front of the unit for personal listening and are both rated at <0.1 output impedance for easy gear pairing.
At the back is a pair of sockets for RCA and XLR with pre-amp and lineout functions for connecting to powered monitors or dedicated amplifiers.
Control
With a built-in power supply, the first thing you'll notice is the switch located at the rear. Turning it on, the screen will flash Topping's logo followed by the input mode and sample rate before displaying the default screen for volume control.
The easiest way to change the settings is with the provided remote control having a dedicated button for almost all the available functions of the DX5.
For everyday use, the remote should be enough but for hidden controls such as lineout mode and phase polarity, one should go through the setup menu which is accessible by pushing the volume while flipping the unit on.
When the unit is in normal operation, the multifunction volume wheel can be used to select a different input by pressing once and changing the output mode when pressed twice. Rotating the wheel in either direction is fast fine-tuning the volume quickly in full dB increments from mute to -50dB then switching to half dB increments.
Packaging & Accessories
When these came in the mail, I was already anticipating using the unit and ready to move on from the unboxing since having owned three Topping products I've already come to expect either a plain white or black box with some branding here and there.
Only this time, Topping went ahead and covered the thick carton in a black crisscrossed textured wrap, a nice touch to stress the fact that something attractive awaits inside.
The DX5 is then revealed and not obscured by a thick layer of protective foam once the cover has been removed since the foam insert has been glued to the inside of the lid.
Accessories are packed in a slim black box located in the upper portion of the box with a small illustration indicating that the remote, Bluetooth antenna, USB cable, and adaptor are inside.
Separately, since the unit already has an integrated power supply, only a standard IEC cable is stored to the right.
Sound Impressions
DAC/Amp
Against my previous experience of finding the ES9068AS signature too soft, Topping was able to bring out a snappy and flat tonality closer to what I expect from ESS chips.
Detail retrieval of distant drum rolls is well encapsulated without much blurring and placed with above-average accuracy. Without touching the original mix, there is still enough energy in the low end to send deep basslines through busier passages carrying controlled dispersion and attack.
On slower acoustic female songs, the rich nature and breathiness of the singer's voice come across even with the more distant than expected and overall lean projection in the midrange. Although for gentler-sounding instruments such as piano, while it doesn't get muted nor lose detail, doing a symphony with a violin will make it seem less emphasized.
Recreating a round of applause from an audience and instruments such as chimes and trumpets diffuses with great resolution and air. While it is approaching shrillness with brighter song choices, its ability to sift through top-end microdetails enables it to not sound grainy as an upside.
For a combo that is more than capable of challenging its peers in the same price category, the dynamics and soundstage of the DX5 are excellent and respond well to the recording although still lack the refinement to beat higher-end competitions. the image has a lot of room to move with wide and great instrument separation and directionality
DAC
Known for its honest sounding gears, Topping remained pretty transparent with the amplifier of the DX5 as I examined its DAC by connecting the RCA out to my Burson Funk and found a pretty similar experience with only a few key improvements.
The bass got a bit fuller sounding losing the slightly dry default tuning of the combo and continuing to a drum and bass guitar placement that is much more pinpoint. There is also improved technicality in the midrange revealing microdetails smoothed over by the unit's amplifier for a more textured vocal listening satisfaction.
With a wider stage width and achieving a marginally clearer soundscape, the DX5 opened up into a more dynamic sounding component.
Bluetooth
With looks that can fit anywhere, the DX5 is also provided with a Bluetooth receiver capable of almost all modern protocols so it can also be used everywhere.
From testing, pairing is fast and painless since all you have to do is select the Bluetooth as the input source by pressing the volume knob then after connecting to it using your mobile device or laptop it will automatically reconnect next time as long as both devices are turned on.
Behind two walls and 10 meters of distance, there is no dropout in the signal. Sound quality is very close to a wired connection and only a handful of times did some expected details got fuzzy and midrange depth cut short.
MQA
Curiously for MQA playback, when plugged directly into my MacBook via USB, the unfolding process fails to stably show the original master sample rate and instead stutters back and forth to compressed quality.
Even the 1.36 firmware update available on Topping's website didn't help nor did the use of an entirely different laptop and media player.
Giving the DX5 all the chance it needs, I tried connecting it via USB to an iFi Audio Zen Stream with instant success. Now, the MQA text and fully unfolded sample rate is displayed on the screen of the DX5.
Playing mostly concerto arrangements, the most immediate difference is in the improved dynamics followed by clearer separation and less fatiguing treble. Vibrato also sounds much more relaxed and finessed.