Today's article is a review of the new iFi Audio ZEN Air DAC which is an entry-level MQA capable desktop DAC and headphone amplifier. It is priced at $99.
Disclaimer: We received this sample in exchange for our honest opinion. Headfonics is an independent website that does not have any affiliate links or status. Thank you for the opportunity, iFi Audio.
More information about iFi Audio products that we have previously covered on Headfonics can be found by clicking here.
Please keep in mind that this post adheres to our most recent scoring guidelines, which you can find here.
iFi Audio ZEN Air DAC Review
What iFi Audio did here is to fill an empty void in the audio market by introducing a very good-sounding desktop DAC amplifier combo for less than 100 bucks and still managed to offer the bargain buyer lots of value and some features which will make the buyer feel as if the ZEN Air DAC is not such a bare-bones model.
Pros
Good sound quality on a budget
XBass and XSpace functionality
Wide range of codec compatibility
Cons
Lacks PO power
Low volume channel imbalance
Following in the footsteps of the now well-known ZEN line iFi Audio decided to scale down a bit and introduce a new line similar to the original ZEN series but this time went budget minded and simplified some.
This particular ZEN Air component line consists of the ZEN Air DAC, the ZEN Air Blue, the ZEN Air Can, and the ZEN Air Phono.
The first component from that line up on the bench for review is the ZEN Air DAC which enters the market at under three figures making it the most economical way to obtain an all-in-one solution from iFi's component lineup.
What iFi Audio is offering here is a replacement of the PC sound card with a no-fuss way to improve the sound quality of any PC rig or laptop.
Tech Highlights
If you look up the ZEN Air DAC specification you will find that surprisingly and although a budget model, iFi still managed to squeeze in an XMOS hexadeca-core processor in combination with Burr Brown true native DAC components that iFi combines together with their custom firmware.
The output stage uses their now well-known and often used OV series OV2637 OP-amp components. These components leaked down and were borrowed from their Pro line gear and are used in many of their other components today. For example, the original ZEN DAC, the ZEN Can, and revision models like the 6XX, HFM, and the MZ99 variants.
So it seems iFi used some good components here as always and did not cheap out in this area at least. They even threw in some of their most popular features like XBass + selectable from the front panel plus a 2-level Power Match.
These features will most definitely give the buyer a feeling that the ZEN Air DAC is not such a bare-bones model after all.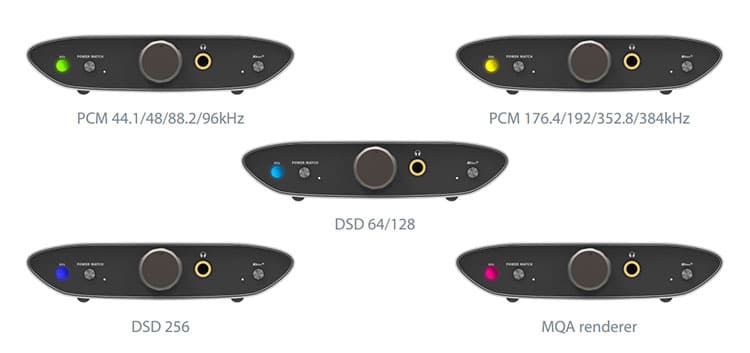 Digital Formats
Here is another area the ZEN Air DAC doesn't skimp on. You get Bit-perfect rendering with DSD, DXD, and most likely PCM also although PCM was not listed as running bit-perfect plus I believe the 7.4 and 7.4b versions of the firmware state that they run bit perfect. The ZEN Air DAC does PCM at up to 384k, DXD, and DSD at up to 12.4MHz.
The ZEN Air DAC is MQA capable but I doubt it's fully hardware-rendering. I bet it uses a combined hardware and software rendering which is fine by me because at least you still get the feature here while others tend to omit this feature.
When you download the ZEN Air DAC firmware, within the zip folder you will find three separate versions. The first firmware is with MQA and the second is without.
The third firmware is a GTO filter with MQA. I went with the full-featured GTO with MQA. The changes were practically unperceivable to me on this model, to be honest.
Performance Numbers
Unlike its cousin the ZEN DAC, the ZEN Air DAC only has a single headphone out. It's 6.35mm and there are no balanced inputs or outputs of any kind. So there is a single power output rating of 230mW at 32Ω and 36mW at 300Ω. The headphone jack output impedance is listed at 1 Ω.
These power numbers seem low for an iFi component. For example, the hip-dac2 has more wattage output capacity from its 3.5mm SE side. Comparatively the hip-dac2 is rated at 280mW on the SE side versus the ZEN Air DAC's 230mW. So does the GO bar which is capable of 300mW off the SE side.
THD + N amounts are listed at 0.04% for both line out and headphone out. SNR plus DNR are both listed at 113dB. The line level output voltage has a 3.3V rating and it's variable since the volume control sets both output levels.
Design
iFi Audio's traditional rounded trapezoid shape has been kept but the metal outer shell has been swapped out for a polymer pale grey material that seems rugged enough to withstand some serious abuse.
Plus, you really don't have to worry so much about scratches anymore with this design since it does not have a finish per se and displays the native color of the material itself.
Contrary to the outer shell which has a matte finish with a multi-line triangular pattern design the front and back panels are finished very glossy black and are fingerprint magnets so they tend to get smudge filled quickly.
The best way of keeping them clean is to never touch them and if they need a wipe down using a micro cloth and never use anything that's abrasive.
The shell design is identical in size and shape to the entire iFi Audio ZEN line and they're all stackable. The shell measures 158 x 117 x 35mm. The main unit weighs under a pound at 0.694 lb or 315g.
There is a front panel mounted LED window which generally indicates what is being decoded but the colors tend to change depending on what firmware you run and there are three as we speak. There are two other LEDs up front, one for the XBass and one for the Power Match feature.
I/O
Here is where things get simplified and downgraded. You get one input which is a USB type B and two outputs. One is a front-mounted 6.35mm single-ended jack and on the back, there's a set of RCA analog outputs. There are no balanced connections, input or output wise for this model.
The front-mounted volume knob controls the headphone out volume and the line output simultaneously. The XBass + and the IEMatch affect both outputs and the ZEN Air DAC also outputs through both PO and LO simultaneously. This could be a con if there is an uneven efficiency level between the headphones and speakers being driven.
For example, if you have very efficient headphones connected to the ZEN Air DAC and decide to rock out on the volume but through your speakers, at that point be careful and I would suggest disconnecting your cans prior or you could damage them due to excess volume.
Another point that some might overlook is the fact that there is no on and off switch. The unit turns on when you power up the PC and shuts off once you power down your PC.
I personally don't see this as an issue especially since the ZEN Air DAC runs cold all the time and consumes very little energy to operate.
Controls
The volume control is an analog type and seems to be the commonly used TOCOS volume knob. It's very smooth in operation but it does have a slight channel imbalance at the very bottom and on the left side.
There are some remedies for that which mostly involves using the volume within the software you're using and raising the ZEN Air DAC volume past a certain level.
I understand why the analog volume knob is used and why iFi avoids using digital volume controls because they work by restricting the signal and that degrades sound quality, fine.
However, one thing that keeps coming up with iFi gear is that they disable the PC volume control and I wish there was a way of enabling it as with the Gryphon and the GO Bar. Could you, pretty please iFi?
The rest of the ZEN Air DAC controls are via two push buttons which are mounted on the front panel. On the right side there's an XBass + feature and on the left a 2-way Power Match feature. Each feature has its own white color on and off LED indicator.
Packaging & Accessories
Packaging is the common iFi box and is the same fare as with the ZEN CAN, the ZEN DAC, and the rest of the other ZEN components. You get a warranty card with some MQA information and a couple of other items.
You get a USB cable that terminates in a male type A to a type B and it measures around 22″ long and honestly not long enough to reach around the back of some full-sized PCs. You also get a 26″ power chord that terminates in a USB type A to a power connector which I believe is a common 5.5mm DC plug.
You don't get a power adapter. Although the ZEN Air DAC seems comfortable operating from USB power alone you should get a wall wart or minimum get a 2 amp phone charger capable of at least 2.5W to use it in conjunction with the supplied power chord.
Sound Impressions
To say that the ZEN Air DAC sounds better than most onboard sound solutions is an understatement.
There is definitely a high level of improvement over built-in solutions. Only a few of the most expensive sound cards can rival or surpass its performance. Compared to my EVGA NU for example it's rather close in performance but the NU card costs 3 times the amount.
The bass is clean enough to be enjoyable and rarely do you have to engage the XBass +. I found its implementation to be the most elevated with the heaviest amount of bass boost from all the other past implementations but it still remains within an acceptable level. It still beats out most other bass boost implementations out there.
The general tonality and sonic characteristics are rather neutral with a hint of Burr brown warmth. The ZEN Air DAC doesn't carry over so much of the dynamic response that iFi amps are known for due to the lower power levels but the Air DAC does aim for a flat, balanced and even response with a good top and bottom-end extension.
The high frequencies come in well-defined and clean. Most of all the vocals come through rather sweet, the bass is well extended, and the high frequencies extend well but they don't shimmer like they do with their higher-tier components. They do miss out on some very top-end sizzle which is almost unperceivable until you do an A/B comparison.
Staging & Dynamics
If you're accustomed to a balanced output off iFi gear and if you read the specs you will notice a small reduction in dynamics when you use the SE side and the numbers don't lie.
Although the numbers drop you still get 113db of SNR and DNR which is nothing to laugh at. In comparison, you get around 90db from onboard sound solutions.
The dynamic response can get punchy at times and the transient response is fast acting. The only bottleneck to me seems to be the available amount of power but long as you use efficient enough cans I think most will be satisfied with the ZEN Air DAC's performance. It seems to power my hungry planar cans borderline okay with the bass being the region that suffers most.
Staging is on point and the ZEN Air DAC is technically capable of accurate placement. However, there is a restriction in the perceivable overall size of the stage.
Once again this is only perceivable in an A/B comparison using their higher tier components.