Our review of the FiiO BTA30 Pro, which is a high-fidelity Bluetooth receiver featuring an ES9038Q2M DAC and LDAC decoding capability. It is priced at $119.99
Disclaimer: This was sent to us as a sample for our honest opinion. Headfonics is an independent website with no affiliate links or services. We thank FiiO for this opportunity.
To learn more about FiiO products previously covered on Headfonics you can click here.
Note, this article follows our latest scoring guidelines which you can read up on here.
FiiO BTA30 Pro
The FiiO BTA30 Pro performs well for the size and justifies the small price increase from the predecessor BTA30, also being very intuitive in design.
The FiiO BTA30 Pro is the newest generation of FiiO's affordable desktop Bluetooth receiver and transmitter and builds on the original BTA30 we reviewed last year.
The Pro version supersedes the original with a full revamp in hardware and design including a DAC upgrade, superior DSP chipsets, and new connection modes including LDAC transmission. With enhanced decoding power, the BTA30 Pro stretches further possibilities to link up and rejuvenate audio devices.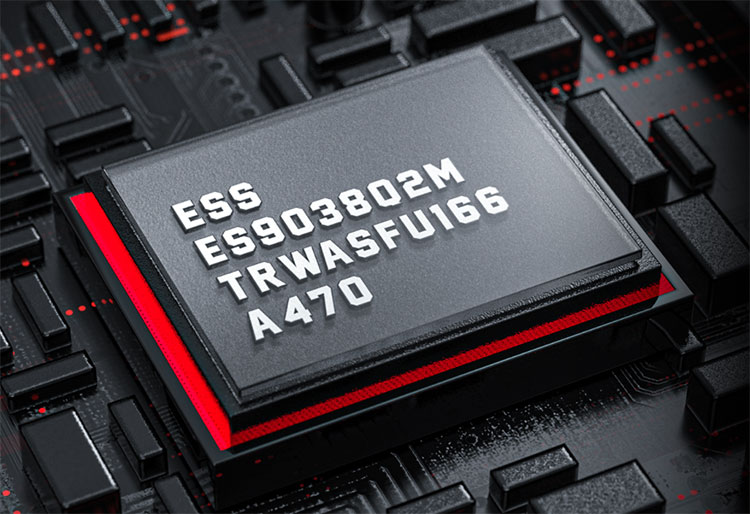 Tech Highlights
DAC
The ESS ES9038Q2M SABRE 32-bit DAC with HyperStream II DAC architecture and Time Domain Jitter Eliminator delivers up to 128dB of dynamic range and -120dB THD+N performance.
The implementation enables 32-bit/ 768kHz PCM decode as well as DSD256 via DoP with USB input, consuming only 40mW and offering great performance on paper even with USB power. While the output quality surpasses the previous generation, there is no MQA unfold function added.
Decoding
The weakest link on the BTA30 is completely overhauled with the Pro upgrade. Before the USB decoding specification is very basic and powered by the integrated chipset, now the new XMOS solution makes the BTA30 Pro a proper USB decoder with satisfactory technicalities on paper.
As a USB DAC, the BTA30 Pro supports decoding up to DSD256 and DSD128 over DoP with SPDIF input, for those who rely on USB connections. This is great news as the USB connection won't be the bottleneck now. Again, the addition of a stronger USB decoding solution makes possible streaming from the PC high-res audio over LDAC mode.
Testing with various DSD tracks on the PC there is little to no delay in the output with LDAC mode, and the output sounds more textured. When switching back to lossy tracks or other codecs the BTA30 still maintains quite a good dynamic range and doesn't sound too flat or compressed.
The BTA30 Pro also has an independent high-performance DSP chip to boost any signal at the digital output up to 192kHz. This gives better control and refinement to the output and you can toggle on the up-sampling options in the FiiO control app.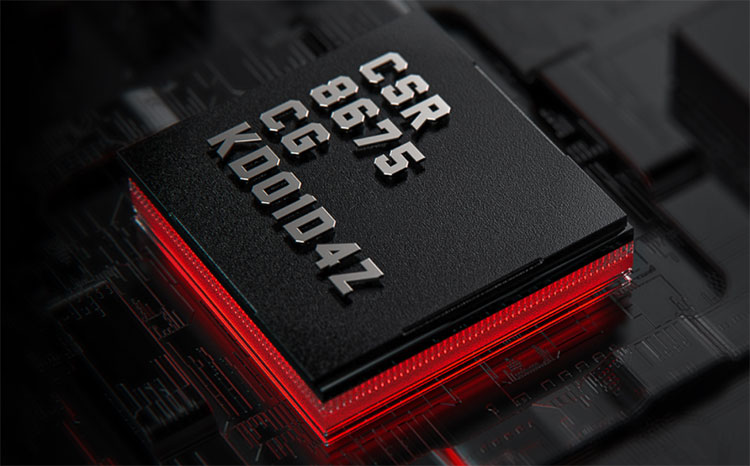 Bluetooth Chipset
The BTA30 Pro inherits BTA30's CSR8675 Bluetooth solution from Qualcomm, though it doesn't rely on the integrated USB interface XMOS solution. For receiving and transmitting the BTA30 Pro is compatible with SBC/AAC/aptX/aptX HD/LDAC codecs up to 24bit/96kHz.
The BTA30 Pro is designed to be a long-range, high-resolution BT transmitter, fitted with a cute 2dB antenna that you can upgrade to achieve an even higher range. On the stock antenna, the LDAC connection is stable within the living room, roughly 3-4 meters apart testing with the BTR5 2021 version as a receiver.
One key upgrade over the original BTA30 is LDAC transmitting support with USB input, allowing users to stream from laptops or the desktop system to receivers. This was once a nice-to-have feature now realized which greatly benefits laptop/PC users and completely upgrades the experience.
LDAC transmission mode on a USB connection is added along with aptX LL first mode that prioritizes low-latency gaming audio needs. Within a few meters the signal doesn't drop and keep up to the graphics, only when moving the source really fast will the signal gets distorted. If you require a longer range, switching to the SBC codec will extend receiving range up to 30m.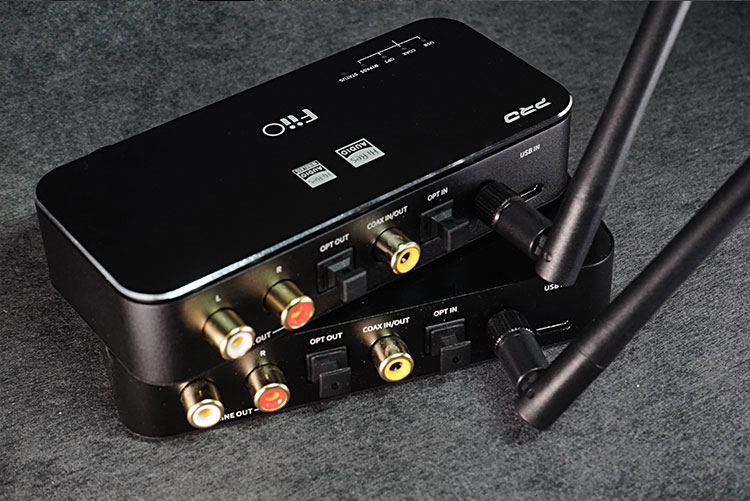 Design
The USB-powered BTA30 Pro has a low-profile, professional design. Its slim form factor, measuring just 120 x 55 x 23.5mm, will allow it to sit stealthily on the desk or even hidden behind the rack. Aside from the Aluminum housing, there is quite a lot of user-friendly features that differentiate it from the BTA30 which bears the same silhouette.
A switch on the front panel allows users to flick between input sources, with an LED indicator showing the connected source. Two new buttons allow separate pairing in Bluetooth transmitting mode, with clear, separated LED indicators to display connection status and Codecs.
One very useful enhancement from the previous generation is the volume control in USB or Bluetooth Transmission mode, which comes in really handy and makes the USB decoding experience much more intuitive especially for gamers.
Controls
Volume
Inherited from the previous generation product, the BTA30 Pro adopts ADC volume control, which achieves channel balance at low volume without compromising the dynamic range.
This is easily more intuitive than traditional volume with variable resistor technology and is much handier if you are scared of high starter volume every time you connect it as a receiver. You can turn it to the lowest volume every time before connecting to prevent a loud start.
RGB Indicators
The RGB lights show what codecs are being processed, consistent in lighting with what FiiO offers in other devices. The following colors will be shown when connected using different Codecs:
SBC: Blue
AAC: Teal
aptX HD: Yellow
aptX: Purple
aptX LL: Green
LDAC: White
App Control
To enjoy the full functionality and sound customization options on the BTA30 Pro users must download the FiiO control app, which will allow access to various tweaks like equalizer and filters, and control some aspects of its I/O behavior.
Practical features in the app include channel balance adjustment, a set of 4 audio filters, Bluetooth format priorities, LED indicator on/off, volume adjustment(digital), and fixing output volume at a certain level.
There are also 4 digital filters for users to tweak with an in-app graphical explanation. These options can shape the output quite differently, especially on the edges of the vocal and the roll-off frequencies in the treble. To get the right timbre for your music it is always recommended to try to give the equalizers and digital filters a try.
Using the FiiO controller app, the filters and equalizers can be used simultaneously for users to reshape the output. With some old speaker systems, this is a useful feature to enhance transient response, extension, or to perform a quick high pass with just a few clicks.
Remember to change the Bluetooth format priority to aptX LL if you are a gamer or want to lip-sync your videos, so you won't get any noticeable delays. For music, it is recommended to select the Audio Quality First option under LDAC for maximum fidelity.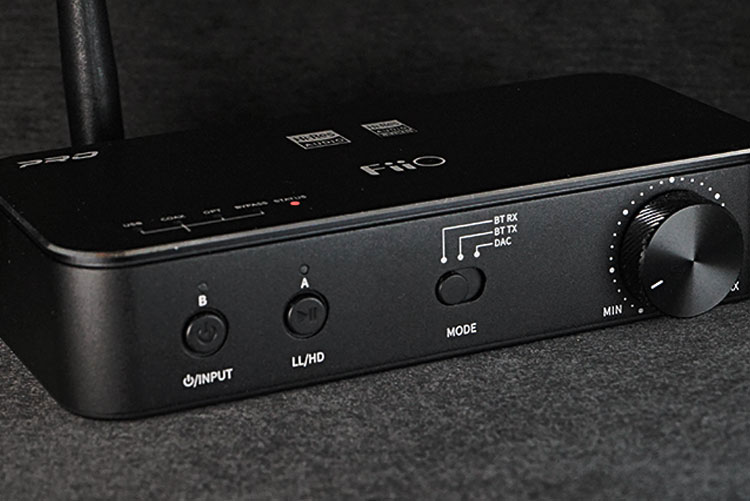 Digital I/O Features
On the front panel, you will find a "LL/HD" button that allows users to switch instantly between low latency mode or quality optimized, HD audio mode, with only a short mute the codec switches between the two modes.
When tested with receives like the BTR5 2021 or DAPs such as the FiiO M11 Plus Ltd that indicate the bit rate and codec, you can see the switching being instantly done with no observable delay.
You can connect to other DACs via optical and coaxial output to revive some older setups and let you use the BTA30 Pro and your portable devices like a digital turntable.
With feedback from BTA30 users regarding specific use cases with TV and similar gear, FiiO has also added a new bypass mode that allows optical input to go straight through to the optical output in transmitter and DAC mode. This flexibility means users are not required to disconnect cables when switching between outputs.
The BTA30 Pro also supports connecting to two host devices and outputs via RCA or coaxial/optical connections. That means from your DAP and phone you can stream higher-than-CD quality connecting different gear in an instant.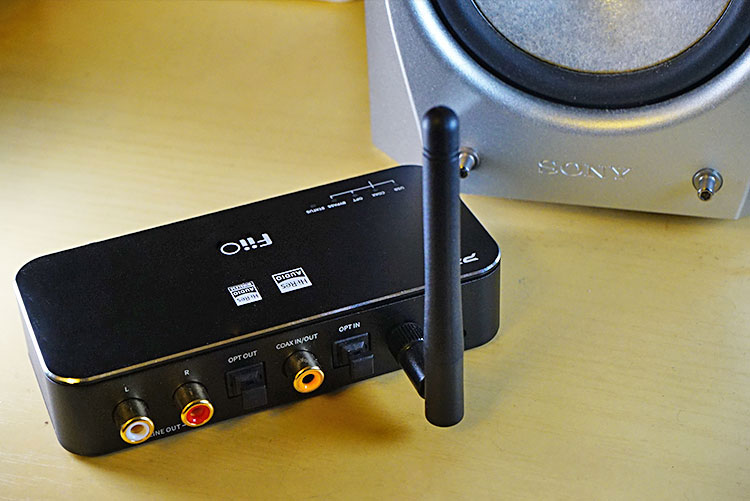 Wireless Performance
Using the audio quality prioritized in-app option for LDAC connection which enables 990kbps yields the best result for stability with the BTA30 Pro, though the range would be limited to around 4-5 meters, just enough for the living room.
If you are using it in a less quiet environment, I would recommend switching to an SBC connection which maximizes the connection stability, you may not notice the compromises in sound or the more compressed midrange when the ambiance blends in.
Packaging & Accessories
The latest generation FiiO products come with cool Sci-fi tinted packaging, very mesmerizing to look at and you will probably spend a minute to look at it and the information behind it.
Inside the box, you will find the user manual, extra rubber legs, a USB-C to USB A cable for power and decoding. You also get a pair of RCA cables in case you want to hook up the BTA30 Pro to another amplifier or to active speakers.
Click on page 2 below for sound impressions and select comparisons