Our review of the iBasso DC05, which is a portable dongle featuring a dual ES9219C implementation, MQA 16X, and up to 140mW of output power. It is priced at $69.
Disclaimer: This was sent to us as a sample for our honest opinion. Headfonics is an independent website with no affiliate links or services. We thank iBasso for this opportunity.
To learn more about iBasso products reviewed on Headfonics you can click here.
Note, this 2-page review follows our latest scoring guidelines which you can read up on here.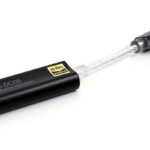 iBasso DC05
Of all my single output, single-ended 3.5mm dongle DACs the iBasso DC05 is now one of my favorite models. It has a clean high power output capability, an intimate sound stage, good frequency bilateral extension with the minimum amount of hiss and veil.
I would consider iBasso to be a one-stop-shop company for portable audio gear because they basically make everything you need to feed your audio addiction while on the go. They make everything from IEMs to DAPs and of course dongle DACs.
You could easily go brand exclusive with iBasso. For example, their DX300 MAX is an excellent all-out DAP that got a high score which placed it into our 2021 Top Gear award list and it would make an excellent upscale pairing with for example their IT07 IEMs. In fact, I bet most of their gear would pair well together.
In particular, I think the iBasso IT07s are highly underrated IEMs. They're actually one of my favorites presently. They have a very natural tonality and offer very good performance that you can listen to for hours because they keep you interested with all the nuances and detail they produce all along with the absence of harshness or veil.
What about their dongle DACs? Well, this particular segment is hot nowadays and of course, iBasso has its dongle DAC line. Their latest model is the DC05 but the model number confused me at first because it's downscaled from their latest model which is the DC04. Or is it?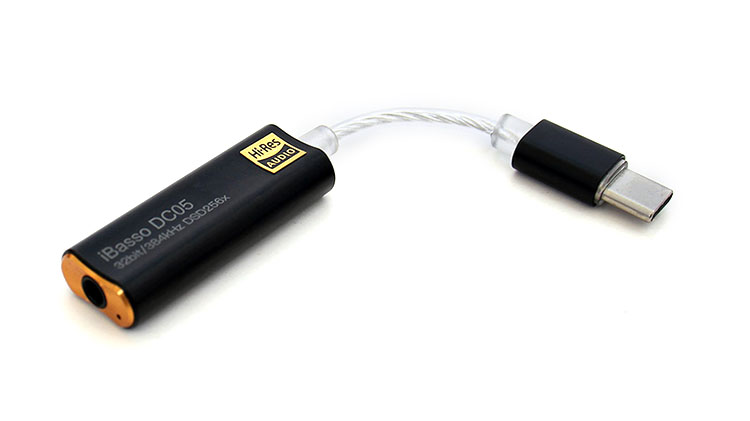 Tech Highlights
Although the iBasso DC05 downscaled from the balanced output only DC04 it still manages to muster up a dual ESS tech third-generation ES9219C DAC chip setup with Hyper Stream 3 architecture within an iBasso designed and in house developed quad DAC+ technology design.
This chip is part of the ESS SABRE HiFi line which apart from having good specifications has a small niche point of including a 64-step internal volume control which helps in particularly with IEM volume finite adjustment plus include other features like multi-format decoding and high output power.
Format decoding is an ample enough list including a dongle best in class 16X MQA performance along with 32BIT/384kHz PCM and up to DSD256 and all behind a time-domain jitter eliminator to keep things timely on the 4 channel DAC design. It has everything a grown boy needs.
Performance Numbers
If you go by the numbers, they sort of sell this unit on their own merits and you would buy a DC05 on just that alone I bet. Let's start by mentioning the 121dB DNR and SNR rating along with a very low 0.00056% THD+N. The total frequency response range is listed as 20Hz to 40kHz.
What is interesting is the output rating of 140mW at 16Ω and 93mW at 32Ω which is rather high for a dongle DAC of this size and caliber. Output impedance is listed at 0.5 ohms and the output voltage is at 2v at a 300Ω load and 1.73v at a 32Ω load.
All those specifications seem very good for a unit of this size and cost. The DC05 has almost twice as much output power as the DC03 which is rated at the same 2v but with only 80mW at the same 16 ohms even though they're both identical in size and use the same exact body.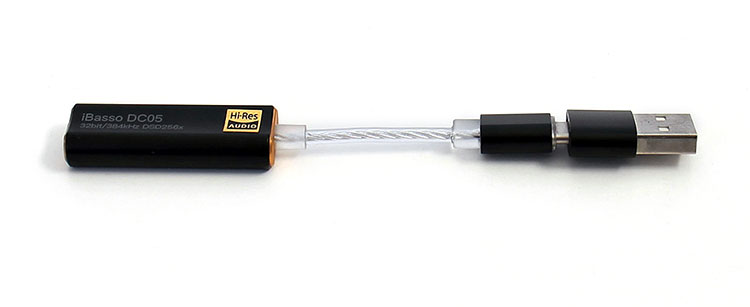 Design
The all-metal case is smaller compared to the DC04 but comes in the same color scheme design; at least the black one does which comes in a matte black finish with gold trim. The other choice is a green color with the same gold trim.
Apart from being half the size of the DC04 at 105mm long, the design is basically identical to the DC03 and all three models share the same USB-C tip end but the wire on the DC05 has an extra layer of insulation. There's also a similar LED at the headphone jack end which indicates what format is being fed through the unit just like on their other dongle DACs.
If you go back and look at the DC03 you could barely tell the difference between the DC03 and the DC05 from afar and it seems both dongle DACs are cut with the same cookie cutter and only the labeling distinguishes them from each other and of course the listed specifications.
I/O
The single digital input is a single USB type C connected directly into the dongle shell with a twisted cable wrapped with transparent insulation. The wire itself seems to be silver coated and similar to the other iBasso dongle DAC line except for the aforementioned extra layer of insulation.
The other end has a single-ended 3.5mm output plug just like the DC03 and unlike the DC04 which has a single 4.4mm balanced output.
Packaging & Accessories
Another similar area to the DC04 and the DC03 is the packaging, presentation, and accessories. The unit comes in the same rounded edge rectangular clear plastic bubble container used with their other two DAC dongle models.
In fact, the accessories are also the same. You get an owner's manual and a female USB-C to male full-sized USB adapter and it all comes nestled within a custom foam mold within the shell to protect the contents.
Sound Impressions
Summary
The iBasso DC05 frequency response presentation seems to be flat but the overall tonality comes through with a slightly warm character which is actually a common characteristic of these ESS DAC chips.
Bilateral frequency extension is very good. In fact, the specifications state that the low end reaches 20Hz but I was able to audibly take this dongle DAC down to 16Hz which is better than iBasso's own listed specification. The high frequencies are listed at 40K max and I don't doubt that since the shimmer and sparkle on the top end is quite energetic.
The iBasso DC05 can play loud and there is an ample amount of volume available on tap especially with sensitive IEMs but hiss remains almost nonexistent. There is some but you have to listen very carefully for it plus you have to use very hiss-prone IEMs to even provoke the hiss to be audible.
Lots of micro-detail comes through this dongle with good coherency and there seems to be an absence of conglomeration or even coloration and veil even when played at high volume levels.
Staging & Dynamics
The DC05 seems rather peppy due to its high gain sensitivity which raises the volume rather quickly especially if you are using sensitive IEMs but thankfully the 64-step volume alleviates that some by giving the end-user some extra finite control at the bottom of the adjustment range.
I could also consider the sound signature to be somewhat punchy with good dynamics and is probably induced by the high signal-to-noise ratio and low output impedance.
Far as staging is concerned, you get a good 3-dimensional pattern but the size is not largely represented and there is not much expansion that portrays a more personal-sized space. I would not consider it to have a narrow stage but I would label it as a controlled amount.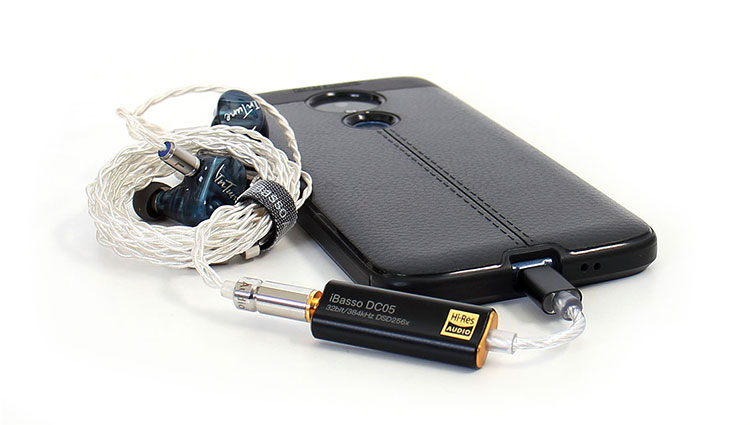 Synergy
Efficiency
The iBasso DC05 uses a small amount of power to operate particularly with my Android devices. It seems to be very efficient more so than other similar dongles which is a plus considering dongle DACs are usually hefty power consumers.
One thing I noticed was how warm the device runs which somewhat contradicts the efficiency statement because in my experience an electronic device that runs hot usually consumes more energy. In general, if they run hot then efficiency is usually on the low side.
This dongle DAC thermally acts as if it had class A amplification in where it runs hotter when it idles and cools off some when it runs and more so when you use the DC05 with a PC or laptop but not so much on a smartphone.
Power
Power output seems above average and surprisingly high for a device of its size. You could power some rather hungry cans with this dongle DAC. The power for size ratio is above average on the DC05.
I actually feel this DACs power output rating is underrated because I was able to push the HIFIMAN Sundara very well and basically every can I threw at it. I would not use the DC05 to power the hardest-to-drive headphones out there but most will work fine with ample volume.
Pairings
To reinforce the above, one of my favorite sounding pairings was this DC05 dongle with a pair of Grado SR80x. Since this pair of headphones is rated at 38 ohms it makes a good and almost ideal pairing. Now if only I could swap out the stock Grado cable for something a bit more portable friendly I could take this combo outside more often.
It does pair best with IEMs just like most dongle DACs and I must reiterate it was hard for me to provoke IEMs to produce any hiss. The best remedy for this however is to use the iBasso UAC app which has a maximum volume feature and could act as gain control.
I did not go deep into an iBasso UAC app description because it's basically a volume control app and not much else except for the firmware update feature but honestly, I rather use the PC for that purpose.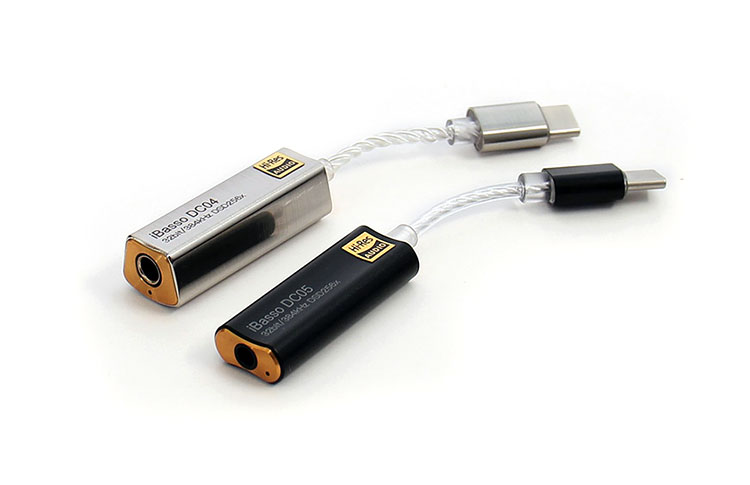 Select Comparisons
iBasso DC04
$89.00
Technical
Technically, both these dongle DACs are similar in design and use a dual-chip design but correct me if I am wrong but I did not see any mention of a dual mono design when it comes to the DC05 and I think it's the source of the amplification differences and extra power output of the DC04.
While the DC05 has a 3.5mm single-ended output, the DC04 contrasts that with a single 4.4mm Pentaconn connection with more available driving power but that's where the caveat is on the DC04. I mean it's not really a caveat but I say that based on the assumption that the 3.5mm is more common.
Design
Both dongle DACs use the same materials in shell construct and offer the same basic color schemes but the DC04 is a fatter dongle and looks to be twice the size of the DC05.
Both use the same strain reliefs and USB connector along with the same LED which changes color depending on the input bit rate. The only change is with the wire in that the DC05 has an extra transparent insulation layer which makes it somewhat less damage-prone.
Both these dongles use different DAC chips. The DC04 uses dual Cirrus Logic CS43131 and the DC05 uses dual ESS ES9219C DAC chips. Each one has a different sound signature but both dongles are capable of the same 32-bit 384kHz PCM and native DSD256 but only the DC05 can do MQA 16X.
Performance
Sonically of course the extra power output that's available on the DC04 is somewhat noticeable but sound signatures contrast. The DC04 seems brighter and somewhat taller or just larger in soundstage presentation.
Contrary, the DC05 is warmer with a smaller and more personal stage presentation. Bass response seems to be a few decibels recessed on the DC04, whilst the midrange is almost the same but the high frequencies are softer and somewhat produced with less harshness but with more shimmer on the DC05.
While listening with HIFIMAN's Sundara and using FLAC files both these DACs are well powered but there seems to be more clarity and there also seems to be a better-defined micro 3D stage on the DC05.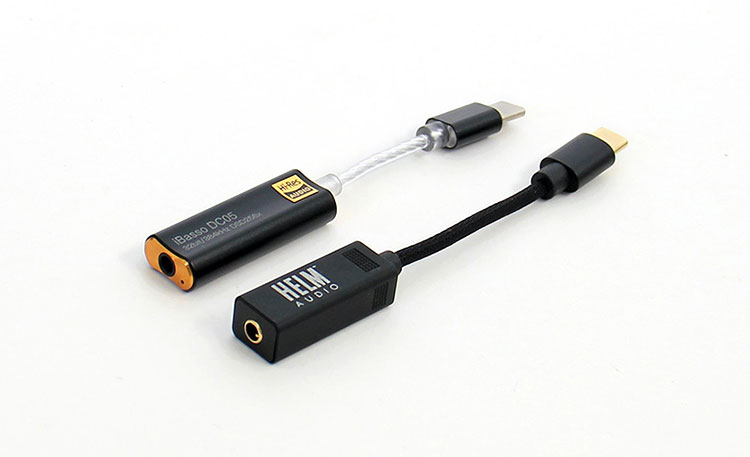 HELM Audio BOLT DAC
$99.00
Technical
One of the only dongle DACs to offer THX certification around is the HELM Audio BOLT DAC and is one of my favorite far as tonality is concerned and overall build quality although I do prefer the dongle type which has a removable USB wire more so.
If you want MQA rendering both these models can handle MQA but the DC05 does 16X. Every model in this lineup does PCM plus DSD but again, the bolt does DSD128 while the DC05 can do DSD256. The BOLT being the higher priced model should offer more to be competitive and get noticed but it really doesn't except for the THX certification.
Design
The BOLT is the smallest and lightest of the group and is another reason why I like it especially if you plan on lugging it around. The main body is made of plastic while the other two dongle DACs and most others use an all-metal shell design which might help with heat dissipation.
Speaking of heat the BOLT seems to run the coolest but perhaps it's because the heat cannot penetrate through the plastic shell as much. The DC05 runs rather warm and sometimes it could get rather hot which is good for warming up your pocket on a cold day but not so for the internal components.
Performance
The only issue I found with the BOLT was a slight reduction in power output and drivability, a slight reduction in bass response over the DC05 was also noted but the rest I cannot complain about.
It seems the BOLT produces a larger 3D space which seems larger, wider, and perhaps even taller but that's about it.
There is definitely a lack of deep bass on the BOLT compared to the DC05 when you directly compare the two. The DC05 does win on bass extension and presence and who knows, you might like the warmer, smaller, and more personal spaced soundstage of the DC05 over the more analytical audio characteristics of the BOLT.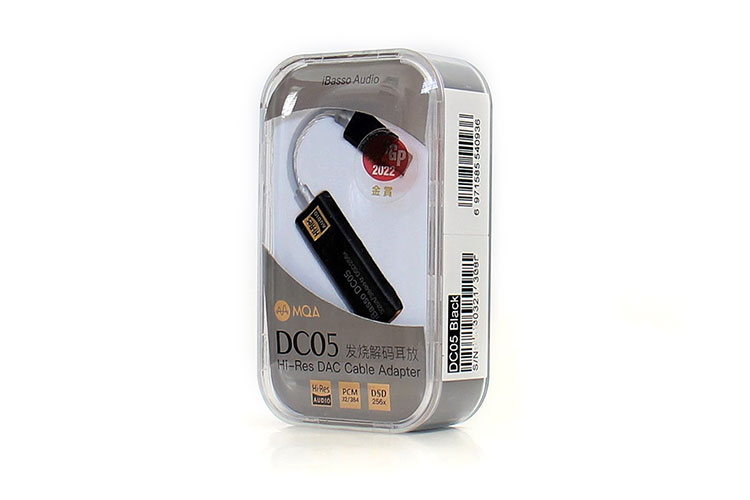 Our Verdict
To be honest, here I think iBasso outdid their own previous models when they made the DC05 and just made a dongle DAC that will become their top seller in no time at all but that's just my opinion and prediction.
The price-per-performance ratio is very high on the DC05 and the only negative aspect is the unit's running temperature. But with that said I must also clarify that power usage is modest and better than most in battery power efficiency while doing its job.
Of all my single-output, single-ended 3.5mm dongle DACs the iBasso DC05 is now one of my favorite models. It has a clean high power output capability, an intimate sound stage, and good frequency bilateral extension with the minimum amount of hiss and veil.
The iBasso DC05 also remains very easy-going and forgiving on battery life which makes this an ideal dongle DAC for buyers who want the best possible sound with the added bonus of low battery drain and all within a small 105mm package and a mere 9g total weight.
iBasso DC05 Technical Specifications
Dual ES9219C DAC chips
Self-developed Quad DAC+ Technology
Time Domain Jitter Eliminator
Hyper Stream III architecture
MQA 16X Decoding
Supports 32-Bit/384kHz PCM decoding
Supports native DSD256 decoding
THD+N: <0.00056%
Output voltage: 2V RMS (300Ω load), 1.73Vrms (32Ω load)
Output power: 140mW@16Ω, 93mW@32Ω
Frequency Response: 20 Hz-40 kHz
Dynamic range: 121dB
SNR: 121dB
Output Impedance: <0.5Ω
Weight: 9grams
Length: 105mm
Interface: Type-C