Shanling UA2 is a portable amp/DAC dongle with balanced 2.5mm output and up to PCM 32/768 and DSD512 decoding. It is priced at $85.
Disclaimer: The Shanling UA2 sent to us is a sample in exchange for our honest opinion in this review. We thank the team at Shanling for giving us this opportunity.
To read more about Shanling products we have reviewed on Headfonics click here.
Note, this review follows our new scoring guidelines for 2021 which you can read up on here.
Shanling UA2
There might be other dongles that might edge out the Shanling UA2 in one or two particular areas but the ability to go single-ended or balanced with a clean soft mannered warm tonality and with the most features title goes to the UA2.
Since Shanling opened their doors in 1988 they have introduced lots of cool gear which are mostly aimed at the audiophile that has a need to go portable and in my opinion are doing a good job at it.
If you look at their product lineup they have an intense amount of DAPs such as the latest M6 Pro 21 with everything else listed in somewhat fewer quantities. An example is their micro dongle DAC section which has only two models listed over on their website. Their excellent price to performance ratio makes them a pretty good value buy.
Of the two models, the first is the Shanling UA1 which has now morphed into the UA1 Pro with an upgraded Sabre chipset. The second is the UA2 which is priced fairly competitively at $85 and featuring a Sabre chipset with decoding capability, balanced output, and switchable source connecting cables.

Tech Highlights
The Shanling UA2 has two separate headphone outputs. One is a balanced 2.5mm output which sits beside another more common 3.5mm TRS out. The dual output connectivity is what mostly differentiates the UA2 from the UA1 besides the extra power output capacity.
The UA2 has a few improvements over the UA1 and it's not only in the DAC section but it's also in the implemented separate amplifier chip giving this dongle DAC a balanced output capability and with much higher output levels power-wise compared to the previous iteration even over the single-ended side.
Internal Hardware
DAC
To start the UA2 equips itself with an ESS Sabre ES9038Q2M chipset. This DAC is a two-channel variant of the 8 channel PRO line ESS chip. This one still employs the same 32-bit HyperStream 2 DAC tech and is labeled audiophile worthy by ESS. The specs are pretty good and these chips do tend to have a warm, pleasing tonality in my opinion.
To complement the ESS DAC chip there's an additional Ricore RT6863 OP amp which takes over the load off the Sabre chip by handling amplification needs.
A little research led me to the fact that the RT6863 was specifically made to be used in combination with the ESS Sabre chip line and in particular with the one used in the UA2. This chip sort of fills in the blank and allows this device to push the amount of power it's capable of plus good synergy between the two chips is assured.
Codecs
The Shanling UA2 has a basic set of codec capabilities and the sample rates and bit depth numbers could go rather high which is a good thing.
The UA2 is strictly a PCM and DSD device so now MQA but sample at some impressively high rates. PCM goes up to 32BIT/768kHz while the DSD decode goes up to DSD512. To me, that's fine since I rarely ever use MQA or DXD.
Performance Numbers
The Shanling UA2 has an insane amount of power for its size and is rated at 195mW at 32 ohms on the balanced side. The single-ended side has 125mW at the same load.
The frequency response is an ample 20 to 50kHz. THD-N is rated at 0.0008% but was only measured at 0.5V which is a small amount compared to what the UA2 is really capable of. It seems capable of at least 2 volts.
Dynamic range and signal-to-noise ratio numbers are also excellent for such a device. SNR is at 116dB at 32Ω and rises up to 121 on the 2.5mm balanced side. Dynamic range is listed as 120 and 122dB.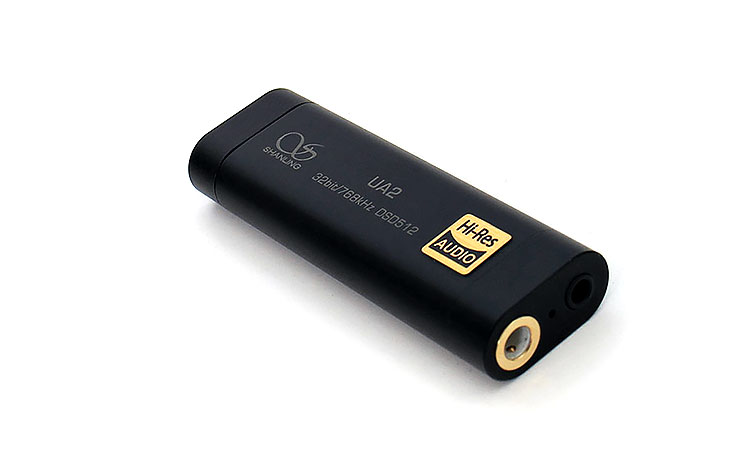 Design
The UA2 body has a modern design compared to other dongle-DACs. It measures 54 x 18 x 9mm, weighs 12.6g, and employs a rounded edge rectangular shape with end caps which is where all the connections reside.
Again, my personal favorite dongle design is this type which has no attached cables that use universal type connectors like this one. If an attached cable becomes intermittent then the unit is basically done for but not if you could just change the cable.
The dongle body is finished off in a black matte black finish, gold letters with a mini Hi-Res sticker. If you read the specs I think like myself you will realize the sticker is well earned.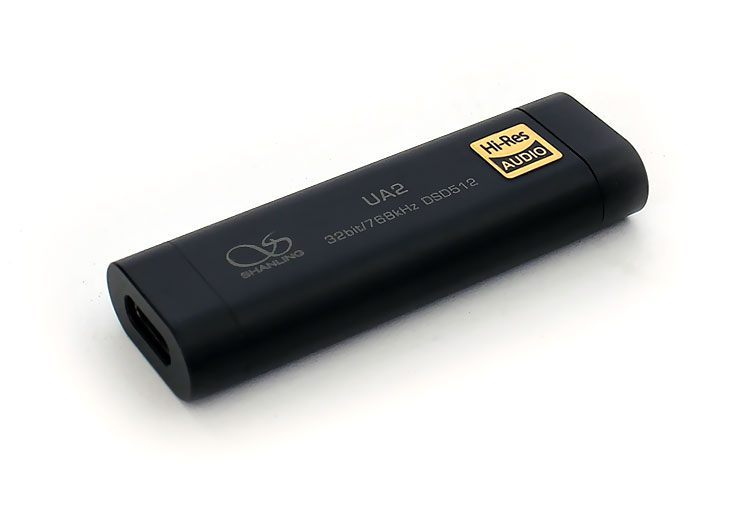 I/O
On one end of the Shanling UA2, there's a female USB-C type plug which seems to be the universal connect far as dongle DAC devices are concerned. It seems to work over USB 2.0 which again is fine long as there are no latency issues.
The other end has the two headphone output jacks which are the balanced 2.5mm in black trim and the 3.5mm jack with gold trim. Nestled between the two jacks sits a small LED which is a multicolored type that indicates what format the UA2 is receiving.
Software Controls
Eddict Player
It seems there is an app and it's called Eddict Player for Android. Yes, it is basically a music player but it has a couple of features of interest that work in conjunction with the UA2.
There's a gain switch plus a volume control along with maximum volume control so you could set the volume limit. There is a 10-band equalizer along with some digital phase filter presets. The player itself is not too shabby either. I might just keep it installed on my phone.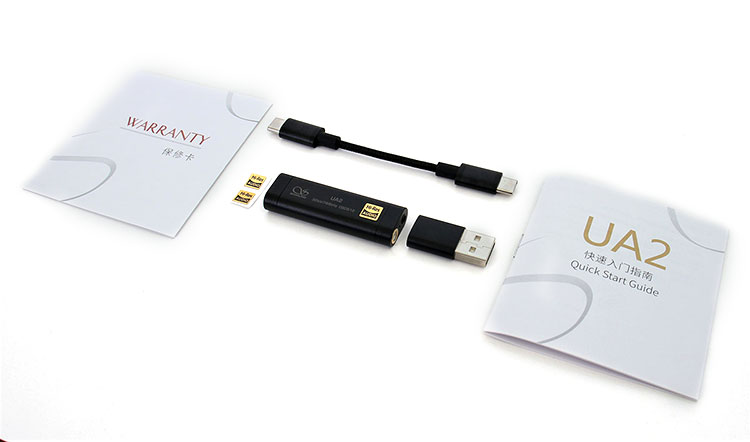 Packaging & Accessories
Dongle DACs are simple devices and therefore the included accessories lists are usually never extensively large but rather basic. This section is short because there's not much to write about.
You get a USB-C to USB-C cable which is made with a braided sheath cable in black, some small black rubber strain reliefs, and dark grey metallic plugs. There's also a USB-C to USB A adapter for use on a PC or laptop.
Inside the box, I also found two replacement Hi-Res stickers so now I can turn any of my appliances into Hi-Res appliances, even my refrigerator, and my toaster oven.
Wired Connectivity
USB-DAC
Most dongle DACs can be used as a USB 2.0V line drive standalone DAC. I do recommend dongle DACs for this type of use but only the single-ended output-equipped dongle DACs in combination with a common RCA input. The Shanling UA2 works for that on the single-ended 3.5mm side.
If you want to use the balanced output for that purpose then just convert the output to whatever type plug is at the input side but make sure it's a balanced connector with separate positive and negative contacts for each channel. However, I am unsure of output impedance and voltages so I would stick to the single-ended side for that type of use.
USB-OTG
Versatility is a virtue and the UA2 not only doubles up as a USB DAC but it works on any Android OTG compatible phone with no issues. I could not verify this device on an iPhone and it does not come with lightning connectivity although my gut tells me it will work fine and Shanling confirms it.
In all the scenarios I used the UA2 in it worked as a plug and play device and no drivers were needed on a Windows 10 PC and no special setup was required on Android either.
Sound Impressions
Summary
I assumed a mono tonality from all these dongle DACs at first and thought they were all going to sound the same until lately. There are some that are balanced sounding, clarity enhanced or power output centric and those are the basic 3 characters I found. The UA2 has all three.
The Shanling UA2 seems well-balanced and well-mannered. It seems to emit smoothness but with enough power to drive most cans acceptably, minus the top power-hungry models. Noise levels are kept to a minimum and it uses a standby mode and shuts down output until the UA2 detects a signal.
Bass extension and presence are very good and I was able to take this dongle down below the 20 Hz spec and heard it go down to about 14 Hz. The midrange is smoothly presented and the high-frequency response is very smooth and well extended. High frequencies sound very nice on this dongle DAC and it can reach 50 kHz according to specs.
But in general, the main sonic characteristic of this dongle DAC is a well-behaved and even frequency response, a slightly warm tone with a good amount of dynamic range that stays away from producing aggressive peaks with an absence of noise or hiss. Expect clarity with smoothness.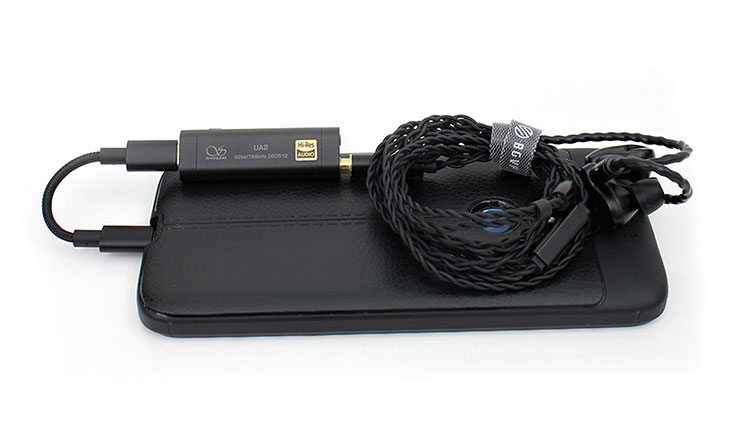 Synergy
Efficiency
The Shanling UA2 can push almost any headphone out there to an acceptable level especially if you use the balanced output. The single-ended side is not too shabby either. With efficient IEMs the bottom level of the volume was enough to reach loud volume levels. So, with efficient IEMs I recommend discretion with the volume control.
Start at a low volume and adjust from there. This little puppy has a loud bark. You could always use the Eddict app to set that at safe levels which I highly recommend you do.
Power
Remember these dongle DACs do not have internal batteries so they depend on the power of the input source, particularly the USB port. So, expect battery drain and be forewarned this little guy can suck up some serious power especially using the balanced output and hard-to-drive headphones.
The UA2 does get warm to the touch regardless of the output used or if in standby mode as if the amplifier section is a class A type but of course it's not. Opamps do get warm at times so I would say temperatures are a normal warm.
Pairings
My daily driver, the Hifiman Sundara displayed excellent sound quality especially up in the high frequencies using the UA2. I cannot remember a dongle DAC that made them sound this good. It even pushed my Arya to acceptable levels of volume.
Besides getting this dongle DAC to work on PC, Android and IOS, you could also get the UA2 to work with a Nintendo Switch. The body has a push button on one side which is labeled Mode. You just have to connect the dongle to the Switch and switch modes by pressing that button.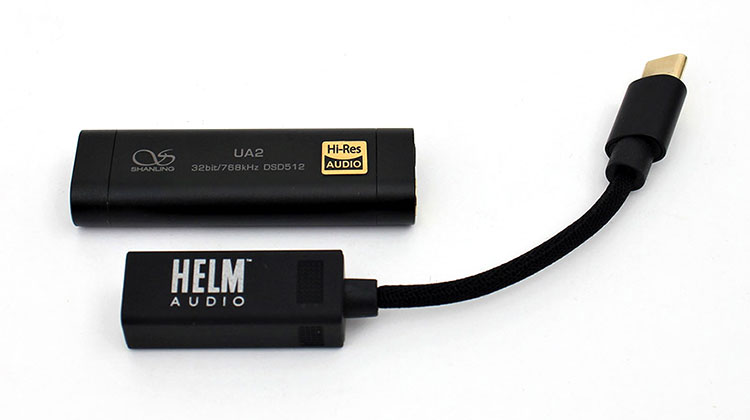 Select Comparisons
Helm Audio Bolt
$99.00
Technical
The THX-certified Bolt DAC dongle and has a crisp clean sound signature. I actually feel it's one of the cleanest sounding dongle DACs I have in my collection.
Since Helm Audio listed the Bolt DAC power specs in voltage direct number comparisons cannot be done. But the Bolt DAC seems to have about 60mW which is half of the 125mW output of the UA2.
Design
The body style is similarly constructed to the UA2 but with an attached cable. However, the paracord wrap and thickness of the cable seem robust enough to take some abuse. The cable assembly seems better quality compared to some other dongle DACs I have seen before.
Again, this dongle DAC also has one single-ended 3.5mm output similar to the UA1 and does not offer a balanced output like the UA2. Size, weight, and compactness have been kept down and the Bolt is smaller compared to the UA2 which has a lengthier body.
Performance
Power is not everything and here is a good example. With efficient IEMs you do not need 10 watts per channel. Both these units have ample power to volume up practically any IEM out there.
The Bolt DAC to me sounds cleaner. Matter of fact, if I was to buy one single dongle to use as a standalone USB DAC particularly it would probably be the Bolt. It has sufficient power but does lack features. You miss out on the balanced connection, an app, and the removable wire design I like and those are the only negative points.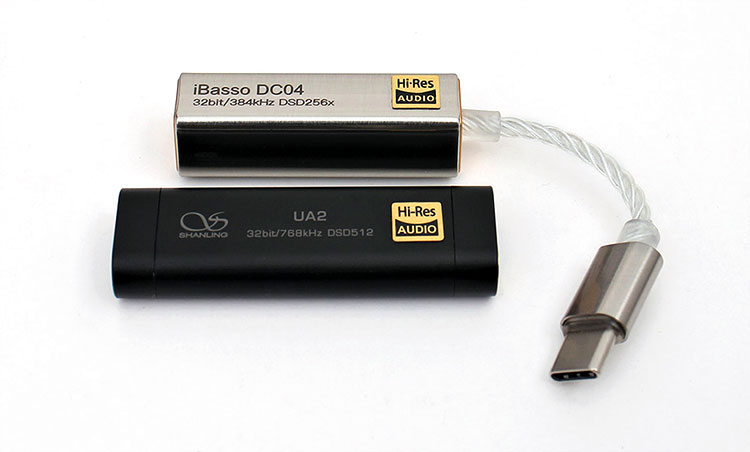 ibasso DC04
$74.99
Technical
Do you need to go balance and portable and want to go the dongle DAC route? The ibasso DC04 is a good choice. I honestly prefer the Pentaconn 4.4mm plug over the 2.5mm balanced because of the robustness and solidity of the larger plug.
The ibasso DC04 uses dual Cirrus logic CS43131 chips and employs a dual mono design which is a natural choice and perfect for a balanced dual-mono circuit design.
The drawback here is that with this device you have to use balanced connectivity exclusively. So, you cannot use any IEM or headphones you have except for those equipped with a 4.4mm Pentaconn plug.
Design
The DC04 has more of what's called flash due to the shiny odd-shaped rounded edge rectangular design, gold plating, and a braided attached USB-C wire. The DC04 comes in two color schemes, one is silver and the other is black themed.
The weight on the DC04 is 12 grams and the UA2 is at 12.6 grams so they are so similar in weight that inside your pocket you will not be able to distinguish the two from each other.
But regardless I still like the UA2 chassis design more because it's thinner with removable cables and particularly the silver version of the DC04 which is the one I have is somewhat of a fingerprint magnet.
Performance
Somehow to my ears the DC04 seems to edge out the UA2 in power output, perhaps it has more voltage but it's so minuscule that it might just be the effect of resistance due to one plug being larger and having larger contact areas.
The particular area I think there is an improvement in sonically with the UA2 tonality is in the clarity and extension of high frequencies since on paper the UA2 can reach 50k and the D04 maxes out at 40k. It seems like this specification is the source of the top-end clarity.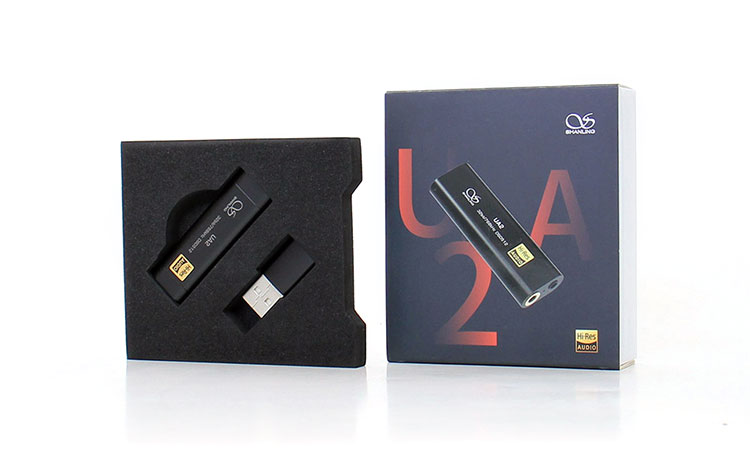 Our Verdict
The Shanling UA2 has one thing going for it and that is versatility. The above comparison demonstrates that clearly and the UA2 seems to tick lots of boxes.
There might be other dongles that might edge out the UA2 in one or two particular areas but the ability to go single-ended or balanced with a clean soft mannered warm tonality and with the most features title goes to the UA2.
The single-ended output of the UA2 outperforms lots of dongle DACs in terms of fidelity and raw power and it gets better when you connect into the UA2 balanced output. The app with a music player is the cherry on top.
The verdict and the bottom line here is that the Shanling UA2 has become one of my favorite simple form dongle DACs I have in my present collection.
Shanling UA2 Specifications
Dimensions: 54 x 18 x 9mm
Weight: 12.6g (Without cable)
Included Accessories: USB-C to USB-C cable, USB A adapter
2.5mm Balanced output
Output power: 195mW@32ohm
Frequency response: 20 – 50 000 Hz
THD+N: 0.0008%
Dynamic range: 120dB
Signal-to-noise ratio: 116dB
Channel separation: 109 dB
Output impedance: 1.6 Ohm
3.5mm Single-ended output
Output power: 125mW@32ohm
Frequency response: 20 – 50 000 Hz
THD+N: 0.0008%
Dynamic range: 122dB
Signal-to-noise ratio: 121dB
Channel separation: 76 dB
Output impedance: 0.8 Ohm