The iBasso DC04 is a dual CS43131 DAC and balanced 4.4mm output capable dongle delivering up to 195mW into 32Ω. It is priced at $74.99.
Disclaimer: The iBasso DC04 was sent to us as a sample in exchange for our honest opinion in this review. We thank iBasso for this opportunity.
To learn more about iBasso products reviewed on Headfonics you can click here.
Note, this review follows our new scoring guidelines for 2021 which you can read up on here.
iBasso DC04
If you do commit and buy the Ibasso DC04 then you will be rewarded with a micro DAC dongle that is well constructed, but best of all, it has the power output enough to push some power-hungry cans and on the go.
One of the newest and most innovative segments in audio today is the micro DAC dongle segment. Everyone loves good tech especially when it comes in small packages and size seems to matter especially when it comes to portability so it's no wonder these little wonders are attracting lots of attention lately.
Most are similarly styled and some have a unique feature or two but most are somewhat underpowered and sound lackluster in particular when you pair them with headphones that require some serious power so micro DAC dongles are mostly being used nowadays mainly with sensitive IEMs due to this fact.
This dilemma got the wheels turning over at Ibasso some time ago; they got to work and came up with something. So did they come up with a solution to the micro DAC low power dilemma? It might just be so with this particular micro DAC dongle from Ibasso.
The fourth Ibasso DC micro DAC dongle is the Ibasso DC04 which has some improvements over its predecessors and they're pretty major. We got one and it's up for review.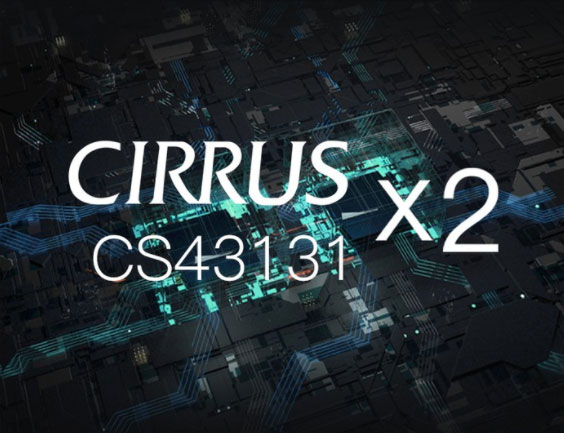 Tech Highlights
Dual CS43131 DAC
One of the major differences within the Ibasso DC line of micro DAC dongles are the DAC chips themselves. The first Ibasso DC iteration was the DC01 which uses a single AK4493 DAC chip.
For the DC02 Ibasso decided to switch up and went with a single AK4490EQ with Velvet Sound technology. Then Ibasso did a 180 with the DC03 and used an Android chip, the UAC 2.0 from Cmedia.
The CS43131 dual DAC chips inside the Ibasso DC04 are made by Cirrus Logic and are labeled as next-generation MasterHIFI Audio DA converters with a built-in headphone amplifier and it does have some fairly decent specs on paper. The CS43131 is a follow-up from the Cirrus Logic CS43130 chip.
The dual DAC implementation is a neat idea and works well in my opinion in the DC04 and I find it quite impressive that Ibasso managed to put two DACs and two separate circuits, a 4.4mm headphone output jack with headphone amplification inside a device that weighs 12 grams.
Dual Mono Design
Dual-mono audio is an audio design usually reserved for high-end audio gear but Ibasso seemed to bypass that rule by deciding to incorporate it inside a small enough space to give us the DC04 Micro DAC and at a very affordable price.
One of the other improvements of the Ibasso DC04 micro DAC besides a dual DAC system is that the DC04 has a higher power output rated at 195mW compared to the DC03 which has only 80mW at the same 32Ωload.
The Ibasso DC04 is capable of a 4-volt output on each channel at 300 ohms with a low background noise of less than 0.9uV or 900 nano volts and an output impedance of 0.12 ohms.
From what I could recall, the DC04 has some of the best specifications listed for a micro DAC. Another impressive specification listed is the total harmonic distortion that is rated as 0.00032% at 300 ohms going up to 0.00039% at 32 ohms.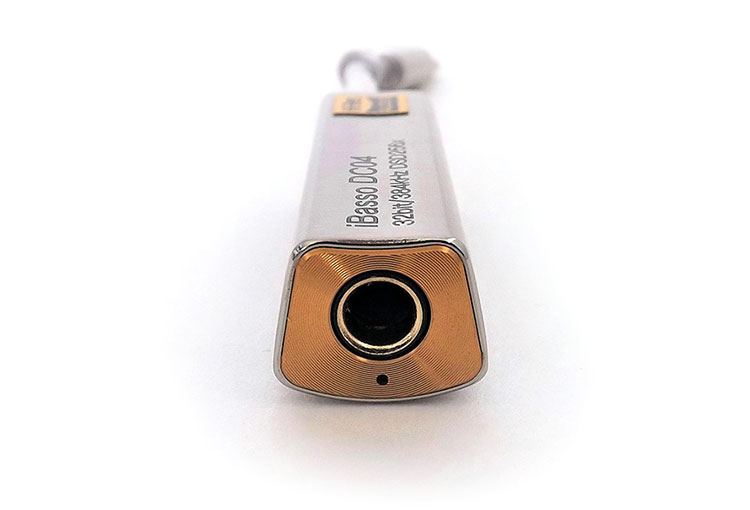 Balanced Output
Ibasso designed the DC04 with the dual-mono circuitry for a few reasons and one is so they could make a micro-DAC with the original Japanese-made Pentaconn 4.4mm TRRRS plugs with a balanced output along with the other improvements over its predecessors.
I have several micro DACs and this one is the only one I have that has a single 4.4mm balanced connector for headphone output and this could be the only caveat for lots of IEM owners and the DC04. After all, this limits connectivity and you could only use a Pentaconn equipped headphone or IEM so know this ahead of time. But balanced is in and it's here to stay.
If you're set on the DC04 but absolutely want to run a 3.5mm version then just get the DC03. The DC03 and the DC04 look almost identical in build and the only difference is but of course then you lose the balanced feature and some output power but the DC03 is capable of 80mw which is more than enough to push sensitive IEMs to fairly high volume levels.
Direct Digital
The Ibasso DC04 is a simple device with a basic raw digital signal decoding capability and it does two. It decodes PCM digital format up to 32 bit/384khz.
The Ibasso DC04 also has DSD native support up to 256 however, there is no MQA support. Most people, like me, will be just fine with these two supported formats, however. The dual DAC chip system surely handles the two formats very well.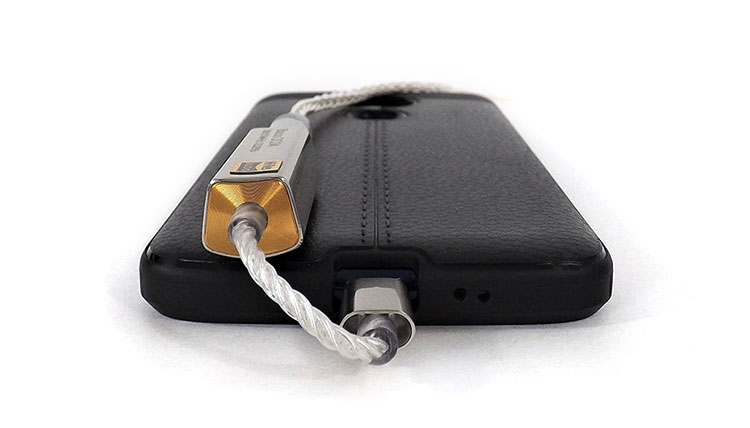 Design
The Ibasso DC04 Unibody design is made of what looks like coated brushed aluminum and both end caps are finished off with gold plating. The dongle is available in black or silver and I think both dongles look quite attractive. There's an LED right below the Pentaconn plug which indicates what format you are decoding.
At the other end, there's a USB-C plug and Ibasso includes an adapter to convert the USB-C plug into a full-size USB. The plug is connected to the main body with a twisted pair of silver-coated wire with small strain reliefs at each end but in actuality are not because they are rather too stiff to be so.
To be honest this is the only part of the construction that I would be careful with because the wire, although braided, seems fragile and looks like one good yank could possibly cause some damage.
Controls
Ibasso posted an app on the Playstore called Ibasso UAC which works with the DC04 and also works on the DC03 and the DC02. This app gives the Ibasso DC04 a 64 step digital volume control.
This amount of volume control precision in this type of device is fairly significant and useful if you use sensitive IEMs in the form of giving you more precise volume control and adjustment.
In comparison, one just has to look at the average volume control on modern phones to find that they only have no more than 20 steps of volume and some devices have even less than 15.
Battery life
The Ibasso DC04 does not have an internal battery and depends on the source for power and uses the 5 volts available at the USB port and this is not an issue while using the DC04 with a PC or a laptop. But what about battery drain for instance when you use the DC04 off the phone USB-C port?
In my case, battery life was cut short to about half the normal duration time before I had to scramble for a charging station. I guess that is the price to pay if you want to double, or I would say quadruple the audio quality and then some of most phones.
The beauty of the device is that it improves any phone and sounds good regardless of the phone being used and gives you basically the same result every time.
I knew upfront that my phone's battery life would take a hit in useable time taking into consideration the amount of power the Ibasso DC04 can muster but it seems to be a very efficient design because it runs cool and rarely gets warm to the touch and to be honest for the amount of power it produces it turns out to be an acceptable tradeoff.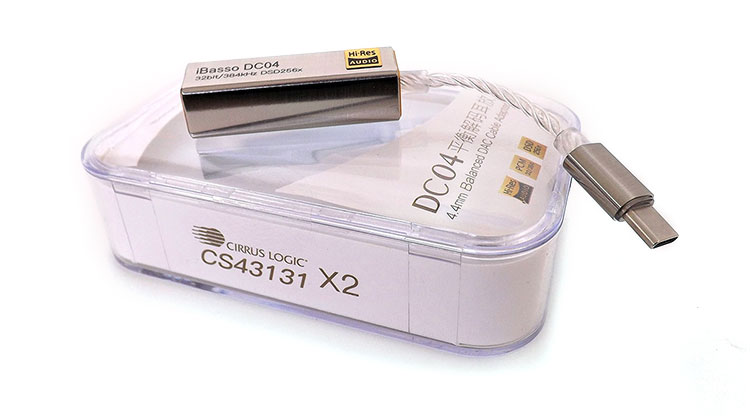 Packaging & Accessories
The Ibasso comes in a see-through case and the contents are fixed inside a white foam block which displays the main unit through the clear case. It is a small package for a small product and it's quite adequate and attractive.
The full-sized USB adapter is also nestled into the foam block. One thing I noted is that the adapter quality is quite nice and better than most with a metal body that somewhat matches the USB-C connector of the DC04. There's not much else inside the case except for a dual language instruction manual with a list of specifications.
Sound Impressions
Far as tonality, testing sub-harmonic frequencies on the DC04, there seems to be a dip in audible signal below 20Hz in line with the listed specifications.
It actually works out well because sub-harmonic frequencies tend to overwhelm micro DACs and even most full-sized headphone amplifiers by wasting power on inaudible sounds. This DAC dongle does have a rather flat bass response above 22Hz.
The bass comes through rather nicely though, with a clean tone and a snappy hard-hitting bottom end for a dongle DAC. The rest of the frequency spectrum seems balanced with no emphasis anywhere. There is a good amount of high-frequency extension and good clarity in the higher frequency region.
The Ibasso DC04 seems like it has a rather flat response from 20Hz to beyond 20kHz to my ears. It was my guess when I first heard it and when I read the specifications my senses were substantiated. I did run a tone sweep and I found no noise in the upper frequencies.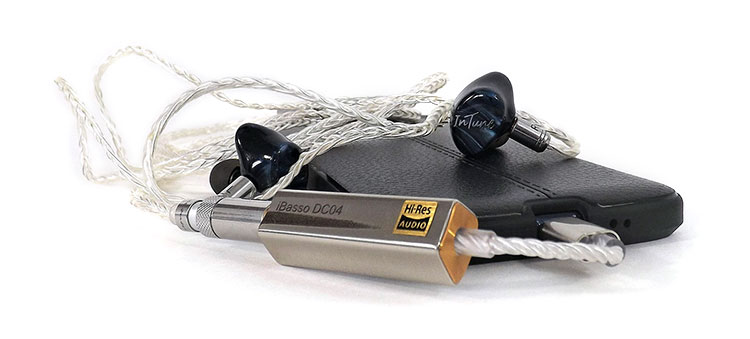 Synergy
Power
I have good news for those with the particular question in mind, which I know is the predominant question with this particular device. Can it power full-size planar magnetic cans and hard-to-drive headphones? The short answer is yes it can and it does it well.
From all the micro DACs I own, the Ibasso DC04 is at the present the only one capable to drive my Hifiman Sundara to ear-splitting levels but not so ear-splitting on the Aryas which require larger amounts of power to shine although they were also driven to fairly respectable volume levels.
On the sensitivity and noisy side of things, using sensitive IEMs did not produce any hiss to my ears and the amplification of the DAC section seems clean as specified by Ibasso.
I adapted a method of testing micro DAC dongles by converting the output to RCA and connected the dongle directly to a line input into a high-power desktop amplifier.
In this case, an iFi ZEN CAN uses a 4.4mm balanced analog input and I only heard some residual noise from the discrete amplification section and with high gain settings and none from the DC04.
Integration
When I heard the Ibasso DC04 has 2 DAC chips in a dual mono configuration, my first thought and worry was timing issues but soon I was satisfied that the Ibasso DC04 had that under control. The timing was not an issue and both channels seem to play well with each other.
I used the Ibasso DC04 mostly on my PC using the full-sized USB adapter connected to a USB 3.0 and a 2.0 connection with no issues with buffering or noise. I also used the device with my Android phone with Android 10 which also worked perfectly with no dependencies or the need for a particular app. All my music players worked well with this micro DAC dongle.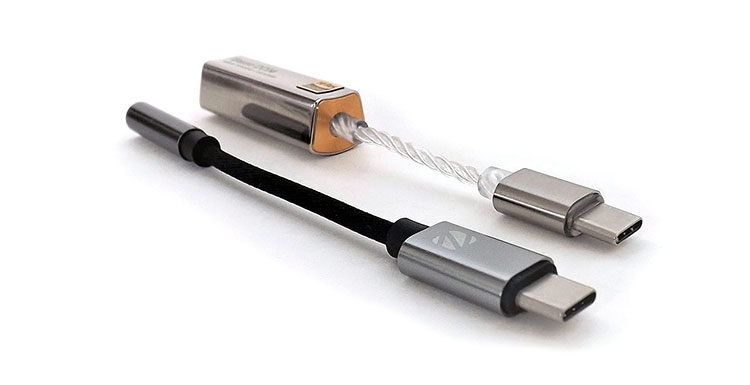 Selective Comparisons
Zorloo Ztella
$99 ($79 for non-MQA)
Technical
The Zorloo Ztella was my first micro DAC and it's still one of my favorites until someone comes along and takes its place. I like it, particularly because it's the smallest of the bunch and takes up as much space as a wire would.
Another aspect of the Zorloo Ztella is the fact that the rated 2-volt output is perfect to drive line-driven analog amplifiers so it can act as a standalone USB DAC besides being a portable device.
The Zorloo Ztella is the more compatible micro DAC and it should be of no surprise to anyone because it uses the conventional 3.5mm single-ended connector. On top of that, the Zorloo Ztella comes in two versions and one is capable of MQA direct decoding which the DC04 cannot do.
Performance
The differences here are mostly in power output because both have been used to drive line-in equipped amplifiers and both are practically hiss-free. To my ears, the Ztella sound a smudge brighter.
Where my thought goes to that particular fact is that the Ztella has a limiter that cuts output power in half when it sees a load of fewer than 300 ohms and only produces full output at 300 ohms or higher. The amount of power is fine for sensitive IEMs but compared to the output power of the DC04 it does lack raw power.
The Zorloo Ztella does fine with sensitive IEMs and some very efficient full-sized headphones but cannot drive planar magnetic cans as well as the more powerful Ibasso DC04.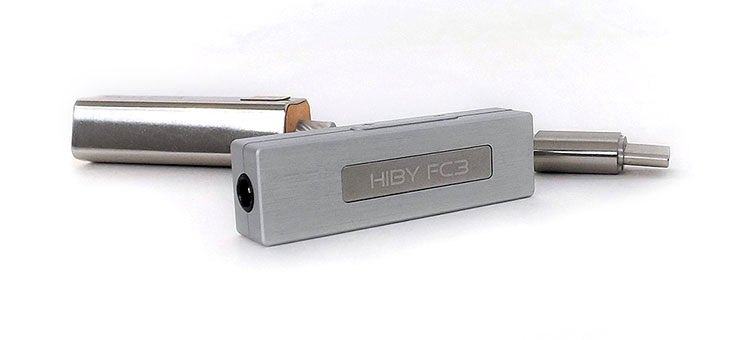 Hiby FC3
$69
Technical
The Hiby FC3 is another micro DAC that although has a body style similar in size to the DC04, has a completely different feature set, and has some differences in construction and design. The Hiby FC3 is an all-metal constructed dongle DAC amp that has no wires connected directly to the body making connectivity interchangeable.
This allows the unit a degree of versatility plus the fact that if a wire breaks you can simply replace the wire makes it an appealing device long term. All you have to worry about is the quality of the built-in connectors at this point and they seem pretty good to me.
The Hiby FC3 has a body-mounted volume control but it's not precise like the 64 step version volume on the DC04. This classifies it as just another volume control. I do like the large LED on the Hiby FC3 and although it's rather large, the light is soft and won't light up a dark room like some.
Far as codecs are concerned, the Hiby FC3 can only do DSD up to 128 but gains MQA capability natively. Most people do not use DSD mainly because of the file sizes so you might prefer to gain MQA over a downgraded DSD decoding capability.
Sound
Tonality wise they are very similar but the Ibasso does have an edge in dynamic range and channel separation mainly because it has over twice the power output and perhaps the dual-channel DAC feature gains the benefit of less crosstalk.
The FC3's rated output of 70mW is more in line with handling sensitive IEMs and it is there that its resolving qualities are more optimal. It comes up a bit short in dynamic range once you start using high impedance IEMs or headphones.
One note, I always suggest verifying the volume control before engaging the play button for that first-time use because both these models and most other micro-DACs default to 100% volume the first time you connect them to a source.
The Ibasso DC04 maximum volume can be set through the app so make sure to do all this before blasting your ears. Most other micro DACs do not have this feature so extra points go to Ibasso.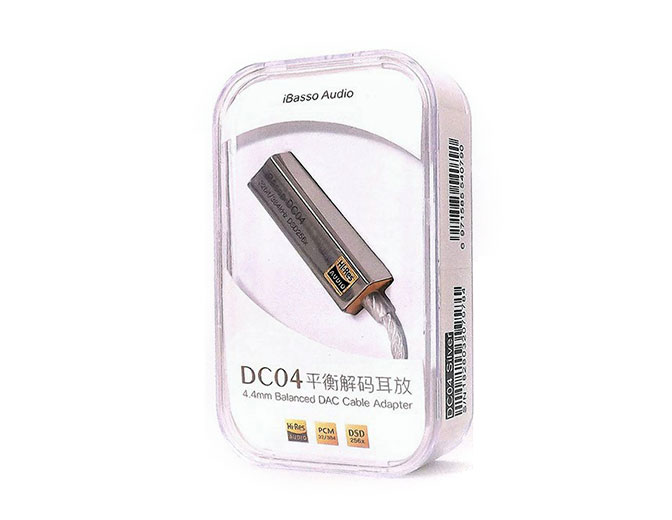 Our Verdict
As we speak this is the most powerful micro DAC dongle I have in my collection and if you need raw power in a tiny device on the go with balanced amplification then this will suit you very well. It also has the most precise volume control of them all.
The only caveat if you want to call it that is the fact that you could only use a balanced 4.4mm equipped IEM or headphone but if you plan to purchase the Ibasso DC04 then I guess you already know that and you are ready to commit.
If you do commit and buy the Ibasso DC04 then you will be rewarded with a micro DAC dongle that is well constructed, but best of all, it has the power output enough to push some power-hungry cans and on the go. The asking price is very reasonable and I doubt you could get a better deal comparing the power to size ratio.
iBasso DC04 Specifications
DAC chip Dual CS43131 Master HiFi DAC chips
Frequency Response 20Hz to 40kHz +/- 0.5db
THD+N -110dba @ 300 ohms / -108db @32 ohms
Distortion 0.00028 @ 300 ohms / 0.00039 @ 32 ohms
Output Power 195mS @ 32 ohms / 4Vrms @300 ohms
Noise 0.9 micro volts
Output Impedance 0.12 ohms
PCM Up to 32 bit/ 384kHz
DSD Native DSD up to 256x
Weight 11 Grams
Length 110mm