The Zorloo Ztella is an MQA capable digital audio dongle that can be used with smartphones or as a USB-DAC on a PC. It is priced at $99 and $79 for a non-MQA version.
Disclaimer: The Zorloo Ztella was sent to us as a sample in exchange for our honest opinion in this review. We thank Zorloo for giving us this opportunity.
To learn more about portable DAC & Amp products on Headfonics you can click here.
Note, this review follows our new scoring guidelines for 2020 which you can read up on here.
I am completely satisfied with Zorloo and their claims of what the Ztella can do. Not only is it ultra unobtrusive but as you can see I even found a new use for it as a standalone line-level driving DAC.
Zorloo is a fairly new company started by JW Cha and Andy Ho with a claimed combined 50 years of consumer electronics background. Their main goal is to provide affordably priced high quality portable audio devices. Zorloo was founded in 2014.
Zorloo makes mini USB DAC headphone amplifiers, earbuds with built-in DAC amplifiers, and now their latest product, the Ztella. When I first found out about the Zorloo Ztella and that it was coming our way I got a bit excited because of its size and what it promised to do.
The Zorloo Ztella is Very small in size. The Ztella is a USB DAC and a headphone amplifier combo with many features and according to Zorloo the Ztella is the smallest of its kind. I believe it to be so.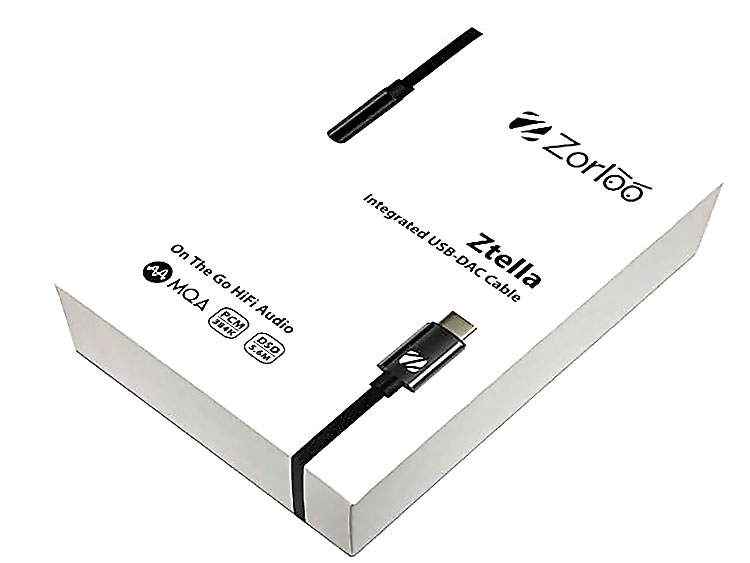 Retail vs Mail Order
When I got the Zorloo Ztella I received it inside a small white zip lock bag and asked myself where is the fancy box? Well, the story is that if you order the Ztella online you will also get it inside the same white bag.
The retail package is only available in retail environments according to Zorloo. I was supplied with pictures directly from Zorloo so we could show you the retail package. That way if you see it in stores you will recognize it as authentic. I am fine with that and have never been a box critic.
Product Introduction
The Zorloo Ztella is according to Zorloo the smallest DAC Amplifier combo around with high-quality sound and with its list of digital decoding capabilities. It is a very simple device.
The Zorloo Ztella is, in a nutshell, is a wire with a USB-C connector on one end and a 3.5mm headphone jack on the other end both in metal. It measures 11 centimeters long and weighs a mere 5 grams. I have seen larger gender-changing dongles than the Ztella.
You simply plug the Dongle wire type USB-C end to an OTG compatible Android phone, an iPhone lightning port with their optional adapter, or a USB port on any Apple, PC, or Laptop with the included full-size USB adapter.
Then you connect the headphones to the other end of the Ztella and you are done that quickly with no setup time whatsoever. Just the time it takes you to plug it in.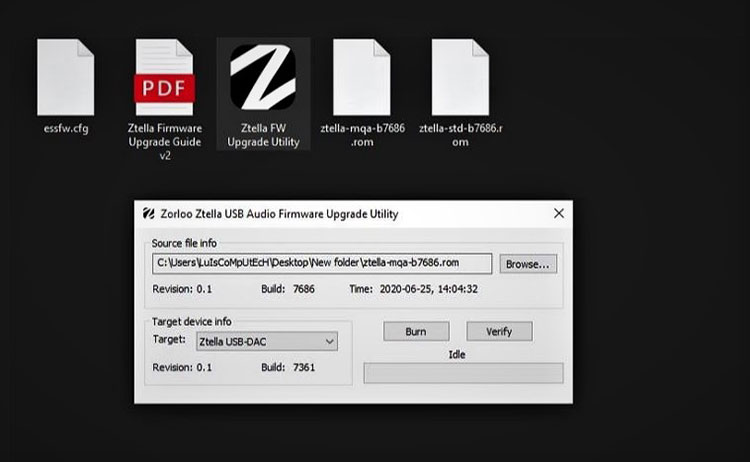 Tech Inside
The Zorloo Ztella has a built-in ESS Sabre DAC inside the small metal casing behind the USB-C connector. From what I gathered the chip employed on the MQA version is the ES9281PRO which is made by ESStech and is from one of their newest lines of USB-C single-chip audio solutions for headsets, adapters, and more.
The ESS9281PRO is a flagship DAC chip according to ESS literature and includes a line out or headphone amplifier. ESS also claims this chip to be the smallest chip capable of MQA decoding. The non-MQA version uses the ES9280PRO chip also made by ESStech. It has the same specifications and the only difference is that it cannot do MQA.
Codecs
The Zorloo Ztella is capable of decoding PCM at up to 32 bit 384khz. It also does DSD at up to 5.6Mhz. There are two models available and the top model gives the Ztella MQA decoding capability for an extra 20 bucks. We got the MQA version.
There is no software available. You don't need a driver on windows 10 either but there is one available for download for older operating systems on their website.
They do offer firmware upgrades on their website. The original version is labeled build 7361 and at the time of writing, there is a new firmware available labeled build 7686. I am unsure of what has changed since there was no included changelog or any information on their website. It only labels the new firmware as fixing the S20 low volume.
Specifications
The Zorloo Ztella Lists power output ratings as autodetect 1 volt for headphones under 150 ohms and 2 volts for headphones with an impedance higher than 150 ohms. If my ears are correct, to me it sounds like a 40 or 50mw amplifier which is over twice the power of the average phone.
I wished there was some way of keeping the Ztella on high impedance / high output for when you need extra power for example on Planar headphones that although have a low impedance they are still hard to drive versus their dynamic driver counterpart.
Perhaps Zorloo can do this later on with a firmware update. Perhaps a high output after 30 ohms. Low power would only be used on 16 ohms models.
The amplifier section has a listed output impedance of 2 ohms or less. I think it is safe to also say that the Zorloo Ztella has impedance match circuitry.
There are no distortion levels listed for the amplification section. For the ESS DAC section, however, the distortion is listed as THD-N at 0.0006%. This is very low for any piece of current audio equipment.
The DAC section also lists a signal to noise ratio of 120 decibels however according to ESStech this chip is capable of better and rates it at 124 decibels so it sounds like Zorloo is being on the modest side with their specifications.
Microphone input
I ask the readers to help me gather a list of DACs that can also manage a microphone for gaming sessions and media chatrooms. I ask because I do not think there are many especially portable which is funny to me. Off the top of my head, I can think of the Mayflower but it is a desktop amplifier and not for portable use.
The Zorloo Ztella has microphone capabilities. So if you want to use your phone with the Ztella and use IEMs or any headphone that has a mic and uses a 3.5mm 4 pole plug then go right ahead. Even the volume control will work.
It even works on a PC. I tried it using a headphone with a mic on Skype and Discord and it worked just fine. With a phone, the Zorloo Ztella acts as if you were plugged directly to the 3.5mm.
Compatibility
I have read in many places over the internet of people assuming the Zorloo Ztella has to use certain applications to work. One of the programs mentioned is USB audio Player or UAP which I have but it is not necessary to make the Ztella sing.
I am happy to inform everyone that this is incorrect. I just plugged it in and it worked. I have been trying to trip up the Ztella to fail purposely and is part of a reviewer's job. So far it has worked with every program I used. Some of them are Pro Player, Google Play, VLC, etc all installed on Android. The list is long.
On the PC side, the online step by step instructions from their download page shows how to get most applications running on the Ztella if you do run into trouble.
Mostly every application I ran worked fine with the Ztella and I did not have to do anything on my behalf. I had a problem with Foobar but it was quickly resolved and Zorloo offered to help. That shows good customer service and a willingness to solve issues quickly which is always a huge plus.
One other thing I should mention is that although the Ztella is a portable DAC amp It does not have an internal battery and it runs off the battery of your cell phone. Running the Zorloo Ztella uses your cell battery a small amount.
Plus another mention is that the Ztella gets slightly warm while being used but never got hot even with hours of use.
Hidden Feature
No one, not even Zorloo mentions this, and I will probably be the first. The Zorloo Ztella makes an excellent DAC from PC to a home audio system. The Zorloo Ztella has an output of 1 volt or 2 volts which is an ideal voltage for a home stereo RCA line input.
I took the Ztella, used a wire with a 3.5mm 3 pole plug on one end and two RCA plugs on the other and I had an easy to install DAC from the PC going to my Yamaha receiver.
The receiver is a 7.1 and of course, the Ztella only gave me a stereo RCA output but for music that is ideal and the Ztella did a great job at it. So the Ztella can act as a standalone USB DAC in other words and can be connected to a more powerful headphone amplifier as well.
Sound Impressions
I am not going to get too verbal about the bass and all the other frequency ranges here or about how airy the sound is. I am gonna give it to you straight and to the point.
One thing is for certain here, the Zorloo Ztella has a very clean output in line with its signal to noise and distortion specifications. This was apparent to me especially when I used it with my Yamaha receiver.
It might be low in power for hard to drive headphones but does not lack in clarity. You could tell the output is cleaner compared to any Android phone I have used. I prefer the Ztella sound over my iPod touch 5th generation as well which has a Wolfson DAC.
It has a full range output and all frequencies are present and nothing is rolled off or exaggerated. The frequency range extends fully both ways. It produces plenty of detail and its output is practically uncolored. Perhaps just a touch of brightness over a flat signature. There is also plenty of dynamics and speed.
Synergy
The Zorloo Ztella can push mostly every full-sized headphone I connected to the 3.5mm plug. I used perhaps 7 different pairs of earbuds and IEMs and they were all driven from acceptable to at most times very loud levels.
The Ztella drove my Sundaras and the HE4xx but the volume left me desiring a few more decibels especially on the 4xx. I do not remember kicking in the high impedance output stage because both are under 50 ohms.
So basically I think a combo like the Ztella and for instance, some Fostex t50s will not be a good combination. It did push my Kbear Tri I3s IEMs that have a planar driver to very loud levels but full-size Planars might require more power than the Zorloo can muster.
Everything else on the market today I think is game including some hard to drive full-sized dynamic headphone models. My SHP9500's were also very loud on the Ztella.
Selective Comparison
Hidizs S3
There are not many units available that are similar to the Zorloo Ztella except for the Hidizs S3. I found it online for 49 dollars and has great reviews. Its a bargain at that price and is good for basic FLAC files being played on the phone and even on a PC just like the Ztella.
The size of the S3 is a perhaps couple of millimeters larger but again at this scale, this does not matter much. We are talking about micro DACs. The Hidizs weighs 8 grams and I do not think weight is of concern here either at this point. The difference here is a mere 3 grams.
Where the Ztella is best is at DSD and MQA which is not available on the S3. The specifications are slightly better on the Ztella also giving us 120 decibels SN versus 115 on the S3 plus lower distortion levels.
Versatility
Perhaps the only complaint I have about the Ztella is that if you look at the Hidizs S3 has firmware available that changes functionality. Hidizs have firmware with names like Call priority, Sound Priority, and Pure music and each does something best making the S3 customizable and versatile.
This is similar to my other portable DAC which is the HIP DAC with its GTO filter. I wish the Ztella had something like this. Perhaps a firmware to kick it into high impedance for more power at will would be a welcome feature.
Budget wise I would look at the Hidizs because most people do not use DSD files on a phone simply because of size limitations. It is nice to know you have it though.
So you are left with the question of do you need MQA and want DSD, and if the answer is yes then you know the rest. Plus better specs are something that should not be overlooked and the Ztella has that. Better specifications, sound, and more features always cost more.
Our Verdict
I am completely satisfied with Zorloo and their claims of what the Ztella can do. Not only is it ultra unobtrusive but as you can see I even found a new use for it as a standalone line-level driving DAC.
Most of our readers would be more than happy to spend an extra 200 bucks or more for a phone with improved sound quality. Why not 80 or even 100.
How can I complain about a device that is the size of a wire that improves the sound quality of almost any phone? On top of that it can act as a PC to home theatre DAC, feels at home with a desktop, Apple device, or a laptop and is completely portable to the point that it becomes part of the headphone wire and It does all this for under a hundred bucks.
The only thing I could complain about is the lack of power but honestly, if you use efficient IEMs and headphones you will be fine. Most high impedance headphones are not for portable use anyway.
Practically every phone out there has poor sound quality and the Zorloo Ztella is a great solution to this problem most audio lovers have. Or should I say had?
Zorloo Ztella Specifications
USB-C digital audio to 3.5mm analog audio input/output
ESS Sabre DAC and headphone amplifier technology
HD audio support up to PCM 384kHz and DSD 5.6MHz
MQA (Master Quality Authenticated) Renderer
USB 2.0 High Speed, USB Audio Class 2
Plug and Play with Android, iOS, macOS and Windows 10
Work seamlessly with headphone and mic and buttons
Autodetect with 2V output to high impedance headphone
Smart LED indicator to show SD/HD/MQA audio content
Includes free USB-C to USB-A adapter
High Performance with SNR = 120dB
High Fidelity with THD+N = 0.0006%