The Empire Ears ESR MKII is a second-generation hybrid 5 driver IEM featuring a dual electrostatic and triple BA driver design. It is priced at $1099.
Disclaimer: The Empire Ears ESR MKII was sent to us in exchange for our honest opinion in this review. Many thanks to Empire Ears for giving us this opportunity.
You can read about previous Empire Ears products reviewed on Headfonics here.
Note, this 2-page review follows our new scoring guidelines for 2021 which you can read up on here.
Empire Ears ESR MKII
The Empire Ears ESR MKII has a flexible sound signature, excellent on the detail with a subtle but attractive lightweight snug-fitting design. In today's market, the ESR MKII might just prove to be Empire Ear's best value to performance offering to date.
We continue with the Empire Ear's 2021 refresh line-up, this time with the launch of ESR MKII. However, this is actually the first time I have heard the ESR so sadly I cannot tell you if this is an improvement or not. All I can tell you is how it sounds as a first-time listener and how it compares with the competition.
The original ESR is discontinued but eagle-eyed readers will note that it was cheaper at $899. However, that was a triple driver configuration. The upgrade here is more serious than a tweak with an enhanced 5 driver design.
With an SRP of $1099, this is fast becoming a sweet spot for monitors of this type be it all BA or hybrid. You are talking Campfire Audio Andromeda 2020, Meze Rai Penta, and MMR Gae Bolg to name but a few. All with 5 drivers, be it hybrid or otherwise, all within a few bucks of each, all with unique pitches.
The pitch for the ESR has already been somewhat of a reference choice, a studio buddy or one for pros to mix and master with. Its voicing is designed to be flat or neutral with a strong emphasis on detail.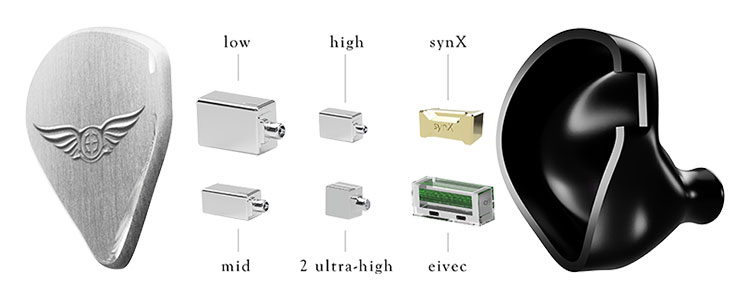 Tech Highlights
Configuration
So, from what I can tell, the ESR MKII is a fairly substantial upgrade over the original. This is now a hybrid 5 driver design consisting of three proprietary balanced armatures and 2 Sonion electrostatic drivers compared to the first-generation triple BA configuration.
The grouping is a single BA for the lows, one for the mids, and one for the highs. The electrostatic drivers are split with one, (possibly), overlapping on the highs and the second for the ultra-highs. The drivers are threaded together with a re-engineered 4-Way synX Crossover Network which has been a consistent theme thus far for the MKII variants.
EIVEC
The ESR MKII electrostatic drivers are energized via their EIVEC, working in tandem with the 4-way synC Crossover network. This is also the first time the ESR brand has used EST drivers and the accompanying EIVEC technology so original ESR users might find the sound to have a fairly different timbre on the highs.
Empire Ears has defined EIVEC as offering an additional level of control on the EST driver through electronics components and how it works in tandem with the other drivers. Its main job is to ensure that the EST driver works optimally across a potentially vast 10Hz-100kHz range without upsetting the BA drivers' harmonic balance.
A.R.C.
The ESR MKII uses Empire Ear's A.R.C tech which looks like it is being applied now to all new Empire Ear monitors including the recent Valkyrie MKII and the Hero.
A.R.C is short for Anti-Resonance Compound and is a special type of damping coating used on the inside of the ESR MKII's shell. It is applied to virtually every component used such as the drivers, tubes, and crossover boards.
Empire Ears claims that this coating adds a critical level of mass or solidity to the internal components. This, combined with ferrofluid damping inside the drivers, creates a high level of clarity, better efficiency, and importantly, better bass which I would look for with a monitor using BA drivers on the low-end.
Design
Now, the ESR MKII design is quite different from what I am used to with Empire Ear monitor aesthetics. Sure, the back is the familiar hollow body polished black acrylic which is standard for almost all their universal IEM's these days.
However, the ESR MKII front kind of reminds me of a Bentley vibe with that executive Brushed Silver aluminum faceplate and the silver-winged Empire ears logo floating in the middle giving it a nice 3D shimmer. I find it classy as opposed to the louder Dragonhide designs of the Valkyrie MKII and the Odin.
The faceplate itself is raised by 1-2m from the main acrylic shell and is transparent in nature with the brush silver aluminum to the base and the emblem just above. There does seem to be a gap between both, hence that 3-dimensional appearance. It is very elegantly done actually.
There is not too much variation for the rest of the shell with its quasi-custom curving for fitting purposes and 2-Pin 0.78mm flush connectors at the top. The 4-bore nozzle is reasonably long in terms of height from the top of the plate to the nozzle tip with less of a lip and more of a wider exit that helps grip the stock tips.
The weight and size of the ESR MKII are comparable to the Hero and Valkyrie MKII but just a shade lighter than the Odin which is understandable given the Odin has a lot more drivers inside including 2 Weapon IX+ dynamic drivers.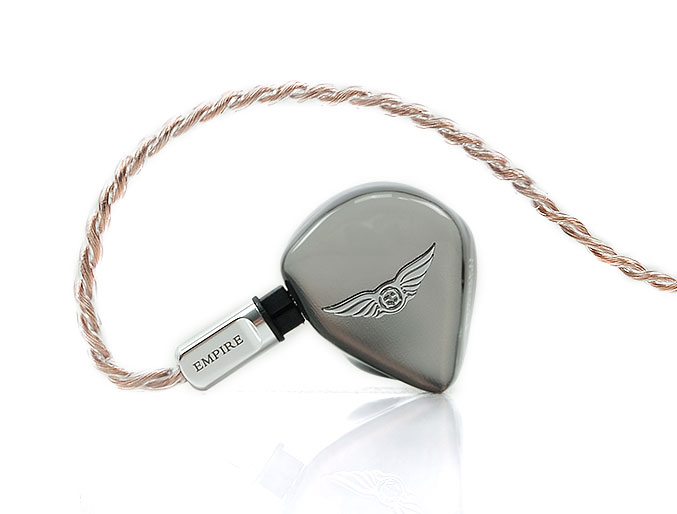 Stock Cable
Empire Ears have stuck with the Alpha IV stock cable I first tested with the Hero which is a variation on the Ares II wire from Effect Audio so you can expect a similar performance in terms of handling and a smooth sonic coloration.
This is a 1.2m 26AWG 4-wire multi-size UPOCC Litz copper strand geometry cable wrapped in a PVC translucent jacket with a strong coppery tone shining through its tight braided twist.
The microphonics on this supple cable are very low, as you would expect from any good cable. It is nice and soft, fairly lightweight, with only the slightest of kinks in terms of memory retention which tends to iron out after prolonged use.
The splitter is a very thin and lightweight clasp-type aluminum construction with the EE branding on one side and a tiny black adjustable chin cinch on the top. I would have liked to have seen a matching aluminum color for the chin cinch but that might be just nit-picking. More importantly, it moves smoothly up the wire and does not loosen during use.
Terminations
The Alpha IV is terminated with a sturdy aluminum barrel and a gold-plated jack at one end and their new overmolded 0.78mm 2-pin connectors on the other end. These connectors are a little bit longer than EA's own connector barrels with more indentation on the sides for better grip.
You can also order the Alpha IV stock cable in a straight 2.5mm TRRS balanced version. The one we have here is the 3.5mm TRS right-angled version but for review purposes, we will also be using a 2.5mm TRRS alternative for balanced output testing.
Comfort & Isolation
The ESR MKII's form factor is in line with the Valkyrie MKII, Odin, and the Wraith, with very little variation on the basic shape and weight. That means it's light and very comfortable in your ear and fits securely also with a fairly accurate fitting for a universal monitor.
The nozzle is actually deceptively long, (see picture above), though not Noble Audio long, making it a relatively tall monitor but it also means it can get a pretty decent amount of depth into your ear canal depending on the tips you use.
As with most Empire Ears universals lately, the level of isolation with the stock Final E tips is excellent. More so with the ESR MKII since it does not use dynamic drivers meaning that little triage of bass port vents found on the Valkyrie MKII and Hero are not there.
That does make a difference, for example, standing next to my aircon 2m away I can only hear the higher-frequency part of the noise it makes whereas with the vented models a little bit more of the aircon low-end rumble creeps in.
Tips
The ESR MKII comes with the standard single bore Final E silicone tip line-up in their very familiar metal holder tray. As before you get a total of 5 different sizes from super small to extra large, (SS, S, M, L, LL). I tend to settle on the L fitting more than the LL as I can get a bit more insertion depth and still retain a good seal with this size.
The Final E tips are excellent, perhaps my favorite all-rounder with SpinFit and Symbio a close second and third. They are excellent in isolation and in doing so up the bass impact and clarity throughout as a result.
If you are coming from foam the Final E tips are more vivid sounding with better treble clarity, an especially important trait with EST drivers. Foam tips tend to push back the impact and create a mellow or softer sound signature which doesn't do too much for me when paired with the ESR MKII.
Packaging & Accessories
The packaging for the ESR MKII is much the same as the Valkyrie MKII and also the Bravado MKII which we will be reviewing quite shortly. Empire Ears has really nailed the stylistics here with a huge dose of angelic outer white superimposed on a darker internal foam-lined jewelry style display. It's clean, compact, and very well laid out.
However, having seen multiple white boxes I can't help but feel a different colored case for each product variant would make a nice distinctive touch. I suspect though this saves a few cents in the process since you can literally pack any one of the product lines into this case and it's good to go meaning cheaper production costs.
Inside, you get the cable plus the drivers neatly housed on the top-tier in their own display foam and the accessories are all housed in the slide-out tray just below.
The lower tray holds a durable aluminum puck case printed with the EE branded wings and a text engraving of "ESR MKII". You also get a small cleaning tool under the tips tray and a black satin cleaning cloth inside the aluminum case also branded with "Empire" in white. Aside from that you also get some stickers, a product brochure, and a thank you card.
Carry Case
The threaded aluminum Pandora puck case now seems to be the norm with all recent Empire Ear monitor releases and the ESR MKII is no different. These are super sturdy with a rubbery internal lining for a bit of protection against knocks. They sell for $50 direct from Empire Ears on their website.
It is also weatherproof with a fairly tight seal when the lid is screwed shut. It is a shade on the heavy side so for some this might be a bit tight for carry-on weight limits for travel, (that thing we used to do pre-Covid).
There is just enough room really for the monitors, cable, cleaning tool, and cloth. If you want to throw in the tips you will need to find a small plastic bag as the tips tray does not fit into the case.
Click on page 2 below for sound impressions and select comparisons