The iBasso CF01 is a unique True Wireless System that turns any MMCX IEM into a wireless-capable monitor with aptX and 24.5 hours of battery life. It is priced at $149.
Disclaimer: The iBasso CF01 was sent to us as a sample in exchange for our honest opinion in this review. We thank iBasso for this opportunity.
To learn more about iBasso products reviewed on Headfonics you can click here.
Note, this review follows our new scoring guidelines for 2020 which you can read up on here.
iBasso CF01
Most people who own an IEM that they just love can now go wireless with them and this simple fact means one thing. The TWS market has lost them for good. If you have many IEMs with the MMCX connector, then you especially, need this in your collection.
Product Introduction
Ibasso recently sent us their new CF01 and it's a new type of product that has recently emerged with lots of potential. We are speaking of TWS Bluetooth IEM adapters that turn any IEM with a conventional MMCX connector into a TWS.
Imagine taking any IEM you have that has an MMCX connector and going completely wireless with them. This is what this technology brings to the table. That is what the new Ibasso CF01 is all about.
The question most likely in most minds is can this be a TWS killer? Is this technology any good? We will explore that here today and other aspects of this interesting product.
Tech Inside
Qualcomm QCC3020
Most people know this popular TWS chip from Qualcomm by now and most likely own or have owned something that uses this particular chip already. This chip is commonly used in many TWS models for the versatility and performance per size ratio it offers.
The QCC3020 is a Bluetooth 5.0 audio SoC based, Kalimba configurable DSP chip with a transmission range of 10 meters at a rate of 2mbps. This chip has built-in DSP RAM of 80kb plus another 256kb to handle all the signal processing at 120Mhz.
All this technology is promised from this single solution chip with very low power consumption and good battery efficiency.
Codec Support
The usual suspects are here. aptX is available and so is sub-band codec SBC. Apple users need not worry either because AAC is also available. Although ACC is now available on most android phones nowadays and not exclusive of Apple devices anymore.
Regardless, this codec support will maintain you capped under 352kbps. There are no Hi-definition codecs available.
Audio decoding is capable of 24bit 192khz rates according to Ibasso specifications and is stated on the back of the packaging. For some reason, I could only kick it into 16bit 44100hz from my PC 5.0 setup but in most cases, this would be acceptable.
LDAC or aptX HD is not offered but this is normal for TWS technology at this point in time due to technical and battery limitations of left-right audio transfer and pairing.
IPX
Being a portable device, you always run the risk of getting the device wet on a rainy day or sweaty if you are out on a hot day.
The Ibasso CF01 waterproof level is rated at IPX5. I doubt these will get damaged due to water. To understand waterproof levels, number 5 claims to be resistant to a high powered jetstream of water shot directly at the device from two different directions.
In short, you are good to go for daily jogging and gym use but bear in mind this only covers the controls and not the drivers you attach it to which may not be water-resistant.
cVc 8.0
The QCC3020 has cVc 8.0 which is operational inside the CF01. Using the CF01 on phone calls one might notice some noise reduction as a result. You can see some tiny holes on the bottom of the Ibasso CF01 right by the gold plated charging contacts. This is where the microphone resides and there are two, one on each side.
Specifications
The frequency response is listed by Ibasso as 20 to 20khz. This is the amplifier frequency response. That seems fine.
However, looking over the rest of the specifications there is a listing of a distortion level of less than 1% but rated at only 1mw which for distortion levels on an amplifier seems rather high being rated at such low power.
The output power rating is at 9mw at 32 ohms maximum which is not much and probably limited to hold back distortion of the QCC3020. However, the power rating, in reality, seems more in tune with sensitive IEM user demands and the only concern here is the distortion specification itself.
Signal to noise ratio seems adequate at 98 decibels. It would have been better at 100dB or higher but anything over 90 is adequate.
Design
The Ibasso CF01 earpieces have an aluminum lined chassis but are mostly made of plastic in its construction. The plastic is used mostly to house the electronics and then covered with the aluminum shell.
They are somewhat light and you barely feel them on. The permanent looped wire has a plastic coating and seems durable. They do not really conform to the ears like IEM memory wire so the loop is fixed with a small amount of flex.
The MMCX connector that was used is a quality connector I must say and has a tight fit regardless of what IEMs used. You have to put in some effort and muscle to remove them. Once they are on they have a very little amount of spin or play within the connector itself.
Just a quick mention. It would be great if iBasso can offer additional removable and replaceable loops with both MMCX and .78mm 2 pin connectors available. Perhaps as a running production change or deluxe edition?
Push Button Control
Ibasso decided to use push buttons instead of a touch system for functional controls on the CF01. I personally prefer touch controls because they require no force to activate plus are usually made as a solid panel and are less prone to water damage contrary to push buttons with crevices.
However, I do appreciate other users prefer the tactile feel of a physical button and the lack of accidental activation which is more common on touch controls.
Each side has a push button on the top end of each module. They act as touch controls do. All the common functions are available, and I doubt you would need any more than what it offers in functionality.
However, one thing I did find was the absence of a volume control function. There are the usual pause and play, voice activation, and even a procedure to remove pairing settings.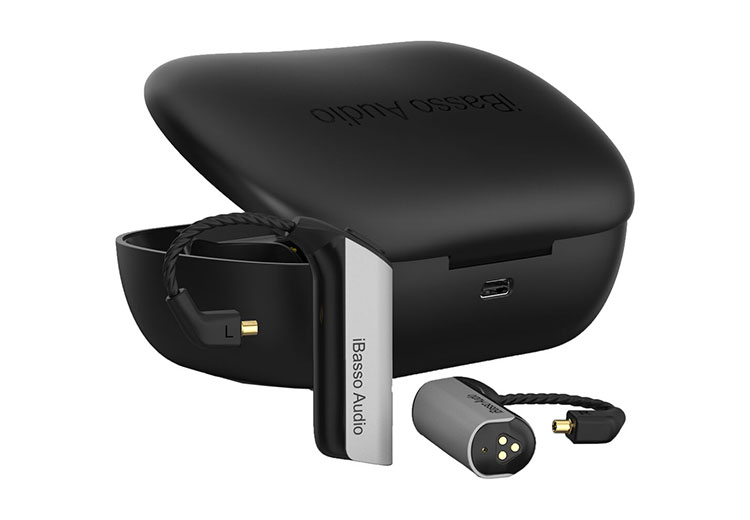 Cradle
The Ibasso CF01 charging case is larger than any TWS model I have in the house. It measures just under four inches by two and 5/8" by one and ¼". It is large for a particular reason.
I do not have a scale but the case seems lighter than the size would indicate. I would think the batteries would make it heavy but it does not.
The case is large but the reason why is that it will hold any IEM you have on the CF01 and protect them inside rubber air bubbles which line the inside of the case.
The design makes a lot of sense. You could keep the IEMs connected to the modules and still charge the CF01 inside the case without having to remove the IEMs each time. Having to remove them each time would be annoying, to say the least.
Battery Life
Each battery inside the Ibasso CB01 is a Lithium Polymer battery. Besides the unit accepting a charge from a USB-C port, this set also does wireless charging.
The earpieces are rated at 4.5 hours and I got between 4 and 4.5 so I would say that is an accurate statement. The 20-hour total time for me was a hit and miss. My average time was about 16 to 18 hours of total playtime. Charging times were right on the money with the Ibasso listed specifications.
Wireless Performance
Range
It was quite a surprise to obtain with the Ibasso CF01 a straight-line reception range of 39 feet which is way better than the average TWS setup that uses a Qualcomm QCC3020 chip. It also surpasses the Qualcomm spec sheet which lists the operating range at 33 feet. The Ibasso must be using a very good antenna system. They do have the space for that.
Pairing
Every once in a while, a TWS walks in the door that gives nothing but trouble pairing but this was not the case here. The Ibasso CF01 paired flawlessly on the initial pairing and every pairing afterward.
Not only do these connect with no drama, if they fall out of range, they just seem to pick up again quickly once they come back in range.
The connection seems stronger and more stable compared to other similar TWS models with the QCC3020 chip.
Sound Impressions
There is no need to worry that if you connect the Ibasso CF01 to your favorite IEMs that they will sound like the average TWS with exaggerated and boomy bass because this unit has a more refined approach to True Wireless Audio.
The Qualcomm Chip has DSP correction capabilities and it shows Ibasso did a good job at the installed firmware. This must be a major contributing factor to their excellent Bluetooth range and it also contributes to the almost flat sound signature.
Ibasso CF01 seems to be neutral in the bass department and I was at times looking to use an equalizer to bring out the bass. The midrange seems to be a bit forward and the high frequencies are crisp and well extended.
Even though the CF01 uses the same Qualcomm QCC3020 that I noticed as having noise in the upper-frequency response above 12k with other TWS, this implementation did not have this issue at all. The usual tone generator test revealed these modules can go clean way past 15khz and also below 20hz.
Power Output
The Ibasso CB01 has a rated power output of 9mw and honestly, it seems like a conservative rating. The power is surprisingly good for the specs listed except for the most power-hungry IEM but I used many and they all played loud enough.
This is another peculiar and positive aspect of the Ibasso CF01. Other TWS models that use the QCC3020 usually leave me desiring more volume and these surely played loud enough.
However, at top volume, you get a little of that distortion level we spoke of earlier which is at around 1%. But at a little less than full volume output, this is remedied tremendously.
Synergy
The Ibasso CF01 was paired with various Bluetooth devices with no issues whatsoever. It did prefer my Motorola phone over my PC rig, which is equipped with Bluetooth 5.0, but my phone is only a 4.2. The range was somewhat better with the phone.
I ran a few different IEMs. Each one has a different driver configuration and efficiency rating and the Ibasso CB01 handled them all very well with enough power to drive them all.
Some of the IEMs used were the BGVP Zero, Kbear Tri I3, Audiosense DT200, Anew X One, and the Meze Audio Rai Solo. This group represents most kinds of IEMs including a Planar, a single dynamic driver, dual BA, a multi-driver hybrid, and even an electrostatic.
Let us discuss some different scenarios and pairings in our selective comparison. Instead of being a comparison, we shall denote different observations in each scenario.
Select Pairings
Smoothness, good midrange, and good imaging are the things this IEM is all about.
The dual Balanced Armatures in this set have a peculiar taste for power. They do not like much of it. The DT200 gets overwhelmed with very high volume and high power. When fed clean power at a medium volume, they tend to better show their good qualities.
The Ibasso CF01 brings out what they have to offer. The conservatively rated 9mw of power seems to be just right for these IEMs. Imaging stays intact and the overall character of the IEM is not changed.
Here is another smooth sounding IEM with an electret electrostatic driver complemented by a dynamic driver. The Zero does midrange well. It is smooth and clean, absent of sharp edges or harshness and the Ibasso CF01 does not disturb this quality.
Visually this is probably the nicest looking pair sharing similar metallic and black and is the one with the lowest profile in fit.
Here we have a very good hybrid 3 driver configuration IEM using Planar drivers which tend to be inefficient, except for on this set it seems. Their efficiency seems to match up fine with their power requirements but shows the flat bass response mentioned earlier and need some equalization.
This set most definitely needed some boost in the bass department to bring up the fun factor of this set.
This is one of my favorite IEMs and is a pretty good matchup with the CF01. Can the CF01 push the five hybrid drivers to their full potential? Sure it can with one caveat. You cannot push the bass much because it will distort at very loud volume levels.
However, if you like to hear music at a moderate level then you will find this is an excellent combo with great imaging and soundstage. You get plenty of spatial information, very good clarity, and detail retrieval and the Ibasso CF01 was up to the task.
Again, a different driver combination. The Rai Solo is a single dynamic driver IEM but is a quality music reproducer and seems to be a very good match with the CF01. Review coming soon.
This combo was probably the best combination besides the Anew X One when it came to sound quality and match appearance. They almost have the same brushed aluminum look with black accents.
Since the single driver is very efficient, the need for a gigawatt system is not needed and the entire spectrum is reproduced well with this combo.
Our Verdict
Most people who own an IEM that they just love can now go wireless with them and this simple fact means one thing. The TWS market has lost them for good. If you have many IEMs with the MMCX connector, then you especially, need this in your collection.
If the Ibasso CF01 had a few more connector varieties then it would put these leaps and bounds in front of the available non-ANC TWS models. It would also make it a must buy. Regardless, the freedom of going wireless and tangle-free makes this wonderful little device worth considering.
iBasso CF01 Specifications
Bluetooth 5.0
Coding: SBC AAC aptX
Wireless Range: 10 Meters
Frequency Response: 20hz to 20khz
Output Power: 9mw @32 Ohms
SNR: >98db
Audio Decoding: 24bit 192khz
THD+N: < 1% (20hz to 10khz @ 1mw)
Playtime: 4.5hrs (adapters) +20hrs (charging case)
Charging Time: 1.5hrs (adapter) 2.5hrs (charging case)
Waterproof Level: IPX 5