The BGVP Zero is an entry-level universal IEM featuring a 10mm carbon nanotubes moving coil and a 7mm electret driver. It is priced around $79.99.
Disclaimer: The BGVP Zero is sent to us is a sample in exchange for our honest opinion. We thank the team at BGVP for giving us this opportunity.
You can read up on our previous BGVP reviews on Headfonics here.
Note, this review follows our new scoring guidelines for 2020 which you can read up on here.
BGVP Zero
The BGVP Zero IEM is a comfortable, low-profile IEM with cool technology plus decent sound with high sensitivity and for 80 bucks is not a bad package at all.
There is a certainty in audio and its that Electrostatic headphones are very expensive. They can cost well over a thousand dollars and even go into the thousands. Plus you need a special amplifier capable of supplying a high voltage to keep the membranes charged.
So would you be excited to hear about an IEM that is electrostatic at under a hundred dollars? How about an Electrostatic IEM for under eighty dollars? Now we are talking high interest here. This is what BGVP Zero offers. An IEM that costs eighty bucks and its a hybrid electrostatic.
Tech Inside
Drivers
The BGVP Zero has a dual driver configuration and a pretty unique configuration. The first driver is a dynamic driver that BGVP list as a 10mm Carbon nanotube moving coil driver. BGVP says it uses a running motion line control bass system.
The second driver, and here is where it gets interesting, is a 7mm Electret Electrostatic driver. It was assumed that Electrostatic drivers needed a precharge from a voltage source to operate but this one might not. Who knows. It probably uses the metal grille as a grate on the shell to collect static to charge the driver.
The exploded view of the BGVP Zero has an electronic board called a Triad board. No crossover is mentioned and since this is only a two driver configuration, then what is the third function of this board for? Perhaps in some fashion, it charges the Electrostatic membrane.
Patented Sound Cavity
The BGVP Zero has something called a Polygonal sound cavity structure that is patented by BGVP. It looks like BGVP put the two drivers in one housing.
From the diagram posted by BGVP, it seems these drivers are mounted similar to an isobaric type of system so one driver reinforces the other by being mounted one behind the other. Or perhaps not. It is a house secret. It certainly looks that way.
This system is what BGVP uses to tune this IEM. It is not the first time IEM makers do something like this but I do not remember anyone doing this with a combination of a dynamic driver with an electrostatic unit.
BGVP claims the Polygonal sound cavity is an anti-resonance cavity that reduces vibration and refraction reduction to improve sound quality. High performance N52 RB magnets are used and high quality Japanese imported material is used for damping.
Design
The BGVP Zero earbuds are constructed entirely of metal. High-grade aluminum is used to create the shells. Their weight is minimal and they are also on the thin side and their fit is a low profile style.
There is a metal grill that seems to be a vent but I think it also acts as a precipitator to collect static charges to operate the membrane. One mention. This is out of content here but it is important to mention. The metal grill makes these seem like open headphones and they tend to leak sound more than other IEMs.
If this is important to you then keep this in mind if you are going to use these in public close to other people.
Comfort & Isolation
The BGVP Zero has a standard size output nozzle which is a one-piece, and an integral part of the shell system which I prefer over the inserted tube design. The tip size also seems standard. They seem to be a 4.2mm t200 size. But not all is roses with no thorns and there was a slight inconvenience with the stock flanges.
At times when the IEMs were taken out of the ear, one of the flanges stayed in the ear. The flanges are a tight fit and you have to make sure they are all the way in and have to use some force to install or risk this occurrence.
Stock Cable
BGVP gives you a decent cable with this set. They call it an Audiophile cable. It uses OCC copper wire which is silver-plated to reduce oxidation and signal loss. All the hardware is metal and black to match the IEM. The only part that is not metal is the Y adjuster piece which is made of rubber but is also black and very inconspicuous.
The wire itself is a rubber-coated, four-strand braid up to the Y break. From there on, the same wire is used but a two-wire twisted pair is used instead. The wire also has a microphone and a simple pause and play button. It works well for phone calls on Android phones. You get decent vocal clarity.
A 3.5mm 4 pole connector is on the input side and an MMCX connector is used to connect to the IEMs.
Packaging & Accessories
The slide-out, two-piece box is well presented. You also get a lot of stuff. When you open the box the first thing you will see is the two earbuds set in foam. You will also see seven sets of flanges. One set is black foam, three are white silicon and the other three are black rubber flanges.
There is also a BGVP branded carrying case with an additional three sets of rubber flanges inside a plastic bag. A wire clip is also included.
A small BGVP envelope finishes the package. All the Literature is inside this envelope. An authentication card, a warranty registration card, and loud music, high decibels warning pamphlets are inside the envelope.
BGVP Zero Sound Impressions
The first thing you will notice about the BGVP Zero is the dark and warm sound signature. It almost reminds me of an old HD518 I had a few years back. Not in impactfulness, Just in tonality.
These have a smooth character that is relaxed in dynamics and they have a nonimpactful character.
If you look at the frequency response curve posted by BGVP of the Zero, The bass to the midrange up to say around 500hz is a long and large hump and there is some midbass bleed.
There are also two bumps in the frequency response that are located at 5khz and around 15khz. These peaks seem to be inaudible and here is a case that shows us that graphs do not tell the entire story. This statement will make more sense later on.
My usual tone generator test revealed shifting between 6k and 9k panning louder to the left channel in this frequency area But it could just be my pair.
Bass
As you can see in the graph, there is a midbass emphasis and this emphasis crosses into the lower midrange area. The bottom octave is audible but recessed at least five decibels or more from the midbass.
On a personal level, I was expecting a cleaner and faster but somewhat more recessed bass response which are common characters of the Electrostatic bass and these gave an opposite response.
The bass sharply rolls off below 30hz. The rest of the bass above that is reproduced fairly well with some decent note definition but not very impactful and is slightly bloated at the midbass level.
Midrange
This area is where the BGVP does best. I would have wished the midbass bleed had been absent for these are very good at midrange apart from that. The midrange has a smooth quality that is nonoffensive, non-shouty, and is quite polite but with decent quantity.
The midrange is in a good position volume-wise and produces plenty of detail at their price point. For instance, one of the instruments that for some reason, is hard to replicate in timbre is the Piano and these do it well besides vocal, acoustic, and wind instruments. The BGVP Zero can turn a piercing Saxophone session into something smooth and non-irritating. They have that ability.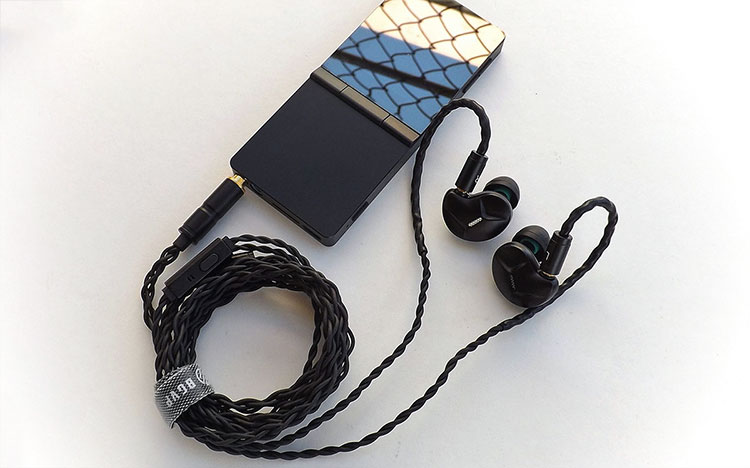 Treble
The BGVP Zero sound signature is warm to the point that the high frequencies take a rear seat and are recessed especially at the very top. Turning up the high frequency with an equalizer will just make them sound harsh and grainy.
One would assume these would be brighter by looking at the frequency graph and looking at the two peaks at 5khz and 15khz but that is not the case here. My tone generator test did not even reflect the two peaks at all but demonstrated another peak at a different frequency.
The BGVP Zero highs have very little presence. People who are bothered by sharp highs will like these. However, if you prefer a bright signature then these are not for you.
My tone generator test revealed that the BGVP Zero has a medium peak at the 7khz marker plus a sharp roll-off after 12khz. This roll-off is a benefit with very bright, treble intense recordings but not for high definition listening.
Imaging and separation
The BGVP Zero has a medium soundstage with some width and depth. They do side to side positioning well just not great. Their best attribute is the width in this category. Even though they have width, they tend to project most of the sound to the center stage. They tend to project sound on a straight plain with not much height.
Synergy
The BGVP Zero is highly efficient at only 12 ohms and 109 decibels of SPL with 1 milliwatt and needs just a touch of volume to get very loud. It would be safe to say you only need your phone. Scalability is good and the benefit of more power would be some much-needed impact. But they work fine with low power devices.
Selective Comparison
TRN VX
The six driver hybrid TRN VX is a very popular IEM at the same price of 80 dollars. Both have aluminum metal shells with different connectors.
The MMCX connectors have become more appealing because nowadays you have IEMs that are introducing different polarities and not only do we have the .78mm and the .75mm 2 pin connector, but another plug has been introduced lately which is the QDC C pin type. This needs to be standardized to one type now and I choose the MMCX.
The wire is better on the BGVP Zero obviously and it even has a microphone. Plus the microphone is not bad either and works well. The quality of the wire is way better on the BGVP. You get a nice carrying case also, plus foam flanges with a better variety of flanges with the BGVP Zero.
Sound quality is a toss-up here. Do you want a smooth midrange over a brighter presentation? The VX has a better extension capability at the extremities but some people complain about peaks in the frequency response especially in the mid and high frequencies. Vanilla or strawberries?
The BGVP has one more advantage which is trivial. The fact that they are Electrostatic gives them a geek appeal. Be the first kid on the block with Electrostatic IEMs.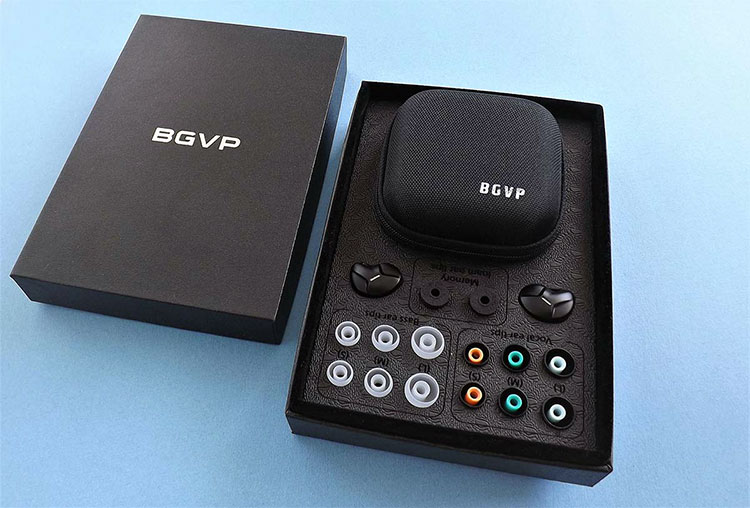 Our Verdict
Not bad at all BGVP. You have given consumers a decent IEM with unique traits for a fair price. Now practically anyone can afford to step up to and own Electrostatic technology which in the past, required thousands of dollars and special hardware to acquire and use.
Of course, they are not the perfect IEM. The highs sharply roll off but if you are bothered by bright IEMs and sharp highs these might be right for you. The BGVP Zero IEM is a comfortable, low profile IEM with cool technology plus decent sound with high sensitivity and for 80 bucks is not a bad package at all.
BGVP Zero Specifications
Drive unit: 10mm miniature static moving coil unit
Sensitvity:≥ 110dB SPL/MW
Input resistance: 129
Frequency response: 10Hz -40kHz
Distortion:≤0. 5% (1kHz)
Channel difference:≤ 1dB
Rated power: 10mW
Cable length: 1. 2m士5%