The Anew X-One is a hybrid 5-driver universal IEM featuring a unique switchable frequency dividing circuit module system. It is priced at around $310.
Disclaimer: The Anew X-One sent to us is a sample in exchange for our honest opinion. We thank the team at Anew Audio for giving us this opportunity.
To read more about IEM products we reviewed on Headfonics click here.
Note, this review follows our new scoring guidelines for 2020 which you can read up on here.
The Anew X-One are sleepers. Not many people know about them, not many people include them on their possible purchase list and it is quite a shame because if you had a chance to hear them before you bought them, I bet 9 out of 10 of you will take them home.
Anew is a fairly new company that was started only a few years ago by Hou Fujin after an exit from a well known high-end IEM manufacturer to pursue his own improved vision of becoming a quality IEM manufacturer. Anew is not widely known and has only produced two models of in-ear monitors up to date.
Their first IEM was the single dynamic driver Anew U1. You could count the number of reviews online for the Anew U1 with half a hand.
However, one particular reviewer, without mentioning names, stated that the Anew U1 was one of the best single dynamic driver IEMs he ever heard. So how come they did not become popular? Who knows.
Only recently, and after close to three years of development and research, Anew released their second IEM, The Anew X-One IEM, but this time Anew did something different from all the rest. Their second model, the Anew X-One is a pretty big leap from their first model, the U1.
Concept
One of the biggest problems with buying high-quality IEMs is that you have to choose wisely and according to your needs and taste. Sometimes you get an IEM and after spending lots of money you get a sound signature that is unpleasant or does not pair well with your setup.
Well, Anew partially solved this dilemma by giving you three different sound signatures with each set. Plus there are rumors that more modules are coming soon.
The difference in concept is that the Anew X-One does not use the common DIP switches to change the sound signature which sometimes looks unpleasant and can ruin easily with rain or even sweat.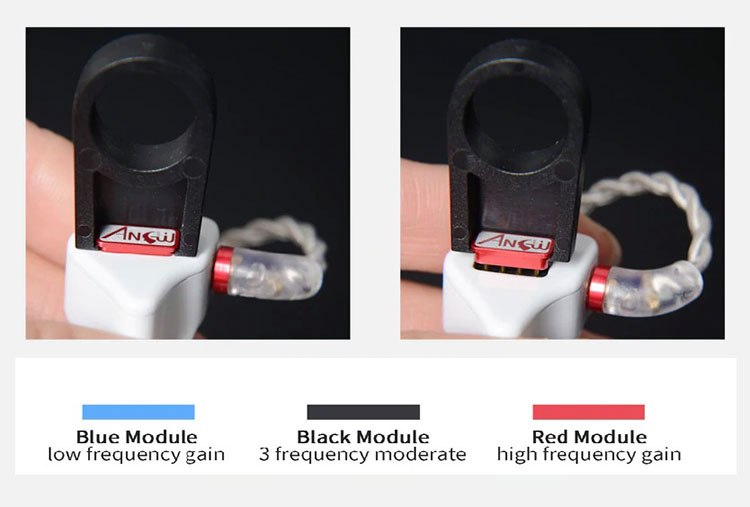 Tech Inside
Sound Modules
Each Anew X1 set comes with three sets of what Anew calls sound modules, but are actually crossovers, that gently change the sound signature of these IEMs. Modules were chosen over DIP switches and are a great idea and look good on top of that.
The modules are easy to install. You just push them in, observing the right orientation until they click in place. Anew includes a tool to facilitate the removal and installation of these modules.
Each pair of modules gives the Anew X-One a different sound signature. There is a Red one, a Blue, and a Black one. All three sets are included with each pair.
The Red one gives the Anew X-One a High-frequency gain. The Black one gives you a three frequency moderate gain while the Blue modules give you a low-frequency gain. Each module changes the sound signature, but, it is a subtle change. We will discuss each subtle effect later on.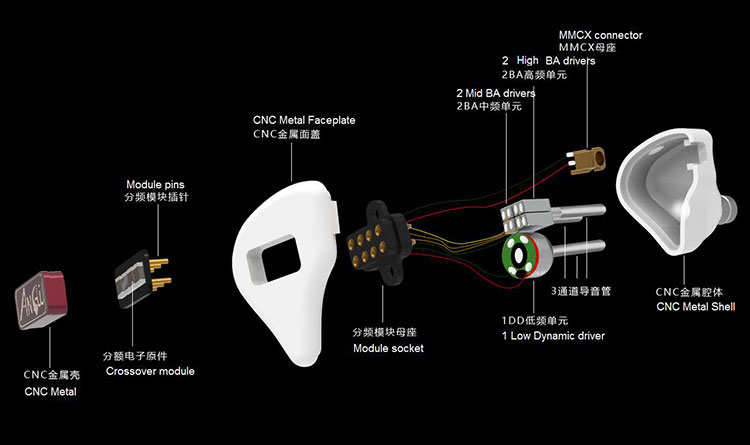 Drivers
The Anew X-One is a Hybrid IEM and uses a common four and one driver configuration. Every driver that was used on the hand-assembled X-Ones are custom made drivers developed specifically for the X-One. The drivers are all assembled and placed inside precision carved cavities within the shells with individual output tubes.
A 6mm custom made Carbon diaphragm driver handles the low end. Two custom made Balanced Armature drivers handle the midrange and two more custom made Balanced Armature drivers handle the high frequencies.
Everything seems to be custom made on these IEMs. Even some of the accessories seem to be custom made.
Design
Each Anew X1 is made of a solid block of aluminum alloy and precision CNC formed. These are very sturdy feeling. The White finish is a very hard enamel resembling a porcelain finish. The finish seems quite durable and easy to clean.
Each earbud has a vent that resembles a contemporary sink drain but a very stylish one. They are even colored red and blue. In combination with the tip of the wire on the MMCX plugs, right and left are easily identified.
Even though the Anew X-One is made of metal they are fairly light, however, these are not small IEMs. Their size does not impede good comfort, however. They can be worn for long periods with no discomfort or irritation.
Isolation seems to be very good once you find a flange that fits your ears. They seem to isolate more than others on average.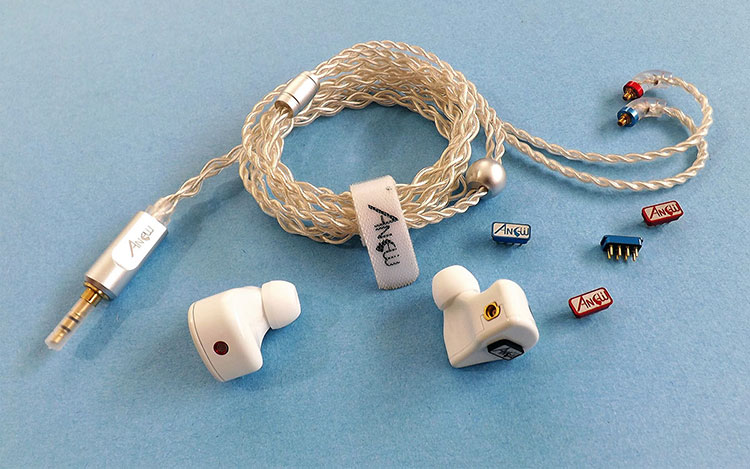 Stock Cable
Aluminum is used to make the 3.5mm 3pole plug. I have never seen this plug before. It must be another custom job and is branded with the Anew logo. Even the piece at the Y break and the adjuster is Aluminum.
The wire itself? It seems this wire was hand braided but whoever did the work is an artisan. The braid is perfect although looking at it you get a visuality of the variability you get with hand made items.
The wire is a four-strand quad braid made of Silver coated high purity copper wire. The wires on top going to the IEMs are a twisted pair of the same silver-coated copper wire.
Accessories
Besides the three sets of crossover modules and the IEMs, You get a few more items. You get six pairs of silicone and rubber flanges, the cable, of course, a carrying bag, and it all comes in a hard shell plastic case that is placed inside the box.
There is also a module removal tool that you can use to swap and remove the modules very easily.
Sound Impressions
Black Modules
I used the Black modules mostly because I felt that they were the flattest in sound signature and neutrality. These say the boost is a three-way moderate meaning all turbos go So I went with Black.
I also cheated a tad and used foam tips because I was not too pleased with the included flanges. The first thing that will hit you is the clarity. The timbre is correct in all the frequencies but it is a forward presentation. You will also notice they are a touch on the bright side.
Another thing that hits you is the microdetails. I am definitely hearing things I could not hear in very familiar songs with cheaper IEMs. Busta Rhymes Ill vibe has a room echo and space perception on the snare I never heard before even with my desktop headphones. You could hear it, especially when Qtip comes in.
I ran my customary tone generator test and did hear frequency shifting higher to the left on 9khz and one shift higher to the right at 11.5khz but the differences were very subtle and could just be my ears. These IEMs went past my audible level at both extremities so frequency extension in both directions is very good.
Anew recommends a break-in period of 24 hours with white noise and to additionally run a pink noise generator for about 10 hours after that.
Bass
The Bass is clean with good body and present, not recessed. You can hear each bass note distinctly and more so in the lower regions. However, the bass is not even their best trait, especially in the midbass region.
The Anew X-One seems to dig deep into the lower octaves of the bass just fine. The tone generator test did reveal a small drop below 24hz but did go down further below 20hz audibly. The drop is minimal and does not affect bass response with music whatsoever. I find the bass of the Anew X-One to be quite pleasant.
Bass impact is a good medium. The bass has some slam to it when the song calls for it and the bass is reproduced with good speed.
These IEMs do take a good amount of bass increase with an equalizer or DSP with very little distortion but I think most will find the bass adequate in volume and quantity, But most of all, in quality.
Midrange
The X-One produces midrange that is very clean, detailed, and airy with a very good pitch. The midrange although very smooth has some bite and color which is tasteful.
The amount of detail in the midrange response is excellent. Everything sounds separated and distinct and In certain recordings, you can feel the room size and hear room reverb and echo and such other similar things.
Listening to Boulevard of broken dreams sang by Maiya Sykes on Postmodern Jukebox, besides her voice sounding gorgeous and being able to hear her breath, you could feel and hear the room echo and reverb. At 29 seconds in, right before the bassline kicks in, you could hear the Pianist slap the page over on his sheet music. You could also tell it was from right to left. Impressive indeed.
Treble
The highs on the Anew X-One are very good. They are upfront and not shy because they like to strut their stuff.
They extend very well. The tone generator test took them way beyond my hearing capability. They are very sharp and airy with lots of sparkle and detail. They also handle complexity and speed very well.
Although this description makes them seem intense in high frequencies, they never sound harsh or sibilant. The highs always remain clean and non-piercing even at high volume levels. If you find the highs intense on the Anew X-One, one of the modules might correct that for you, hence the versatility of these IEMs.
Imaging & Separation
The Anew X-One excels in these categories in every sense. Let us go back to Postmodern Jukebox. Lovefool with Haley Reinhart as the vocalist, dead center, and the Piano sits left front in the soundstage and you could almost sense where the pianists' hands are on the keyboard. Once again, color me impressed.
I did some gaming with these on Call of Duty and localization was excellent. I could pick out distance and direction plus I was always the first to hear nearby footsteps from my four-man crew. In the game, I was always the ears because my headphone setup was superior, a good DAC amp, and The Anew X-One.
The soundstage is large, wide, deep, and with some height. Positioning is excellent and so is frontal staging.
Blue Modules
Here is where things get a bit weird because I got a different effect from what each module claims to do. Although the Blue module is meant for increased bass, if you look at the frequency response graph it shows that the bass response remains the same on all three modules. All the changes seem to happen between 3khz and 8khz.
Basically what the bass module does for me is push back the midrange and the treble just a hair giving the impression of more bass.
In turn, what that does positively is that it smoothens out the sharp highs for people who are sensitive to intense high frequencies. So this is a module that seems to be better suited for people with sensitivity to high frequencies. Just remember, the changes are very subtle and do not change the overall sound signature by much.
Red Modules
The Red module reduces the bass and the midrange giving you a touch of forwardness in the treble. Is it an increase or a reduction? I think it's a reduction in the midrange which again gives the impressions of more highs.
Is it a boost in frequencies? No, it is not. I found this module to have the most V-shaped signature of the three because of the slight recess in the midrange area. There is a peak at around 6 to 7khz on the Red module not present on the other two modules and perhaps that peak is what creates the slight forwardness in the treble.
The subtle sound signature changes are done by reduction using resistors. And again, it looks like all the changes occur around this 3khz to 8khz area but again, they are very subtle changes.
Synergy
The Anew X-One is a very sensitive IEM but it will benefit from more power. They scale very well although high power is not needed to power them at all.
I ran the Anew X-One with the Ibasso CF01 with very good results. I think it is safe to say that if a device with 9mw of power works well with them, then anything will although Ibasso seems to be conservative with their power rating of the CF01. I also ran them with a 1800mw amplifier and they loved it and were very enjoyable.
The included flanges are not best for me personally and this IEM gave me the best sound signature with aftermarket foam flanges.
Selective Comparison
Kinera Freya
Beauty and the beast? Well sort of. The Freya IEM is a beautiful piece of art and sounds good to boot with a four-driver configuration instead of five. They also cost 60 dollars less but they come with a plethora of accessories.
The Freya has a smoother sound signature and is less intense in the highs and the bass department. Both IEMs excel in the midrange. The highs are a tad more intense on the X-One because of the dual BA versus a single BA on the Freya.
The Kinera Freya has good bass but the Anew X-One has a more pronounced bass and can take a more intense boost with less distortion and has more impact.
The Kinera Freya is flatter, smoother, and less intense while the X-One is more intense with a more forward presentation that has more color. The X-One has a better soundstage and, imaging is also better.
Our Verdict
The Anew X-One are sleepers. Not many people know about them, not many people include them on their possible purchase list and it is quite a shame because if you had a chance to hear them before you bought them, I bet 9 out of 10 of you will take them home.
The amount of sound quality, detail, and imaging are beyond their price point on the Anew X-One. My only complaint is the number of flanges given. However, these can take any aftermarket tips available and work best with foam tips.
At a little over 300 bucks, you get one IEM capable of three sound signatures, with some great build quality, excellent sound quality, and excellent imaging and separation. The Anew X-One is a jack of all trades.
If this is within your budget do not disservice yourself, take a hard look at these.
Anew X-One Specifications
In-Ear Monitor
Connectivity- Wired
Speaker type-1 Dynamic and 4 Balanced Armatures
Sensitivity- 108 Plus or Minus 1db
Impedance- 20 ohms
Frequency Range- 20hz to 20khz
THD- 0.2%
Connection Type- MMCX
Cable Length- 1.2m Symmetrical Design