The Audiosense DT200 is a competitively priced dual Knowles balanced armature driver 3D printed universal In-ear monitor. It is priced at $149.00.
Disclaimer: The Audiosense DT200 sent to us is a sample in exchange for our honest opinion. We thank the team at HiFiGo for giving us this opportunity.
To read more about IEM products we have reviewed on Headfonics click here.
Note, this review follows our new scoring guidelines for 2020 which you can read up on here.
Audiosense DT200
I would not recommend these if the person likes bass. These are not good party cans or to rock out with. These are more subtle and delicate. They are better for people who use their devices at a medium volume level and like to listen to detail and recording nuances.
Audiosense came into the IEM scene not too long ago and was quickly noticed amongst the audiophile circles when they introduced their flagship T800 eight Balanced Armature driver and 3D printed shell IEM monitors.
The introduction of the DT200 also received notice amongst the audiophile crowd. We just received the DT200 from Audiosense in exchange for an honest review and give thanks for the opportunity.
Product Introduction
The DT200 is one of Audiosense latest IEMs and is a dual Balanced Armature monitor model with a detachable wire and a 3D printed shell for 149 USD at the time of writing.
The DT200 is fashioned similar to the T800 and their new AQ3. Where the DT200 differs is that it only has two Balanced Armature drivers in whereas the AQ3 has 2 Balanced Armatures plus a dynamic driver at a slightly higher cost.
The T800 is a pure BA IEM with eight Balanced Armature drivers at double the price of the DT200 and is still considered a bargain by many for what they offer.
Tech Inside
Two Knowles precision Balance armature drivers inside the DT200 handle the entire spectrum of sound. One handles the bass and midrange section and the other handles the highs.
Both are connected to individual tubes that bring the sound closer to the ear canal right to the tip of the 4.9mm nozzle.
These seem to have a pretty beefy crossover also. Through the smoky, almost translucent shell, you can see a larger than usual 220 microfarad 6.3v surface mount aluminum capacitor. There are other components to the crossover but are all under the stylish shell's cover and are barely visible.
There is only a hand full of IEM models with a two balanced armature configuration and this is one of them. I can think of perhaps the Brainwavz B200 and the Akoustyx R220. There is the Noble audio Savant 2 and after that, my mind kind of goes blank so it is not a common configuration.
There is also the Audiosense T260 which I think the DT200 replaces but with an updated shell, updated drivers, and or crossover section and it is obvious because of their slightly different specifications.
Specifications
The specifications are listed as a frequency response of 20Hz to 22kHz, a low impedance of 14 ohms, and an SPL of 99 plus or minus 3 decibels.
Sound isolation is given as 30 decibels but that depends highly on obtaining a good ear seal as always and so does the bass response especially with these. I could not find a weight specified but I can assure you these are extremely light and you barely will feel them in your ears.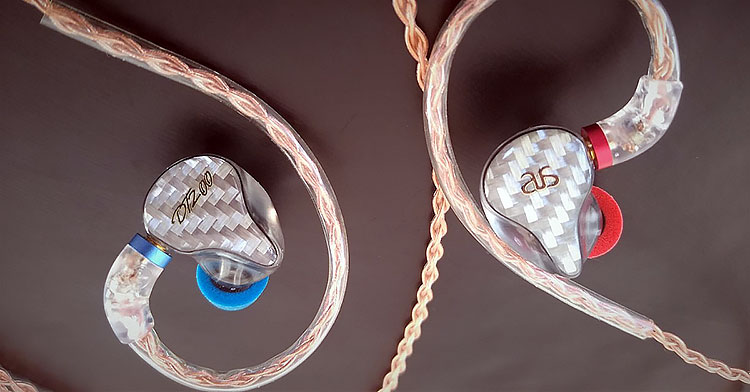 Design
The DT200 are made with 3D printing technology and are made of skin-friendly resin. I honestly can give testimony that these are one of the only IEMs I can use all day long and not feel any type of irritation whatsoever.
The shells are almost transparent with a hint of smokiness. The nozzle seems to be aluminum. I prefer the nozzle type of the T800 which is part of the shell structure but this one seems to be sturdy enough.
Besides being made of a skin-friendly resin they are also very light and fit my ear very well making them very good for prolonged hours of use.
The custom back covers have logos that are not painted on but are inside the resin itself and displayed like proud badges. A flat silver weave pattern sits inside while the Audiosense and DT200 logos sit front and center in a gold inlay.
These are very good-looking indeed and it is very difficult to capture their beauty on camera and you have to see them for yourselves to understand what I mean.
Stock Cable
The Audiosense DT200 uses the now commonly used MMCX micro-miniature coaxial connector. However, I am one that prefers the 2 pin connection type because it seems more sturdy to me.
The 125cm long wire is better than some I have seen included with cheaper IEMs. What got me about it is the tight and perfect 4 wire braid. Oh, I wish I could braid like that.
The tip is a 3.5mm stereo plug at a 45-degree angle and made of an almost translucent hard silicone material.
At the Y break is a small metal cylinder with a length adjuster that is integral with the cylinder and is also metal. Then the wire breaks into two smaller braided wires ending with the typical ear loop section and the two MMCX plugs.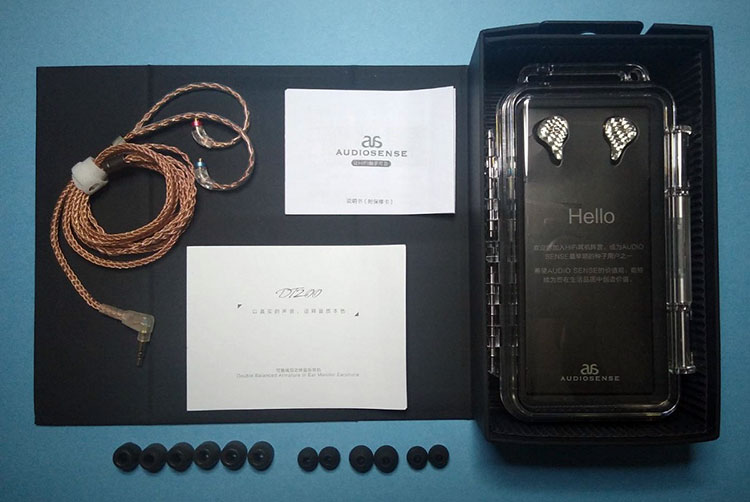 Packaging & Accessories
Everything comes in a black box inside a black sleeve and everything inside is placed in black rubberized foam. Inside the hard acrylic clear case, you see the IEMs displayed front top and inside sits a black box containing the wire, 6 foam ear tips, and 6 rubber tips.
You also get a specifications card and a pamphlet which I think is the instruction manual but since it was completely written in an oriental language I could not read it.
Sound Impressions
Summary
When I heard these the first few times I was disappointed with the sound signature. They sounded flat and lifeless to me until I started experimenting with different tips and different amplifiers.
I settled for the foam tips because they gave me the best ear canal seal and the best bass response. They like low, clean power and are overwhelmed easily by high volume and powerful amps. Once I got things sorted out things changed.
Have you ever had or heard point source speakers that you have to place them at just the right distance and at a certain angle? Then you also have to take a correct seating position for them to become magical with particular recordings. This is what the DT200 reminds me of. you have to work with them.
Once you do they sound very clean with a pretty flat signature. The entire frequency spectrum is there with no peaks or voids and rarely sound harsh. I only perceive a very small hump around 4 to 5kHz.
Their emphasis is on clean midrange and treble. Vocalization is very good and so is instrument timbre. However, their best features are imaging and micro-detail retrieval.
Bass
The bass response on the DT200 is a good representation of decent BA bass. Fast, clean, and well-toned but is rarely felt and lacks punch and weight. You do hear every bass note distinctly, however.
The DT200 goes pretty deep into the lower octaves but because of the low impact, it is barely felt. My usual tone generator test revealed to me that these can go down to 20Hz with no problems. I took them down to 18Hz audible. They do slightly dip after 100Hz or below overall but it is not a very steep drop either.
Fortunately, there is no midbass bleed into the midrange but I still feel the worst trait of the DT200 is the bass response and is not an IEM for people who like bass. Don't get me wrong it is good quality bass but I prefer the slam of dynamic drivers personally or a good Planar.
Midrange
These have a good midrange response. The vocals have very good clarity. Midrange frequencies as a whole are very well defined without any harshness. You could hear lots of micro-detail In the midrange also.
A good example I can point out is in the song "Adagia" by Pat Metheny. Not only does the guitar sound great at the guitar solo intro but you could also clearly hear Pat Metheny breath as he is playing and more so compared to other inferior IEMs.
The DT200 midrange is neither forward or recessed and to my ears is just where its supposed to be and that I believe contributes to their good positioning and separation in for example choruses where you could pinpoint individual voices in a track.
If you like vocals you will like these and would probably even work well for vocal monitors.
Treble
This is an area where the DT200 also shines no pun intended and I say that because the highs are very sharp with no edginess. They have sparkle, shimmer, and air. It is quite phenomenal that these produce such good sound out of two Balanced Armatures. I do sense they drop off at about 16kHz but the range below that is done very well.
Cymbals sound crisp. I can hear the cymbal pedal release on "Saturday Night" by Earth Wind and Fire. They also do good directionality.
Imaging and Separation
The DT200 is a good candidate to buy if this is what you look for. They image very well and have a fairly wide soundstage. They have height, width, depth with good placement, and can easily project beyond the ear.
In the recording "Las Perlas de tu Boca" sung by Xiomara, the DT200 paints a picture. You get the bass on your left side. Above the bass but further upfront is the Maracas. Then you get Congas on the right and the guitar to your right but further upfront while Xiomara takes the front stage. Well done.
The song mentioned is track number five on Dr. Cheskys Ultimate Headphone Demo Disk and after that track comes one called "Bens Farm In Vermont" by David Chesky and Fundakao Orchestra and the shimmer presented in this song sounds airy and like its all coming from different directions.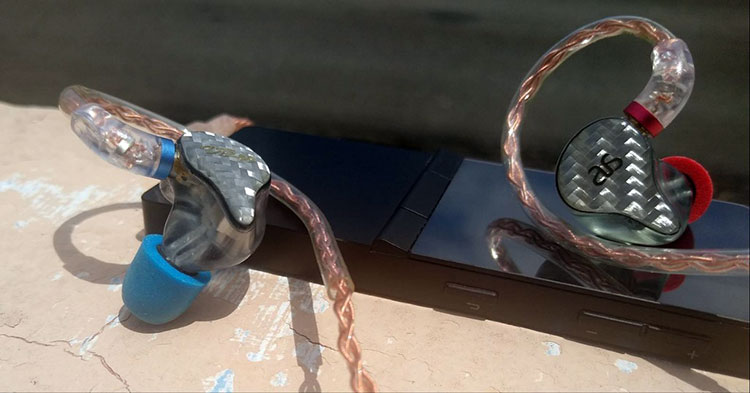 Synergy
One thing I can say for certain is that these are very efficient although the 99db rating is fairly low for an IEM. Perhaps it is because of the lower than usual 14ohm rating. These DT200 preferred my phone over more powerful amplifiers. I have a Motorola Moto G7 Power and it does have a decent sound chip in it with a mentioned specification of 90db signal to noise.
It also liked mini DACs like the recently released Zorloo Ztella which is rated at about 22mw at 32 ohms but has an ESS Sabre DAC and very clean power. If I used the iFi Zen DAC for example I would have to use it on a low power match with no Truebass because they would simply be overwhelmed and that is on the single end side.
They play very well with DAPs and my Hifiman Supermini made them sing nicely on the single-ended output. These work best with acoustic and vocal music. They love jazz trios and even do classical music well but they do not like thumping party music and being played loud. These are not ghetto blasters but are a more refined experience.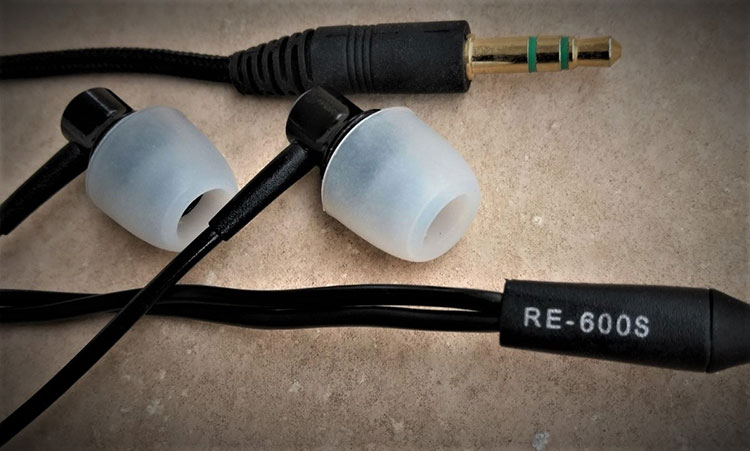 Select Comparison
Hifiman RE600 V2
Dynamic versus Balanced Armature? 150 versus 200 dollars? Unfortunately, I don't have another dual BA IEM and don't want to give spoilers to my next reviews. I recently reviewed these and these earbuds are more old school and retro with an attached wire and a conventional shell. They are at a reduced price of 75 UDS now but were first offered at 200.
If you like bass the RE600 is better for you plus they can handle more power and volume. I've put up to a watt into these with a slight bass boost and they can handle it fine. The DT200 would go into incoherence.
The removable wire is a bonus when it's implemented correctly. The DT200 MMCX connector felt loose and the buds spun freely within the connector. They did not present any issues with intermittence or disconnections, however.
If you wanna party and want a beefier bass response with impact with a balanced signature choose the RE600. If you want imaging with good placement choose the DT200.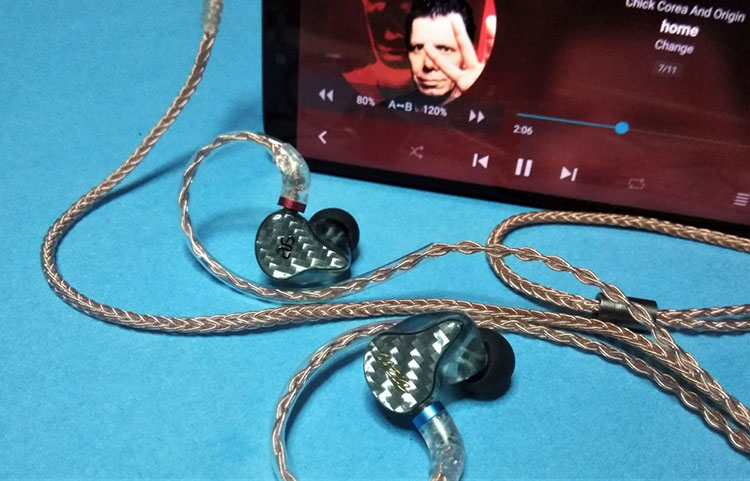 Our Verdict
If someone was to ask me for a recommendation of a very light, good-looking, and clean-sounding IEM I would probably throw these in the list. Especially if the person wants something that could be driven by a phone or something else with low power output.
I would not recommend these if the person likes bass. These are not good party cans or to rock out with. These are more subtle and delicate. They are better for people who use their devices at a medium volume level and like to listen to detail and recording nuances.
If you want precise imaging, clean highs with a good soundstage, and a smooth midrange response I would recommend these. Just know what you are getting into. I think if you have a good ear you will like them just like I did.
Audiosense DT200 Specifications
Impedance: 14 ohms.
Frequency Response Range: 20Hz-22kHz.
Sensitivity: 99+/-3dB.
Noise Isolation: Up to 30dB.