Sound Impressions
Summary
I can summarize the Svanar Wireless sound signature as energetic, punchy, balanced, audiophile oriented, and musical. Most of the listening I did was done with high-fidelity mode enabled since the ANC setting subdued the overall sonic characteristics. Comply tips were used most of the time.
When I ran a tone generator through this set, the bass extension proved excellent and effective down to 22Hz with a very small deviation from flat until it reaches 100Hz in which you'll find a small bump, or shall we call it a fun bump?
The rest of the Svanar Wireless frequency response was quite impressive for a TWS. The high frequencies, in particular, were of most interest since they can overpass my hearing capacity and produce the upper regions with excellent extension. However, there is no upper-frequency noticeable noise which I commonly find on most TWS sets.
The overall tonality is a fun signature with a great bass presence but not overly cooked, a quality midrange production that's unequaled in other TWS models, and highs that were constrained and always remain within an enjoyable range. For a TWS this set has excellent high-frequency definition.
Bass
The Svanar Wireless bass response comes through full-bodied and textured. Combine that with the ability to present each bass note distinctly and speedily. The bass seems to have a slight bloom around 100Hz which seems to be the main source of the overall punchy character.
These drivers can dish out a heavy punch and wallop. These do well with EDM and music that benefits from heavy bass tones especially if you're not shy to use an equalizer. But they can also be composed, well-behaved, and technically capable.
The bass maintains control even when the volume is up loud and when the basslines get heavy. Just as with the original Svanar, these can project good technical ability in the bass but the fun factor was not forgotten. This driver can handle complex bass riffs which seems to be attributed to the excellent responsiveness of the driver.
Midrange
If you compare the Svanar Wireless with the original Svanar, the overall midrange, and the vocal presentation is not as present and forward sounding and they take a more relaxed poise. The midrange has restraint and could perhaps put the sound signature in a slight V-shaped category.
The Svanar Wireless produces a lot of midrange definition and detail but the overall vocal presentation is slightly warm, especially with female vocals. It's a tasteful off-tune. Male vocals sound closer to true tone and are more neutrally portrayed.
Come to think of it, the overall tonality could be considered warm especially if you kick in the ANC mode. But again, just like the wired Svanar the instrument pitch is spot on, particularly acoustic, piano, and other types of instruments.
Treble
The Svanar Wireless treble response has a relaxed tonality with a restrained character or can be best described as controlled. They're right below in output compared to the midrange section making the overall sound signature veer to that warmer character previously mentioned.
If there is an area that I would say needs an uplift it would be the high-frequency presence, or perhaps I'm simply spoiled by the wired Svanar's excellent high-frequency presence and definition. The Svanar Wireless is almost there, almost.
However, we're talking about a TWS and in this case, the Svanar Wireless high frequencies emit some of the best high-frequencies from a TWS I've heard. They're absent of high-frequency artifacts and noise which is uncommon and produce highs with a realistic pitch.
Staging and Dynamics
Again, Deja-vu. The Svanar Wireless stage presentation is not a huge one but a realistically sized stage that is personal and up close most times but on occasion, it widens and certain elements do jump beyond a reachable position and past arm's reach.
Imaging is spot-on and panning seems to run smoothly with no apparent voids anywhere and each element has its place in the stage. Add to that an interesting amount of micro-staging.
The Svanar Wireless can paint an accurate picture of the panorama within a recording and although instrument separation is not as well-defined as in the wired Svanar, the Svanar Wireless is no slouch far as staging and technical capabilities.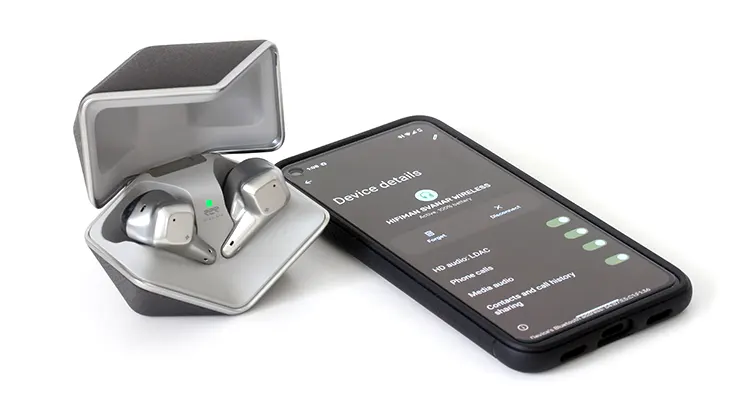 Wireless Performance
Stability and Range
I had one weird occurrence with the Svanar Wireless which only happened when I paired them with my FiiO BTA30. Every time I switched to ANC or any other mode I would get disconnected from the source and I would have to re-pair them.
But that did not happen with my mobile devices, my Android tablet, or any other device. The connection remained rock solid and I move travel at least 45 feet in a straight line from the source without any dropouts.
But as usual, it didn't like corners or transmissions through walls or any other obstacles. Moreso when Svanar Wireless is operating under LDAC codecs. They work best inside an open area in general which is expected.
Latency
I did notice that the Svanar Wireless LDAC implementation prefers to kick into a low latency mode over other modes, but a stability issue arises if you like to move around and away from the source occasionally.
Because it switches modes and re-connects under another mode often in which it finds better stability and that could annoy one at times. But if the source is on you or nearby that doesn't happen.
When the Svanar Wireless LDAC LL mode is enabled there's very little to no latency noted on my part. I mostly used Youtube videos and a couple of movies for the test and synchronization was spot on.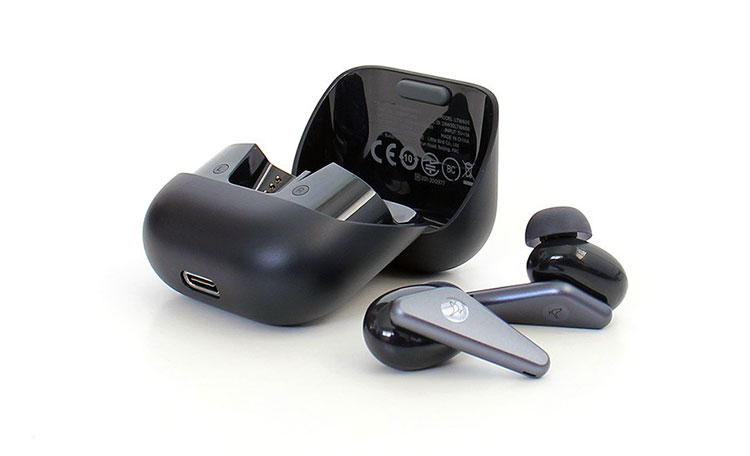 Select Comparisons
Libratone AIR + 2
$229.00
Technical
The Libratone Air+ 2 is a quality TWS set. It uses high-quality materials and components starting with a pair of Qualcomm QCC5141 chips which are capable of handling codecs at up to aptX HD levels though not the Svanar Wireless LDAC capability.
This is another set that runs on the newer Bluetooth 5.2 radio capable of a 24bit/96k high resolution 3mbps data rate transmission. Speaking of radio capabilities, this set is the only set that can simultaneously retain 3 device pairings in memory.
The Libratone Air+ 2 has the smallest driver in these comparisons. It uses a single dynamic driver that measures 5.3mm and employs a high Polymer diaphragm with Neodymium magnets. The driver gets some help from the app which includes 4 defined DSP presets, but there are no user-adjustable settings.
Design
This set employs my favorite design and construction overall and it's because of the small size and construction quality. It uses a tight tolerance assembly concept and everything fits like a hand in a glove, particularly the earbuds within the cradle.
The cradle has a flip-top and as stated, the earbuds fit inside the cradle nicely. My only major gripe with the overall design would be the output stems which are too short and they can't accommodate common-size tips. So you're stuck using their tips exclusively.
Performance
The Libratone AIR+ 2 is a flat, neutral-sounding TWS. The overall tonality is soft-natured. This set demonstrates a good bilateral extension ability far as frequency response.
There is an inherent flaw in this set and that's the fact that these earbuds are tip sensitive, and since you can only use their tips you're somewhat restrained. There's a feature within these earbuds that senses the seal between the tips and the ear canal and the feature tries to maintain the same sound profile characteristics.
At times if you don't get a perfect seal the sound profile changes and, hence you often get a different sound profile and a shift in sound quality which could annoy one at times.
Thankfully you can disable the feature and just use one of the sound presets or you could just cover the sensor. I kept my set stock mostly since it gave me the best stability, consistency, and an overall acceptable level of sonic performance.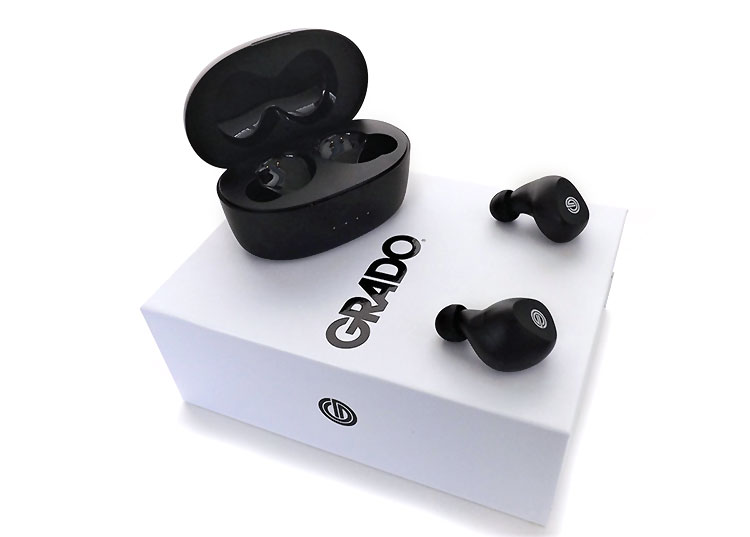 Grado GT220
$259.00
Technical
The Grado GT220 is another TWS that offers you a no-frills sound concept since there's no app or any other way to play around with the overall sound profile. It also has a single dynamic driver which is another similarity they have to the Svanar Wireless.
The GT220 uses an 8mm Polyethylene Terephthalate dynamic driver that was designed and made by Grado. The driving electronics come from Cambridge Silicon Radio which was acquired by Qualcomm not too long ago.
The GT220 works over a Bluetooth 5.0 radio and only reaches aptX level codecs and does not offer LDAC, unlike the Svanar Wireless. It doesn't offer ANC either.
Design
The cradle is smaller and the earbuds seem easier to seat within the cradle. They also sit correctly oriented within the cradle.
The cradle, earbuds, and the entire construction seem to be made of Polymer blends including the hinge which doesn't inspire confidence far as taking heavy abuse. I would make sure not to drop the cradle.
Other than that, the GT220 earbuds are a bit chunky but comfortable and light. They have basic touch controls that work well.
In fact, the GT220 operate in a non-dramatic way because they just work well, including in connectivity which I found to be extremely stable and the most consistent of the group in this area.
Performance
My major gripe with the GT220 is that it veers away from the well-known Grado sound signature. So while the Grado aficionado might find it an attractive offer they might be disappointed.
Instead of projecting a neutral and spacious soundstage it caters to 'Urbaniites' that prefer a heavy bass presence with decent midrange production as a second course. Many like this type of sound signature but in general Grado owners prefer something more in-line with the Harman curve.
The GT220 projects a potent bass presence that is not common to Grado's house sound but you can always tame that bass with an equalizer. But that would have to be done at the source since the GT220 offers no sound-altering means.
Technics EAH-AZ70W
Price $199.00
Technical
If your major reason and need to purchase a TWS set is for the ANC, the Technics EAH-AZ70W is one of the best out there for that. That's because it offers a hybrid adjustable ANC with 100 positions to choose from. So does the ambient mode.
It sports the largest driver in this comparison. The EAH-AZ70W uses a 10mm Graphene coated PEEK diaphragm dynamic driver that comes through potently and competently.
One of the other highlights this model offers is the app. It happens to be one of the most featureful apps out there. It offers an equalizer, a bass boost feature, and a clear voice feature, plus Technics offers occasional firmware updates.
Design
The cradle is rather small but the earbuds are large and tend to protrude out of the ear some. I would say they're not the best-shaped earbuds for physical activity because they can easily fall out but they are comfortable to wear.
The cradle has a metal layer on the outside which gives it a quality feel. The inside of the cradle also employs magnets to hold the buds in place.
Performance
The overall sonic characteristics of the Technics EAH-AZ70W can be summed up as warm, soft-mannered, and peak free.
Once you turn up the volume, the area between 5kHz to 7.5kHz hits you with a couple of peaks that become obvious so the set does have some coloration sonically.
One aspect that they have is that there's a big difference sonically that takes place when you switch over to ANC. So sonically, they take a hit. Meantime, the Svanar Wireless is not affected as much when you use the available modes.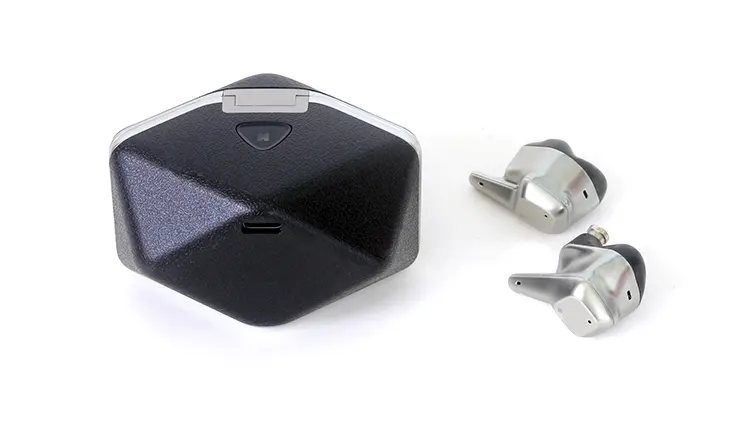 Our Verdict
The HIFIMAN Svanar Wireless is an extremely high-performing True Wireless System, perhaps the best I have reviewed to date. It is a combination of excellent sound quality, construction quality, and ANC effectiveness that does it for me.
My only small qualms are that the cradle seems a bit on the large size and there's no app, or up to now but that can change in a blink of an eye, however.
If your budget allows it and you're looking for a TWS that compromises nothing then seriously consider the HIFIMAN Svanar Wireless. They serve up great sound along with a very effective ANC. The pole has been moved forward and the rest will have to play catch up.
HIFIMAN Svanar Wireless Technical Specifications
Frequency response: 10Hz to 35kHz
Bluetooth version: Bluetooth 5.2
HiFi mode battery life: Up to 4 hours
ANC mode battery life: Up to 6 hours
Transparency mode battery life: Up to 7 hours
ANC spec: Up to 35db
Charging case weight: 83.7g
Single earbud weight: 8g
Waterproof rating: IPX5
Charges from charging case: 3 times
Transmission distance: up to 15m (barrier-free)