The Technics EAH-AZ70W is the company's debut TWS featuring a 10mm PEEK dynamic driver, ANC, and up to 26 hours of battery life. It is priced at $199.99
Disclaimer: The Technics EAH-AZ70W sent to us is a sample in exchange for our honest opinion in this review. We thank Technics for this opportunity.
To learn more about TWS reviews on Headfonics you can click here.
Note, this 2 page review follows our new scoring guidelines for 2021 which you can read up on here.
Technics EAH-AZ70W
I would put the Technics EAH-AZ70W on the top of my list if you are looking for a TWS around this particular price range. They do everything well. They sound very good, are comfortable, have a very good app with lots of features and they have one of the best noise-canceling implementations around.
Technics is an audio gear maker that in their history timeline which started back in 1965 made many components that grew to 'legendary' status like the SL1200 MK2 and some of their phase linear speakers for example. I owned both the 1200 MK2 turntable and a pair of SB700A speakers back in the day and I absolutely loved them and wished I still had them today.
If you go to the Technics website today, you will notice their pieces are mostly high-quality stuff for enthusiasts who demand value, good-looking components with longevity but, above all else want great sound.
So here we have a TWS from Technics which is their first attempt at this tech however, this seems to be an improved version of the Panasonic RZ-S500 we reviewed a few months back which is an improved Panasonic RZ-S300, so is it?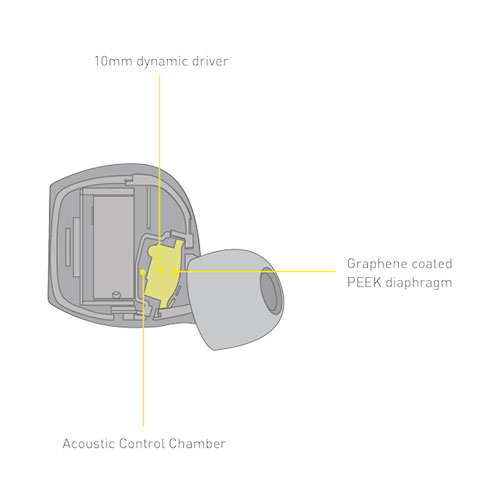 Tech Highlights
Technics Energetic Sound technology
The Technics EAH-AZ70W is similar to the Panasonic RZ-S500 in body style, shape, and appearance, but there are differences in some of the internal components. Technics is offering a "music as it's meant to be herd" concept with the AZ70. It does offer lots of unique features in an elegant and stylish design package with wireless tech that allows you to cut the cord.
Using SBC and AAC codecs with a list of Bluetooth profiles, Technics managed to produce a good-sounding TWS that will appeal to a large group of buyers who want clarity in a nonabrasive way and a pleasing sound that most listeners will like.
Acoustic Control Chamber
Technics went a little further with the EAH-AZ70W compared to the common budget TWS models and gave sound quality some attention and designed a shell with an internal acoustic control chamber specifically tuned to benefit the dynamic driver they used.
This chamber is tuned to reduce vibration and resonances within the driver cavity and is better able to control the airflow of the diaphragm especially in the low to midrange area of the frequency spectrum.
This particular tech was borrowed and adapted from their EAH-TZ700 IEM which is a premium model made in Japan and a model that is in the 1000+ price high-end IEM club.
Driver
Inside this chamber within the Technics EAH-AZ70W shell sits a single 10mm Graphene coated PEEK diaphragm dynamic driver with a Neodymium magnet. Technics uses this combination of materials to particularly increase strength and eliminate diaphragm vibration. PEEK is known to reduce resonance and graphene further adds rigidity.
So this in combination with the acoustic control chamber Technics was able to control a lot of this driver's characteristics and tuned the EAH-AZ70W to have the musicality Technics was looking for.
MEMS with Beamform Technology
I have many TWs models and on most, I get improved voice quality if I take one earbud out and speak directly into it. The Solution to this issue Technics implemented on the EAH-AZ70W is called Beamform Technology.
This technology assimilates a microphone on a boom. I obtained some good results with sound quality with this setup by picking up your voice and at the same time suppressing external noise by also using noise cancelation.
Apart from the Beamform technology, the dual-microphone system is mounted inside a unique labyrinth cabinet structure. This structure further suppresses wind noise in particular which is a simple but effective implementation.
The microphone is not only available for calls but the EAH-AZ70W also uses the microphone system for SIRI, Google Assist, and Alexa voice commands.
Design
Cradle
The Technics EAH-AZ70W has a charging cradle that uses a rear USB-C connection to charge the internal battery in about one and a half hours using a 2 amp charger. I got about 4 good full charges out of the earbuds from the cradle at a full charge which is ample enough. It also has a quick charge which gives you 70 minutes of playtime for 15 minutes of charge time.
The case is a composite design meaning it has parts made of plastic but the outer shell is made of metal or laminated with metal. The total weight of the case is 65 grams and unlike the earbuds which feel very light, the case feels a bit hefty.
The cradle is equipped with white-colored charging status LEDs which are cleverly placed at the edge of the door opening which when off are barely noticeable and there is a total of three.
I do scratch my head often when I look at all the charging contacts inside this cradle. I counted 6. I thought you only needed 2, a positive and a negative. Do those extra contacts have a function or are they just blank? We'll probably never know.
Earbuds
The Technics EAZ-AZ70W earbuds have a rather unique design that I like although lots of people will find them to be rather large because they do stick out some once on. The earbuds do have a waterproof rating of IPX4 equivalent which is assuring to know.
The earbuds are comfortable but they are rather large and in no way would I consider them as a low profile design. They are rather large but not too heavy at 7 grams apiece.
The design resembles a cylinder shape with a stem on an angle with a composite construction using a black plastic with a silver top where the touchpad resides. Unlike the one-color LEDs on the cradle, the LEDs on the earbuds are multicolored.
Battery performance was a touch less for me than the specified on AAC which is listed as 6.5 hours with noise canceling on. My average was around 4 to 5.5 hours depending on how much volume I used. That is still quite an acceptable amount. They charge up fully in a little over an hour which is also acceptable and quite average for a TWS.
Touch Sensor Antenna
The Technics EAH-AZ70W has a good set of touch controls that can control media functions and other features like noise-canceling and ambient noise activation but the touch control itself has a dual function.
Technics went with a "kill two birds with one stone" approach here and combined the touch sensor with the antenna and since this design puts the antenna right at the tip of the earbud, you get excellent reception.
I got almost 40 feet away from my FiiO BTA30 source transmitting AAC codec. This is one of the best in this respect if reception is important for you. I was actually able to roam my 3+2 room house with these on but not so much with other models.
The EAH-AZ70W touch controls were ideal for me far as sensitivity and functionality and the touch controls are very well implemented. Every feature I needed was there.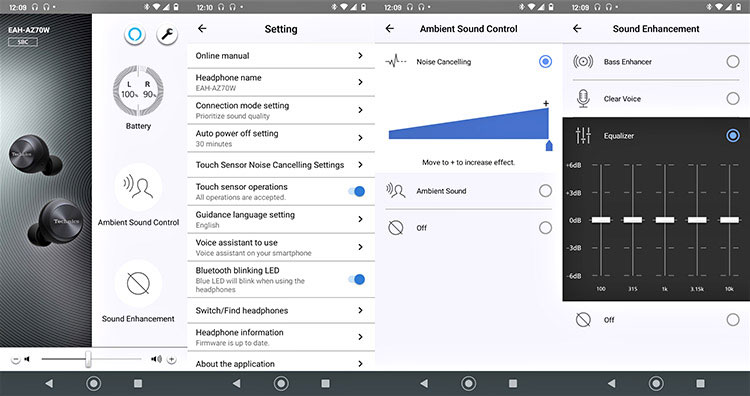 Technics Audio Connect App
My personal opinion of the Technics Audio Connect app that you can download for free for the EAZ-AZ70W is that it's one of the best out there. I will just mention some features here because there are lots of hidden features here besides the ability to perform firmware updates.
The app has a 5 band equalizer, Bass enhancement, voice enhancement, ambient sound sensitivity control, external noise suppression sensitivity, a find my bud feature, and the list keeps going but do you see why I like it? You could even shut off the earbud LEDs. The app is feature full and all the features work very well.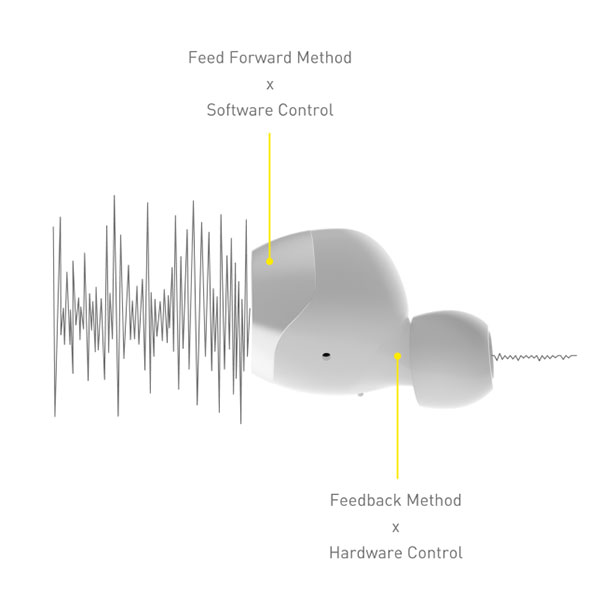 Hybrid Noise Cancelling
The Technics EAH-AZ70W has a rather unique noise-canceling system and probably the best in my opinion. Technics went all out with this particular noise-canceling system which has a never before seen 100 step adjustment position in a similar fashion to a volume control which is the highest in the industry up to now that I know of.
You could activate noise suppression with the touch controls and the 100 adjustment is through the app which you download from the Playstore if you're on Android 6 or higher. Apple product users also have a version that works on IOS 9.3 or higher.
A lot of technology is involved here. Noise reduction is done on the EAH-AZ70W with a dual hybrid design which firstly uses a feedforward and feedback system to then secondly uses a combination of analog and digital processing.
On the inverted side of things, the EAH-AZ70W also amplifies ambient sound with a similar adjustable setup that they call Ambient Sound Mode delivered in the same adjustable setup the noise-canceling provides. I use that system a lot because I personally dislike being completely shut off from the outside world and prefer more awareness.
Packaging & Accessories
The Technics EAH-AZ70W comes with a reasonable amount of accessories. The product is presented in a printed black and white box.
The accessories that come in a box are a USB-C cord which is approximately 1.6 meters long, five earbuds which are all the same black rubber type in five different sizes, and lots of literature.
One thing I need to mention is that the instruction manual is extensive with information and very elaborate. I could tell Technics took great care and put a lot of effort in the making of their user's manual.
Click on page 2 below for sound impressions and select comparisons.