Our review of the Libratone AIR+ 2, which is a 2nd gen TWS featuring hybrid ANC, Bluetooth 5.2 with app integration, and up to aptX decoding. It is priced at $229.
Disclaimer: This was sent to us as a sample for our honest opinion. Headfonics is an independent website with no affiliate links or services. We thank the team at Libratone for giving us this opportunity.
To read more about TWS products we have previously featured on Headfonics click here.
Note, this article follows our latest scoring guidelines which you can read up on here.
Libratone AIR+ 2 Review
On first listen and afterward the Libratone AIR+ 2 TWS earbuds sound good enough for daily use. Their overall design is visually appealing and you could tell a lot of planning and engineering went into this set but at the set price, there are other sets that will probably offer more bang for the buck.
Libratone doesn't come up often in conversation and it seems they do not engross an esoteric megabuck gear production concept but certainly do offer some rather cool-looking gear at competitive prices it seems.
One look at their website and you will find mostly Bluetooth speakers, a unique looking IEM type earbud, and some on-ear Bluetooth headphones all of which seem to be competitively compared with what's available out there today.
It seems they like to cater mostly to active urbanites who are constantly on the go and to people who enjoy the outdoor lifestyle and like to incorporate wireless audio gear in the mix so of course part of their product line includes a couple of TWS models.
So we will start off today with one of those TWS models which Libratone calls the AIR+ 2. It has a rather unique looking and attractive looking design visually so hopefully, the internals are cool as the exterior with sound quality to match.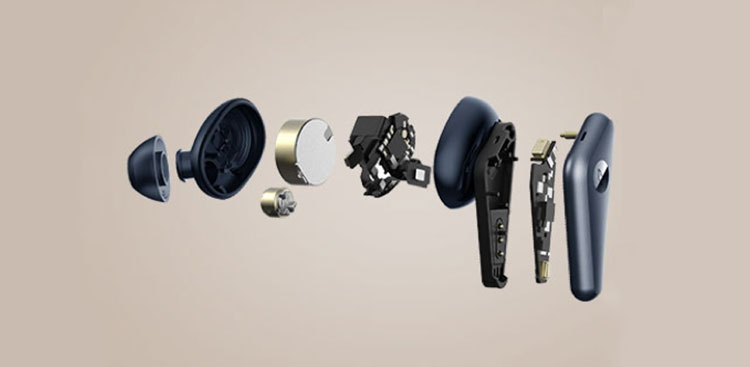 Tech Highlights
One good thing Libratone did from the inception of the AIR+ 2 TWS was to implement a rather upscale chip and went with a Qualcomm premium tier QCC5141 WLCSP package which runs off a Bluetooth 5.2 radio.
This chip feeds a single 5.3mm hi-polymer diaphragm dynamic driver with neodymium magnets that sit inside IPX54 rated dust, sweat, and splash-proof earbud shells which have 'wear detect' with onboard mounted sensors.
So these sensors detect when you have the AIR+ 2 earbuds on and once you remove any single earbud from the ear canal they automatically go into sleep mode and your music source is also paused. This particular feature can be disabled within the Libratone downloadable app if you wish so.
Codecs
Only aptX is listed in the AIR+ 2 specs but I'm fairly certain the AIR+ 2 can also pick up an SBC signal and almost certain they can also do AAC. Actually, the Qualcomm spec sheet for the chip states the QCC5141chip is capable of HD, adaptive and low latency APTx codec as well.
Since the chip runs on a 5.2 Bluetooth platform the dual-core 32-bit system is 24BIT/96kHz high-resolution audio capable with a 3Mbps data rate and since the audio playback section, SPDIF section, and input section of the chip is capable of up to 192kHz it certainly doesn't bottleneck the DAC section.
Features
One neat implemented feature the Libratone AIR+ 2 has is the ability to shuffle between three devices. In other words, you can be paired up to a PC, a phone, and a tablet all at the same time and program that feature using the touch function which will enable you to switch devices on the fly.
Another implemented feature of the Qualcomm chip that has been made operative is the True Wireless Mirroring technology which allows for a combined mono signal when you use a single earbud.
Each can also work individually which is great for phone users and since you can program the touch to work media-related functions you can go completely wire-free with just one earbud.
Since we're on features the AIR+ 2 has more unique peeps like for example the ear tip fit test which can be done through the app. It was designed to help you choose the ideal tip size. It seems handy but not a breakthrough feature in my opinion and not something I would personally need on a daily basis.
Another rather unique feature is the AIR+ 2 hybrid noise-canceling system which adjusts itself depending on the surroundings. It offers an adjustable mode, a comfort mode and there's also a transparency mode that amplifies outer nearby sound sources.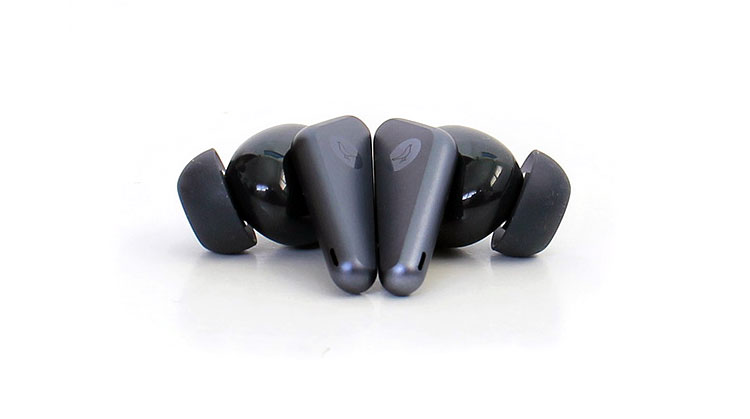 Design
The Woodstock birdie is back on the scene minus the guitar it seems. A look at the Libratone logo in front of the AIR+ 2 cradle reminds me of that historic music moment logo and perhaps someone at Libratone went to the event, or as some emotional chant "I was there". I couldn't go personally because I had to go to school that day.
Getting back on track here, the entire AIR+ 2 package is tight-fitted, small, and well thought out with no amount of space going to any waste. All the components seem to be tightly designed around each other and the cradle is also compact and lightweight at 41 grams.
The AIR+ 2 earbuds each weigh 5.5 grams each. The earbuds employ a bean and stem design with an output port at the far end of the bean. This style of earbud tends to anchor into the ear canal and is a good design for physical activity and these to me were just average for that.
The entire AIR+ 2 package is labeled a Scandinavian design, small and stylish with a premium finish by Libratone and I agree with their statement except for the Scandinavian part because I have no idea what that means. All I know is that the overall design looks unique and visually appealing.
Microphone System
Each earbud employs a dual microphone system with cVc ECNS which is echo cancellation and noise suppression. The system has the equivalent to hybrid noise-canceling except for the addition of a feature in which the system adapts according to the environment it detects and automatically adjusts itself accordingly.
The AIR+ 2 makes use of Qualcomm's feed-forward and feedback hybrid system to keep things clean and noise-free on the microphone end and also on the ANC which is also adjustable for sensitivity.
There are no other special features mentioned like Beamforming with this microphone system but during real-world use, I never felt the need to elevate my voice as I had to with other sets. I would consider the pickup quality to be rather effective and acceptably clean sounding on this model plus microphone tonal quality is pretty good.
Touch Controls
The touch controls work okay, just okay. It could be my fingers but these touch controls seem touchy to me, no pun intended. At times, I would say 20% or more of the time they failed to respond but again it could just be my funny fingers.
One detail I realized was that although you do have the ability to assign individual functions on the touch control pads there's a catch. You only get a two-tap and a three-tap command on each side. That is a total of only four assignable touch commands so you must choose wisely upfront what functions you want to be assigned on each side.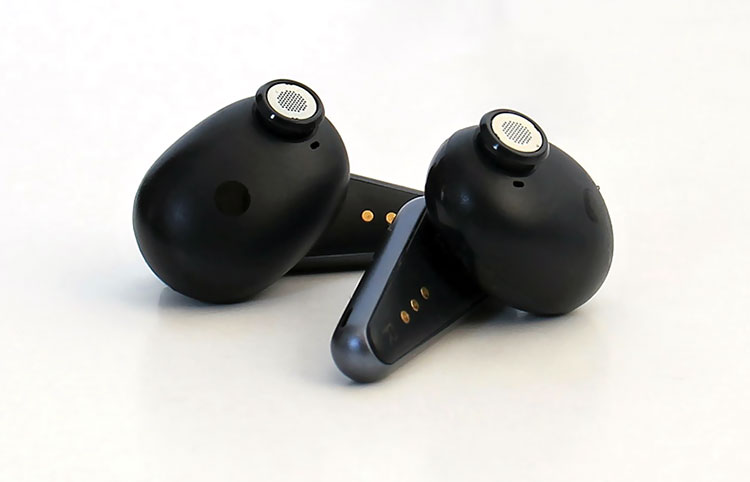 Comfort & Isolation
Isolation is quite good when you activate the noise-canceling feature. However, I preferred the adjustable mode because the auto mode kept switching in between modes too often between the wind noise, high noisy environment, or daily environment settings.
Every time it did switch you could hear the shift in the form of different hiss levels. Perhaps with a future firmware update, the sensitivity could be tamed or each environment better isolated.
I usually find the ball and stem designs very comfortable but here we have a bean-shaped base with the output nozzle on the extreme end. One particular issue I found was that the tips were too short and I basically had to mash the earbuds deeply into my ear to get a good seal with the supplied tips and doing so created another issue.
The issue I found was that the opposite end of the earbud in reference to the output nozzle would push into my Antihelix and introduce a sore spot there. There is a solution but it involves installing longer tips so the base of the earbud lifts itself off the inside of the ear.
If you have small ears this problem might worsen for you but not so much if you have larger ears. My ears are average in size and my particular case was resolved by simply using long foam tips with a 4.2mm opening or smaller but that, of course, was at my expense.
Tips
I find the stock tips to be too short and feel these tips do not penetrate the ear canal enough to easily get a good seal. You could install aftermarket tips but be careful not to get tips with large diameter holes. Get some 4.2mm or smaller diameter tips and you will thank me later.
I really enjoyed the AIR+ 2 particularly with foam tips but was somewhat worried that the tips would stay lodged in the ear canal because there is only a very small lip and about a 3mm space behind the lip for that tip to hold on to. Personally, I feel tip mounting should be standardized across the board.
This could easily be improved upon if Libratone issues longer tips because the stock tips are honestly too short in my opinion. Perhaps some double flange tips to gain a few millimeters of penetration would work out nicely.
But then again with larger tips, you will soon enough realize that the cradle door will not close all the way now due to the larger earbud tips. Oh well.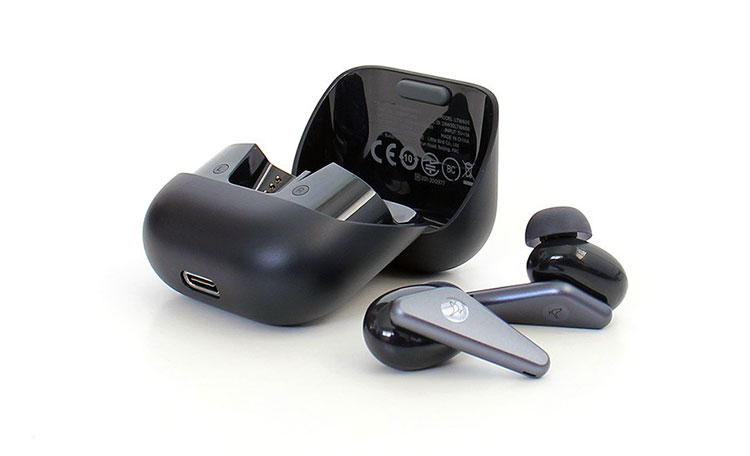 Cradle & Battery life
This charging cradle itself is nice and compact and charges rather quickly either through the USB-C port or on a wireless charger. The cradle measures 5.4cm x 5.0cm x 2.4cm. Construction materials are mostly polymer-based and the cradle has rounded edges making this cradle comfortable to carry along.
Two small charging and pairing status indicator LEDs sit inside beside each earbud while the cradle charging LED is mounted directly behind the USB-C port and emits a red glow.
I do hate to sound like I enjoy criticism but I must be honest above all other things. I did not get 6 hours of use. I did get 3 full charges and around 4 to 5 hours of use out of each charge.
So it would be more realistic to quote 16 hours instead of 24. But even that amount of time is acceptable in my opinion unless you never sleep and plan on wearing these for 24 hours a day.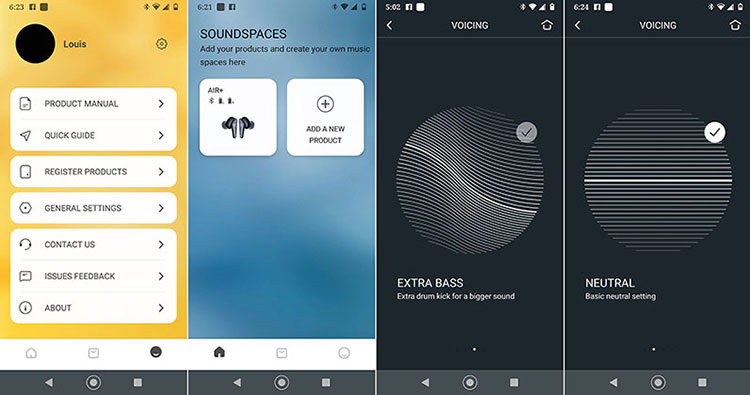 Software
The AIR+ 2 app is rather basic although some of the features are upscale like for example the adjustable hybrid noise canceling. The one area lacking is the lack of equalization or user-defined DSP.
There are DSP settings but implementation mimics presets and there are no user adjustments. There are four settings in total which are labeled, smart, neutral, extra bass, and enhanced treble.
The smart setting supposedly monitors the ear canal and tip seal and tries to maintain a constant sound quality but to be honest, I never needed to use the feature long as you get a good seal obviously.
If you could just outsource other tips that go further into the ear canal as I recommended and if you do, you will realize soon enough as I did that these earbuds are not tip-sensitive whatsoever which makes the smart and the seal detect test features almost inessential.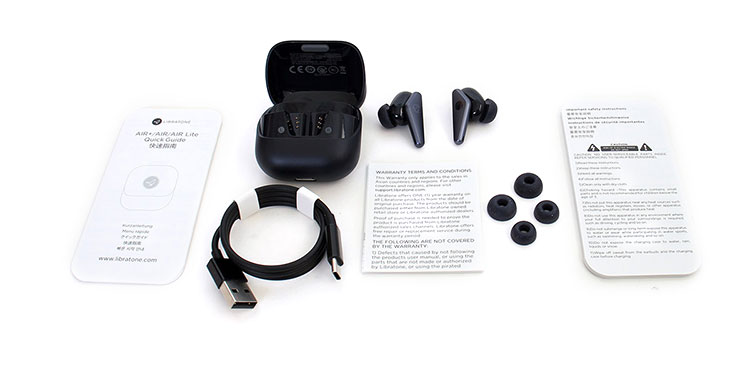 Packaging & Accessories
Packaging is rather simple with a two-tone theme and a single color scheme. The color scheme of the box is all white back with the earbuds, the company logo, and product model printed in shades of pen blue while the back shares the same white foreground but black fonts were used instead.
To me that's fine and to me, it has an environmentally friendly appeal. Recycled cardboard fiber is the predominant material that makes up the entire packaging. It seems even the same type of cardboard was used to make the included warranty card, quick guide, and safety information instructions.
Besides the two earbuds and the charging cradle you also get a charging cable terminated with a male USB-C tip to a male full-size USB on the other end. You also get 3 tip sets in three sizes but I think this area needs to be improved on especially at this tier level and price bracket.
Click on page 2 below for sound impressions and select comparisons