The FiiO BTA30 is a transportable compact USB-powered Bluetooth transceiver featuring an AK4490 DAC, BT5.0, and LDAC. It is priced at $89.99
Disclaimer: The FiiO BTA30 sent to us is a sample in exchange for our honest opinion in this review. We thank FiiO for this opportunity.
To learn more about FiiO reviews on Headfonics you can click here.
Note, this review follows our new scoring guidelines for 2020 which you can read up on here.
FiiO BTA30
The FiiO BTA30 connects with almost everything, boots instantly, and is stunningly convenient to pair up with different devices. The sound performance and stability are more than satisfactory, so also the user experience.
We have been covering a lot of high-bitrate Bluetooth streaming DAPs and dongles this year including FiiO's excellent BTR5. However, their new BTA30 is something very innovative and functional extending wireless possibilities and introducing a measure of transportability also.
The last time we saw a BTA (Bluetooth adaptor) series product was when they launched the BTA10 Bluetooth adapter designed for the ATH-M50X headphone. The newer product, the BAT30 which is loosely based on the old W1, offers much more flexibility and connects to a wide range of sources, DACs, and amplifiers wirelessly.
Priced at $89.99 you get a Bluetooth 5.0 transmitter & receiver that supports various hi-res codecs including LDAC, as well as low latency aptX with up to 30m transmission.
The super sleek device can be app-controlled and is hi-res wireless certified, doubling as a USB DAC at the same time. This can be a wireless receiver to add to your older amplifiers/decoders, a simple USB DAC, or even a Bluetooth transmitter for a longer range with a big antenna at its back.
The device is also amongst the first to support oversampling on Bluetooth signals, upsampling everything to 192kHz to strengthen accuracy.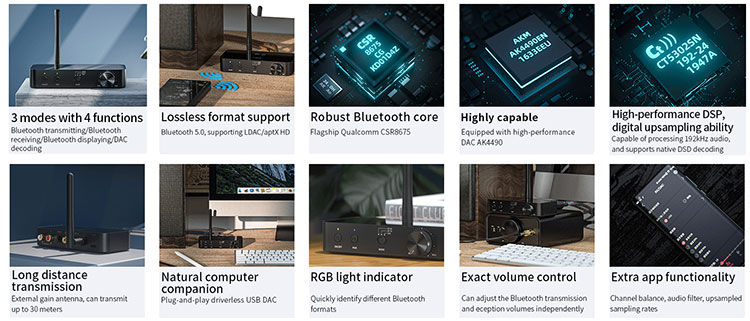 Technology Inside
DAC
The BTA30 uses an AKM AK4490 chipset implementation, an old but very mature solution used extensively on many portable audio devices, for example, the A&K KANN. With Velvet Sound architecture it is aiming at reproducing natural and smooth sound.
The DAC can decode up to 768kHz PCM and 11.2MHz DSD as well as support for up to 32BIT decoding. However, since the BTA30 is positioned as a Bluetooth receiver, FiiO has limited the decoding rate up to 24BIT/192kHz and DSD64(DoP) with the coaxial input.
According to FiiO, they put some film caps around the circuit to enhance transparency. At the RCA output, a 115dB S/N ratio is achieved.
Upsampling
The BTA30 has an independent high-performance DSP chip to boost any signal at the digital output up to 192kHz. This gives better control and refinement to the output and you can toggle on the upsampling options in the FiiO control app.
Bluetooth 5.0
The BTA30 is designed to be a long-range, high-resolution BT transmitter, fitted with a 2dB antenna that you can upgrade to achieve an even higher range. The CSR8675 Bluetooth solution from Qualcomm powers the machine which integrates a fast DSP engine reaching 120MIPS.
Receiver
The BTA30 receives SBC/AAC/aptX/aptX HD/LDAC codecs up to 24bit/96kHz. You can connect the BTA30 to amplifiers with RCA cables or to other DACs with coaxial/ optical cable, using it as a digital turntable and breathe new life into older gears. The BTA30 allows connection to two host devices at the same time.
As a receiver, you could connect the BTA30 to speakers and amplifiers and stream from your DAP. The higher signal gain with the large antenna promises stable connection over higher hi-res transmission and you can tweak the sound with different options again all in the FiiO controller App.
Transmission
The BTA30 transmits with SBC/aptX/aptX LL(low latency)/aptX HD/LDAC codecs. This includes the low latency aptX codec so you can rely on it as a gaming decoder by choosing the codec as default in the controller app. LDAC is only supported for coaxial/optical input but not USB input.
You can also hook it up with a PlayStation, your TV, or the optical out on your PC motherboard. Imagine you want to watch some movies on your TV at night and you can't turn up the volume or else the neighbors complain. This is when the BTA30 will be your rescue.
Simply connect to your PC/PlayStation via coaxial or optical then connect to your wireless earphones/headphones and you can get the full sound experience on your sofa. The BTA30 even supports low latency aptX (aptX LL) so you could game with it if you have headphones that support the codec
USB-DAC
The BTA30 supports USB input to decode up to 16bit/48Hz, it also acts as a digital turntable to output 16bit 44.1/48k signals. This is quite basic but if the host device only supports USB output this feature could be helpful.
Design
The BTA30 has a small form factor with a relatively industrial design. There is a glass panel that fuses seamlessly with the aluminum alloy chassis and seems like it is derived from the back panel of their M series DAPs. This is much classier than just using aluminum alone.
On the front panel, you will find the on/off button, a pairing button, mode switch (receiver/ transmitter/DAC), and the volume knob. The layout is very clean so you will get an idea of how to make it operate probably without a need to look at the user manual.
All the I/O sits at the back with rubber feet to keep it steady on your desk. This is a very modern design that will fit any desk or living room.
The exterior is very modernly designed with a good effort to shield the unit from EMF interference. There is no sign of buzzing even if you get a call on your phone right near it. This could be quite an issue as there may be loud buzzing noise with some poorly shielded designs.
The BTA30 form factor is very compact and transportable measuring at just 120 x 55 x 23.5mm. It is small enough to fit on desktop space or on DACs and Amplifiers. You can even hook it up to a speaker to make it a wireless setup.
The BTA30 takes power from USB-C input and can be powered by a phone charger or charging bank adding to its portable dimension. You can always try connecting to cleaner power outlets for better noise control.
RGB indicators
The RGB lights show what codecs are being processed, consistent in lighting with what FiiO offers in other devices.
SBC: Blue
AAC: Teal
aptX HD: Yellow
aptX: Purple
aptX LL: Green
LDAC: White
ADC Volume Control
Like many latest items under FiiO, the BTA30 adopts the ADC volume control, which helps the DAC to achieve excellent channel balance at low volume without pressing down the dynamic range.
I find this feature very friendly as the digital volume isn't as straightforward and easy to control. The knob is very functional when you use it as a receiver for your speakers as quite some other Bluetooth receivers don't have a knob type volume control which is fast and handy.
You can remotely control the digital volume with the app or fix the volume using the FiiO control app. If you are using the BTA30 as a transmitter taking signals from USB input, you will need to adjust the volume on the host device.
Packaging & Accessories
The BTA30 has the same smart black-themed design packaging, sliding the sleeves out you can access the BTA30 unit immediately.
The receiver is protected by EVA foams and underneath you will find a paper compartment that fits a good bunch of accessories including RCA cable, USB cable, extra rubber legs, and the user manual. The standard stock RCA cable is quite handy for you to hook up to an amp immediately.
App control
Download the FiiO control app and you will gain access to the control panel that allows you to tweak different options.
You can get full control of almost every function on this receiver including channel balance, 4 audio filters, Bluetooth format priorities, LED indicator on/off, volume adjustment(digital), and fixing output volume at a certain level.
Remember to change the Bluetooth format priority to aptX LL if you are a gamer so you won't get any noticeable delays.
Digital Output
Aside from the RCA outputs you could connect to other decoders via optical/ Coaxial out and make the BTA30 a Bluetooth jukebox. The USB port can also output digital signals for other DACs but is more limiting in bitrate and sampling rate.
Digital Filters
There are 4 audio filters onboard which you could switch on the app, and they can shape the output quite differently, especially when you focus on the vocals. It depends on your setup and the genre of music being played so you can always try changing the filters for the right timbre.
Sound Impressions
Summary
The BTA30 is put under a few days of day-long Spotify looping to burn-in and is hooked up with the stock RCA cables inside the package with the FiiO K5 Pro.
Truth be told this is one of the most flexible entry-level sound devices I have experienced and you can find a way to hook it up with almost any client or host device to extend its wireless functions, particularly pure amplifiers and active speakers.
Other gears such as Vinyl turntables/ Digital recorders can also be hooked up and you can listen to it with your TWS or wireless headphones.
I tried hooking it up with different gears around using the BTA30 as a receiver and the sound out of the stock RCA output is slightly warmish, quite smooth, and mid-centric. This works well with most devices and has better synergy with very clean sounding amplifiers on higher gain.
The tuning works well with streaming content which could be slightly V-shape altered to sound cleaner and punchier in the bass. I am testing with Alone (by Alan Walker & Ave Max) on YouTube hooking the BTA30 up to the K5 Pro and some other amps. There is sufficient rumble in the bass, good enough vocal separation, and clarity in the upper vocal that makes it lively and enjoyable.
I sometimes use the Shanling M6 Pro as a receiver with a 3.5mm-RCA cable. Compared to this setup the BTA30 has a cleaner background, better tonal balance, and slightly more detail retrieval power even on stock RCA cables.
Switching to better RCA cables will enhance the clarity a little bit more but the stock cable is satisfactory with its performance. It is free with the package so there is nothing to blame and it actually feels quite durable. You will notice better control and bass texture when switching to higher bitrate codecs too which is recommended to max out its potential.
Staging
At a very friendly price, the BTA30 actually does quite well-sounding unaltered and quite natural. Staging is rather intimate and everything is in its place with decent resolution.
Treble extension could be limiting and you may feel the roll-off that kills some air and space in the mix, but that works quite well with pops and older tunes from the last few decades.
Overall, performance is satisfactory and it works well as a receiver connecting to active speakers. The slight warmth in the output makes it a better pair with cleaner sounding amplifiers. You can also enjoy the synergy at a higher gain and with gears that have stronger texture/neutral tuning.
Wireless Performance
With a high-power antenna, the BTA30 has a solid wireless performance. It will take a few concrete walls to block the signal and as a receiver, it picks up signals really well. The housing also blocks EMF interference nicely and a ringing phone next to it doesn't affect anything at all.
Scenario Testing
There aren't many Bluetooth receivers and transmitters here in our office so I am putting up some tests for the BTA30 and see how it fairs with other gear I normally use for streaming.
FiiO K5 Pro Output With & Without BTA30
The K5 Pro pairs very well with the BTA30 to add wireless function to its powerful amplifier and you can stack them up as a small system quite easily.
With the two devices together you can enjoy streaming your TV content wirelessly or Hi-res playback from your gaming devices/DAPs with higher-end audiophile earphones or headphones. This is much more fun and dynamic than using TWS or wireless headphones which are lacking in power and bass power.
Using the BTA30 as an RCA source with the LDAC codec connected to the K5 Pro, the output resolution and quality are similar if not better than the internal DAC on K5 Pro.
There is slightly more warmth perhaps colored by the copper RCA wires and the staging is slightly enlarged. The sound output is quite engaging with plenty of power and air in the bass, a true delight for movies when you stream from your TV.
The BTA30 is doing quite a good job in fighting head to head with an A/C powered device. If you want to enhance the timbre you can get a better RCA cable that may well enhance its dynamic range.
USB input on the Soncoz LA-QXD1
The Soncoz LA-QXD1 is a budget pure DAC that runs on USB power and it really impressed me with its output quality. The BTA30 can be connected to the LA-QXD1 via Toslink input and then it will become a wireless combo. The same could be applied to other DACs that do not integrate wireless receiving solutions.
Comparing the output quality of the LA-QXD1 on USB output and TOS connection via BTA30, I hear very similar qualities. While the TOS input seems to be slightly cleaner in tone and more agile in the bass with firmer impact.
The BTA30 successfully turns the LA-QXD1 into a wireless, full balanced system for active speakers or balanced amplifiers. The tweakable options with the controller app are also very useful for fine adjustment, changing the filter may get you more rounded vocals or slightly more air in the mix.
Testing the ADAM A3X speakers in my living room I can confirm the output quality being consistent to USB outputs connected to the LA-QXD1. When you switch from red book wave to higher resolution files you could feel the density and texture in bass stepping up.
Shanling M6 Pro as a Bluetooth Receiver
Some DAPs support multi-way connections with Bluetooth. I normally hook up the M6 Pro with my power amp from time to time to stream from my laptop or other DAPs. The experience is definitely more enjoyable with the BTA30 as a receiver or transmitter with its richer functions and tweakable options.
I like how FiiO put together the analog volume control with digital settings in the control app. This allows you to turn to a minimum level when first connected to anything with digital volume and memory on the devices. This prevents the inevitable heart attack when switching between gears that have vastly differing volume settings.
Also, to adjust much more easily than digital steps. I am hooking up the M6 Pro to the power amp with an RCA to 3.5mm cable which is similar to the stock cable that comes with the BTA30. At full power output, the BTA30 has better separation in the output and slightly more resolution.
The M6 Pro may pick up some interference or stutter when I move my streaming source around, but the BTA30 is always stable. Also, being able to boot up instantly makes it a clear winner. The M6 Pro is now my Spotify streaming source for the combo and they are an incredibly compact set when paired together.
Our Verdict
The FiiO BTA30 connects with almost everything, boots instantly, and is stunningly convenient to pair up with different devices. The sound performance and stability are more than satisfactory, so also the user experience.
It is a unique product and works great as a complement to other gears, breathing new life into devices that once shine but were left idling in the wireless era. Just click to connect and your setup turns wireless the next time.
The BTA30 is a small device and may be underlooked at just $89.99 but it fuses a lot of modern functions with an advanced control app that empowers it to be extremely flexible and functional.
This is easily the best Bluetooth receiver and transmitter in the market right now at this price point, filling the void between wireless and traditional devices.
FiiO BTA30 Technical Specifications
Weight About 115g
Dimensions 120x55x23.5mm
Bluetooth chip CSR8675
Bluetooth version 5.0
DSP chip CT5302
DAC chip AK4490
Audio op-amp OPA1662
Optical decoding support 96k/24bit
Bluetooth receive formats support SBC/AAC/aptX/aptX HD/LDAC
Bluetooth transmit format support SBC/aptX/aptX LL/aptX HD/LDAC
Coaxial decoding support 192k/24bit; DSD64 (dop)
USB DAC 44.1/48k-16bit(44.1k is not supported in TX mode)
Transmission distance Approx. 30m (no obstacles, SBC codec)
Hands-free calls, microphone Not supported
Analog output RCA (Max 3Vrms)
Digital output Optical + Coaxial
Digital input Optical + Coaxial + USB
RCA out THD+N 0.002% (SPDIF 48k/24bit input, 1kHz -3dB)
RCA output SNR 115dB
Digital out sampling rate Can be upsampled to 192k/24bit
USB interface Type C
Antenna interface BNC2.5
App control supported
Accessories included Quick Start Guide*1, Warranty Card*1, Type C cable*1, RCA cable*1, Isolation Feet*8