We review the HIFIMAN Arya Organic, which is a new set of open-back planar driver headphones using the company's stealth magnet technology. It is priced at $1299.
Disclaimer: This sample was sent to us in exchange for our honest opinion. Headfonics is an independent website with no affiliate links or status. We thank the team at HIFIMAN for their support.
To read more about the HIFIMAN products we have previously covered on Headfonics click here.
Note, that this post follows our current scoring guidelines which you can read up on here.
HIFIMAN Arya Organic Review
On rare occasions, things get better and less costly, that seems to be a rule in life but the HIFIMAN Arya Organic broke that rule. They offer an improved and refined sound profile overall and improved looks but cost less than its predecessor.
Pros
Focused soundstage
Improved appearance
High comfort level
Cons
Only comes with a 6.35mm cable
Short longevity of pads
So far, HIFIMAN has released four distinct iterations of their very popular mid-tier Arya headphone, and each one has small particular changes and improvements in design and tuning implementations.
The first design was phased out rather quickly. It had one major difference from the later versions and that was the metal mesh behind the driver. I'm betting HIFIMAN found that it was interfering with the magnet array and found the mesh rather restrictive so they quickly went back to the drawing board.
The second version employed a cloth screen behind the driver and that opened things up a bit as far as soundstage size and driver efficiency. Some consider the second version to be the best because of its ultra-wide staging abilities.
The third Arya variant was the Stealth Magnet Edition which incorporated HIFIMAN's Stealth Magnet technology. As a follow-up, HIFIMAN has now released the Arya Organic which is the fourth edition, also with Stealth Magnet technology but with an added visual cue and a refined sound tuning profile.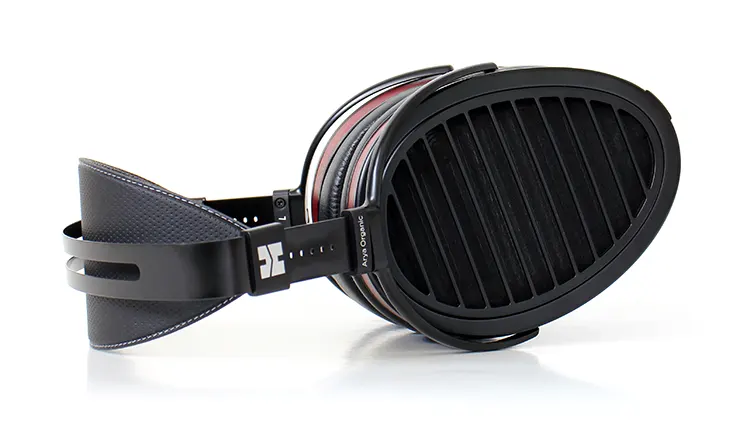 Tech Highlights
The HIFIMAN Arya Organic is a set of circumaural open-back planar magnetic headphones rated at 16 ohms and 94 dB @1Khz and their fourth release of the Arya range. It looks like a very similar model to the past releases not only in name but they all share the same driver size, shape, headband, and pads.
The Asymmetrical design was kept and the driver size remained the same which is approximately 160mm from top to bottom and is one of the largest out there commercially available. The driver uses HIFIMAN's sub-micron thickness conductor on the nanometer-thickness diaphragm.
It seems the major changes in this release were implemented within the cup housing over the stealth variant. The one major change consists of a strip of wood between the back grill and the pad mounting that's less than half an inch thick replacing the full-black one-piece metal cup.
It is still a traditional HIFIMAN approach but one that reaches back to some of its legacy designs such as the HE1000 for its inspiration in terms of looks.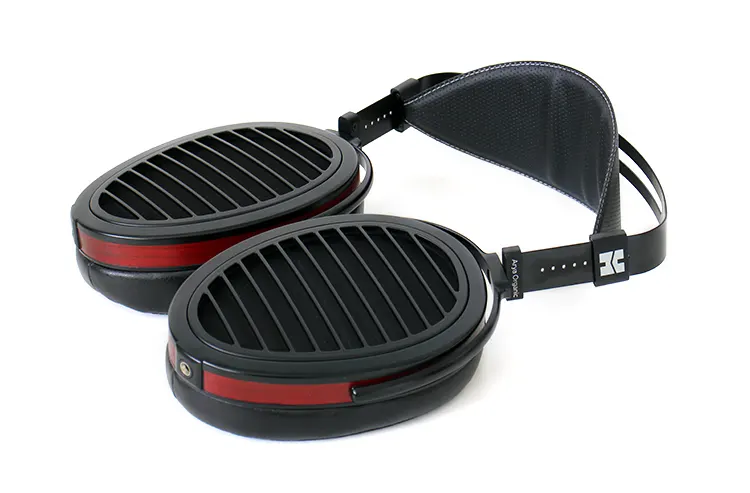 Design
Cups
The Arya Organic cup design and form factor in general were retained from past Arya headphones iterations. The only aspect that changed was the presence of that wood veneer ring as previously mentioned.
It seems that the wood implementation and overall design allowed the driver to be moved a couple of millimeters back since the cup seems a few mm thicker than the other Arya models.
It could be the tuning implementation responsible for the slight increase in bass presence which I bet was one of HIFIMAN's goals with this model.
This implementation can be responsible for the extra amount of oomph you get, acting similar to when you break the air seal between your cheeks and the pads with a HIFIMAN can. But at the same time, it shrank the overall stage size which contradicts what we would assume would happen if the driver was pushed further away from the ear.
This increase in bass response tuning counterbalances criticism claiming an excessively bright sonic presentation produced by the Arya headphone lineup. This improvement has been present since the release of the Stealth variant nonetheless.
Headband
The headband assembly sits comfortably on the head plus the clamping force is just right on the Arya Organic in my opinion. The jumbo pads make them even more comfortable. I like the headband except for one caveat I dug up.
It would have been nice to be able to replace the head strap since it's the only part of the headphones that could get nasty in time besides the pads. But the pads you can replace. With the ability to change both, you can then often give these headphones a new life and therefore increase their usable longevity.
HIFIMAN could easily redesign the headband piece so that it's easier to disassemble and replace that head strap. Plus at that point, they can offer additional head strap replacements, even custom variants, and expand their coffers. But for now, I highly recommend using a head strap wrap or cover.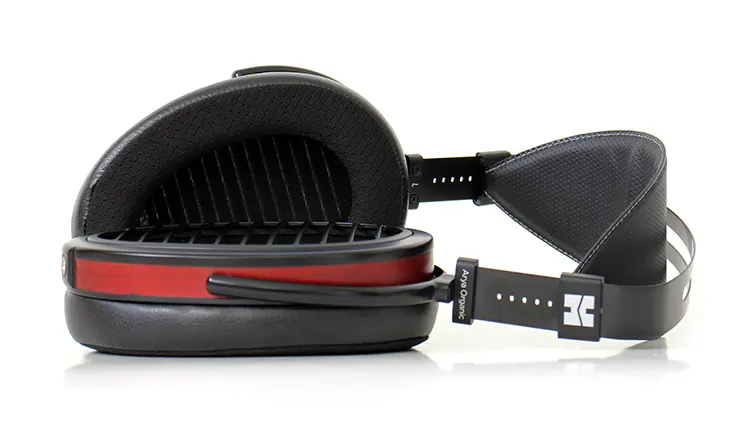 Comfort and Isolation
Don't get me wrong, I have no complaints about the overall experience wearing the Arya Organic or any other HIFIMAN headphone that uses this style of headband assembly. They're comfortable indeed and could be worn for long periods.
But I still prefer the first HIFIMAN headband because it was sturdy, as long as the adjusters didn't break. I preferred that style because the headband sat on top of your head in a low-profile manner.
Stock Pads
The HIFIMAN Arya Organic pads are standard fare and have not changed from the original Arya pads. The pads use and borrow materials from their own Pali pads but they simply supersize the order.
It's nice to find the same pad mounting system as their other asymmetrical cup headphone designs have, which means you can replace them when needed since they're user-replaceable.
These stock pads are uber comfortable but they tend to disassemble themselves in warm, humid climates. There are a half dozen companies offering replacement pads including Dekoni which hold up better in warmer climates.
So, you can get custom pads and a custom wire with a head strap cover, and combined, you could transform the Arya Organic or any HIFIMAN can into a custom one. Of course that incurs additional expenses but it's nice to know you can customize plus HIFIMAN encourages it.
Stock Cable
Somehow I feel that something is not getting through here. Here we have a mid-tier headphone that is not a budget model but it comes with one cable assembly. And, though not bad in quality and improved in that aspect over past cable assemblies, doesn't match this headphone tier level.
But as the commercial ad says, there's more. The woven exterior crystalline copper cable is terminated with a 6.35mm plug and that's all you get so connectivity out of the box is limited. I would have preferred a 3.5mm terminated cable with a 6.35mm adapter instead.
The cable assembly is 5 feet in length and topped off with the HIFIMAN common 3.5mm tip positive, negative sleeve set which means you can use a plethora of premade cables available. Plus of course, you can always get custom cables as well, or even roll your own and not have to worry about ordering special connectors.
But regardless of the improved quality, and the ideal desktop 5-foot length, a lot of Arya Organic owners might eventually grab another cable. That is, unless you already have one with 4.4mm or a 3.5mm variant tips to use on anything other than a full-size jack which is becoming less common nowadays.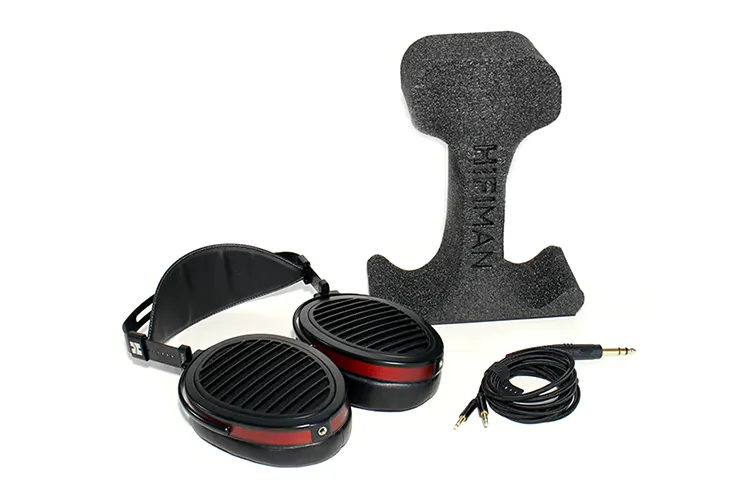 Packaging & Accessories
HIFIMAN showed an innovative side not only with their headphone design but also by converting the guts of their packaging into a useful headphone stand. That's called taking something that would usually go into the bin and efficiently turning it into something useful.
The contents come inside their new style unbleached corrugated cardboard box and are labeled with a product laminate across the top. The overall packaging and presentation sure veers far from the leather-covered, velvet-lined boxes of the past.
The rest of the contents are a rather large rectangular box with just the single cable inside and nothing else. It's a basic and minimalistic package. There's a desiccant but that's all you'll find, not even any literature.
The way I see it is that the reduction in packaging cost has reflected on the bottom line it seems. So HIFIMAN has opened the doors for customization and those savings can go into buying a fancy cable, a headband cover, and perhaps some real leather pads.
Sound Impressions
The following impressions were created using a HIFIMAN EF400 and the EF600, as well as the iFi Audio iDSD Diablo Red Edition as my main sources.
Summary
What hit me first was the concentrated and focused tuning aspect, added resolve, and an overall sense of clarity and definition over the past Arya models but not much so over the Stealth model. Another thin layer of veil has certainly been lifted compared to the first model.
There's a tame characteristic in the midrange region that other Arya cans didn't display which can be described as a removal of roughness particularly in the midbands but there's also an increase in low-end slam that produces a punchier character over other past Arya headphones.
You can say that the overall presentation also portrays an improved sense of individual element resolve that not only precisely defines each element but also tends to bring out some of the background details to the front as well.
Bass
The HIFIMAN Arya line has never been known for monstrous bass but one that can distinctly produce bass notes and it seems the Arya Organic follows this trait, only in a faster-paced manner.
Although I must admit that bass always seems to be the low point in the Arya lineup's overall sound tuning, no pun intended.
However, the bass notes were tightened up and there's an increase in its punchiness aspect, uncommonly inaudible with the first and second-born Arya cans. You could get these to tickle your eardrums and they can produce lots of low-end energy but at that point, I'd advise you to back off. I just mention it as a capability.
There is more energy but there also seems to be a better sense of balance within the bass region and no area is bloated or anemic.
Perhaps some might sense a small midbass increase if you're used to the old-school Aryas like me but the Arya Organic just demonstrates a better presence in that area overall and spotlights the weaknesses present in past iterations.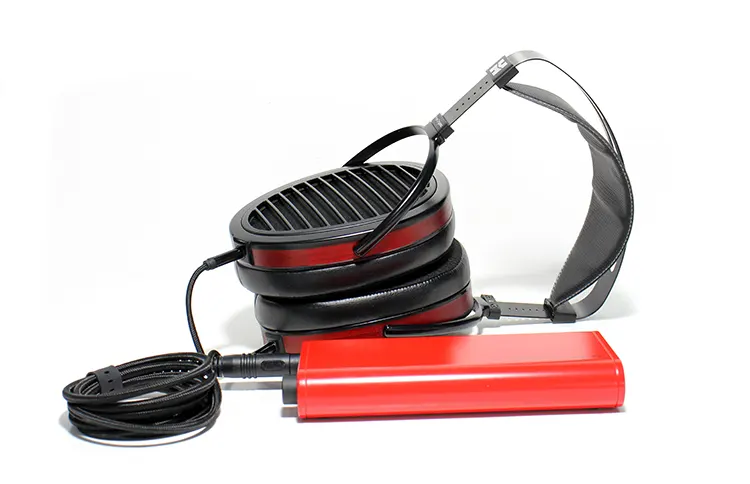 Midrange
The star of the show when it comes to the HIFIMAN Arya lineup is usually the midrange and the large panorama they can paint for the listener but the Arya Organic takes a different approach in this region.
The mids have been shifted inward and more concentrically. They're not as expansive as before but there's more detail to be had in the form of definition.
Some of the other subtle changes include warmer male vocals, sweeter female vocals, and a more vibrant presence overall.
They have a focused character overall and seem to have an improved tonality but a tone sweep revealed my set had a slight right channel deficiency and channel imbalance between 7kHz and 7.5. Perhaps this will iron itself out with further break-in time but that was undetectable during listening.
Overall, the midrange area seemed well balanced with lots of micro-nuanced compliments in listening tests and certainly produced a pleasant, listenable tonality.
Treble
The Arya Organic treble response serves up some needed realism. They're not presented as bright but certainly were elevated in definition compared to the original Arya. They have an improved realism aspect overall but are not as underlined as before.
HIFIMAN seemed to have added some extra weight behind the high notes on the Arya Organic and they seem to portray a clear picture of the tone they're producing plus they portray a realistic timbre and are flavorful in accentuation.
Sparkle is generously produced. To be honest, the high frequencies seem to be vastly improved over the first and second-generation Arya cans.
Timbre
There's an increased perception of body and texture particularly in the lower frequencies but also in the mid frequencies. The bass takes on a beefier, albeit, fast-responding presence that has viscera energy behind it more so than on other Arya models.
Balance seems to be the added ingredient here from the other Arya iterations. The bright character has been reduced to a true toned and neutral presentation of the high frequencies that fall in line with the rest of the spectrum. Or shall we call it an organic presentation?
Now, I might come across as crazy but I sense a dynamic driver-like character, albeit a large panoramic one with a similar amount of impactfulness to a dynamic driver but with the speediness of a nano-membrane planar driver.
Staging & Dynamics
The overall soundstage is not as wide compared to older Arya models. Vocals and instruments for example are more focused and placed in smaller but better-defined pockets within the soundstage.
The Arya Organic has a high level of technical ability and can place sound anywhere within arm's reach, and then some but the overall height and size were reduced over the past models it seems.
However, in exchange placement definition is improved twofold and the aura around each component within recordings seems smaller, sharply painted, and better contained allowing the listener to easily pinpoint those recording components.
I do love the way the Arya Organic places drum notes so precisely within the given space it produces and it gives off a "being there" presence in that you can distinctly sense where those sticks are.
So, once again it seems HIFIMAN is abandoning the ultra-wide panoramic stage for proper placement, intimacy, and a properly sized scaled soundstage.
Click on page 2 below for our recommended pairings and selected comparisons.