In this feature, we review the Bellos Audio X4, which is the company's flagship hybrid multi-driver custom in-ear monitor with In-Air Canals technology. It is priced at $999.
Disclaimer: This is a sample sent in exchange for our honest opinion. Headfonics is an independent website with no affiliate links or status. Thank you to Bellos Audio for this opportunity.
Click here to read more on custom monitor products that we have previously covered on Headfonics
Note that this article follows our latest scoring guidelines, which you can read up on here.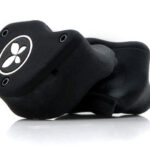 Bellos Audio X4 Review
The Bellos Audio X4 is smooth sounding and yet enjoyably rhythmic at the same time making it a very nice matchup for modern pop and soul vocal performances. Nothing is overly fatiguing in its delivery.
Pros
Smooth & punchy low-end
Robust Build quality
In-Air Canal tips are very comfortable
Cons
Case tips tray needs reconfigured
Isolates a bit less than full nozzle mold customs
At almost the same time last year, I was introduced to the Bellos Audio brand and led with a review of their entry-level multi-driver custom IEM, the X2.
For those that are not aware, the brains behind Bellos Audio are FIR Audio, and former stalwarts of 64 Audio so plenty of experience behind the brand.
The pitch, however, is very specific to Pro Audio and stage crew. At a very basic level, it is for those who want custom monitors that have a fast build turnaround time, are robust, and are also easy to fix if something goes wrong. All are key features of someone who needs a custom fit but with a busy lifestyle so to speak.
Since the X2 review, Bellos Audio has expanded its line-up to include two new models, the X3 and the X4. Both pack more drivers and both are hybrid models. The X4 is their TOTL or flagship custom monitor priced at $999, which, by today's standard is quite reasonable.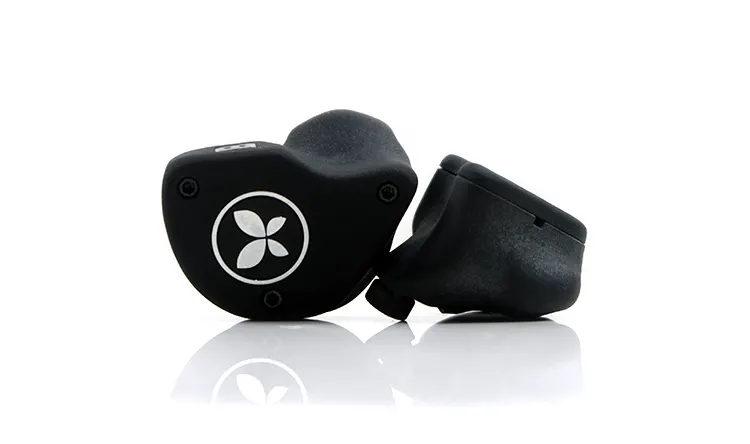 Tech Highlights
Driver Configurations
The Bellos Audio X4 is a custom-made hybrid multi-driver in-ear monitor. It uses a hybrid 4-driver configuration with a mix of dynamic and balanced armature.
As with the X2, the drivers are modular. That means they are preassembled and tested before going into the proprietary 3D-printed shell to make assembly relatively quick and painless. They are also designed in a way to be super easy to put in or take out for servicing and repair.
The precise configuration is a 6mm dynamic driver for the sub-lows, 2 BA for the low/mids and highs, and a single balanced armature tweeter for the ultra-highs. All of this is threaded together using a 4-way crossover.
The X4 is rated at 16Ω impedance with a sensitivity of 116 dB/mW @1kHz so a slightly lower load and on paper at least, a bit more sensitive than the previously reviewed X2.
In-Air Canals
The big change here since we last talked about Bellos Audio's custom designs is the switch to what they have called In-Ear Canals technology. This applies not only for the X4 but for the X3, and the X2. I suspect any future newer models will also have the same design principle.
So, what is an In-Air Canal? Well, at a very rudimentary level, Bellos Audio has done away with the classic nozzle finish of a custom monitor shell and replaced it with a shorter spout and lip to fit a specific silicone ear tip on the end. Everything else about the shell is custom-molded.
What would you do this? Well, going back a number of years when getting custom design instructions for mold making there is always this discussion about going open jaw or closed jaw for making them.
Ear canals change shape depending on the jaw position so you can end up having an uncomfortable fit or breaking the seal depending on what your mouth is doing. The objective here is to use a more supple tip to retain comfort from various jaw positions and retain a seal in combination with the accurate molding in your ear.
My own 2 cents on this also is that it speeds up build and repair time by quite a bit. More often than not, a custom nozzle is where things go wrong and is the most complex part of the build process to complete.
ATOM Venting
As with the X2, the X4 also uses an internal ATOM venting system combined with a dynamic driver port. That means there is no interchangeability but it is in keeping with both the value concept and ease of servicing.
You get -17dB (internal ATOM) of passive isolation which is equivalent to the yellow version of the interchangeable ATOM system for FIR Audio gear such as the recently reviewed Radon 6.
I will quickly say though that the isolation on the X4 sample we have here is not as good as the X2 sample but bear in mind we have a hybrid configuration with venting ports which the X2 does not have so that is one factor.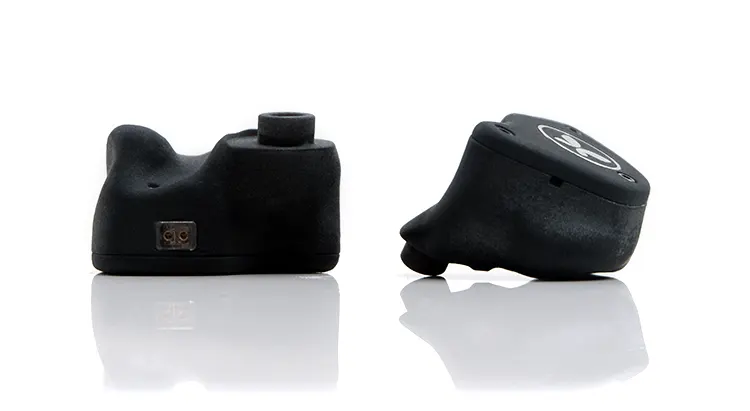 Design
Aesthetics
Bellos Audio owners will be familiar with the very cool textured matte finish on their custom monitors, and the X4 is no exception.
I had already tried out the X2 with my preferred matte green design so this time I went with a matte black aesthetic. You can, of course, choose green or grey depending on your preferences.
It is a very unique styling with very few companies that I know of doing anything like this for their shells. The X4 design is almost militaristic in visuals with more of a dusty black tone than a refined alternative which gives it more of a cool worn look.
The faceplate is adorned with the trademark Bellos branding in silver which is standard on all of their custom monitor line.
I dare say these can take a bit of a beating in stage use and come out looking almost the same as day 1. In case it does not, those three screws on top allow Bellos Audio to slip off the faceplate within seconds.
Of course, that fast access and repair process means the X4 has more of a modular look with a strong seam between the plate and the shell but coming from the X2 I almost expected that.
The X4 form factor is slightly different since it is missing a traditional CIEM nozzle. You do lose a little weight with less material but not as much as you think given the additional drivers inside the shell.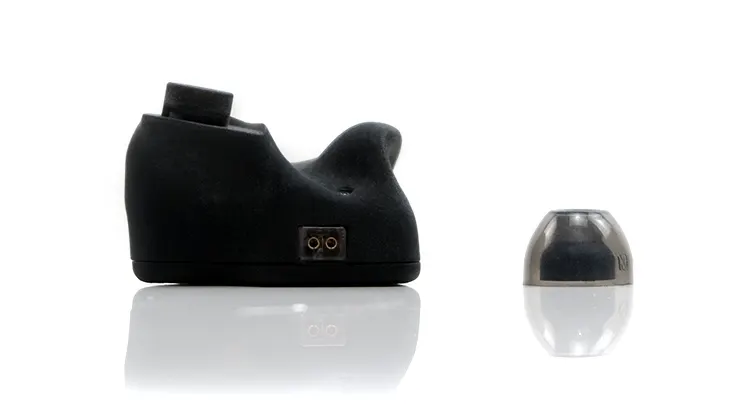 Comfort & Isolation
In-Air Tips
This is where it gets interesting for custom IEM owners. The X4 is clearly missing a long nozzle similar to the previous X2 model I reviewed last year. Instead, you get a squat or very short universal IEM-style spout with a strong ovoid-shaped lip.
Bellow Audio has supplied two custom-designed tips called 'Air Tips' and they are the same size so one should be considered a spare.
They are both single-bore designs with smokey translucent soft silicone hoods and a fairly wide stem with a matching ovoid shape. They also have little 'wing pockets' at the top and bottom of the stem exit which you use to help guide the stems over the X4 shell lip.
That is more important than you might think because they need to go all the way over the lip so they will lock into place with the corresponding notches on the lip. Generally, I find the easiest way is to invert the hood so it's facing up and out and then slip on the stem over the nozzle. I do not believe you can use regular tips and believe me, I have tried.
Passive Isolation
Because of that hybrid driver structure and the use of ATOM venting combined with the In-Air tips the X4 falls a little behind the X2 in terms of passive isolation. That is understandable given you have a big wedge of mold down to almost the second bend of your ear canal.
In return, you get some fantastic levels of comfort combined with a very accurate concha basin fit from the grippy shell itself to keep them quite secure in your ear. They do indeed feel a lot lighter in my ear compared to the X2 units which have that additional ear pressure from the mold inside the canal.
I can confirm there is no break in the seal on the X4 fitting when going open jaw nor is there any discomfort from sitting closed jaw either. You can wear the X4 shells in your ear for hours without any fatigue which should suit stage artists quite nicely.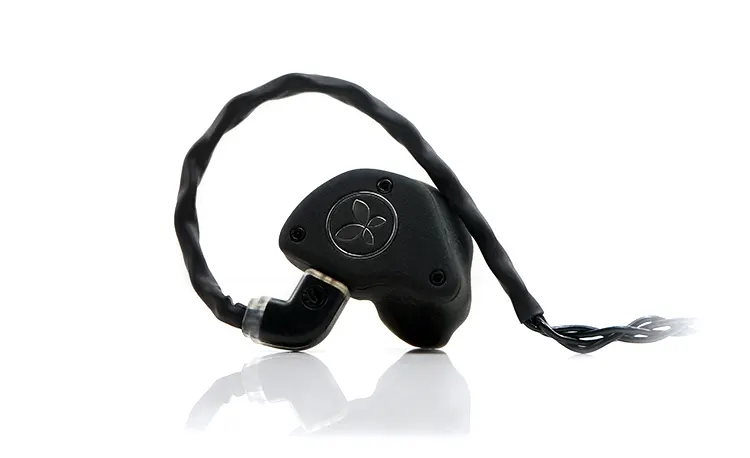 Cable & Connectors
Connectors
Officially, the X4 comes with RCX connectors as standard but you can put a word in with Bellos Audio and have your version terminated with 2-pin sockets and the corresponding pins on the accompanying stock cable. I do feel that is an important point to make for those worried about only being able to use the proprietary RCX version.
Mind you, this is no ordinary 2-pin socket. Both the socket and right-angled cable connector barrel look very beefy compared to your regular CIEM 2-pin offering. I suspect some of the FIR Audio Rigid Technologies are at play here because it does look like a quadrant socket design is being used.
Cable
The stock X4 cable is pretty much the same cable that comes with the X2. This is a 48″ 26AWG SPC 'Scorpion' wire with an 8-wire geometry inside a softer rubbery PVC jacket and tightly braided to create a fairly wide but very soft and malleable cable.
I am not new to this cable but I do enjoy using it given that it's surprisingly light for an 8-wire and an excellent performer in terms of low microphonics and a lack of memory retention when unrolled or in use.
The black metal barrels are low-profile in matching black and nothing too chunky either despite using a 4.4mm plug. The jack termination option is 3.5mm SE by default but I believe you can request for 4.4mm balanced also if required which is something I recommend you do.
The X4's angular matching black connector barrels are chunky but I actually think this is a good move by Bellos Audio considering these are going to be used and abused in pro audio environments.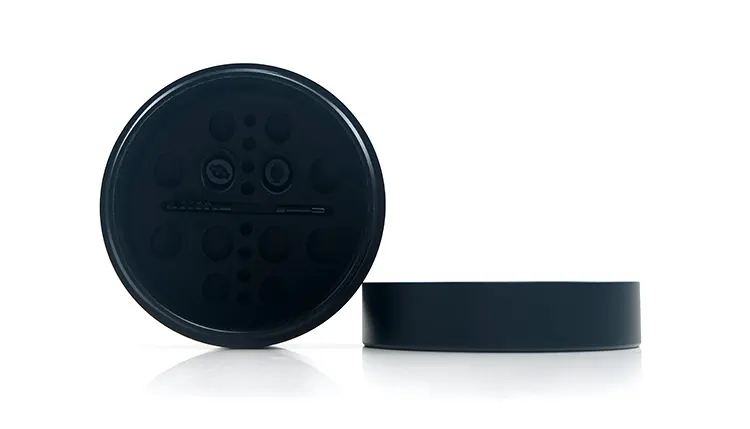 Packaging & Accessories
The X4 packaging has improved over the X2 which was a bit of a 'plain Jane' cardboard box. I suspect though that newer samples of the X2 might come in this new format.
The box is still white but now you get some proper branding on the outer sleeve though without the specific model number, presumably to cut down on costs in producing three different sleeve formats.
Inside you get a single sturdy aluminum puck-style screw lid case held in place by some cardboard inserts. Inside the case, you will find everything that you bought including X4 shells, cable, and accessories.
This time you get a small insert at the base of the carry case to house those 2 sets of Air Tips. Now, you will notice in the picture above that it looks like it should hold a load of additional tips. I am told by Bellos this is an early design and future iterations will reflect the smaller amount of tips in the X4 case.
Aside from the tips you get a small cleaning tool and that's about it. There is still no small additional mesh pouch. This is something that I previously mentioned would be a good addition in my X2 review. Something for a more pocketable experience when the main carry case is too big to bring with you. Maybe someday eh?
Click on page 2 below for our sound impressions and recommended pairings.