In today's review, we cover the new SMSL HO100 headphone amplifier. This is a compact and affordable desktop unit capable of up to 3W of output power. It is priced at $149.
Disclaimer: This is a sample that was sent to us in exchange for our honest opinion. Headfonics is an independent website with no affiliate links or status. We thank Aoshida Audio and SMSL for giving us this opportunity.
To read more about SMSL products that we have featured on Headfonics click here.
Note, that this 2-page article follows our latest scoring guidelines which you can read up on here.
SMSL HO100 Headphone Amplifier Review
Offering a satisfying level of transparency and refreshingly not too bright, the SMSL HO100 is a clean desktop amplifier well worth its value if paired with the right equipment.
Pros
Inoffensive and transparent tuning
Wide dynamic range
Low noise floor
Cons
Average microdetails
No preamp capability
Looking for an amplifier even on a budget will get you a lot of choices these days with Chinese audio manufacturers such as SMSL making a wide range of units with a ton of competitive features.
Our recently reviewed SH-6 is already a $120 steal of an amplifier from the same company if single-ended amplification is all you need. But costing just a little more, the HO100 is a more capable balanced design joining the same line as the more powerful and preamp capable HO200.
So as not to be left behind by its stablemates, the HO100 brings with it enough specs and performance figures that should excite those looking for a modestly priced but good-looking headphone amplifier.
Tech Highlights
SMSL since developing its amplifier section has pushed the envelope of bringing low distortion with flat frequency response sound to the masses. The HO100 is not an exception with its extremely competitive 0.00006% THD+N as seen in recent SMSL releases.
Up to 3W of clean power can be tapped by 16Ω monitors and a sizable 1.5W for 32Ω headphones. What's more, having a -9.5dB low gain setting for sensitive gears and +15.5dB for hungry pairs apart from the default 0dB middle gain makes the HO100 quite versatile and easily compatible for most.
SMSL also included an ultra-low noise power supply and used high-quality relays. The pop-less design of the HO100 is a welcome treat for those that like to leave their more sensitive headphones plugged in.
Design
Having a subdued yet smart presence to match coming in black, the very analog HO100 allows it to be as user-friendly as possible in an entry-level package that covers both form and function.
Weighing in at 560g, the HO100 is lighter than it looks but giving the aluminum body draping around the front and rear panels a few solid taps produce rigid feedback that reinforces its longevity.
While being the main design element of the façade, the tempered glass panel does grab fingerprints quite easily making it a constant chore to clean every once in a while.
What's great are the switches used by SMSL as they are crisp and precise which is the opposite of the rubbery turn of the volume knob.
Fittings of the 4.4mm and 6.3mm gold plated headphone jacks are slightly protruding and not flush against the glass. Meanwhile, the RCA is vertically stacked and isn't color-coded to red or white but is properly labeled per channel.
I/O
Designed to be used for personal listening, there is no pre-out present at the rear except for the two ways to interface with the amplifier: balanced XLR, and single-ended RCA.
For those looking to maximize the balanced input of the HO100, it can be easily utilized by its matching DAC, the SMSL DO100.
In front, a 4.4mm jack is featured along with a standard 6.3mm for greater compatibility. While some may miss having a 4-pin XLR to plug in their headphones, the choice of outputs by SMSL is more than enough for most use cases.
Control
Plugging in the unit will initiate a relay to tick and place the unit on standby as signified by the red indicator below the leftmost switch reserved for powering on the device.
Having all controls upfront and within reach, it is also easy to check and change which input and gain level is currently selected through the rest of the analog-looking toggles.
Flip the middle one upwards and the amplifier will be using the balanced XLR input instead of the RCA. And matching the HO100 to different gear sensitivity and power requirements, the gain can be adjusted between low, mid, and high using the last toggle.
Packaging & Accessories
Outwardly similar to how SMSL has packaged most of its products, the HO100 also comes in a white cardboard box with the main distinguishing feature of having the unit's outline drawn on top.
Amplifiers usually come with bare essentials as they're typically placed towards the end of the chain, so having no extra paraphernalia included to get excited about is not at all surprising.
Getting the booklet-style user manual and paper works out of the way, the unit and power cable are all that's left to cover for the unboxing.
The face of the HO100 is protected by a thin piece of film that needs to be peeled off to fully reveal the tempered glass panel. However, the volume became an obstacle, and I had to make a small cut on the plastic to pass through.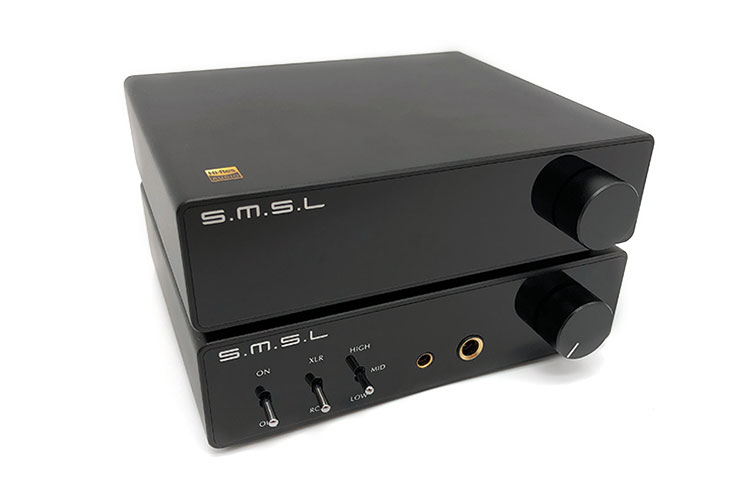 Sound Impressions
Summary
Trying to get an impression on an amplifier that is trying to sound as transparent as possible, my time with the HO100 proved that even with a budget of less than $200, a nice clean sound reflective of the DAC you're feeding it with is already possible.
It immediately struck me as a faithful amplifier that didn't introduce clinical sound nor fake details from over-sharpened treble, instead, a neutral presentation with a pleasant midrange body is to be expected.
Timbre
Pulling out deep and satisfying reverb is a good property of the HO100 giving strings and drums a room-filling sensation. It does sound a bit dry and at times gets left behind other frequencies in volume.
While the main body of the bass has a nice kick on fast attacks, slower notes tend to err on dispersed and may feel a little crowded and fat. The lack of micro details in rendering longer sustain could get expected intricacies leveled out.
Where the HO100 excels is with the honest tonality of the midrange allowing female vocals and instruments alike to retain their nature with the slight leaning towards boldness in girth.
Worth noting is the edginess on softer and whispery lyrics which could be heard mostly on hoarse singers or worse recordings. Piano on the other hand is quite lively and has a great presence.
Transitioning well from the upper midrange to the lower treble, no scoop or spike leads to a moderate brightness without being shouty. But if paired poorly with the wrong DAC, sudden blows of horns and saxophones will be passed on as attacking.
Violins are quite pulled back from the picture and with no added coloration which on slower arrangements could be heard as unexciting. And lastly for cymbals, while zingy and controlled, it however exposed some micro details in the top end that doesn't get translated.
Staging & Dynamics
SMSL's interpretation in staging width for the HO100 is by letting its source speak without taking or adding any additional room. Listening to instrumentals recorded in a studio emphasizes the echoing on the walls and recreates it honestly.
Although directionality and height are impressive and quite distinct and easy to imagine, separation and layering are average and on busier songs images tend to get too close to one another making an impression that some instruments are playing in the same plane.
Playing songs with a wide dynamic range is no problem. It fully engaged me listening to a song that has a gentle entrance leading to a spritely with a wide vocal range singer.