Select Comparisons
FiiO KA1
$49.99
Technical
The main purpose here is not to pit two brothers against each other but I bet most people will ask which one I should get between these two siblings. It truly depends on if you have a 3.5mm equipped IEM or if you have a 4.4mm at your disposal.
Yes of course both these models use a different chipset, in the case of the KA1 it uses a more upscaled ESS Sabre ES9281AC. However, the KA1 uses a single-chip solution and a single-ended 3.5mm connection.
Power output drops considerably on the KA1 which posts a rating of 45mW per side versus the more robust 154mW rating on the KA2. Distortion levels are listed at an identical 0.0005% THD-N.
Design
These two are siblings for sure. They look practically the same. They both have the same color scheme and finish in matte black with gold end caps, and an attached wire plus they both have the same format indicator. They even seem to be equal in size.
Again, I prefer the removable wire type and always think of the KA3 and the added benefits and features you obtain for a little more cash. The major differences here are the chipsets and the headphone connectivity which uses a 3.5mm instead of the 4.4mm balanced connection.
Performance
Although both power output ratings seem apart they seem close to each other more than specifications indicate when you give them a listen and this is a perfect example of a couple of pieces of gear that the numbers do not tell the whole story.
It seems the KA1 has a conservative rating while the KA2 is either hitting the specified power output rating on short peaks or is rated at the maximum you will ever obtain power-wise. The KA1 does seem warmer, particularly with vocals and with the bass response.
I do feel a slightly more accurate stage presence on the KA2. The KA2 amount of height seems taller but the rest of the staging seems similar in width and depth.
They even share similar capabilities far as digital formats are concerned. They both can handle PCM 32-bit at up to 384kHz and DSD256 but only the KA1 has MQA capabilities. I find it strange that the more economical model has the capability but not the upper-tier model.
iBasso DC04
$74.99
Technical
The iBasso DC04 employs an identical configuration far as IO in a shell that's a bit more on the chunky side. Both these dongles are rather similar length-wise. Both these dongles offer a single 4.4mm balanced output and a USB-C connection on the other end for the input side.
The DC04 uses the same dual CS43131 which is capable of a balanced output since the circuitry design employs a dual mono design.
And although both seem to use the same chipsets and are similarly configured, the DC04 seems to manage 195mW per side and up to a 4-volt output capability so there's certainly more power to be harnessed here.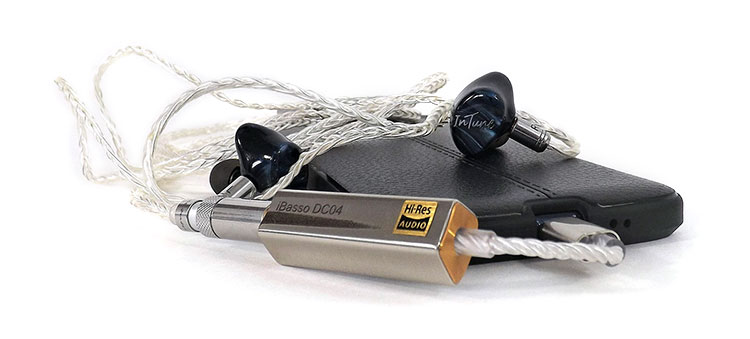 Design
The iBasso DC04 is available in two glossy color schemes. One is a silver and gold scheme and the other is black and gold. It's a handsome-looking dongle but it's a touch on the chunky size. The KA2 is slimmer around the waist.
The input connectivity on both these models uses identical USB-C connections and both come with full-size USB adapters. Both models use a single 4.4mm balanced headphone output.
Performance
I would say the top end is more present and there is more power available on tap but that doesn't affect bass tightness and control much since in that aspect they both seem rather similar.
It also seems the DC04 has better drivability when it comes to full-sized cans especially if you plan on turning up the volume. You could reach a higher volume level on the DC04 for sure.
Speaking of volume iBasso throws in the mix an app that's just an ample volume control. It uses a 100-step adjustment system which is great for setting top volume. It gives the user better control of that top volume and it helps quell the very slightly higher hiss levels of the DC04.
Perhaps this is why the same two chips are supplying less power output. It seems FiiO went with a safer tuning on the KA2 while the iBasso DC04 had a more aggressive tuning aspect that pushes the chipset closer to the chipset's top specs.
Periodic Audio Rhodium
Price $49.00
Technical
Another economical and almost inconspicuous way of improving sound quality coming from any device equipped with a USB port is to use the Periodic Audio Rhodium dongle DAC that right off the bat has the advantage of being ultra-small and barely takes up more space than a piece of wire.
It also differs in the fact that it uses a Realtek ALC5686 single SOC chip which is placed within the USB connector itself. Most dongle DAC makers stick to using the more common ESS tech or Cirrus logic SOCs and it's rare to see Realtek used on a dongle DAC.
The Rhodium DAC offers PCM and doesn't work with DSD or MQA files. PCM capability is quite good and reaches levels of up to 32-bit and 384kHz rates.
Design
The Periodic Audio Rhodium is a slither of the size of most ordinary dongle DACs and certainly the dongles within this comparison lineup. Most people I show the Rhodium tend to think nothing of it and think it's some kind of gender adapter or just a cable.
If I was to conduct a strength test to see which cable is the strongest from this lineup I would place my wager on the Polyethylene woven jacket covered high strand OFC wire assembly on the Rhodium DAC. That was a mouthful.
One interesting aspect of the Periodic Audio Rhodium DAC is that it comes packaged in what resembles the type of packaging that a small medical device would come in. I was almost tempted to put on a white gown and break out the Littman. Let's just call it pharmaceutical-grade packaging for now.
Performance
The Rhodium is the smallest not only in size but in power output as well and it does affect performance some if you use inefficient headphones. The available amount of power is limited to 31mW at 32Ω and a probable maximum of 1 volt at the same load which is not much to play with.
It seems just a smudge worth of extra power over my phone let's say and obviously, the KA2 performs better in that particular area but not by much. You could tell the difference between the technical abilities of the Rhodium DAC versus the average phone output.
If you factor in the ability to handle PCM digital format files at the same 32-bit and up to 384 kHz rates, with a signal-to-noise ratio of 113 decibels and a distortion level spec of 0.007% the only aspect of the Rhodium that holds it back is the low power output.
The Rhodium DAC seems to balance a tradeoff between size and performance and is probably best for some highly efficient IEMs and second, for the sake of novelty.
It just seems incapable of a robust enough power output which seems far from some of these new-generation dongle DACs including the KA2.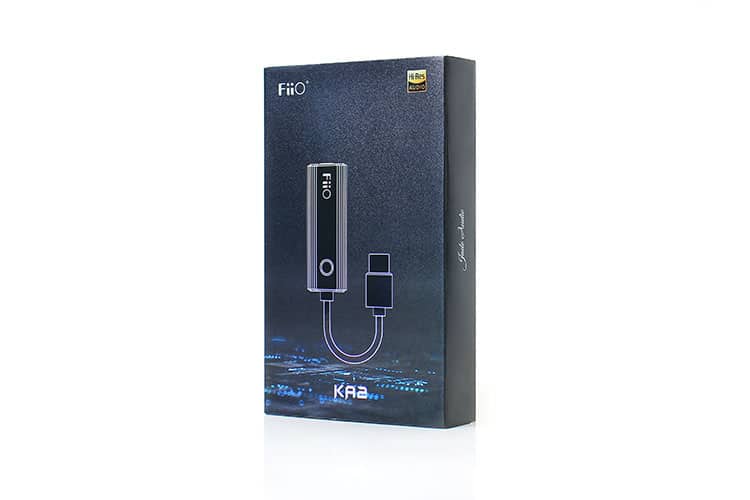 Our Verdict
The Jade Audio partnership continues to keep bringing forth a concept with most of their products that show a good example of gear that is good sound but doesn't have to cost a small fortune. You can throw the FiiO KA2 in the list of their components that do just that.
This is a simple way of improving a mobile device's sound output without breaking the bank. Can you expect any drawbacks with such an inexpensive device? Perhaps the attached wire, that's it.
In a time when many mobile device manufacturers are omitting the 3.5mm connection, it's a good thing we have something like this to supplement their mistake and at the same time improve sound quality 3-fold.
FiiO KA2 Technical Specifications
Body dimensions: About 40 x 15 x 12mm
Cable length: About 70mm
Weight: 12.3 grams
Color: Classic black
DAC chip: CS43131 x2
Input: Type C or Lightning
Output: 4.4mm Balanced
Output Power: 153mW @32 Ω THD+N ≤ 1%
SNR: 125db @32 Ω or 131db @ 600Ω both A-weighted
THD+N: 0.0005% @ 32Ω or 0.00024% @ 600Ω
Audio formats: PCM 32bit/384kHz and DSD65, DSD128, DSD256