The Periodic Audio Rhodium is a very discreet 32bit/384kHz capable dongle-type amp/DAC with 31mW of output power. It is priced at $49.
Disclaimer: The Periodic Audio Rhodium sent to us is a sample in exchange for our honest opinion. We thank the team at Periodic Audio for giving us this opportunity.
To read more about Periodic Audio products we have previously reviewed on Headfonics, click here.
Note, this review follows our new scoring guidelines for 2021 which you can read up on here.
Periodic Audio Rhodium
If we are to speak about a product, where it belongs in the marketplace, its niche within the current market, and who would be the potential buyer who will benefit from such a piece of gear, the Periodic Audio Rhodium seems to have good general appeal and a good amount of qualities that are desirable.
Since the end of the jack in Smartphones, the 'dongle market' has been slowly gaining traction with audiophile-level products gear to overcome the loss of the "3.5".
2021 feels like the right time for an avalanche with supply chains for budget DAP components increasingly fraught with complications. We are now seeing an inundation of portable dongle DACs such as the HiBy FC3, iBasso DC04, right up to the high-end with Luxury & Precision's W2. It's becoming quite a challenge to enter this market segment.
If you want something that would be considered super small then the Periodic Audio RHodum DAC/amp dongle might interest you because for me it basically took the title of being the least inconspicuous piece of gear I own while at the same time remaining very versatile and highly affordable.
Tech Highlights
The Periodic Audio Rhodium DAC has got to be one of the smallest pieces of gear I have laid my hands on and it's a wonder to me how they even packed electronic components into such a small device. It seems that all the electronics are tucked away inside the USB C plug's aluminum shell.
This device functions as a simple USB DAC amplifier dongle and there is not much to it. You simply plug it in and voila, better sound quality. This device is extremely simple. No drivers are needed or setup required and is perfect for those devices that lack a TRS jack.
Internal Hardware
When I connected the Rhodium for the first time to a USB-C port on my Windows 10 PC and did a quick hardware scan within the device manager and it shows a chip listed as a Realtek TX-384kHz chip. I did a quick Google search on this particular chip and I came up rather empty.
While hardware information was not listed on the product web page, Periodic Audio was more than happy to share information on the hardware used inside the Rhodium DAC when I contacted them.
The mystery chip is actually a Realtek ALC5686. This is a 6mm by 6.5mm package SoC with finer pitched pins mounted within a custom circuitry that uses higher tolerance oscillators and audio grade capacitors with COG ratings.
This means they are rated at zero drift in tolerance plus power delivery gets treated with X7Rs caps for a 10-decibel reduction of noise compared to other caps.
Codecs
I tried various file types and formats and verified that the Rhodium is a PCM-only DAC and there is no DSD, DXD, or MQA folding on this device. Most devices stick to PCM and I personally and I would say most rarely venture into other formats.
The Rhodium basically runs PCM only up to 384 kHz and 32bit and that's it. You could always set up particular media players to decode those other formats as you can in Foobar for example but PCM will get you through just fine 99% of the time.
Performance Numbers
Power output is on the lower side of the scale but most efficient IEMs and headphones can be powered just fine with the available 31mW at 32 ohms. Periodic audio tuned the Rhodium to operate best at average listening levels.
Frequency response is off the charts and rated at 2 Hz to 192 kHz plus or minus 3 decibels but somehow this device's sound characteristics do not reflect such high-frequency extension in listening tests nor could I verify if it can hit a 2 Hz tone either.
The Rhodium has a very low 0.007% distortion rating and a decent 113db signal to noise ratio spec as well. All these specs are rather respectable for a device this small in stature, size, and price.
One of the performance standout points of the Rhodium is actually power consumption which is rated at a very low 23mA at a constant 1mW output. This device seems to be very efficient compared to other similar devices.
Design
The Periodic Audio Rhodium is a very simple device. One end has a USB type C male plug and the other end has a 3.5mm headphone jack, the end. Both the USB and the 3.5mm plugs are made of high-grade aluminum.
Both ends are connected together using a proprietary high strand OFC wire with a Polyethylene woven jacket and grommet style short black rubber strain reliefs. The primary color scheme of this piece of gear is black and silver.
One observation I made is that there has to be a load connected, in other words, a headphone or IEM connected for the device to turn on but there's no LED whatsoever to indicate if the unit is on or off.
Wired Connectivity
USB-DAC
The Rhodium works extremely well as a USB stand-alone analog line drive DAC and all you have to do is convert the 3.5mm into dual RCA plugs, connect the USB side to a PC and the RCA plugs into an amplifier with analog RCA inputs.
I did this and it actually sounded quite pleasant when you run it through a more powerful amplifier. I ran it through an Asgard, an A90 plus an iFi ZEN CAN signature and they all gave me good results.
But of course, you could just use the same procedure, minus the RCA converter wire, and connect your headphones directly instead and use the Rhodium as a makeshift desktop or laptop USB DAC amplifier.
USB-OTG
This negative trend of manufacturers omitting the 3.5mTRS jack from their devices has not stopped even though screams can be heard from many users but it's good to have something like this to get you by in the case your particular phone fell victim to this practice.
The Rhodium works great on OTG enabled phones and I personally used the device with a Motorola and a Xiaomi Redmi and they both worked fine with no hassle and no complicated setup procedures either. One device had Android 10 and the other had the new Android 12.
Apple compatibility is a different story and Periodic Audio does not guarantee that this device will work with your particular Apple device and only 4th generation running IOS 14.3 is confirmed as working well. Perhaps Apple product users can chime in to let Periodic Audio know if they had a successful pairing with their particular device.
I did notice that there is no firmware available on the Periodic Audio website for this device or an app in Play Store so it's an "as is" product but I did not run into any bugs and the Rhodium did what it was designed to do every time.
Packaging & Accessories
I am going to call the box in appearance scientifically clean, clinical, and simple and so is the packaging. It all resembles packaging that encloses a scientific device. At first, I thought someone had sent me a vial of element 45 or something but I soon enough realized it was a piece of audio hardware.
The Rhodium comes inside the main box and packaged in a sealed clear and white zip-locked baggie along with a USB-C to full-size male USB dongle and that is all you get. You don't even get any literature which to be honest is fine because instructions are honestly unnecessary for this device.
Sound Impressions
Summary
The first impression I got was a surprisingly pleasant and warm sound signature with a rather flat frequency response curve, a small amount of forwardness with lots of present audible background nuances and detail.
Bass frequencies come through but vaguely with a low amount of impactfulness due to the lack of driving power but the low frequencies are all there. The midrange seems to be all there also and everything seems to be correct in timbre, pitch, and presence. The high frequencies are well pronounced, well defined, and also well-behaved.
Staging is done well also and with a good 3D quality required to keep things interesting and this device gives the listener a nice positioning presentation with a rather airy, wide characteristic with lots of depth with some decent height.
If you like a relaxing and organic tonality then you will like this dongle DAC. It seems to stay away from producing harsh peaks and remains well textured and well-controlled even at its highest volume setting.
Synergy
Efficiency
The fact that dongle DACs nowadays are getting larger while at the same time getting more powerful as far as output power is concerned also conjures a con which is a high level of battery drain and I could give many examples of this.
For example, the Shanling UA2 sounds great, can power some very power-hungry full-size headphones to very high volume levels but it will also eat up your battery quickly so it might not be an ideal dongle for long trips unless you have banks of backup power.
The UA2 is not the only one and I could mention many similar like the Ibasso DC04 or even the Helm Audio Bolt and many more which all drain lots of battery power.
The Rhodium on the other hand has a low power consumption rating of 23mA at 1mW output which makes this particular device very good for an all-day-long carry and use scenario. Even the housing where all the components are remains cool to the touch all the time and barely gets lukewarm.
Pairings
The only thing that holds back the Rhodium from being a very good performer is the power output and it seems to be good enough for 16Ω IEMs but not for anything that is let's say 50Ω or higher especially if they're full-sized headphones.
I did not mind pairing the Rhodium at all with bright sounding IEMs because of the warm characteristic sound signature. FIIO's FH5s come to mind or even Tin Audio's T5 which come across very bright on top and it seems the Rhodium calms things down a bit when using similar IEMs.
I did try full-sized cans and I rarely got a good enough amount of volume to call loud from most Planar cans but some dynamic cans are fine if they have a high level of efficiency. The perfect example would be let's say, a set of Phillips SHP9500 which worked out great but not so much a Sennheiser HD6xx.
Actually, the 9500s and the Rhodium made a pretty decent pairing since both are rated at 32Ω nominal impedance and max power plus the warm character of the Rhodium quelled those infamous bright highs of the 9500.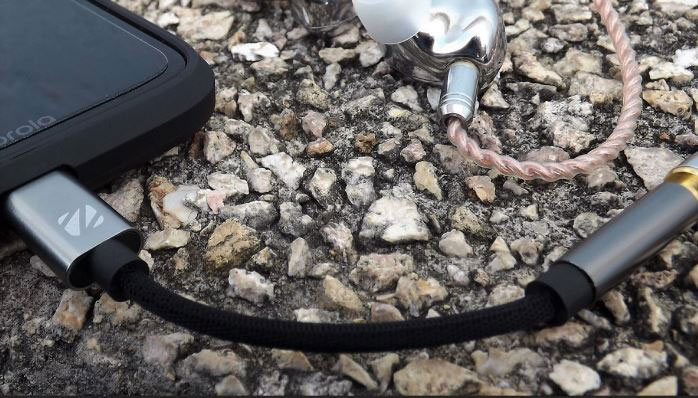 Select Comparisons
Zorloo Ztella Standard Edition
$65.00
Technical
In the technical department, the Zorloo Ztella is actually offered in different tech flavors. They offer various models which all use the same body type but offer more codec capabilities and more included dongle adapters as you scale up in price.
The top model does MQA, DSD plus of course PCM, and while they also offer one with just PCM and DSD somewhere in between they also offer a basic model which only does PCM similar to the Rhodium and for a similar price.
The Ztella might have better compatibility with Apple and Zorloo offers frequent firmware updates so if you're an Apple gear user it might be safer going with the Ztella.
Design
There is one drawback to the Ztella if you want to call it that and it's the extra girth of the Ztella which, to be honest, should not count as a con or even significant due to the already ultra-small size.
If retail packaging is something that's important to you then pick up the Ztella at a retail store because if you mail order it directly the device will arrive in a similar transparent and white zip lock bag with a similar USB C to full-size USB adapter and does not come in a retail box.
Far as build is concerned one just has to look at the device to visually tell that it's the same type of design with a thicker wire and perhaps larger by a couple of millimeters here and there.
Performance
To me, the Ztella sounds more neutral and clinical than most of my dongle DACs and probably has 20% extra power versus the Rhodium and does have a little more bite and bark.
The Ztella does have a bad habit of reducing power output however if a load of 150 ohms or less is seen and sometimes I wished there was a way to access those 2 volts instead of being limited to a 1-volt output when in fact mostly every headphone that is sensibly designed for portable use is under the 150Ω rating.
I get a wider panorama stage-wise with the Rhodium and staging seems larger but they both do detail well and equally so. Also, I do not want my comments to sound as if I was saying that the Ztella has a narrow stage but it does seem smaller, inwards, and more intimate. The Rhodium seems to sound more spacious and more expansive.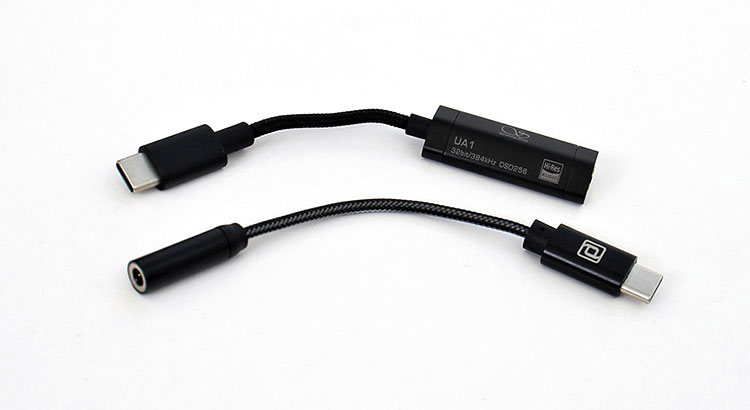 Shanling UA1
$45.00
Technical
This particular dongle DAC is one of the most popular and beefier models available when it comes to available power output within the dongle DAC segment with a single TRS output.
With a maximum power output rating of 80mW there's almost 3 times the amount of power available compared to the Rhodium but at the cost of more heat emitted from the unit and that also means that the power drain from your source's battery goes up considerably as well.
Design
The UA1 employs a more traditional dongle DAC design which consists of a black metal body and a USB-C connector tied together by a wire with short strain reliefs.
The UA1 uses an ESS ES9218P chip and it does PCM plus DSD. Honestly, for portable purposes, most people do not need or use DSD and the format is rarely used in portable scenarios for the simple fact that DSD files are huge. I personally just use FLAC files and call it a day when I go portable.
Performance
Both these dongle DACs are warm sounding and sonically similar and the only character that pulls the UA1 upfront is the amount of power the device has. But again the extra power comes at the cost of cutting your battery life down to half capacity or perhaps even less.
The UA1 has a wide soundstage but somewhat seems more intimate similar to the Ztella and it's of no surprise since they both use ESS chips. The Rhodium has more airiness and sounds somewhat more spacious but intimacy is reduced.
Our Verdict
If we are to speak about a product, where it belongs in the marketplace, its niche within the current market, and who would be the potential buyer who will benefit from such a piece of gear, the Periodic Audio Rhodium seems to have good general appeal and a good amount of qualities that are desirable.
The first reason to buy a Rhodium is the versatility it offers. It has the ability to act as a USB DAC amp, a USB stand-alone DAC and it not only can replace the omitted TRS jack but it definitely can improve the sound quality of practically any phone out there without using gobs of power.
You could also use it with a laptop or a desktop, use it on a phone, and about the only con I found was the lack of power. But if you stick to sensitive IEMs then this device will do the trick in most cases. Think of it this way, you are buying a Honda Civic and not a hellcat or a Mustang.
At less than fifty US dollars practically anyone can afford one and the Periodic Audio Rhodium is actually one of the cheapest ways to get your audiophile fix with a single piece of gear that can go anywhere while simultaneously remaining very efficient, versatile, and inconspicuous.
Periodic Audio Rhodium DAC Specifications
Frequency Response 2 Hz to 192 kHz, +0/-3 dB
Dynamic Range 113 dB
SNR 108 dB A wt.
THD Less than 0.007%
Output Power 31mW @ 32 Ohms
Current Consumption 23mA @ 1mW output
Physical Properties
Cable Length 63mm
Mass 4.4 grams
Operational Temperature -20 to +50° C
Operational Humidity 0-95% Relative Humidity
Overall Length 117 mm
Max Width 10.8 mm
Max Thickness 6.9 mm