Today, we review the ddHiFi TC35C which is a compact OTG micro-dongle featuring a Realtek ALC5686 DAC and up to 30mW of output power. It is priced at $48.99
Disclaimer: This is a sample that was sent to us in exchange for our honest opinion. Headfonics is an independent website with no affiliate links. Many thanks to ddHiFi for their support
You can read about previous ddHiFi products we have previously featured on Headfonics here.
Note, that this article follows our latest scoring guidelines which you can read up on here.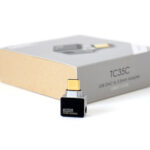 ddHiFi TC35C
The ddHiFi TC35C surely steps it up a notch compared to the average dongle that simply pulls raw audio from a USB-C port directly and off the phone's audio chip. It's a small piece of gear that does what it's designed to do and does it well.
Pros
Small and inconspicuous
Clean output
Easy on battery consumption
Cons
No control app, and no firmware updates.
Efficient IEMs only
ddHiFi often offers solutions to the now trending idea of manufacturers collectively eliminating the 3.5mm headphone jack and leaving us, the music lover out in the dust.
Another thought comes to mind and that's the following. When was the last time you saw a mobile phone company announce the release of a phone geared to have good audio performance? Don't hold your breath.
Fortunately, some companies are capitalizing on these facts and ddHiFi is one of them. Their niche is to offer sensible small-sized solutions to these ongoing dilemmas such as the TC44A Lightning DAC and their Bang for Buck winner from 2022, the TC44C.
The TC35C is one of their latest solutions for both Android and iOS devices and is also a good example of how something small and inconspicuous can perform well while simultaneously solving the above issues.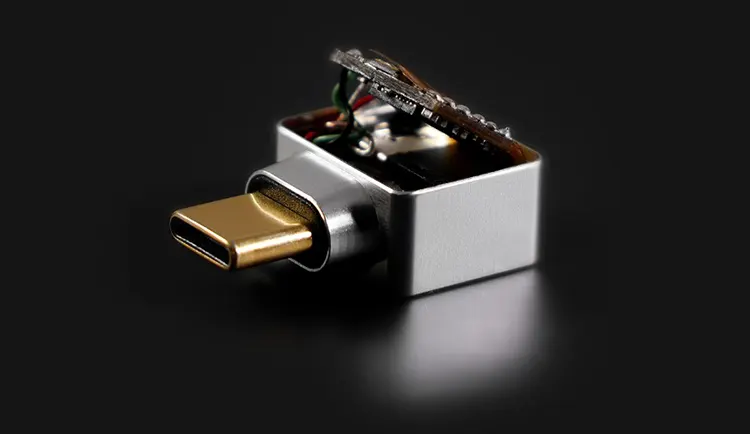 Tech Highlights
DAC & Amplification
At the center of the ddHiFi TC35C sits a Realtek ACL5686 USB-powered SoC audio decoder. The TC35C seems to work on anything equipped with a USB-C port and doesn't need special drivers to work either because it's a plug-and-play device plus it's OTG compatible. You can also convert the USB-C to a USB A type and it will still work.
The TC35C takes over as the main audio device once you connect a headphone to the 3.5mm plug, otherwise, the source device will stay dormant and on stock audio. This is a cool feature particularly when you use the TC35C with a mobile device. The same happens when on a laptop or a PC.
On the output end, the TC35C claims a total of 30mW at 32Ω with an adaptive power mode between 16Ω and 200Ω. It also claims a THD+N rating of 92db. SNR was listed at 120db and the dynamic range at 120db.
Decoding
The ddHiFi TC35C supports PCM strictly and is capable of up to 384kHz decoding on all three 32-bit, 24-bit, and 16-bit buses.
The TC35C doesn't seem to venture into MQA rendering or DSD. Then again, most USB devices work exclusively over PCM. So, if you can render those other formats within a player, that would be a simple solution to solve that issue.
The TC35C does seem to work on anything equipped with a USB port and doesn't need special drivers to work either because it's a plug-and-play device plus it's OTG compatible. You can convert the USB-C to a USB A type and it will still work. I tested this and it works.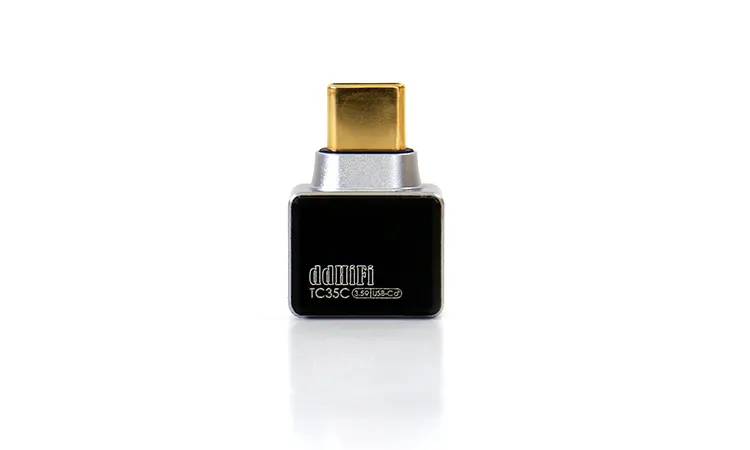 Design
ddHiFi uses what they call an Ultimate Space Layout design which kept the TC35C ultra-small and as inconspicuous as possible. The body is made from an Aluminum alloy and it employs a black-with-silver color scheme to better match most smartphones.
One of the implemented internal design ideas used to keep the unit small was the sideways-mounted 3.5mm plug. ddHiFi designed it to look smaller than it is. It wedges itself within the Aluminum body which keeps the jack very sturdy in place and almost unbreakable.
So, the TC35C has a built-in DAC, USB-C connectivity to the DAC, and a 3.5mm jack which is a TRRS variant in a chassis that measures 17 x 16.2 x 9.6mm. To be honest, I'm still scratching my head as to how something so small could manage to cram in a DAC amplifier combo.
Oh, before I forget, the USB side is mounted on a reduced-size body protrusion that allows you to insert the TC35C onto your mobile device's USB port while using a protective case.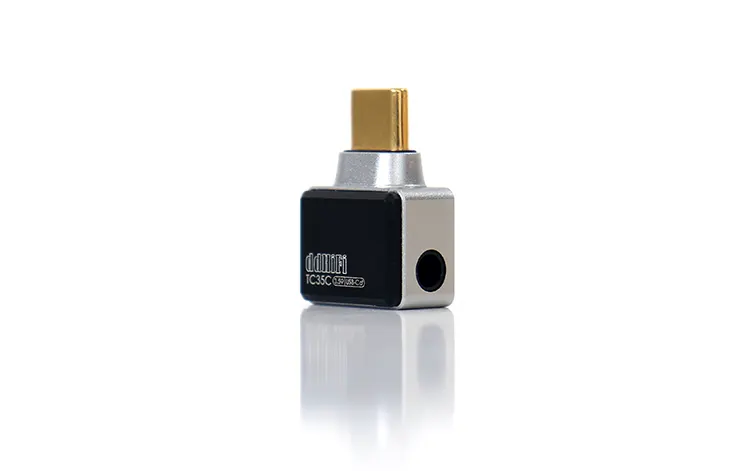 I/O
The ddHiFi TC35C has two connections, one input, and one output. There's a USB-C connection on one side and a headphone jack on the other side. It's a very simple device.
The headphone jack is a 3.5mm TRRS single-ended output jack with microphone capabilities. In other words, if you use an IEM or earbud set that has a microphone and a 4-pin TRRS plug, the microphone will work, if you're on a PC or mobile device just the same. Whether or not the onboard buttons will work will vary. Most do it seems.
One important consideration to take is which mobile device you're going to use the TC35C with at purchase time. That's because the TC35C is available in 2 distinct versions, one with a male USB-C and one with a Lightning connection.
You might get away with using an adapter but I wouldn't do that. Just make sure you get the one that corresponds to your mobile device. But the more versatile model is the USB-C type. A small note is that the Lightning version is smaller for some reason and measures 16.6 x 16.2 x 9.6mm.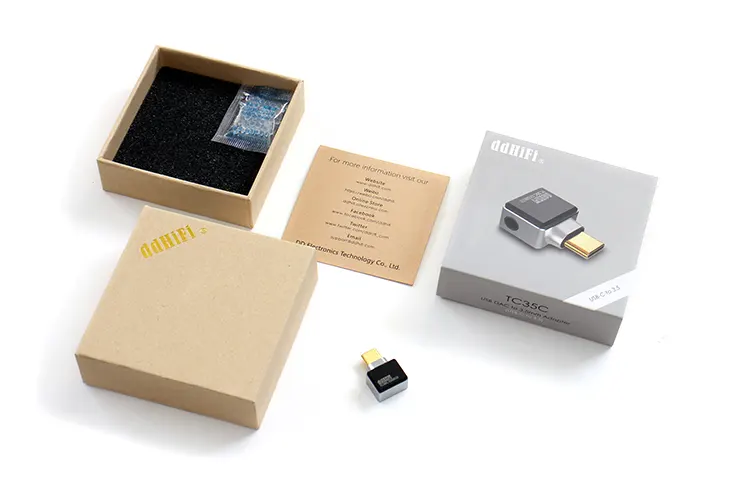 Packaging & Accessories
Whatever happened to the confetti packaging ddHiFi used prior? I found it to be unique and effective. Instead, they now package their dongles in the same type of box as before but they used a single piece of foam inside.
The packaging should have two foam pieces to nestle the TC35C in between them. The current packaging works but I would feel safer if it was nestled between two foam pieces.
The box is fine and I'm also fine with the fact that the TC35C doesn't come with any accessories except for a silica desiccant and a warranty card with some useful information on it. Extra accessories usually rise product costs.
Sound Impressions
Summary
The first characteristic that hits you is the amount of clarity within the midrange bands. They come through clean, crisp, neutral, and natural sounding. The bass seems clinical and neutral with an absence of coloration but seems to sit a couple of decibels below flat.
The high-frequency department is another element that comes through quite neutral but it tends to remain polite and on the contrary side of hot sounding. They're rather shy and composed, controlled and well-balanced.
I couldn't detect hiss since the TC35C employs a mute feature as most other dongles do. But from what I heard in some quiet passages, it seems to run quietly with a dark background absent of hiss.
Staging and Dynamics
Dynamic range seems in line with today's modern-day expectations. It sits at 110 dB measured by ddHiFi. It's a very acceptable amount but most dongle DACs nowadays can reach 130+, even their own TC44C reaches 120 dB.
I say anything over 90 dB is fine. The ddHiFi demonstrates good dynamics but it's not a slammer or a heavy hitter. It remains deft or delicately moderate most times and at times it rises to the occasion when some visceral energy is needed.
This combines itself with a well-controlled and restrained soundstage size that remains realistic in size and not too wide sounding. It's well-controlled in the sense that there seems to be little to no conglomeration but when the volume is raised too high things can get soggy and lose definition.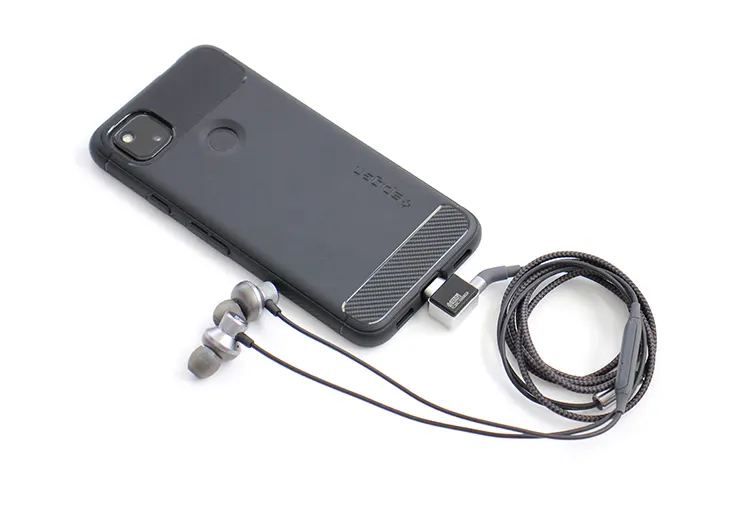 Synergy
Power
The TC44C has an impedance range of 16 to 200Ω adaptive plus a maximum rated power output of 30mW which doesn't inspire one to grab a pair of planar headphones and take them to ear-splitting levels. That won't happen.
I did use a HIFIMAN Sundara closed-back headphone plus a pair of the classic Phillips SHP9500 but the bass seemed a bit south of the border on both sets.
IEMs are on the contrary side of the power curve and work very well with the ddHiFi TC35C. The TC35C does bring out all the frequencies including the bass to acceptable levels and then some.
Pairings
The ddHiFi TC35C is neutral sounding and doesn't add any flavoring so I would pair it with IEMs that are well-endowed in the areas you enjoy the most. For example, one with elevated bass such as the 7Hz Legato, or one that excels in vocals such as the HIFIMAN RE800 Silver.
One of my favorite combos that include the TC35C is with the Helm Audio F2. This set has a built-in microphone and it made the combo feel like a complete package. The F2 has a slightly elevated bass tonality that made the combo fun to listen to at a budget level.
Select Comparisons
Zorloo Ztella
Technical
The Zorloo Ztella was my first dongle DAC and I was impressed by it and still am up to some point. Its inconspicuousness is what I liked the most.
The SoC used inside the Ztella is an ESS ES9281PRO and the non-pro version uses an ES9280PRO Sabre DAC. The difference is that the pro can handle DSD and MQA.
The Ztella output performance seems similar to the TC35C but with a higher SNR rating of 120db and the Ztella also lists a distortion measurement of 0.0006% which is excellent and well in line with today's modern-day dongle DACs in general.
The Zorloo Ztella has similar microphone capabilities. It seems to use a TRRS connection to enable the microphone-equipped earbud or IEM and retains that feature just the same.
Design
The Zorloo Ztella looks similar to a USB-C to 3.5mm audio adapter dongle. It has a USB connection on one end and a 3.5mm on the other and is interconnected by a cloth-covered cable with small relief strains at each terminated end.
All the electronics are nestled inside the USB connector housing and again, it's amazing considering the Zorloo Ztella is also a USB DAC amplifier combo.
Performance
Both models seem to have the same power output but the Ztella might have an almost undetectable edge when it comes to SNR and DNR. The numbers are better at 120 decibels although the ESS literature says it was measured at 124db.
One feature I could take or leave on the Ztella is that it automatically drops down to a low-output-power mode if it sees an impedance below 150Ω. I wished I could use the full capacity with low-impedance IEMs. The benefit is that it acts as an automatic gain feature. But it's unselectable.
One note I made was that even though both models have similar output, the Ztella did drain my battery faster. Perhaps it has a higher voltage output, that's why.
But at this point, the performance is so similar that I would go for the one with the convenience and features you need. For example, if you need MQA then the Ztella is the one to get but if that doesn't matter to you, then I would choose the TC35C.
Periodic Audio Rhodium DAC
Technical
The more budget-friendly model in this comparison is the Periodic Audio Rhodium but it has more similarities to the Zorloo Ztella and is a cross between the other two. That's because the Rhodium has similar specs and features to the TC35C but comes in the Zorloo Ztella design platform.
It's also powered by a single DAC chip. Periodic Audio also used the same ACL5686 SoC that sticks to PCM and offers up rates of up to 32-bit at 384kHz with no onboard MQA or DSD capability, the same as the TC35C.
Design
As previously stated, the overall design is similar to the Ztella design which employs a 3.5mm on one end and a male USB-C on the other end, and a short cable between the two that is cloth wrapped and with a couple of short strain reliefs at each end.
All the electronics are contained within the shell of the USB-C plug just the same. The Rhodium color scheme is black and has a highly contrasting Periodic Audio logo in white. It looks good and is a robust-feeling dongle overall.
One unique aspect of the Rhodium is the packaging it comes in which resembles something you would find in a chemical lab. One can almost call it medical-grade packaging. It also comes with a full-size USB type A adapter.
Performance
Again, both these models dish out similar performance far as fidelity and quality output. They both use the same SoC so that shouldn't come as a surprise.
The Rhodium does list a wider frequency response but they both seem to have similar frequency extension both ways. Even their power output rating is similar with just 1mw differentiating the two listed specifications.
It seems that with these types of dongle DACs, the major selling point would be the design format. Do you prefer the wire type and a straight 3.5mm jack or one with a 45-degree angle and on a square-shaped device that directly attaches itself to the USB port? Those are your choices.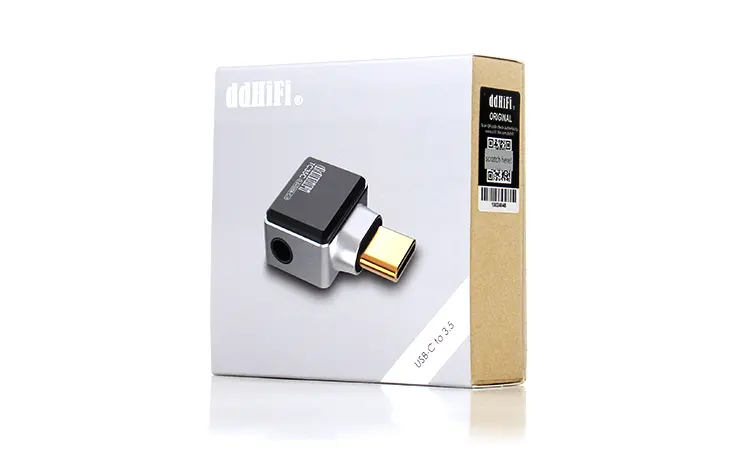 Our Verdict
The ddHiFi TC35C surely steps it up a notch compared to the average dongle that simply pulls raw audio from a USB-C port directly and off the phone's audio chip. This is surely a step above that and it's a device that won't kill off your battery too quickly either.
If you have concerns about having a sizable dongle DAC dangling from your mobile device's USB port then this is more inconspicuous and sturdier. Just keep it well in sight and don't leave it in your pocket past laundry day.
Perhaps it would survive a wash and rinse but I wouldn't test it in that manner. I would use it to listen to music on the run. But other than that possibility, I see no reason not to get one if you need something like this. It's a small piece of gear that does what it's designed to do and does it well.
ddHiFi TC35C Technical Specifications
DAC: ALC5686
Plug: OTG USB-C plug / Lightning
Output power: 30mW dual channel @32Ω
PCM decoding capability: 32-bit / 384kHz
Output load: 16 – 200Ω adaptive
Frequency response: 20Hz to 20kHz
THD+N: ≤92db
Dynamic range: ≥ 110db
SNR: ≥ 120db
Weight: 3.8g
Dimensions: 17.0 x 16.2 x 9.6 mm