We review the Drop + HIFIMAN HE-X4, which is an open-back planar magnetic headphone with a dual-sided magnet array for improved sensitivity. It is priced at $129.
Disclaimer: This was sent to us as a sample in exchange for our honest opinion. Headfonics is an independent website with no affiliate links or services. We thank Drop for their support.
To learn more about Drop products previously assessed on Headfonics you can click here.
Please note, that this article follows our current scoring guidelines which you can read in more detail here.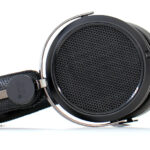 Drop + HIFIMAN HE-X4
The Drop + HIFIMAN HE-X4 is certainly an excellent choice in its price range if you want decent performance from a planar magnetic headphone without a large price tag to go along with it.
Pros
Better than average imaging performance
Robust design
High performance to price ratio
Cons
Needs an amplifier with good current
A small amount of sibilance or harshness in the upper high frequencies
DROP and HIFIMAN often get together and offer gear with a high value per dollar margin and most of their ventures attempt to redefine the entry-level segment. To be honest, I'm left scratching my head at times as to how they manage to even make a profit.
The HE-X4 is a good example of that since it incorporates design aspects borrowed not only from the HE4XX but from the HE5XX as well according to Drop.
However, the asking retail was kept way below both those models and that's what makes the HE-X4 such an interesting offering.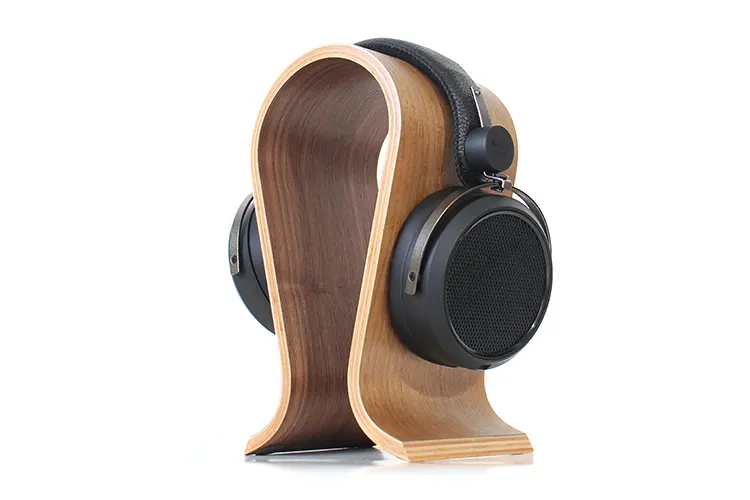 Tech Highlights
What does the HE-X4 offer for such a small investment? They offer a good-performing headphone that's based on a planar magnetic driver technology. This driver in particular is a square-shaped dual-sided magnet planar driver that measures around 60mm.
The driver doesn't seem to have the latest HIFIMAN nano-tech membrane or stealth technology but considering the driver specs, size, and the dual-sided magnet array you can expect a full range of sound and a large projection which are common characteristics within the general HIFIMAN lineup.
The driver seems to be a reworked, custom driver specifically made for the HE-X4. Drop lists some basic specifications starting with a frequency response of 20Hz to 20kHz, a sensitivity of 91 decibels, and a 25Ω impedance rating.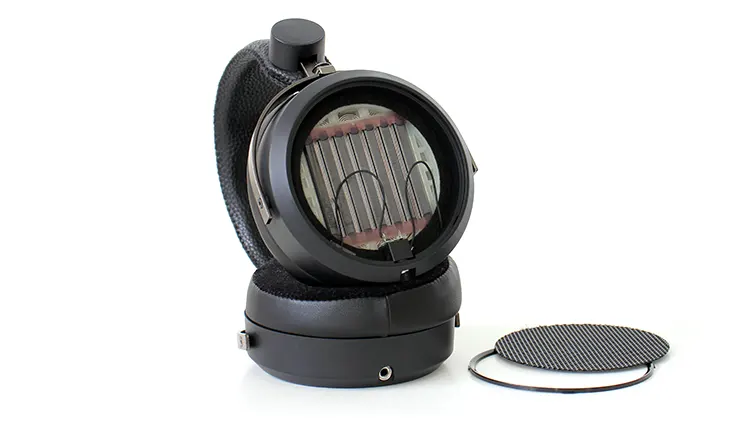 Design
Cups
The cup design seems to be directly borrowed from the HE4XX. The cup size and materials used all seem to be similar. However, this time around Drop + HIFIMAN went with a mostly all-black color scheme. In the case of the cups, a matte black.
The back plate used behind the cup is the often used HIFIMAN round perforated backplate that is held in place by their ring insert design. The plate also has a cloth filter on the inside portion to keep dust away from the delicate drivers.
By the way, for those who like to mod headphones, these are similar to the HE400SE in that you gain nothing from removing the backplates so I would just leave them on to protect the drivers. Doing this will probably make these sound worst compared to stock.
The only mod I would venture into is perhaps some pad rolling with pads like Dekoni pads or similar because the HE-X4 cup uses the original HIFIMAN 4-point mounting rings system set and the rings are easily obtainable nowadays. So, all you have to do is find a pad with similar dimensions and use their mounting ring.
Headband
This headband is the one design that defines HIFIMAN for me. It's their best in my opinion. It sits on your head in a low-profile manner. You can also slip a wrap around the top leatherette headband to make them even more comfortable.
I'm sure HIFIMAN worked out the kinks in this design by now since the first models introduced with this headband reared an issue with the slider adjuster that at times fell apart. But lately, they've been solid and no complaints are being posted anywhere.
This headband is also easy to adjust but my set did have one side tighter than the other which was harder to slide. Hopefully, that will work itself out eventually. The spring steel had just the right amount of clamping force.
The yokes are made from metal and do swivel but still quite restrictive in the amount of swivel. So, you can't lay them flat on a desk. The swivel gives you just the right amount to fix the cup angles on most heads, but that's about it.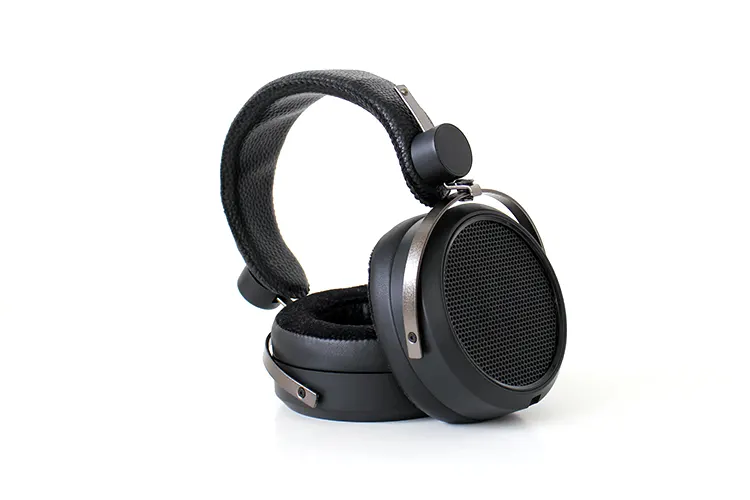 Comfort & Isolation
The Drop + HIFIMAN HE-X4 sits on my head comfortably. The pads seem to be Pali A-type pads which are very comfortable. However, they do seem to suffer from longevity and durability, especially in hot climates.
But again, the HE-X4 is pad-mod friendly and the pads are easily replaceable so you can expect to own these for a long time since you can always freshen them up with some new pads.
The inner dimension of the stock pad is ample enough for an average ear and their comfort is enhanced by a proper clamping force that seems almost right for my head size and my taste. The top band also distributes the top contact point evenly and does not create any small pressure points on top.
One thing I must mention is that these are fully open back so don't expect them to block out external noise. You can hear everything around you with these. They also leak out more sound than average so I wouldn't use these near others.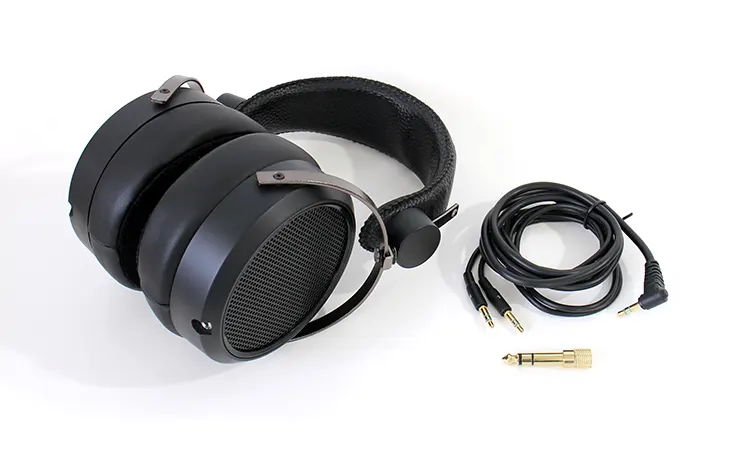 Stock Cable
The stock cable is the common HIFIMAN hybrid OFC and silver-plated multistrand cable wrapped in a rubber shield with the end tips encrusted within that rubber shield. This one is not too bad since the cable seems supple, flexible, and robust enough to last a long time.
The cups use 3.5mm connectors with positive tip connectivity. The input side of the cable is also 3.5mm but it has an angled connector. Do I wish for some balanced connectivity? Sure. These need ample amounts of power to run optimally but I can't expect much at this price tier.
One thing I noted is that HIFIMAN has improved its cup connectivity lately and is using decent jacks that don't present intermittent connections and don't feel crunchy on insertion and removal. They seemed to have employed tighter construction tolerances and have improved lately.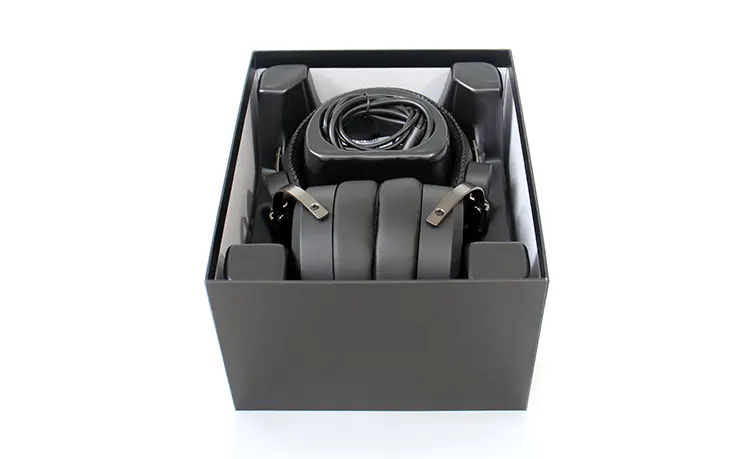 Packaging & Accessories
The all-black box is different from what HIFIMAN puts its line of headphones in. It seems to be similar in size but directly laminated. Perhaps not as environmentally friendly but I like the simple presentation.
The box uses the same internal plastic cradle that was used, for example, with the HE400se packaging. It's a custom mold and it will certainly get the product home safely.
But there's not much else included and in this price bracket, one cannot expect more than what's included. There's the stock cable, a 6.35mm adapter, and the headphones of course. There's no owner's manual included but do you need one?
Synergy
Efficiency
These are big cans and big cans need lots of juice to grow and flex their muscles. Speaking of that, I believe the HE-X4 will get better with time because I have around 100 hours on this set and they have improved with use.
The HE-X4 is marketed as a desktop model for home use so with that said, make sure to power them with high current amplification with a decent desktop solution.
Since we're on the topic of desktop setups, I found the HE-X4 to be a good candidate for a gaming set since it has forwardness in the frequencies that produce footsteps in particular and the set also emits a good amount of directional information.
Pairings
I would stick to desktop use and a good amplifier combo like HIFIMAN's EF400 which if you know where to look, you can obtain one for much less than the original listed retail. I'll give you a clue, the HIFIMAN store.
Perhaps you could go portable with the HE-X4 if you have a Topping NX7 or one of iFi Audio's iDSD models like the Signature or the iDSD Diablo. The weaker one of these units far as raw power is the NX7 but it still manages way over 1 watt per side. Catch my drift?
Click on page 2 below for sound impressions and our selected pairings.