The iFi Audio Micro iDSD Signature is a transportable headphone amplifier and DAC with DSD512 and MQA decoding capability. It is priced at $649.99
Disclaimer: The iFi Audio Micro iDSD Signature sent to us for the purposes of this review is a sample in exchange for our honest opinion. Thank you to iFi Audio for giving us this opportunity.
You can read more about iFi Audio products we reviewed on Headfonics by clicking here.
Note, this review is 2 pages long and follows our new scoring guidelines for 2021 which you can read up on here.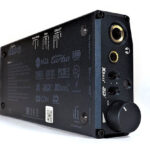 iFi Audio Micro iDSD Signature
The iFi Micro iDSD Signature series DAC amplifier is a fun machine capable of driving practically every headphone out there while at the same time remaining highly musical and hiss free and taking up a minimum amount of space on a desktop doing so.
Product Introduction
When I think iFi, I think fun. I have lots of their products and I really like them all. They are not the sterile type and I would not use them for something like studio analytical use but iFi sure pack lots of fun factor and punch into their units and are great for when you just want to jam out and listen to great music in high quality at home or on the go.
Lately, iFi has produced some peculiar-looking products, not in the sense of strange but different in appearance from what iFi is accustomed to make. They're thinking and I could tell.
The recently reviewed NEO, for example, is a device that does not resemble any of their past products which to me is a beautiful looking piece but it's not a typical iFi looking design. Even the rounded trapezoid shapes used on the ZEN line were uncommon designs to iFi until recently.
Well, the old design is back and in full force and when iFi released their Micro iDSD Signature DAC/amp combo in space blue finish I immediately labeled it a fun machine. Why do I label it that particular title? Read on and find out.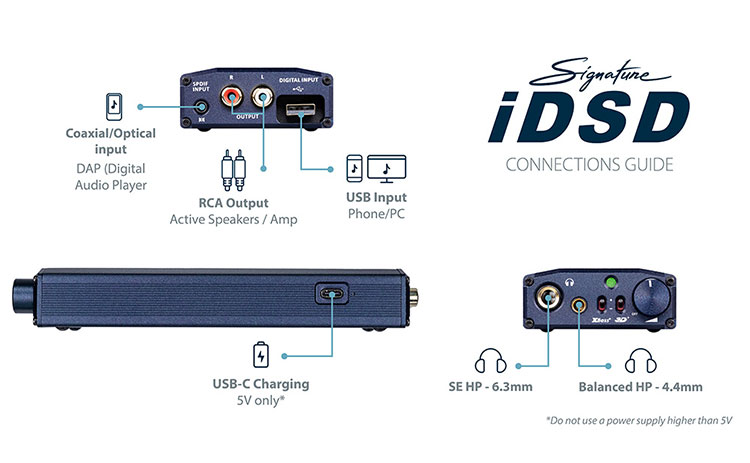 Tech Highlights
The iFi micro iDSD Signature is a DAC headphone amplifier combo for desktop or portable use with practically every feature iFi has implemented into their previous units that worked out well. It has so many features I am having a rough time finding a starting place to describe them all so I will try to keep it simple.
The iFi Micro iDSD Signature is labeled as a desktop unit but with portable capability. It has an internal battery that can power the unit for up to 12 hours depending on the headphone being used according to iFi, so portability is a bonus feature here. The battery has a dual function, however.
In fact, iFi designed the unit so the battery acts as a filter and also to provide the unit a more steady voltage. Since a battery does not have to convert AC power to DC, the unit can be charged even with a dirty power source because this unit has iPurifier technology built-in.
Ideally, you never have to worry about picking up interference, noise, or voltage anomalies from the power source with this power source design. I do recommend using a good clean power source regardless.
One of the step-up features from their previous models is the upgraded iFi custom ultra-low noise OPamp OV2028 on the digital end and another iFi custom chip on the analog side which is labeled the OP2627. Their OPamps are wide bandwidth capable chips and are low noise devices that spec out at .0001% distortion.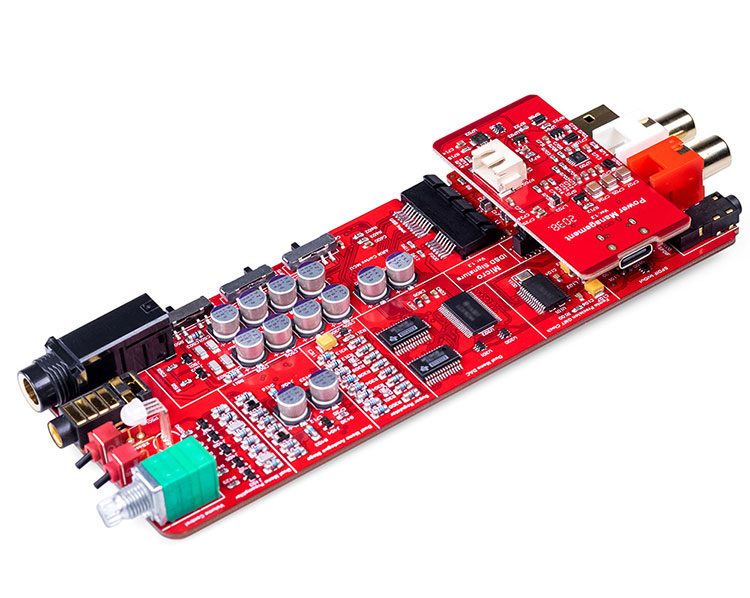 DAC
The iFi Micro iDSD Signature uses dual Burr-Brown DAC chips in what iFi calls a custom interleaved configuration and claims this particular circuit design has a lower noise floor, better channel separation, and better microdynamics over past units.
The digital engine iFi implemented here has two pairs of signal paths. This circuit design allows iFi to route DSD or DXD and PCM through separate pathways and dedicates 2 channels for each allowing bit-perfect decoding in a native form with both formats.
The doubling up of DAC chips resulted in a 3-decibel reduction in the noise floor plus better channel separation and along with the improved power supply circuitry design; noise has been reduced to half the level of past models. Musical detail and microdynamics have also been improved over past models.
IFi synchronizes all the internal DAC clocks by using the Femtosecond precision clock and intelligent memory buffer which eradicates jitter according to iFi. You probably know this system as the GMT global master timing system which has also been successfully implemented on their previous models.
Decoding
When it comes to Codex, the iFi Micro iDSD Signature says bring it on. There is not much this unit cannot play well with. PCM and DSD plus DXD decoding is no problem. It can also do MQA. On the PCM, DXD, and DSD digital side, the DAC is capable of bit-perfect decoding of digital music.
The iFi iDSD Signature is capable of all codec natively. PCM data goes up to 32bit and 768, DSD single/double/quad/octa speeds up to 512, single and double speed DXD up to 768. So as you can see, there is not much this unit cannot playback when it comes to Hi-Res digital formats.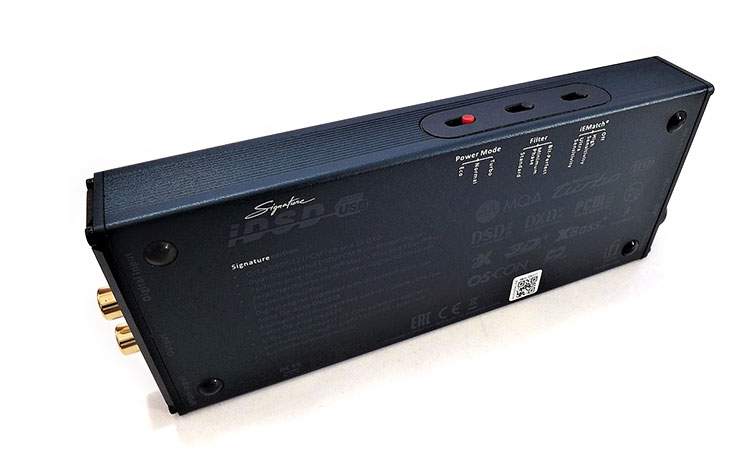 Selectable Power Output
There is another switch on the side of the iFi Micro iDSD Signature with 3 power output modes. The 3 modes are normal, eco and turbo. The mode names are self-explanatory. The turbo mode can push some very power-thirsty cans to very loud volume levels, for example, power-hungry planar cans like the Hifiman Arya.
The iFi Micro iDSD Signature uses what iFi calls their direct-coupled output circuitry. This circuitry has no coupling capacitors which tend to choke other amps.
Since there is an absence of capacitors, at least in this stage, I could only speculate that this would also improve reliability since capacitors seem to be the weak spot against other components when it comes to reliability especially in amplification circuitry.
The circuitry also uses the iFi designed DirectDrive circuitry which equals a more direct signal path with less signal degradation.
So to make a long story short, the iFi iDSD Signature is capable of 4.1 watts per side and seems somewhat more powerful compared to some larger units claiming even higher output power levels.
iEMatch
Almost every amplifier design has a noise floor that can be picked up by sensitive IEMs and usually translates into hiss but iFi found a solution to this almost universal problem.
iEMatch which is an iFi exclusive design forms part of the iFi Micro iDSD Signature 3 switch feature set and is basically a 3-stage gain control but instead of using line-level gain, it uses resistance to better match the resistance of the IEM or headphones to the amplifier load.
For those concerned about hiss, yes there is some hiss present but only on the iEMatch off position but while using the iEMatch feature on the high or ultra-sensitivity setting, I could not detect any hiss whatsoever from even some of my most sensitive to hiss IEMs I have but power levels remained very respectable regardless.
So versatility is raising its head high many times here because power-wise alone, this amp is capable of driving very hard-to-drive headphones and is also capable of operating hiss free with sensitive IEMs.
XBass and 3D
The iFi Micro iDSD Signature DAC/amp has 2 more switches on the front panel. One is simply called 3D with an on and off switch. I rarely like 3D enhancement but this one was tastefully done and I liked the widening and the sense of larger elements within a recording it creates.
The second switch is the XBass function which spoils you with the best bass boost out there in my opinion. It is somewhat subtle but the bass performance and presence are improved while engaged with no ill effects to sound quality. That switch stays on all the time and I never shut it off. I'm addicted.
Above the two switches, there is an LED that turns on when you power up the unit by use of the volume control. This LED is an RBG type that displays a particular color according to the bit rate and format it's decoding.
To elaborate more on the volume control, it powers up the unit with a solid click and it feels smooth to operate and I did not hear significant channel imbalance or noise from this volume control and it seems to be an analog type.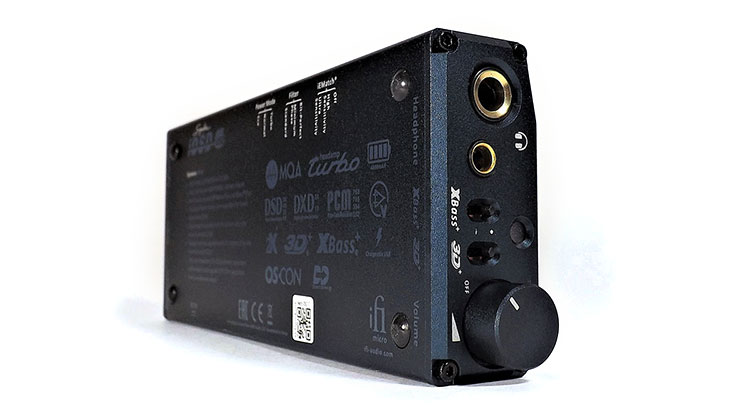 Design
The old iFi design is back and I like it. This design gave iFi units a uniqueness in the sense that one could never mistake who made them visually even from afar. The design to me resembles a car audio amplifier or a small power inverter which is cool in an industrial design sense.
The Signature body is made of metal coated with a color iFi calls Space Blue. Most letters are white which contrasts well with the blue but the longevity of the finish concerns me and I would keep rough or sharp objects away from the finish or just keep them inside the supplied pouch.
The main body measured around 6¼" not counting the volume control and RCA output protrusions, one inch thick on the highest point center and, 2 ½" wide. The unit weighs 295 grams or .65 pounds. A small unit indeed for all the power and features it brings to the table and I think that is the major appeal of this unit besides the good sound quality and features.
Other cool aspects of the design are some of the internal components which make up a list of high-quality components like Panasonic OS-CON capacitors, Texas Instruments low noise ICs, and of course their custom OPamps. "Spared no expense" if I can quote John Hammond from Jurassic Park.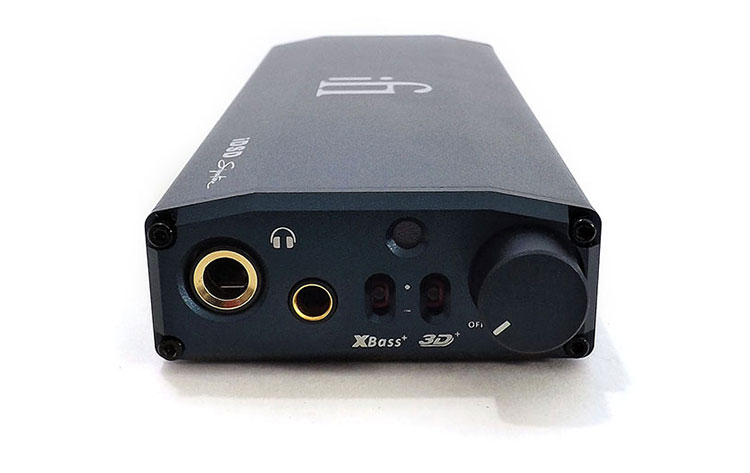 I/O
Outputs
The iFi Micro iDSD Signature has two headphone outputs on the front panel which are a 6.35mm single-ended output type side by side to a 4.4mm Pentaconn balanced output plug.
This output according to iFi has their S balanced feature implemented and I could only assume it was implemented on the 6.35mm plug.
This feature worked well for me on their HIP DAC and allowed me to use a 3.5mm balanced connector with no issues. However, I felt uncomfortable connecting a balanced TRRS 3.5mm to a 6.35mm TRS adapter and did not try the feature out in this unit.
Two RCA stereo outputs reside on the rear panel and this allows the Signature amp/DAC to act as a standalone USB or optical DAC to drive a separate amplifier or amplified speakers which just adds more versatility to this model.
Inputs
The iFi Micro iDSD Signature uses the common iFi full-size USB countersunk male connector and an optical/coaxial input for digital audio connectivity. I would have preferred a female USB plug for a more universal appeal because it is the more common plug. A USB wire for portable use was not included so you will have to source one from iFi.
On the power input side, a single USB-C connector on the side of the unit keeps the battery charged but I wished it were on the rear of the unit somewhere or capable of charging the unit through the rear USB port and not a plug on the side for an aesthetic reason while using it as a desktop amplifier.
Battery Performance
With the iFi Micro iDSD Signature DAC amp, we need to talk about battery life portable performance. I never got the 12 hours iFi claims and I tried hard with my most efficient IEMs with the unit set on Eco and the lowest iEMatch setting to try and get the 12 hours of use.
Realistically I could take it to 10 hours, however with power-hungry headphones, that time was reduced to around 3 to 4 hours. I would still consider this a useable amount of time.
The amount of time the battery lasts on this unit is highly dependent on the headphones used, the amount of volume applied, and the feature settings especially the power setting and the iEMatch settings and in that order.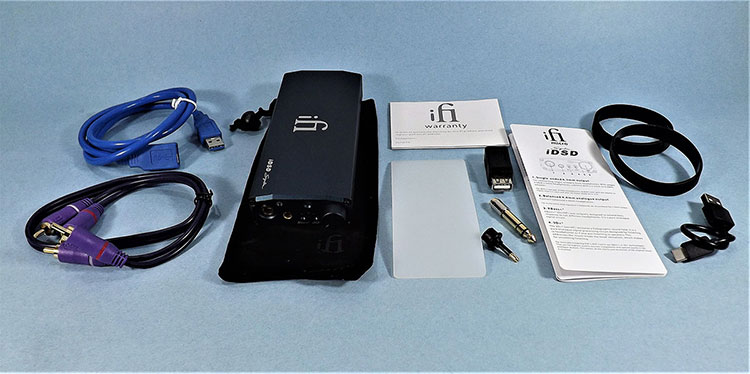 Packaging & Accessories
The iFi Micro iDSD Signature DAC amplifier comes inside a white box that slides inside an outer printed sleeve. Inside the box you get a USB-C charging wire, a USB wire with full-size plugs for PC connectivity, a set of stereo RCA wires, a full-size USB gender changer, and the 3.5mm optical adapter.
You also get a 6.35mm to 3.5mm headphone plug adapter. Some rubber rings to couple the unit to a source are also included. You also get a velvet carrying pouch which further encourages portability use but as mentioned before, a wire for phone connectivity was not included.
The unit is well packaged and I have little concern about the unit not arriving at its destination safely. The unboxing experience is simple and somewhat lackluster but those who know me know that I prefer the product over fancy boxes.
Click on page 2 for sound Impressions and select comparisons