We review the Noble Audio Ronin, which is the company's flagship hybrid BA and EST driver universal IEM combined with Eletech's "Ronin" cable. It is priced at $3900.
Disclaimer: This unit was purchased by us and does not have to be returned to the company. Headfonics is an independent website with no affiliate links or status. We thank Noble Audio for their support.
Click here to read more about Noble Audio products we have previously featured on Headfonics.
Note, that this article follows our current scoring guidelines which you can read about in more detail here.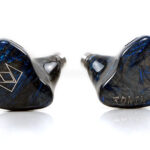 Noble Audio Ronin Review
The Noble Audio Ronin is the company's most balanced and detailed-sounding monitor to date. It is also one of their most accessible tunings with a natural tuning that makes it a non-fatiguing pleasure to listen to.
Pros
Beautiful vocal rendition
Spacious soundstage
Excellent passive isolation
Cons
Lacking a little sub-bass weight
The Noble Audio Ronin is billed as being the long-awaited 'spiritual successor' to 2017's flagship launch, our Top Gear award-winning Katana universal IEM.
That also means we have a new monitor in Noble's flagship series lineup which now includes the Viking Ragnar, the Kublai Khan, and the Sultan.
Price-wise, the Ronin sits just behind the top dog Viking Ragnar but more importantly, it fills a gap that Noble has long been known for, a quality BA-dominant hybrid tuning with the other 3 being dynamic driver hybrids.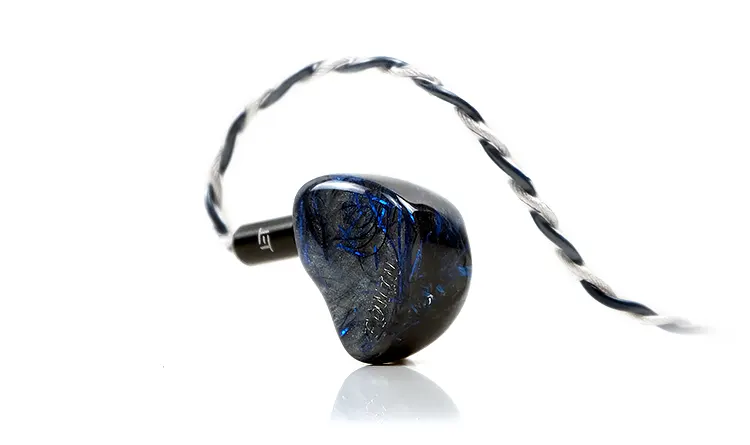 Tech Highlights
The Noble Audio Ronin is a hybrid BA and EST driver universal IEM positioned as their current co-flagship and does not use any type of dynamic driver.
The specific driver grouping is 4 Sonion BA drivers for the sub-bass and bass, 4 Knowles full-range drivers for the lower mids and mids, and a quad driver EST array for the highs and super highs.
The EST drivers I am presuming are Sonion with the company's 2nd generation energizers that are generally seen as more efficient than the older version that first came out around 2019.
We do have a posted rating for the Ronin though not plucked from their main website. We have seen it posted at one of their dealer sites with an SPL of 114dB SPL/mW and an impedance rating of 17Ω which seems to correlate with Noble's long-standing claim of being less than 35Ω or a relatively easy-to-drive monitor.
Alongside the internals of the Ronin, this is also a collaboration with Eletech who have supplied a specially made "Ronin' cable with a core emphasis on EMF shielding during playback to keep the quality of the audio playback as low noise as possible.
This is a 4-wire 26AWG mix of Gold Plated OCC, OCC Copper, and silver-plated OCC Copper with an individually enameled dual-stranded 7-core Litz geometry.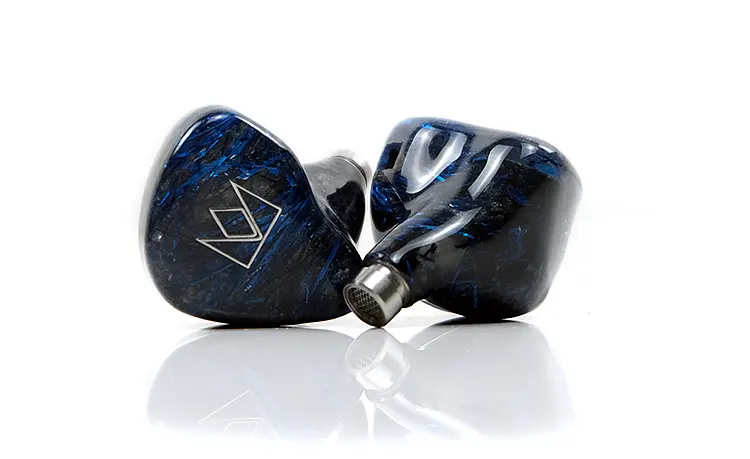 Design
The Ronin shell materials are closer to the Kublai Khan rather than the Sultan or the Viking Ragnar. That is to say, it's a resin-type material with stronger custom-style shaping for fitting purposes rather than any heavier metals such as aluminum or Damascus steel.
That means you get a lighter product and you will feel that difference in your ear but you will also get a bigger product given the extensive array of drivers inside. The form factor is true to Noble's house design language with that long spout but even so, this is a bigger shell than the Kublai Khan or Kadence, two of their recent releases.
The striking aesthetics are more in line with their Prestige build process which tends to have more complex finishing techniques. Noble has not revealed the exact material composition for the Ronin but it is CNC-machined and is a beautiful one, nevertheless.
The final finish is a mix of blush nebula or marble brush strokes with a speckled layer on a smokey black underlay. This covers both plate and shell giving it a nice homogenous vibe that I tend to prefer over a highly separated plate and shell look.
It's not a static dull design either. Under certain lighting when moving it around, the speckling catches the light quite nicely giving it a bit of subtle sparkle flares that come and go depending on the angle.
The shells are finished off with a stainless steel spout using a slightly recessed mesh guard similar to the styling of the Kublai Khan to prevent dirt from creeping into the tubes. It has a solid lip on it which I appreciate for preventing tips from sliding off.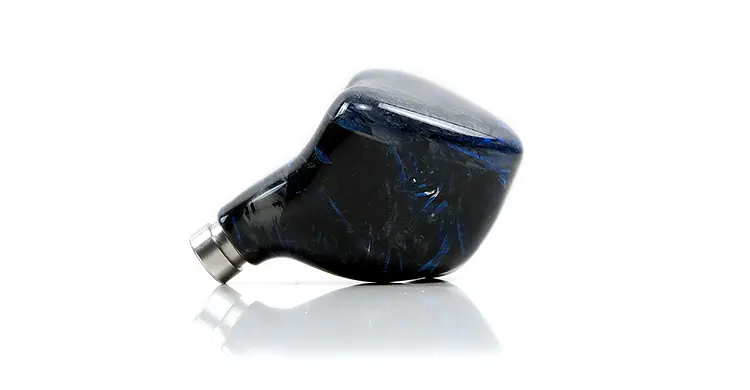 Comfort & Isolation
Being a Noble Audio-designed monitor there should be no surprise that the plate-to-nozzle tip length is quite long. The Wizard has always been a big fan of getting the spout as deep as possible into the ear canal with the Ronin being no exception to the rule.
That means the precise tip you will use will have a strong influence on the level of comfort and the amount of passive isolation. Unlike its dynamic driver hybrid siblings, the Ronin does not have any venting ports to reduce the potential seal performance so with the right fitting tip you can expect above-average levels of noise blocking.
Just be aware that because of the depth and size of the Ronin shell does mean they will stick out a bit from your ear otherwise I found them extremely comfortable to wear and just the right weight also for longer listening sessions.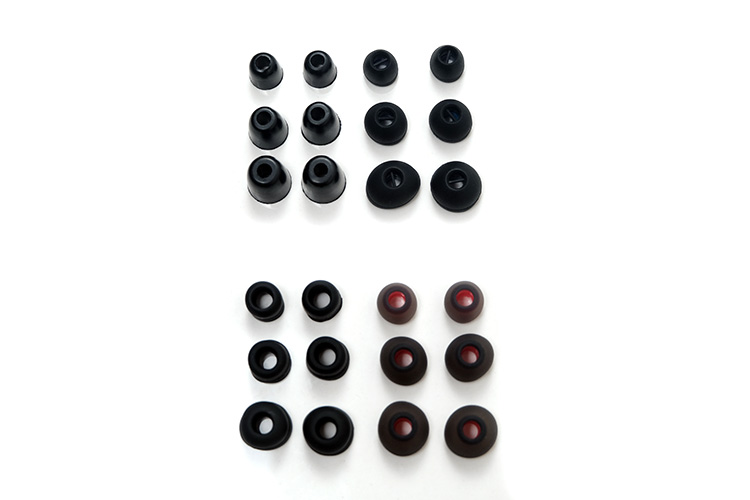 Tips
You get Noble's recently revamped lineup of tips with the Ronin. This is the same selection that came with the recently released Jade and Kadence IEMs and a lineup that personally works really well for me.
You get a number of single-flange silicone variations; a wide bore with a black stem, a blue stem alternative, and a translucent material version with a narrower bore and a stiffer red stem. You also get a silicone dual flange version with a wide bore as well as a set of long-form factor foam tips.
These two are great for comfort and of the two the red stem single flange narrow bore tips give the best performance for isolation alongside the foam tips. They provide the best seal and the fullest bass response but with a better treble reproduction compared to the supplied foams.
The black foam tips are relatively long and narrow and seal really well. However, they tend to push the Ronin nozzle bore a bit further back from the ear canal and mute the dynamics a bit more compared to the red stem tips.
The dual flange is a little behind the red stem single flange tips in terms of passive isolation also but ahead of the generic black wide bore tips which isolated the least.
The softer blue stem versions isolate almost as well as the red stem version but offer a more open sound stage and an excellent bass response from the Ronin with that wider bore. It was this tip I found the most engaging and the one I stuck with for this review.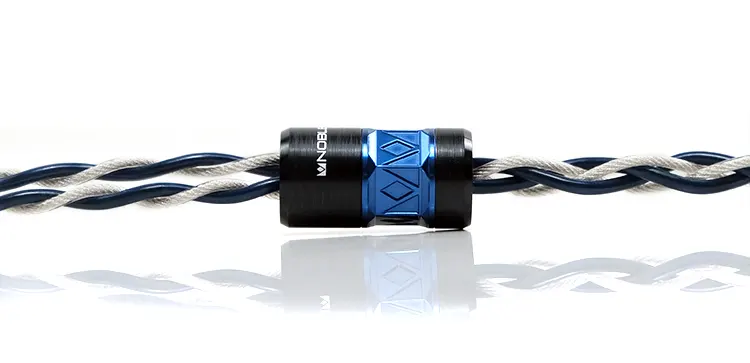 Stock Cable
This is not the first time Noble has partnered with a 3rd party cable maker. Previous collaborations have included the likes of Wagnus from Japan with some great results.
This time though we have Eletech with a specially made "Ronin" cable and yes, it does radiate a mix of both Noble and Eletech's own distinct design language including a mix of both logos on the barrels.
The wire inside is a 26AWG 4-wire, though with a fairly exotic mix of Gold Plated OCC, OCC Copper, and silver-plated OCC Copper with an individually enameled dual-stranded 7-core Litz geometry.
The dual-stranding design is distinct with differing bundles in the 7-core Litz handling low frequency, (larger), and high frequency, (smaller) separately. All of this is packed inside a silver-plated shielding to maximize protection against EMI and then finished with Eletech's patented FlexiMax insulation.
The net result is a fairly lightweight cable, low on memory retention and very low on microphonics. The deadening from the splitter does a great job here with even the finer two-wire split showing little to no noise during use.
The aesthetics are quite complimentary to the Ronin shells also with a blend of white and blue through the tightly braided wiring and finished with black Eletech and Noble themes barrels using highly beveled accents in a matching blue.
You do get a memory coating at the base of the black connector barrels but it's the soft springy type and quite comfortable.
The Ronin cable connectors are 2-pin 0.78mm combined with 4.4mm gold-plated Pentaconn which I presume is the default terminations with the Ronin cable as the website does not offer different terminations on checkout.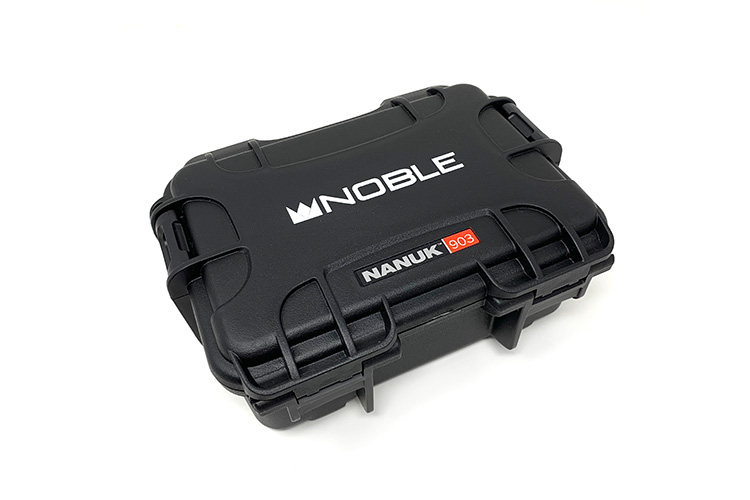 Packaging & Accessories
I didn't receive the complete package for this particular Ronin sample but I can give you some inside as to what to expect.
The packaging is a similar material to the Sultan and Kublai Khan except it's finished in a matching blue theme with Japanese stylings on the outside. Inside, you get a now familiar Nanuk 903 all-weather carry case which I just love in terms of sturdiness but it's a bit big for day and daily portability.
Inside, however, you get a smaller leather case pouch similar to the Sultan and the Ragnar with the Ronin monitors and cable elegantly laid out in surrounding foam for protection. You also get your tips bag, a cleaning brush, and a selection of stickers and leaflets underneath the leather case.
It's a tried and tested packaging and accessories formula from Noble for all of their higher-end offerings and a pretty useful one at that.
Click on page 2 below for sound impressions and pairings.