This review covers the new Cayin N3Pro DAP which is a fresh budget-friendly spin on the original flagship N8's groundbreaking use of tubes inside a digital media player. It is priced at $479.
Disclaimer: The Cayin N3Pro sent to us is a sample in exchange for our honest opinion. We thank Cayin for this opportunity.
To learn more about Cayin products featured on Headfonics you can click here.
Note, this article follows our latest scoring guidelines which you can read up on here.
Cayin N3Pro Review
Importantly, in this sea of midrange DAPs, the Cayin N3Pro creates a unique proposition with that sweet and diverse dual-tube output.
A few weeks back we did a rather extensive initial impression on the new N3Pro DAP from Cayin, and yes, we were rather excited. There are a lot of trickle-down concepts inside the N3Pro that you could rightfully argue that this is almost an N8 Jnr. A tube DAP for the masses if you will.
This is the first truly affordable digital media player that uses a tube design. The first at this price point to offer several operational modes that will allow you to switch from a classical resistor-based sound to a tube sound without having to switch cards.
To be honest, anyone thinking the usual pro "incremental updates from the original N3 why so expensive?" is coming at this from the wrong angle. This is a completely different player and a massive upgrade in scope and ambition.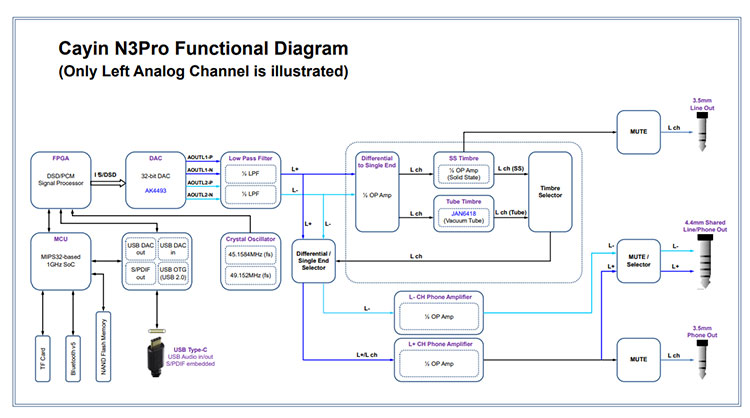 Tech Inside
DAC
Cayin has opted for a dual AKM AK4493EQ chipset implementation supported by a dual Crystal oscillator system inside the N3Pro. This now makes all their DAPs dual-chipset capable, (N6ii with T01 and E02 motherboards).
Whilst on the lower end of the DAC scale compared to the AK4497EQ inside the A01 Motherboard and the N8, the bitrate sampling capability of the N3Pro is quite competitive.
Local playback and USB-DAC capability are set at DSD256 (Native), DSD128 (DoP), and 32BIT/384kHz PCM. That is lower than the DX160, for example, but on the same level as the N8 and N6ii decoding ceiling.
The N3Pro does have a USB Audio-out capability of 32BIT/768kHz PCM as well as up to DSD512(Native), DSD256 (DoP), and PCM 88.2kHz (D2P) when in transport mode. Whilst the spec sheet does not state it, that DSD512 native USB Audio spec means that Cayin is using a decent XMOS USB stage and drivers.
SPDIF (coaxial) via USB-C is also supported with a maximum rate of PCM 192kHz and DSD64 (DoP). I believe Cayin are still activating an additional 2 pins in the USB-C interface and that may mean using their optional cables for optimal SPDIF compatibility.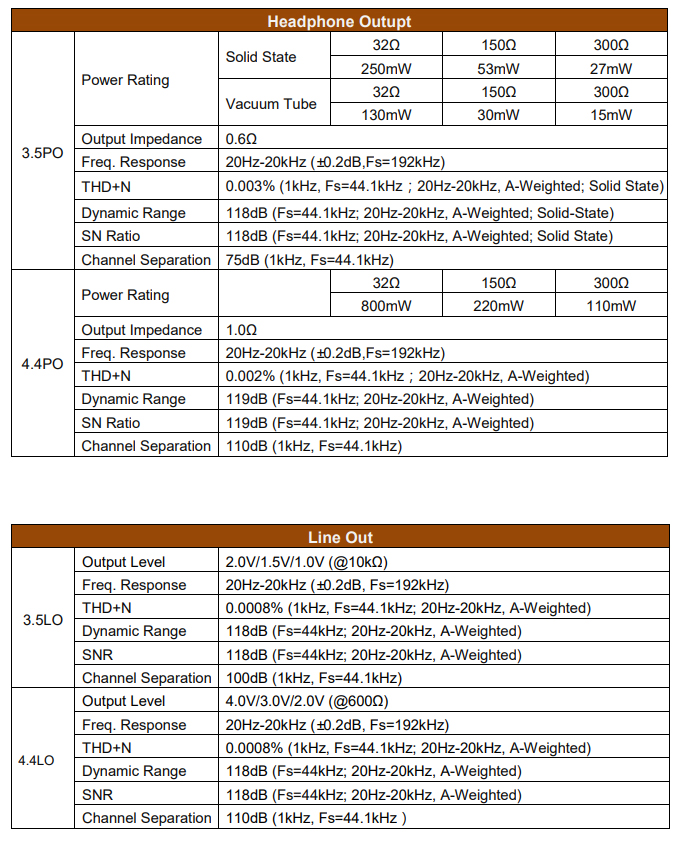 Amplifier
This is really the money shot on the N3Pro, as it was on the N8 flagship because of the use of tubes in the amplification topology. As with the N8, the tube implementation is single-ended only with the balanced output remaining solid-state but making full use of the dual AK4493EQ channel separation capabilities.
The N3Pro uses a matched pair of Raytheon JAN6418 mini pentode tubes which are a step down from the Korg NuTube implementation on the N8 but still fairly popular for size and power considerations. With a suitably low voltage setting, you should be able to get years of operational efficiency out of these tubes.
Operational Modes
Single-ended has no less than 3 different flavors of amplification. As before you can choose between solid-state and the tube output. However, the N3Pro goes one further with dual operation mode capability on the tube stage.
That means you have the ability to pick either a Triode or Ultra-linear tube flavoring to that 3.5mm single-ended output. They do indeed sound very different from each other.
Balanced output has no tube input and is purely a solid-state implementation, however, it does have one very salient feature and that is power.
Numbers
The most head-turning number is the 800mW into 32Ω using the N3Pro's 4.4mm balanced output. That makes it potentially the most powerful DAP amplification stage in its price category and on paper it even has 50mW more headroom than the N8 on its balanced High² output.
Single-ended is more than good enough for most decent monitors to drive well at 250mW into 32Ω and Cayin still offers its excellent 3 stage gain feature via the OS drop-down menu to reduce noise as much as possible.
With their own YB04, the N3Pro is very quiet indeed but you will hear a bit more with sensitive monitors if using the tube operational mode. At 0.002% and 0.003% THD+N for unbalanced and balanced output respectively, the N3Pro is a bit behind competing DAPs such as the R5 and DX160 for noise.
Bluetooth
Bluetooth is included and again, a very impressive decoding rate out of the box. You get BT5.0 and LDAC transmit and receive functionality up to 24BIT/96kHZ as well as UAT (for those with UAT receivers and sources), up to 192kHz. Bluetooth capability on the N3Pro also includes bi-directional support with HiByLink tucked away in the Bluetooth OS menu.
CPU
The CPU is still an XBurst 1.0GHz, MIPS-based chipset which is a bit aged in today's marketplace. Whilst not the fastest, the proprietary OS derived from the original N8 development is not really going to tax it that much further as it is designed for chipsets like this.
And yes, this is not an Android OS but rather a heavily skinned version of the HiBy OS. That means access to WiFi for OTA upgrades and importing music, Bluetooth bi-directional capability including HiByLink, solid and familiar media management tools. It does mean though a slightly slower artwork refresh rate when scrolling if you are using hi-res JPEGS.
Design
The N3Pro is consistent with the N6ii and N8 and kind of looks like a miniature crossover of both with that raised rotary multi-functional dial and matching gold plated sockets/buttons drawing the eye in. One thing for certain is that the build quality is a massive step up on the old N3 if also the size.
At 195g it is not the heaviest nor the largest at 115.2 x 63.5 x18.9 (mm) and overall, fairly easy to operate single-handed with some nice smooth cornering. It's CNC-machined aluminum black housing is bulkier than both the R5 and the DX160, however, but allowances need to be made to fit those tubes.
To that effect, it has that same N8 glass protected front panel design with a smallish touch-sensitive 3.2″ IPS panel to the top and a fairly large black 'expanse' from about 2/3'rds of the way down where the tubes are located. This expanse has a semi-transparent design so when the tube operational mode is activated you will see them light up with a reddish glow which is a pretty cool effect.
Visibility on the screen is good actually with plenty of pop and color saturation making it quite easy to read the N3Pro screen at extreme angles. The IPS panel pixel density also seems to be quite good with a solid legible font rather than super-thin pixelated typography.
The screen refresh rate and touch sensitivity are also good enough to prevent any niggly or jerky movement when scrolling long lists which can be a bit of a pain on older list-based OS with smaller panels.
I/O
Cayin has changed the I/O layout a little from the N8 and N6ii with everything bar the memory slot now down on the base panel. The top panel is flush as a result. The right panel houses the very familiar N-series physical button playback control system.
They have been able to move everything by omitting the I²S as a function on the N3Pro allowing the USB-C to move to the far left of the base panel. This leaves a decent amount of space for the dedicated 3.5mm line out, 3.5mm single-ended PO, and the dual function 4.4mm LO/PO.
The only critique I would have of the new closer spacing is the lack of space between the USB-C port and the line-out meaning USB cables in and large barrel 3.5mm jacks out might be a tight fit, or not fit at all.
Controls
The N3Pro draws a little also from the N8's use of accents with the rotary dial using a gold plating as well as the analog sockets which are all housed on the base panel.
The N3Pro USB-C socket. which controls all the digital I/O, is housed also on the base panel. The top panel is flush as is the left panel save for a single microSD slot capable officially of up to 1TB, (no onboard memory).
The right panel has that N6ii lock with 3 playback buttons and a digital volume control rotary dial which is protected with an integrated panel guard. Labeling is printed rather than etched into the panels. The rotary dial also duals as a multi-functional button for powering on and off the N3Pro as well as turning the LED screen on and off.
You also get one more indicator/functional control at the base of the front panel in the shape of a small LED circle. This is a touch-sensitive control that will allow you to go direct to the playback screen as well as indicate the audio playback quality via a set of color codes.
There are 6 color codes overall from tangerine for lossy up to white for DSD. For the majority I suspect on 44.1k you will see a yellow shine from the LED circle.
Battery Life
Battery life is not too bad actually given the 800mW balanced output capability and the single-ended tube implementation. You get 9 hours on the operational tube mode unbalanced and the same again for the 4.4mm balanced output. You get a bit more at 11 hours for the solid-state operational mode unbalanced.
I do have to bear in mind that these results are done under specific test conditions including having the screen off, wireless options disabled, a mid-gain setting, and a volume of 30. More demanding than 32Ω and hi-res files, as well as endless button-mashing, will shorten that cycle a bit.
The N3Pro does not have any quick charge capability so from a standard 5V-2A USB port it is a bit sluggish at 3.5 hours from zero to 100%.
Memory Capacity
There is no internal memory capacity inside the N3Pro which is perhaps a little surprising at this price point. I am told this is more due to the limitation of the CPU implementation where it would have required a dedicated port and bus controller like the larger N8 implementation where the additional space made it possible.
MicroSD prices are low enough for most to affordably slot in a high capacity card into the N3Pro these days. To that end, Cayin has supplied the N3Pro with a single open microSD card slot on the left panel towards the top which will hold an official capacity of up to 1TB.
You can also further expand the memory capacity via the USB-C port at the base of the N3Pro which is OTG capable. Cayin does make this a very simple plug and play solution so once you slot in a flash stick it immediately shows up in the folders list.
Sadly, you cannot scan and integrate files hosted via OTG into your main media library similar to the HiBY app on Android so you can only access them via the Folder option.
The final memory expansion is via proxy or wireless with the ability to receive via Bluetooth which means you stream tracks or audio files from a BT capable source to the N3Pro for playback.
Packaging & Accessories
Honestly, for the price point, it is about as good as you can expect and competitive. You receive a user manual, screen protectors, (front pre-applied), nylon jacketed gold-plated 1m USB-A to USB-C cable for charging and data transfer as well as the obligatory if somewhat functional silicone protective case. You also get 2 Hi-Res Audio stickers which I tend to just throw back in the box.
The manual comes in English, Japanese, and Chinese and reads fairly well with no "Chinglish" errors and a fairly comprehensive walkthrough of the specs and operational guidelines.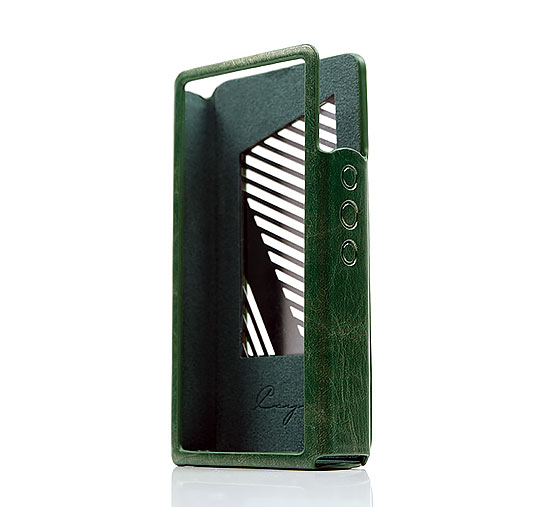 Personally, I would recommend you grab the additional leather case. The design and fit are excellent with some welcome soft protection and a quality leather finish. The strengthened metal plating at the rear also adds some welcome durability. It also allows the N3Pro to vent any minor warmth from the player during operation.
It is a bit green though, isn't it? That will polarize a few though to be fair it is growing on me, (it does have our national colors!) and I do like bright tones as opposed to just plain black. Just so long as they do not clash or look garish.
Will they come out in different colors? Not at the time of writing no so, this is it for now until some 3rd party comes up with an alternative.
Click On Page 2 below for Software and Sound Impressions